If you frequently hang out in forums, you might consider joining a forum that will actually pay you for posting. That would surely be a better way make use of your time, right?
There's a forum called Bizdustry that claims it is a make money forum where you can earn from writing forum posts and by replying to other posts. It also claims it is the number 1 paid to post forum for the business and economics industry.
Those are some pretty big claims. The question is, are their claims really true? In other words, is Bizdustry a scam or is it really legit? This is one of the most important questions you can ask about the site.
So, let me address this right away so we can move on to discussing other aspects of the site. No, Bizdustry is not a scam. It is indeed a legit site that will really pay you for participating in their forums.
Now that this concern has been clarified, the real question you should be asking is, is this site really worth joining or not? This Bizdustry review will reveal all the details you need to know about the site so you can decide if this site is a good fit for you or not.
So, let's get started.
Disclosure: Some articles on this website contain affiliate/sponsored links. Click for more info.
What is Bizdustry and what does it offer?
At its core, Bizdustry is a GPT (Get-Paid-To) site that will pay you for posting on their forums. But unlike most GPT sites where you can earn rewards in several ways, Bizdustry offers an earning method you do not find on many platforms.
Now, to truly understand how this site works, we have to examine the earning opportunities it offers. This will also give you an idea of how much you can earn from this site and if it will be worth your time.
I have, therefore, made a video that gives you an inside look and shows exactly how to earn on Bizdustry. You can also read all the details below the video:
Option 1 – Forum posting
One way to earn from Bizdustry is by posting in their forums. But let me be specific. You won't actually be able to post new threads on their forums. Only VIP members and moderators can do that. Instead, what you will essentially be doing to earn is, you will be replying to threads in their forums.
Let me explain how it works since it's a bit more complicated than signing up and replying to threads right away.
Once you become a member of Bizdustry, you can log in to their site and view all the forums you can reply to. But, there's actually a sort of trial process you need to undergo before you can start earning from replying to their threads.
You will first have to reply to threads 10 times. This will serve as your evaluation period. Moderators will examine your posts to see if you are able to provide quality posts. So basically, you can't just spam reply on the first 10 threads you can find to hasten this process.
You actually have to make sure your replies make sense. There's a guideline you can read about how to post and it will be shown to you once you become a member. I suggest you read and understand it before you start replying.
Once you've made your 10 quality posts, the moderator approves your membership, and you will have to do 15 more replies before you can start earning. That means, you will start earning from the 26th reply you've posted (provided of course your replies pass their quality check).
For every reply you post that will be approved, you will earn 20 BizNotes. Take note that you can only earn from 3 replies in an hour. You can definitely post more replies within an hour but you will only be credited for 3 replies. That means you can earn 60 BizNotes at most in an hour.
As you can see, it definitely can take time to earn from this site. And you can't just spam your replies. Every reply must provide value and must make sense. Otherwise, the moderators won't approve your earnings and you'll essentially be wasting your time.
It's not the easiest way to earn, in my opinion, but it is a quite unique way to earn and what I like is that it is a way to earn for participating in interesting discussions.
Fortunately, the site also offers other ways for you to earn if participating in online discussions isn't your cup of tea.
Option 2 – Offerwalls
Another way you can earn from Bizdustry is by completing the offers found on their offerwalls. To access their offerwalls, you will have to log in to the site and click the "Offerwalls" section.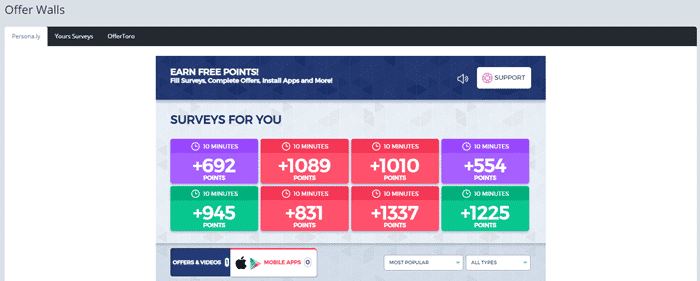 The one thing you need to take note of with their offerwalls is, it will require a different login. When you click the "Offerwalls" link, it will actually ask you to register again. So, you'll have to go through another sign-up process, but I would suggest you use the same login details to make it a bit simpler to remember.
Once you've registered for the Offerwalls page, you can log in and start working on the offers found there.
At the time of my testing, it only had three offerwalls available, which is a far cry from other GPT sites that usually offer more than 10 offerwalls.
However, I have asked them about this, and they are continuously working on getting more offers so it will keep evolving and expanding, which is great.
But currently, there aren't that many offers you can do to earn rewards compared to other GPT sites. As for the offers found on their offerwalls, these will typically ask you to answer surveys or quizzes, download mobile apps, watch videos, play games, view ads, and sign up to other websites.
Each offer will reward you with a certain number of points. As to what you can do with these points, I will discuss that later in this review.
Keep in mind that every offer will have a set of instructions you need to follow to complete it. So, make sure you take note of what you have to do to complete the offer because if you miss even just one step, you won't be able to complete it and you won't earn the reward.
Once you complete an offer, it will be credited to your Offerwall account balance not your Bizdustry forum account. That's also another important distinction you need to remember.
Option 3 – Referral program
Lastly, you can also earn additional rewards by inviting other people to join Bizdustry. If you've been a member of other GPT sites before, you might know this as referral program.

To earn from their referral program, you just have to share your invite link with the person you want to invite, once they register to Bizdustry using your invite link, they will be listed as your referral.
However, before you will earn from your referral, they have to meet a few conditions (refer to the photo above). They have to make a minimum of 25 approved posts and all of their posts must adhere to the guidelines and terms of service.
Also, your referral must not belong to the same household as you. Meaning, they shouldn't use the same IP address as you. Once the conditions are met, you will receive 1,000 BizNotes (which is equivalent to $1).
The reward is pretty decent but considering the conditions that need to be met to receive the reward, it will take some time before you can earn from their referral program. You also have to make sure the people you invite are really serious in participating in the Bizdustry forums.
Recommended: Check Out the Top GPT Sites
How do you get paid?
As explained above, you will earn BizNotes for posting replies on their forums as well as for inviting people to join the site.
You can then exchange the BizNotes you've earned for cash via PayPal or you can convert it to Litecoin through a Litecoin wallet once you've earned a minimum of 5,000 BizNotes (worth $5).

For their Offerwalls, since you will be earning a different currency (points instead of BizNotes), the payment gateways used will also be different, as well as the threshold required to withdraw your earnings.
For Offerwalls, you have the choice to withdraw your earnings using FaucetPay or Coinbase. In case you are not familiar with these terms, they are cryptocurrency wallets that will allow you to withdraw your cryptocurrency earnings. That also means you will only get to earn cryptocurrency from their offerwalls.
There's a gift card option in their reward redemption page but during my testing, there weren't any gift cards available. I'm not sure if they don't offer this option anymore or there simply aren't any gift cards available for my country.
You can withdraw your earnings from their offerwalls once you've earned at least $2. Their offerwalls page automatically converts the points you've earned to cash. However, they don't exactly tell you what the conversion rate is.
Overall, while their payment system is relatively simple, it can get a bit confusing because there are two separate account balances you need to keep in mind. I haven't encountered a lot of these kinds of sites where the earning withdrawal is separate for different earning opportunities.
But I do like the fact that they have a low payout threshold because you can start withdrawing your earnings rather quickly. If you are interested in more sites that have a low payout threshold, I recommend you also check out the fastest paying sites.
How much money can you make?
As you can see, you will earn 20 BizNotes for every reply you post. That will be equivalent to $0.02 (which is actually quite a bit higher than most other sites that offer the same kind of opportunity).
But considering you will only be able to earn from 3 replies every hour, the amount you can earn per day will be quite limited.
You will have to invest quite a lot of time to reach their payout threshold. As for their offerwalls, since they don't really have that many offerwalls, your earnings will also be a bit limited.
However, it will offer you a way to earn in a unique way and also earn more for posting replies than you will on most similar sites (at least from what I have tested).
The site can also be useful in other ways than just for earning.
There are actually a lot of useful threads you can find on Bizdustry that will help you with your quest of earning extra cash online. There are threads that will review certain online rewards sites. So, Bizdustry does point you in the right direction if you are looking to earn extra cash online.
That, in my opinion, is the real value this site offers.
Can you use it on mobile?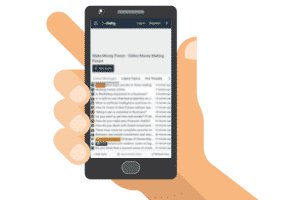 Bizdustry doesn't have a mobile app you can download, but their site is optimized for mobile use. So, you won't have a hard time navigating through the site and reading all the content.
This also means you can conveniently post your replies using your mobile device. This can be very useful if you are aiming to maximize your earnings since you can still post replies even when you are not in front of your computer.
Who can join Bizdustry?
Bizdustry is available globally. So, you can register as a member regardless of where you live. All you have to do is fill out their registration form. And once you are done with the sign-up form, you can complete the registration by clicking on the activation link that will be sent to you via email.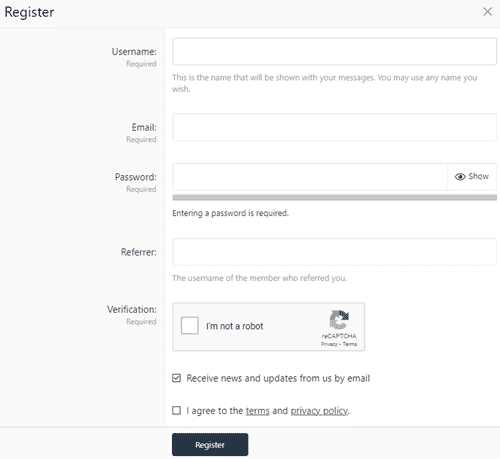 Just be aware that the site actually has several guidelines you need to follow and if you keep disobeying the rules (so to speak), your account will get banned and you will lose all your earnings.
So, once you become a member, I would suggest you read their guidelines as well as their terms of service and acclimate yourself with what you need to do to stay as a member of their forums.
Can you get support?
Since it is a forum site, you won't actually have any trouble getting assistance if you encounter any issues or if you have any questions. You can first check out their FAQ page. It's quite comprehensive and it discusses most, if not all, of the important topics you need to know about the site.
If you can't find the answers you are looking for, you can file a support ticket. Just log in to the site and go to the "Support Ticket" section of their dashboard. You can also view the status of all the support tickets you've filed on that page.
Overall, I would say they have a good support system in place for their members. You won't have a hard time communicating with their support team. Their moderators are also very active, so you will easily receive assistance.
Final Verdict
Bizdustry is a legit site that will pay you for posting replies in their forums as well as participating in the other earning opportunities it offers. It has a couple of good features to offer but it also has some limitations you need to be aware of.
So, let's conclude this review with a summary of its pros and cons to give you an overview of what the site has to offer. That way, you can decide if this site is a good fit for you or not.

Pros:
Available globally
Offers payment via PayPal
Their site is mobile-friendly
Offers a unique way to earn

Cons:
Limited earning opportunities offered
Can be a bit confusing at first
Bizdustry is not a bad site, in my opinion. It does pay better than their competition which means their claim that they are the number 1 paid to post forum is true. I'd give that to them.
But whether it is the right option for you or not depends a lot on your personal preferences. If you like participating in forums, you will likely love this site and can then earn some extra cash doing what you like.
You just need to join with the right expectations and be aware that it will take some effort to reach the payout threshold.
But luckily the payout threshold is quite low and Bizdustry offers some good payout methods. So if you do it with the right expectations, it can be worth checking out.
If you are looking to earn extra cash online, I would recommend you also check out the top survey and GPT sites in your country.
How to join Bizdustry?
Joining Bizdustry is quite simple. It will only take a minute to register. Just click the button below, and you will go to Bizdustry sign-up page.
Then, just make sure to click the activation link that will be sent to you via email to complete the sign-up process.
If you have any comments, questions, or have any experiences with Bizdustry yourself, I would love to hear from you in a comment below.