Blasting News is a news site that offers an opportunity for you to earn by writing articles. So, if you are a journalism student looking to earn extra cash or you're just looking for opportunities to earn and you happen to be good at writing, then this article is for you.
When I encountered this site, the first thing that ran through my mind was, is Blasting News a scam, or is it legit? That's why I decided to test this site to see how it works and find out if it is really worth the time or not.
In this Blasting News review, you will learn all the details and find out exactly what it has to offer, so you can determine if this site is a good fit for you or not. So, without further ado, here's what Blasting News has to offer.
What is Blasting News and what does it offer?
Blasting News is a news website that offers an opportunity for you to earn extra cash by submitting your own news article. It is indeed a legit site since you will really get paid for your submissions.
But, there's more to this site than just writing and submitting news articles. Its earning opportunity is slightly more complicated than that, and the best way to understand how it works is to take a closer look at how you can earn from it.
I have, therefore, made a video that gives you an inside look and shows exactly how you can earn from Blasting News. You can also read all the details below the video.
Recommended: Check Out the Top Survey Sites in Your Country
The earning opportunity – Writing articles
To earn from this site, you will have to write and submit articles, specifically news articles. It's a bit of a niche field, in my opinion, so it's not for everyone.
Once you become a member of the site (I will discuss later how you can register), you just have to log in to the member dashboard and click the "Write a new story" icon (refer to photo below).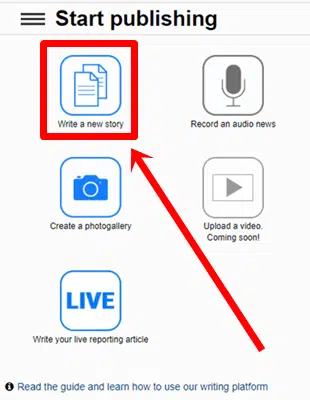 Then, if it's your first time writing an article, you'll be asked to link your Facebook profile to Blasting News so that you can maximize the reach of the article you will be writing. Later, I will explain why this is an important step you shouldn't miss.
Your article doesn't necessarily have to reach a certain number of words, but it should be at least two paragraphs long. Here's a video explaining how you can write the article.
The best way to ensure that your submission will be viewed by readers is to make it interesting enough. This can take skill and some practice. Blasting News also recommends you include links to your sources as well as images and even videos (from YouTube or any video hosting platform).
After you've written your article, you'll have to set up the SEO settings (tags, keywords) of the article. This is another important step in increasing the potential views of your article. After you've completed the article, you'll have to submit it for approval.
It usually only takes a few minutes to an hour for your submission to be approved. Sometimes, it can take a day if Blasting News is really swamped with submissions. Once the submission is approved, your article will show up on Blasting News.
However, the job isn't done yet. You see, to get paid, your article must reach at least 150 unique viewers within 30 days of publishing the article. That means at least 150 different people will either visit or read the article you've posted.
This is where the real work begins. You only have a 30-day window to get as much traffic to your article as possible. While that may sound like a long time, getting the required number of views to earn will take a bit of work.
You'll have to share it on social media platforms to get organic traffic.

You see, Blasting News will not allow you to promote your articles using spam services, traffic exchange platforms, or non-human traffic generators (or bots). When you use any of these services, you will automatically forfeit your earnings, and worse, your next submissions will not be accepted.
That is why, as I've mentioned above, you have to reach the minimum traffic number organically. The best way to do that is to share it on your social media pages. You can also link it to your blog.
After the 30-day period, you will receive the payment for the article. In the next section, I will discuss how you will get paid.
The main problem is the generation of traffic which takes skills, and if you are new to that, I suggest you instead learn to generate traffic to create a real business online.
Once you learn that, you will also find out that the earning potential is a lot bigger by writing for yourself instead of basically working for free for a site like Blasting News. But more about the earning potential a bit later.
Recommended: Check Out the Top Survey Sites in Your Country
How do you get paid?
As explained above, you'll get paid approximately one month after publishing your article. So, it takes a bit of patience because one month is actually quite a long time to get paid.
Plus, you must keep in mind that you will only get paid if you reach the minimum traffic (150 unique visitors) for your article. If you can meet this requirement, you'll receive a specific amount depending on the number of unique visitors your article received.
The payment will be credited to your Blasting News account. Then, once you've earned at least $50 or €50 (if you live in Europe), you can request to withdraw your earnings via PayPal. If you've requested the withdrawal within the first three days of the month, you will receive the amount on the 15th day of the month. Otherwise, you'll receive the money on the 15th day next month.
It's a tight window, so you need to make sure you withdraw your earnings immediately once you reach the threshold (which is quite high, I might add), so you don't have to wait for more than a month to receive your earnings.
Overall, the payment system of Blasting News is relatively easy to understand. I like that it uses PayPal as its mode of payment because it is one of the most convenient payment methods available today.
However, their payout threshold is really a bit high, so you might have to wait a bit longer and write several articles before you can withdraw your earnings.
If you are looking for sites that have a low payout threshold, I would recommend you check out the fastest paying sites instead.
How much money can you make?
Blasting News is very transparent with its rate. In fact, it has a calculator you can use so you can calculate your earnings.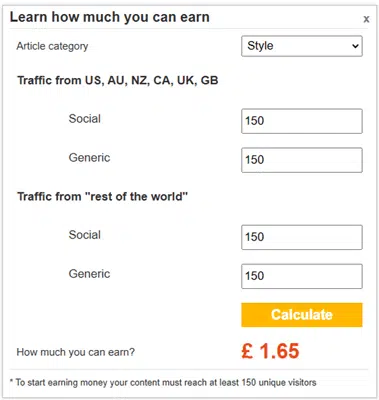 When I was fiddling around with it, I learned that the amount you will earn for reaching the minimum traffic will only be €1.65 or $1.65 (if you get traffic from the US). You also have to note that for Blasting News to credit it as a unique visitor, the reader must live either in the UK, US, Australia, New Zealand, or Canada. They will not count visitors from other countries.
There's also a cap on how much you can earn. You see, no matter how many unique visitors your article receives, you can only earn a maximum of €200 from every article. That's their hard cap.
To put it into perspective, to reach this kind of earning, your article must receive around 18,000 to 19,000 unique viewers. It may not sound like a lot, but reaching this amount of traffic is actually not easy.
You will have to lay out a lot of groundwork that can take months or even years to finish. You have to amass a huge following on your social media pages or blog to consistently reach this kind of organic traffic rate.
That is why I would say the time-to-money ratio of Blasting News is quite low. Hence, the earning potential of this site is also quite low. You will need to invest a lot of time to earn a significant amount from this site.
As mentioned earlier, it makes a lot more sense to learn to build your own online business, where the work you will put in now will give you long-term benefits instead of working for a site that pays this little for your effort.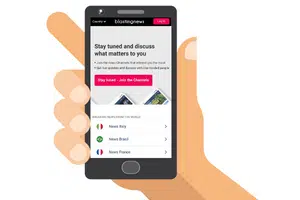 Can you use it on mobile?
Blasting News doesn't have a mobile app you can download, and honestly, if you look at how you will be able to earn from this platform, you will never find the need to use it on a mobile device.
Writing an article has to be done on a laptop or desktop. It's simply impossible to do on a mobile device. That's why there's really no need for them to create a mobile app, in my opinion.
That being said, the site is mobile-friendly. You can read news articles conveniently without zooming in. This is about the only thing I can think of that you can do from a mobile device with this site.
This can be a good thing, though, because people can read your article using their mobile devices. That would at least increase your chances of getting more traffic for your articles.
Who can join Blasting News?
Blasting News is available more or less worldwide. You can sign up as a writer regardless of where you live. But you do have to be at least 18 years of age to join.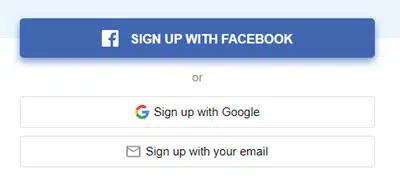 To register, you can use your Google or Facebook account. You can also just provide your email address and password. After you've completed the sign-up form, you can now log in to the member dashboard.
And as I've mentioned earlier, if you haven't linked your Facebook account to your Blasting News account yet, I would highly suggest you do this first to increase your chances of getting more traffic for your articles. You can set up Blasting News to automatically share your articles on your Facebook page.
Can you get support?
When you log in to the member dashboard, you can actually see a link to their video tutorials as well as their guidelines on how to write and submit your articles. I highly recommend you watch the videos and read the guidelines before you attempt to earn from this site.
But if you have any questions about the site or your account, you'll have to contact their support team. You can do so if you log in to the dashboard and click the message icon found in the lower right-hand corner of the dashboard.
You can submit your inquiry through that window, and if a representative is online, they will reply to your message quickly. Usually, there is a support representative online during business hours. If you messaged them during non-business hours, they will get back to you via email as soon as possible.
Overall, I would say that Blasting News has a decent support system in place for its members since they offer a convenient way for you to get assistance.
Final Verdict
Blasting News is a legit site that will allow you to earn by writing and submitting news articles. It has a couple of good features, but it also has a few limitations you need to consider.
Let me wrap up this review with a summary of its pros and cons to give you an overview of what the site has to offer. Then, you can decide if it is for you or not.

Pros:
Offers payment via PayPal
Available globally

Cons:
Low rate
Requires a lot of time and effort to earn
Takes a long time before you can get paid
High payout threshold
In my opinion, Blasting News is not really a good site to earn extra cash from. It will take quite a long time and a lot of effort to earn from this site. If you are looking to earn by writing articles, there are plenty of better options out there.
It takes too long to get paid, and their system doesn't even guarantee you'll earn from all the articles you've submitted. That's why I would say you are better off investing your time in sure-fire ways to earn extra cash.
The time you spend on a site like this will be better spent building your own online business, in my opinion. You'll be able to earn full-time income once you've mastered the basics.
But if you are looking for a simpler way to earn, you can check out the top survey and GPT sites in your country instead. The sites on this list all have good earning potential, so you'll be able to earn a decent amount in a relatively short span of time.
If you have any comments, questions, or have any experience with Blasting News yourself, I would love to hear from you in a comment below.