Are you wondering whether Listverse is legit or a scam? Then you've come to the right place.
I've recently come across this site and decided to try it out to see if it is a good way to earn extra cash.
I will share the full details of what this site has to offer in this Listverse review so I can provide you with the answers you need.
That way, if you are interested in earning from this site, you'll know exactly what to expect from it before you even join. Then, you can decide if this site is really worth your time or not.
So, let's go ahead and take a closer look at what Listverse has to offer, shall we?
What is Listverse and what does it offer?
Listverse is a unique website that specializes in providing various lists (hence the name). It offers a way for you to earn by letting you submit a list of your own. And yes, it is indeed a legit site since you will really get paid if the list you submitted will be accepted.
Now, to figure out if it is worth it or not, you must first understand how the site works. And the best way to do that is to examine the earning opportunity it offers. So, here's how to earn from Listverse.
The earning opportunity – Submitting a list
The only way to earn from this site is to submit a list of your own. That means you'll have to do some writing.
So, it's not like you only have to list down the items and that will be the end of it. You have to provide a bit more explanation of why the item is on the list.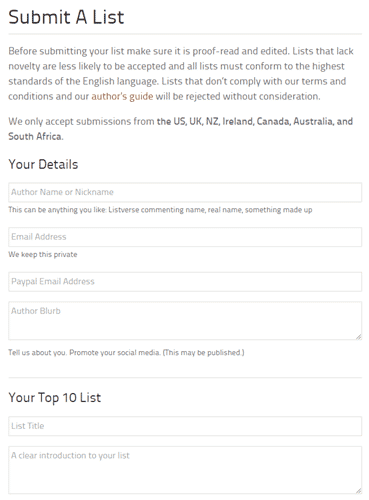 The idea is very simple. You make a list, submit it to Listverse, and if they accept it, you'll get paid $100 (I will discuss how you'll get paid later). It all sounds very easy, but it actually isn't.
You see, in order for Listverse to accept your submission, it has to be of good quality and it must be original. That means your English must be equal to that of a native speaker and the grammar has to be perfect. Listverse will automatically reject a submission that will require a lot of edits. So, make sure double-check your article before you submit it.
You also have to have a sense of humor, and a love for things unusual or interesting. That will equate to an interesting and fun read. That's really what Listverse is after, in my opinion.
Aside from that, there are also other rules you have to follow. Your list must have 10 items and it must have one or two paragraphs per item. It has to be at least 1,500 to 2,000 words. You also need to link to reputable sources if you will be citing facts in your list.
As for the topics of the list you will be making, what Listverse is looking for are topics that are offbeat or novel. It can also be about something normal, but you have to present it in an unexpected way. What they don't want to see are lists on sports, self-help, personal stories, or gaming. They also don't publish opinion lists.
If you follow the guide that Listverse provides, you'll increase your chances of getting paid. Of course, it sounds easier than it really is. You still have to be a good writer to pull this off. That's why this kind of earning opportunity is not for everyone, in my opinion.
Lastly, they don't really say how long it will take for your submission to be reviewed. So, you'll just have to wait to hear back from them regarding the list article you've submitted.
Recommended: Check Out the Top Survey Sites in Your Country
How do you get paid?
As explained above, you'll get paid $100 if Listverse accepts your list submission. You will get paid via PayPal immediately once this happens.
Part of the condition for Listverse to accept your submission is that you have a valid PayPal account because that is the only payment method they offer. If you don't have a PayPal account, your submission will not be accepted.
Listverse will pay you immediately, however, don't expect to receive the payment right away. It usually takes around two to three business days to show up in your PayPal account.
But I do like the fact that they offer a very convenient payment method and that it doesn't have a payout threshold you need to reach to withdraw your earnings. Overall, the payment process of Listverse is very simple.
If you are interested in more sites that offer a convenient payment method, I would recommend you also check out the top sites that pay via PayPal.
How much money can you make?
The earning potential of Listverse is actually pretty good. You won't find a lot of sites that will pay you $100 for just one article.
However, there are factors that come into play you also have to consider. As explained earlier, there are some guidelines you need to follow in order for your submission to be accepted. And, in my opinion, it's not that easy to earn from this site.
You have to have the right writing skills in order to earn from Listverse. You also have to be very creative because that is really what Listverse values most. You must be able to write interesting content that readers will really love reading.
And not everyone can do that. That is why this earning opportunity is not for everyone. But if you are a good writer and you are looking for a way to earn extra cash, I would recommend you try this out.
You just need to be aware that just because you submit an article, there is no guarantee it will get accepted. That means you can potentially end up wasting a lot of time writing an article that you will never get paid for – this is the biggest disadvantage of Listverse, in my opinion.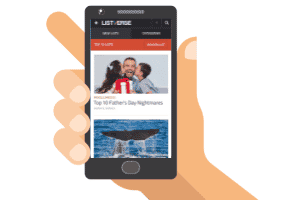 Can you use it on mobile?
Listverse doesn't have a mobile app you can use and I can understand why. The earning opportunity it offers isn't really suitable for mobile devices.
You will really need to use a laptop or a desktop to write the list you want to submit. It will be very hard to write a list article on a mobile device seeing as it must contain at least 10 paragraphs. That will be very hard to type on a mobile device.
As for the website, it is mobile-friendly, so you'll be able to read all the lists with ease. You won't have to zoom in to read the content properly.
Who can join Listverse?
Listverse will only accept submissions from people who live in the US, UK, New Zealand, Canada, Australia, and South Africa. You also must have a valid PayPal account in order to submit a list article.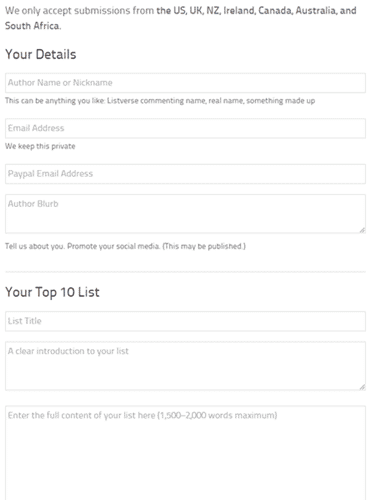 It doesn't have a member dashboard, so technically speaking, you won't have to go through a registration process. You just have to fill out the submission form together with the list you want to submit. You have to do this every time you submit a list.
Can you get support?
Listverse doesn't really have a Help page or even a FAQ page you can check out if you have any questions about the site. But, they do have a rules page you can check out and it will guide you with what you need to do.
On the submission form, you will also see the primary requirements you need to meet in order for your submission to be accepted. From what I've observed though, the site doesn't really need a Help or FAQ page, in my opinion.
Everything you need to know is provided in the writer's guide. Just make sure to read that before you start submitting articles. Now, if you really need to get in touch with their support team, you can use the contact form provided on the website.
Overall, I would say the site has a decent support system in place for its members since it offers a convenient way for you to get in touch with their support team. It also explains in their guide everything you need to know to earn. So, if you read and understood it, you will most likely not encounter any issues and all your questions will be answered.
Final Verdict
Listverse is a legit site that will allow you to earn by submitting original list articles. It has a couple of good features, but it also has a few limitations you need to consider.
Let me finish this review by summarizing its pros and cons to give you an overview of what the site has to offer. Then, you can decide if this is the right opportunity for you or not.

Pros:
Pays very well
Offers payment via PayPal
No payout threshold

Cons:
Limited earning opportunities offered
No guarantee you will get paid for your work
Requires a lot of creativity in order to earn from it
No specific timetable on when you'll hear back from them when you've submitted your article
In my opinion, Listverse is a decent way to earn extra money provided you have the skills to write a great list article. Listverse is very specific with what they are looking for, so if you are confident you can deliver what they need, then you should give this a try.
However, you are not guaranteed to earn, and it is not a good long-term solution, in my opinion. If you are a great writer, you will get more out of starting your own blog – you can watch this video about my top recommended way to start a blog here.
If you instead are looking for fast ways to earn a bit of extra cash on the side where you know you will get paid for your effort, you can check out the top survey and GPT sites in your country. The sites on this list all have good earning potential and they all offer guaranteed earnings.
Plus, you will definitely find a site you can join regardless of where you live.
If you have any comments, questions, or have any experiences with Listverse yourself, I would love to hear from you in a comment below.