BlockSmash is a website that claims you can earn simply by clicking a button.
Yes, you read that right. All you supposedly have to do is click a button.
But is BlockSmash legit and really an easy way to earn or a scam to stay away from?
I decided to find and have tested the site myself. And let me just reveal right away that there are some very important details you need to know before joining.
This BlockSmash review will tell you all the details and reveal the untold truth of what it has to offer so you can determine if you should give it a go or not.
What is BlockSmash and what does it offer?
BlockSmash is essentially a GPT (Get-Paid-To) site where you will earn rewards by playing their game of smashing blocks (hence the name BlockSmash).
It is indeed true that you will supposedly earn rewards for smashing blocks, but that isn't really the best indicator of whether this site is worth your time or not.
To find out if it is worth it, you first have to understand how it works and the best way to do that is to examine the earning opportunity it offers.
I have, therefore, made a video that gives you an inside look and shows exactly how you can earn from BlockSmash. You can also read all the details below the video.
The earning opportunity – BlockSmash game
Technically speaking, the site only offers one way for you to earn and that is by playing their game.
As you can see in the photo below, all you have to do is click the block and it will show you whether you will win a prize or not.

When you sign up as a member of BlockSmash, you will automatically receive 35 pickaxes which you can use to smash the blocks. Think of these pickaxes as your ticket to playing the game.
As for the game, it is really easy. You spend 1 pickaxe to smash a block to see if you win a prize. You can randomly win a cash prize or a different kind of loot when you smash blocks. Typically, the prize you can win will range from $0.2 to $0.5, which isn't bad, in my opinion, since the game is really very easy to play.
Sometimes, you will receive additional pickaxes so you can smash more blocks. But what happens when you run out of pickaxes? Well, this is where you actually have to invest a lot of time in.

You see, BlockSmash offers plenty of ways for you to earn more pickaxes so you can smash more blocks and win cash. You can complete paid offers, play other games, and invite other people to register as a member (refer to photo above) to earn more pickaxes.
I won't go into detail as to how these features work because everything will still boil down to playing the game to earn. The whole point of the other activities offered by this site is for you to smash more blocks.
And the one thing I noticed while I was testing the site was, there really is a lot of pop-up ads that contain malicious software and even inappropriate ads.
My anti-virus was busy blocking stuff the whole time I was testing the site. This is really a big red flag for me because a legit site doesn't cause your anti-virus to go nuts.
Also, closing down pop-up ads every few clicks can really be annoying. But the major red flag of this site, in my opinion, is the earning opportunity itself. Later on, I will discuss why I think their earning opportunity is a red flag.
Recommended: Check Out the Top GPT Sites
How do you get paid?
As explained above, you can win cash from smashing blocks. But how can you withdraw your earnings?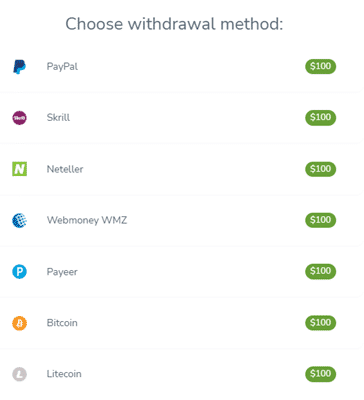 As you can see in the photo above, BlockSmash offers a lot of payment options including PayPal. But the most glaring detail you need to be aware of is the payout threshold which is $100.
That's actually a very high payout threshold and in my experience, it is a big red flag. I have tested hundreds of sites and every time I encounter a site that has such a high payout threshold, there is often an additional requirement you need to complete in order to withdraw your earnings.
And considering you can only possibly win a few cents when smashing a block, it will really take a lot of time before you will be able to reach the threshold. So honestly, I never bothered to waste my time playing the game.
Plus, in my opinion, if you have a payout threshold of $100, it is almost tantamount to saying you don't have any plans of paying them. Especially with an unrealistic earning method like this.
That is why it would be better to join sites that have a low payout threshold so you can withdraw your earnings quickly.
For a list of sites with a low payout threshold, I would recommend you check out the fastest paying sites instead.
Red flags you need to be aware of
When I was testing this site, I encountered a few red flags you should really be aware of. I will explain each red flag and why it matters so you will also have an idea of what to look out for in the future.
Red flag #1 – Unrealistic earning method
If you take a look at their site, the earning method the site offers really doesn't make sense because it does not make sense how the site can afford to pay you for clicking a button.
The one thing I can see where they can generate income aside from the ads that will pop up is the paid offers. But, in my opinion, it doesn't really have enough offers to justify how they are able to afford to reward you for smashing blocks.
So the only explanation is, they don't really intend to pay you. At least, that's how it comes across on my end.
Red flag #2 – Pop-up ads
I've also mentioned earlier that their pop-up ads keep triggering my anti-virus system. That means each ad that will appear potentially contains malicious elements that can harm your computer.
And in my experience, sites that allow these kinds of ads aren't really ideal for earning. Not only will you be compromising your computer, but your sensitive information as well like passwords, bank account numbers, and the like.
I, therefore, always make it a point to avoid sites with pop-up ads that will trigger my anti-virus system.
Red flag #3 – High payout threshold
In my experience, a very high payout threshold of $100 almost always means the site really doesn't intend to pay you. Legit and popular online rewards sites usually have more a manageable payout threshold that is around $10 to $20.
That's the common range of thresholds offered by legit sites. In my opinion, setting a payout threshold of $100 is almost saying you never intend to pay your members unless every earning opportunity you offer will allow them to earn $5 to $10. That way, they don't have to wait a long time to reach it and withdraw their rewards.
But that is also quite a rare thing. There are only a few sites that will reward you $5 to $10 per earning opportunity.
Also, in my experience, if you ever get to the threshold, a site like this will usually impose an additional requirement before you can withdraw your earnings. Usually, they will ask you to invite a certain number of people which will only mean more work and more time wasted.
Another thing is, when I was testing BlockSmash, I only managed to win cash prizes when I was starting out. Later on, the chances of winning kept decreasing. That is why you will most likely just give up on trying to reach the threshold because you will seldom win cash anymore.
In the end, all you get from smashing blocks is a bunch of pop-up ads that possibly contain spyware or malware.
Final Verdict
BlockSmash is a GPT site that offers a fun way to earn rewards. However, that doesn't exactly mean this site is worth your time.
Let me conclude this review with a summary of its pros and cons to give you an overview of what the site has to offer. That way, you can decide if you should really sign up as a member or not.

Pros:
Offers a very simple way to earn rewards
Offers payment via PayPal

Cons:
The site is very spammy and most ads might contain malicious content
Very high payout threshold
Chances of winning cash will decrease the longer you keep using the site
While BlockSmash offers a fun and simple way to earn cash, in my opinion, it is a site you should really avoid. And the main reason why I say this is the pop-up ads you will encounter when using the website possibly contain viruses.
Plus, the high payout threshold really just makes it impossible for you to withdraw your earnings, in my opinion.
That is why I would recommend you check out the top survey and GPT sites in your country instead if you are looking for great ways to earn extra cash. The sites on this list all offer good earning potential and they offer very safe ways for you to earn.
It might require a bit of effort on your end, but at least you are guaranteed your computer and your sensitive information are not compromised. Plus, you will also be able to withdraw your earnings quickly because all these sites have relatively low payout thresholds.
If you have any comments, questions, or have any experiences with BlockSmash yourself, I would love to hear from you in a comment below.