If we are going to compare survey sites, Paid-To-Click (PTC) and Get-Paid-To (GPT) sites, the most differentiating factor would be the earning opportunities offered. PTC and GPT sites have more opportunities than survey sites.
But that doesn't necessarily translate to a better earning potential and you will understand later why. This article will focus on a site called BountySurfer.de (aka BountySurfer.com). This PTC site offers multiple earning opportunities and promises to pay you for completing said opportunities.
But is it a legit site or is it a scam? It is important to address this concern right away, so let me set things straight. BountSurfer.de is a legit PTC site that will pay you for completing the earning opportunities they offer.
But that really doesn't tell you if the site offers a good way for you to earn extra cash. This BountySurfer.de review will give you an inside look so you can clearly understand its earning potential and decide if it is a site worth investing your time into or not.
What is BountySurfer and what does it offer?
BountSurfer.de is a Germany-based PTC site that will pay you for completing the earning opportunities they offer. If this is your first thing hearing about a PTC site, it's basically a GPT site with one key difference – ads.
Even though it is based in Germany, you can also choose to see everything in English and it also calls itself BountySurfer.com at the top of the website to show it is an international site (more about who can join later).
But if you try to go to BountySurfer.com you will be redirected to BountySurfer.de which is the main domain. But you can go to either domain and will get to the same site.
So just wanted to clarify this before starting:-)
A PTC site is only a PTC site if it offers an opportunity for you to earn by clicking on ads. This is just one of the earning opportunities it offers. Now, to understand the earning potential of this site, we have to take a closer look at all its earning opportunities.
So, here's how you can earn from BountySurfer.de.
Option 1 – Paid ads
You will be able to earn rewards by simply viewing ads. Fortunately, how the paid ads of BountySurfer work are much simpler than other PTC sites out there.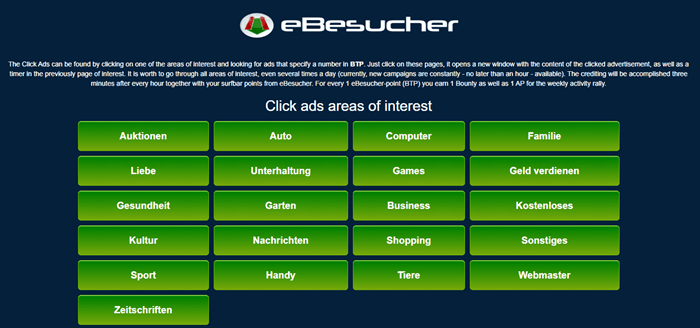 All you have to do is click on an area of interest and it will open up a new window with all the ads you can view for that certain area of interest. Once you are on the new window that opened, just click on any of the ads listed and it will again open a new window.
You have to view the ad for a certain amount of time before you can close it (more or less 10 seconds). When you close that window, you will see how much you've earned on the area of interest window. It's really that simple.
I have to warn you though, the pages/ads it will open will look a bit spammy. So, if you are not comfortable with that, you can just do the other earning opportunities offered by the site.
Option 2 – Surfbar
Their surfbar works a lot like their paid ads. This earning opportunity will take you to different pages and in exchange, you will be rewarded.

There's just one key difference. You can just run the surfbar as long as you want and still earn without viewing the pages it will take you to.
This, in my opinion, is the most convenient earning opportunity they offer because you don't have to do anything else and still earn rewards.
Once you close the surfbar, you will know how much you've earned.
Option 3 – Paid videos
Another way you can earn rewards is by watching video ads. It goes perfectly well with their surfbar since you can just run the surfbar in another window and watch video ads in another.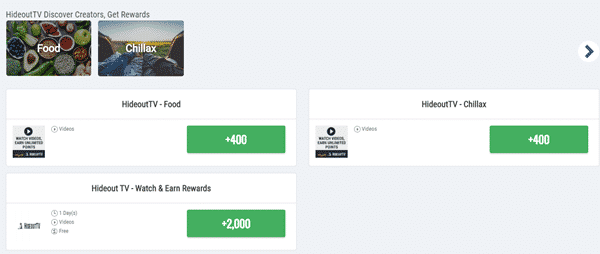 The premise for this opportunity is very simple. Just pick a channel to watch on their paid videos section. Once you finish a video, you will be rewarded.
You can keep watching videos until they run out of one. When that happens, you can try switching to a different channel to see if there are available videos.
Fair warning though, in my experience, even though this type of earning opportunity is very convenient, it doesn't really pay that high. So, you might not find it very rewarding.
And on BountySurfer, this opportunity is not as great as it is on the best sites to earn by watching videos. So you should only really use this option if you find it entertaining.
Option 4 – Paid offers
Paid offers are probably the most dependable earning opportunity they offer. If you've been a member of a GPT site, then you will be very familiar with this opportunity. If you haven't yet, then let me explain to you how it works.

Paid offers are basically just short tasks you can do to earn rewards. In BountySurfer's case, they don't have their own paid offers but they run offerwalls instead.
Offerwalls are like a bulletin board for paid offers. These offers will come from other sites, so don't be alarmed if you click one and it takes you to a different site.
Most of the offers you will find will either ask you to answer a survey, sign up to a website, answer a quiz, play a game, download an app and more. Every offerwall offers a different set of paid offers. When you click an offer, it will then open a new window containing the set of instructions you need to follow to complete the offer.
Once you've met the requirements needed for the offer, you will then receive the reward promised. So, before you do any offer, make sure to read the instructions carefully and understand what it is asking you to do. Because if you miss a step, you won't get the reward for completing it.
BountySurfer has quite a lot of offerwalls and they also have some you cannot find on many other GPT sites.
However, many of the offers do not pay quite as much as similar offers do on many other sites, in my experience.
Option 5 – Daily missions
Daily missions are basically just a mixture of all the earning opportunities listed above. Every day, you have a set of missions you can fulfill for each earning opportunity offered so you can earn additional rewards.

There will be three types of missions: small, medium and high. Each mission will ask you to reach a certain goal. For example, the small mission of paid offers will ask you to earn 10 bounties (I will explain later what this means).
To earn the reward for that mission, you have to earn 10 bounties from paid offers. So, you have to complete offers until you earn 10 bounties. The difficulty of the mission will be proportional to the reward it will offer.
This, in my opinion, is a good innovation on their part because not only will earn additional rewards, it will also guide you on what you need to do on the site. Think of it as your daily task list. Of course, you can just ignore this and just do what you feel like doing on the site.
In my opinion, their daily missions just serve as a soft guideline you can follow to earn rewards on the site.
Option 6 – Daily lottery
This is not really an earning opportunity per se, but it does help you earn a small reward if you ever get lucky. The good thing is, it is free to join.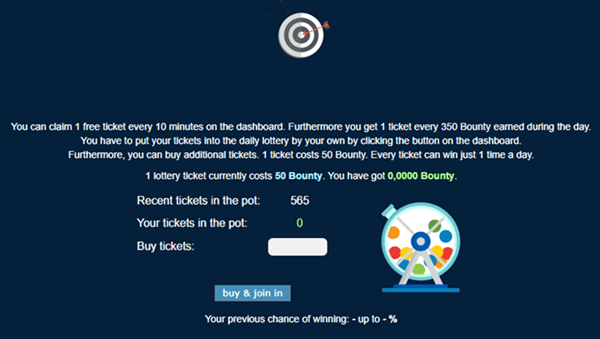 Every 10 minutes you spend on the site, you can claim 1 lottery ticket. Plus, you get 1 ticket every 350 Bounties you earn during the day. The prize for their daily lottery is only €0.02, which isn't really that great. But think of it this way, if you get lucky, then that's free money.
You do have the option to buy tickets to increase your chances but I would not recommend you do that. The prize simply isn't worth increasing your chances of winning.
How do you get paid?
Now that we've discussed the earning opportunities BountySurfer offers, the next thing you need to know is how you will get paid. As you already know, every activity you complete on BountySurfer will earn you bounties.
This is really just another term for points. So, essentially, BountySurfer.de is using a point-system for their rewards. The bounties can then be converted into actual money. Their conversion rate is 1000 bounties = €0.01.
So, the rate isn't really that great and can be quite confusing. To withdraw your earnings, you have to earn at least €2.50. To put it into perspective, you will need to earn 250,000 bounties. It kind of gets overwhelming if you think about it in bounties.
Fortunately, they do offer a convenient method for you to withdraw your earnings. You can withdraw it via PayPal or SEPA Bank Wire. If you are looking for more sites that pay via PayPal, I would suggest you check out the top sites that pay via PayPal as well.
How much money can you make?
You already have a good perspective on how much you will need to earn to receive payment. So, the next thing you need to understand is how well it pays. Unfortunately, as with most PTC sites, you won't get to earn a lot from each offer you complete.
So, you will definitely need a lot of patience to earn enough bounties to reach the threshold. That's why I would say this site doesn't really have good earning potential.
It's not really surprising because PTC sites aren't really known for their good earning potential. If you want to learn more about PTC sites, I suggest you check out the ultimate guide to PTC sites.
Can you use it on mobile?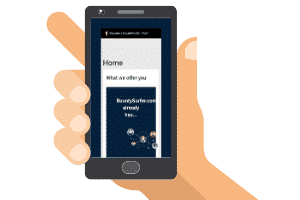 There are some offers on BountySurfer that can only be completed on a mobile device. So, if you want to maximize your earnings from this site, you have to use a mobile device from time to time. Unfortunately, they don't have a mobile app you can download.
But you will be able to access their site from a mobile device through the use of a mobile web browser. Unfortunately, their site is not optimized for mobile use. So, you will have a bit of a hard time navigating through their site.
Plus, I don't really recommend using a mobile device for this site since most opportunities will involve opening plenty of browser tabs and that can get quite annoying when done on a mobile device. In my opinion, the work needed for this site is best done on a laptop or a desktop.
Who can join BountySurfer?
Even though the site's language by default is set to German, you would think it is only available in Germany. But it is actually available globally. Anybody can join this site regardless of where they live.
Plus, you can set the language of the site to English if you don't understand the German language.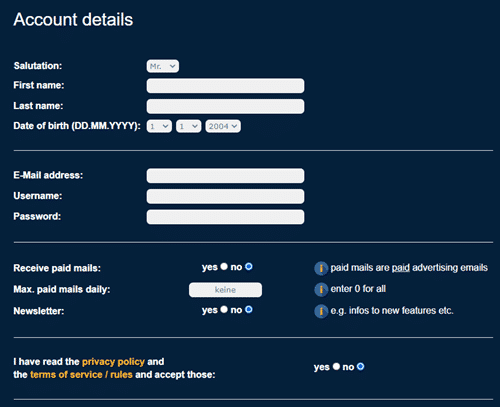 To become a member, you simply have to fill out their registration form and then confirm your membership by clicking on the confirmation link that will be emailed to you. You do have to be at least 16 years old to join the site.
Plus, only one account per IP address is allowed to register. So, if there are other people in your home that are interested in joining this site, you better agree in advance on who should sign up because if several sign up, you risk getting banned.
Can you get support?
The lack of a FAQ page that discusses the basic topics about the site really doesn't improve the usability of this site, in my opinion.
Sure, they do have a Terms of Service/Rules page that discusses the basic requirements of the site, but it really doesn't help much in terms of you fully understanding what the site is all about.
However, they do have a contact page you can use to send in your inquiries, which makes it a good enough site in terms of providing support. At least, they offer a way for you to get in touch with their support team.
But it would have been better, in my opinion, if they had a dedicated page on their site that explains the ins and outs of the website. It's really just a small thing, but it can help make a website more user-friendly.
Final Verdict
BountySurfer.de is a legit PTC site that does pay you for completing the earning opportunities it offers. It has a couple of good qualities to offer but it also has some obvious limitations.
So, let me finish this review with a summary of its pros and cons to help you decide if it is a site worth joining or not.

Pros:
Offers several earning opportunities
Pays via PayPal
Low payout threshold
Cons:

Low rewards
Their site is not very user-friendly
Their site is also not mobile-friendly
Confusing point system
The one main drawback of this site, in my opinion, is the low rewards it offers. So, even though it has a low payout threshold, it will still take quite some time to withdraw your earnings because it will be quite hard to reach.
You will have to do literally hundreds of offers just to reach the threshold and that will eat up a lot of your time. So, I would say, in terms of being efficient at earning, this site isn't the best choice. You are better off joining a GPT site or even a survey site that pays better.
For a list of these sites, I recommend you check out the top survey and GPT sites in your country. The sites on this list all offer good earning potential. Plus, you will be able to find a site you can join regardless of where you live.
If you have any comments, questions, or have any experiences with BountySurfer.de yourself, I would love to hear from you in a comment below.