Paid-To-Click (PTC) sites have become increasingly popular over the years mainly because they offer a fairly effortless way to earn extra cash. I mean, think about it. All you have to do to earn is click on ads.
One such PTC site is called BuxInside. If you are reading this review, you are probably interested in joining this site. So, the first question on your mind is, is it legit? That's a valid concern to have. It is imperative that you join a legit site.
Fortunately, BuxInside is a legit PTC that does pay you for viewing ads and sites. But is it really worth your time? Well, that's a whole different story.
This BuxInside review will tackle that question and provide you an inside look at what it really offers so you can decide if this PTC site is worth your time or not.
What is BuxInside and what does it offer?
As explained above, BuxInside is a PTC site that promises to pay you for viewing the sites of their advertisers. They say that you get paid every 10 seconds (which is actually partly true). But before getting too excited about this you need to understand exactly how it works as it will not be quite as easy as it might sound like.
Now, in order to fully understand the earning capability of this PTC site, we have to examine the earning opportunities it offers. So, here's how you can earn from BuxInside.
Option 1 – Paid Ads
The main way you can earn from BuxInside is by viewing paid ads. These ads will essentially ask you to view the advertiser's website for 10 seconds (hence their promise that you can get paid every 10 seconds).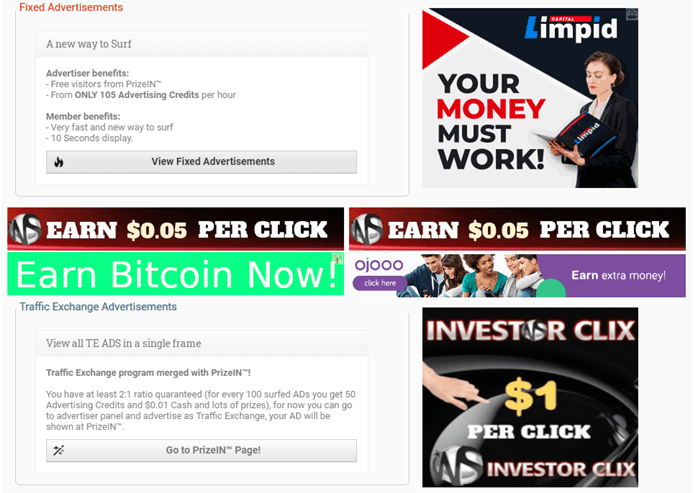 As you can see in the photo above, they offer two types of ads you can view. The Fixed Ads are ads you can view where you can earn a certain amount per ad. In other words, this is the type of ad that will allow you to earn the most.
All you have to do is click the View Fixed Advertisements button and it will start displaying ads. What you need to remember is, you have to make sure the browser tab that will be opened will be the active window.
So, you can't really view other tabs or pages while this is going on because the timer won't run. Plus, you have to click the Next button once the ad is done to view the next ad. So, you will really need to pay attention to the window.
You will get paid for every ad you view and it will be credited to your BuxInside account immediately.
The other type of ad is the Traffic Exchange ad. As the name suggests, for every 100 viewed Traffic Exchange Ads, you get 50 Advertising Credits and $0.01 Cash. So, generally speaking, unlike Fixed ads, this one is less profitable.
You will need to view a lot of ads before you can get something out of it. But if you are interested in posting your own ad on the site, this is the only way to do it without having to spend money.
Option 2 – PrizeIN
PrizeIN is a contest you can join where you can win cash, Purchase Balance, Points, Referrals (Direct or Rented), Advertising Credits and more chances.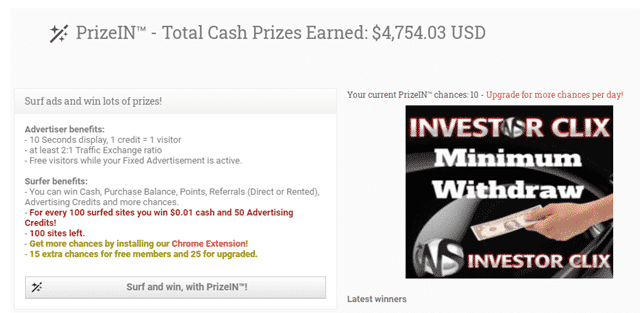 The way this works is pretty much the same as viewing Fixed Ads. The difference is, you only have limited chances to view ads per day (10 for the basic member). But, you can upgrade your membership or install their Google Chrome extension to get more chances to participate in the contest.
It's not really an earning opportunity per se because it is a game of chance. But, in my opinion, it can act as a nice bonus since you don't really have to put in a lot of effort.
Option 3 – Paid Offers
Paid offers are what you would typically encounter on Get-Paid-To (GPT) sites. They are basically small tasks you can do to earn rewards.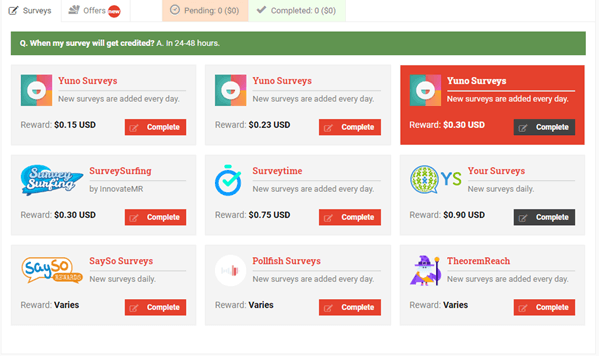 The offers will come from advertisers that have partnered with BuxInside. Most offers will ask you to answer a survey, register to a certain site, answer a quiz, play a game, watch videos, etc.
But regardless of what the offer will ask you to do, the one important thing you need to remember is, you have to follow the instructions given carefully. That's the only way you can ensure that you earn the reward promised.
Once you've completed the offer, you will receive the reward, which will then be credited to your account immediately.
Just be aware that many of the offers you can find inside BuxInside are also available on other sites – and often for higher rewards, in my experience.
Option 4 – Referral Program
Just like most online rewards sites, BuxInside also offers a referral program where you can earn from inviting people to join the site. Of course, the people you invite have to join the site in order for you to earn.
They don't really explain how much you will get for every referral but in my experience, it will usually be around 5-10% of whatever your referral will earn.
However, they did mention that in order for you to earn from your referrals the next day, you will have to view a certain number of fixed ads per day.

They don't mention exactly how many ads you need to view but if you've viewed enough ads, you will see the message in the photo above on the main page of the member dashboard.
In my opinion, their referral program really isn't that great since it doesn't guarantee you will earn from it. And it is really poor service that they do not give more precise details about the earnings and the ads you need to click.
But it all boils down to your referrals being active on the site in order for you to earn. You do have the option to rent referrals to increase your earnings from this opportunity, but you have to be careful when doing so.
If you don't have a strategy to get back the money you spent on renting referrals, you will wind up losing money instead of earning it. So, make sure to formulate a solid plan first before you rent any referrals.
How do you get paid?
As you already know, every ad you click or offer you complete, you will be rewarded with a certain amount. This amount will be credited to your account balance.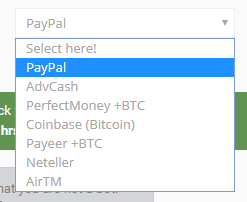 Once you've accumulated $2 on your account balance, you can then cash out through the payment methods offered (refer to the photo above).
You can cash out via PayPal, AdvCash, Payeer, Neteller, AirTM, PerfectMoney or Coinbase.
I do like the fact they offer plenty of payment options. This makes it a more versatile site in terms of handling payments. Plus, they have a low payout threshold, which makes it quicker for you to start withdrawing your earnings.
If you are interested in more sites that have a low payout threshold, I suggest you check out the fastest paying sites instead.
Keep in mind though that each payment method will have its own transaction fee. So, don't expect to receive the full amount when you withdraw your earnings.
How much money can you make?
The problem with PTC sites in general is, you don't really get paid a lot for viewing ads.
In fact, you will earn less than a penny for each ad you click. So, in order to earn a significant amount, you literally have to view thousands of ads. That can pile up to a lot of hours.
So, in terms of being an efficient way of earning, viewing ads isn't really the best option. Yes, it requires little effort to do, but it doesn't pay that much as well. Your time will be better spent completing paid offers or answering surveys which pay better.
Fortunately, their paid offers pay better than their paid ads, which is really not surprising. This, in my opinion, is the better earning opportunity offered by this site.
So, if you want to earn a significant amount from this site for less time consumed, you can do it by completing the paid offers.
Can you use it on mobile?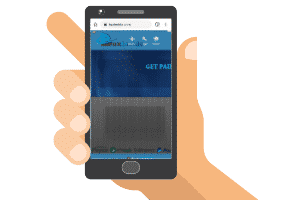 BuxInside doesn't have a mobile app you can download so you can work on it even though you are not sitting in front of a computer. However, you can access their site from your mobile device by using a mobile web browser.
Fortunately, their site is mobile-friendly. So, you won't really have a hard time navigating through the site using your mobile device. But fair warning though, since their earning opportunities will mostly ask you to open a new tab/window, it can get quite inconvenient in the long run.
That's why I still recommend you work on it from your laptop or desktop. It's much more convenient that way, in my opinion. You can instead use your mobile device if you are completing paid offers that will ask you to download mobile apps.
That's the best use of mobile devices for this site, in my opinion.
Who can join BuxInside?
The good thing about BuxInside is, it is available globally. So, you will be able to sign up regardless of where you live. You can even set the language of the site to your preference.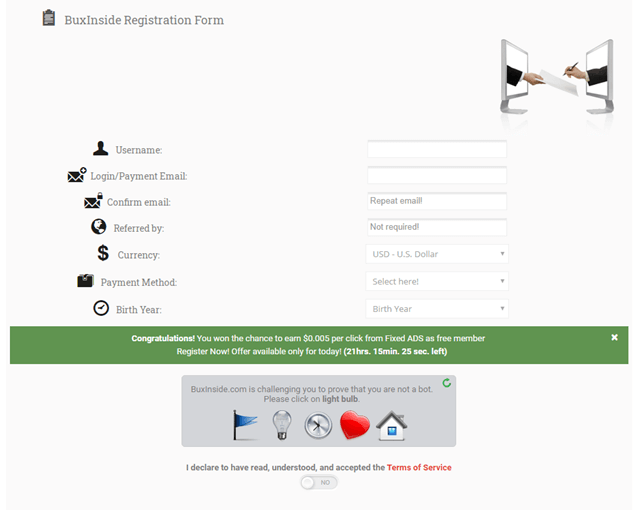 They don't mention any age requirement, but in my experience, in order to join a PTC site, you often have to be at least 18 years old or older. If you plan to withdraw your earnings via PayPal, you will definitely have to be at least 18 years of age to do so. So, keep that in mind before you sign up.
To become a member, all you have to do is fill out the registration form. Once you submit the form, they will then email you the password for your account. Just use the password to log in to the site.
Then, you can change your password to whatever you prefer.
Can you get support?
One noticeable thing about BuxInside is, it doesn't fully explain what the site has to offer or the mechanics of the earning opportunities it offers.
So, you, as a potential member, will be left clueless as to what you need to do, especially if this is your first time joining a PTC site.
If you have been a member of PTC sites before, you can more or less guess what you need to do. But, in my opinion, this is really just poor website planning. You need to make sure you provide all the necessary information so people will get a good idea of what you can offer.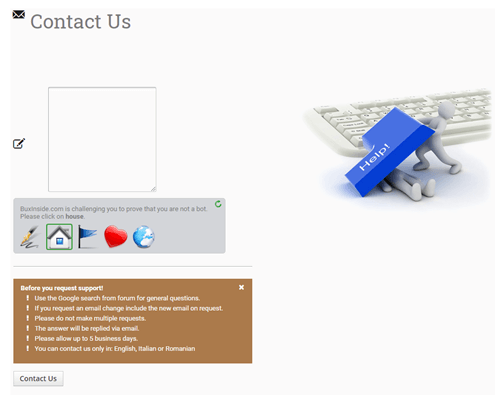 If you are not transparent enough with providing the necessary information, the end result is, you will receive plenty of inquiries from potential advertisers and members.
And speaking of inquiries, the good thing is, you will be able to connect with their support team for any inquiries you have by using their contact form. Just use it to send in the questions you want to ask.
You can also visit their forum and read about tips and other important topics. So, overall, apart from the lack of transparency of their site, they do provide a good way for you to get support.
Final Verdict
BuxInside is a legit PTC site that does pay you for viewing ads and completing offers. It offers a couple of good qualities but it also has some drawbacks that are hard to ignore.
Let me finish this review by listing the pros and cons of BuxInside. This should help you make a decision on whether this PTC site is a good fit for you or not.

Pros:
Available globally
Plenty of payment methods offered
Low payout threshold

Cons:
Low rewards
Some important information is not displayed on their site
Limited earning opportunities
BuxInside exhibits most of the common advantages of a PTC site. It has a low payout threshold and it is available globally. However, it is surprising that they offer several payment methods. Not a lot of PTC sites offer that many, which is really a good thing.
It isn't really a bad site to earn from, in my opinion. It can serve as a decent secondary site to earn from. Just don't expect to earn a lot from it because it doesn't really pay that well and it has limited earning opportunities offered.
In order to earn a significant amount, you will need to invest quite a lot of time, which isn't really an efficient way of earning.
If you are looking for sites with better efficiency in earning, I recommend you check out the top survey sites in your country instead.
The sites on this list all have good earning potential and all offer several payment methods as well. Plus, you will also be able to find a site you can join regardless of where you live.
If you have any comments, questions, or have any experiences with BuxInside yourself, I would love to hear from you in a comment below.