Cashback sites have become popular the past few years. The main reason for this is because online shopping has become more and more prevalent. So, if you frequently shop online, joining a cashback site can really be very beneficial.
The question is, which cashback site should you join? One popular option is called Capital One Shopping. This site promises you will get the best coupon codes and the best prices. But is this site legit or is it a scam?
That's a very important question to ask and this Capital One Shopping review will look into this and reveal the full details about what the site has to offer so you can decide if it is worth joining for you or not.
What is Capital One Shopping and what does it offer?
As mentioned above, Capital One Shopping is a cashback site that will allow you to earn back a percentage of the amount you spend on your online purchase. It is indeed a legit site and is owned by one of the largest credit companies in the US, Capital One.
It was formerly known as Wikibuy until Capital One bought it. Since the acquisition, it has rebranded into Capital One Shopping. Now, this site actually has more to offer than just cashback offers. So, let's take a closer look at how you will be able to earn from this site.
Option 1 – Cashback offers
The main earning opportunity Capital One Shopping offers is their cashback offers. So, the bulk of your earnings from this site will come from availing of these.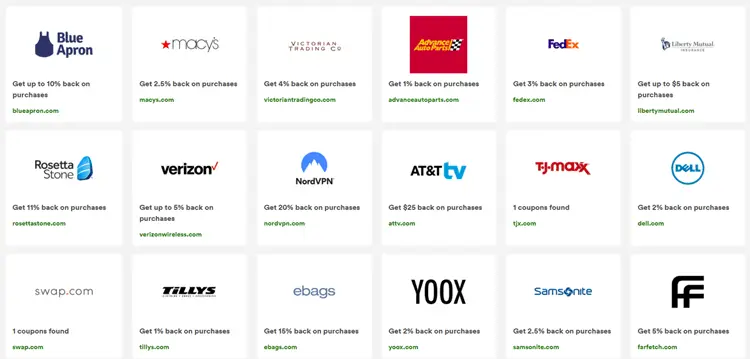 To avail of the cashback offers found on their platform, just log in to their site. You will immediately see all the available cashback offers. To avail of an offer, simply click on any store that has an offer (refer to photo above).
As you can see in the photo above, you will immediately see the cashback rate you will get for shopping from a certain store. Take note that these offers are only valid for online purchases.
When you click on a store, it will open a new browser tab that will redirect you to the online store. Simply complete any purchase to receive the cashback reward. It typically takes a month or more for the cashback rewards to be credited to your account.
Most of the cashback offers found on their site do not require specific product purchases for you to receive cashback rewards. So, you can just buy any product from your chosen online store to receive the cashback reward.
But one thing you should keep in mind is, you have to go through the link inside the member dashboard to get to the online store where you will do your shopping on. This is how they will be able to track your cashback reward.
They do offer a way for you to avail of cashback offers without having to log in to their site. And that is through their browser extension, which I will discuss later.
Option 2 – Local offers
Their local offers work more or less the same way as their cashback offers. The only difference is, you have to make the purchase in physical stores.
When you log in to the platform, you will also see cashback offers near your zip code. Most of the offers are from restaurants. And just like their cashback offers for online purchases, you will also immediately see the cashback rate.

Now to earn from their local offers, you will have to link an eligible credit or debit card and use the linked card to pay for your meal/purchase. You will then earn the cashback rate promised which will be converted to shopping credits (I will talk about this later).
Option 3 – Browser extension
The Capital One Shopping browser extension isn't really an earning opportunity but I decided to include it in this section anyway because it is a very useful tool that will help you save money. And as they say, "money saved is money earned."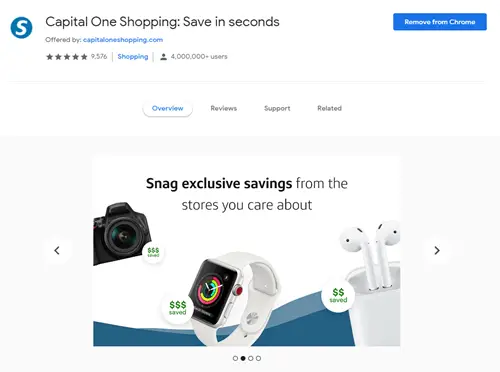 As mentioned earlier, one of the uses of their browser extension is, it will allow you to avail of cashback offers without having to log in to the Capitol One Shopping dashboard.
Once the extension is set up, you can simply go to any of their partner stores and complete your purchase normally. If that store has an existing cashback offer, the extension will be able to track it and credit it to your Capitol One Shopping account.
But aside from cashback offers, the extension can also automatically apply any available coupon codes during check out. So, you won't have to search for coupon codes on your own. The extension will do it for you.
The extension also searches for a better price while you shop at Target, Best Buy, and more. You'll see a friendly little pop-up if a better offer is found, including tax and shipping details. So, it can act as your little shopping assistant.
The browser extension works on both Google Chrome and Mozilla Firefox. You can even install it on both if you use both browsers. Just make sure to use the same account when setting it up.
Recommended: Check Out the Best Cashback Sites
How do you get paid?
All the cashback rewards you will earn from this site will be converted to shopping credits. You can then redeem eGift cards using the shopping credits you've earned.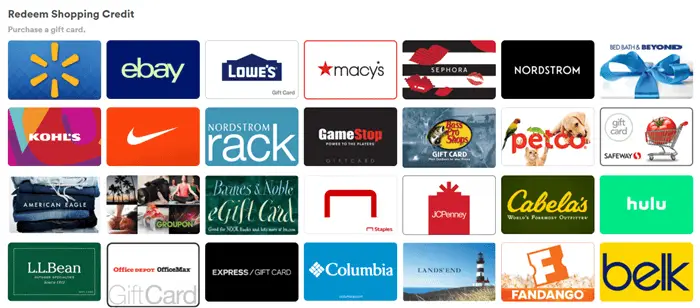 To do so, click the 'Redeem Credit' button under your account drop-down or visit the Shopping Credit Redemption page directly, where you will have a wide choice of eGift cards available. Selecting an eGift Card will open a checkout screen where an amount and preferred payment method can be chosen.
Any applicable disclaimers and/or gift card terms will be displayed below the eGift Card logo. Then, just enter the desired eGift Card amount and the total will update to the right on the checkout screen, where the payment method can be adjusted as well (you can pay for the eGift card using your credit card if you don't have enough shopping credits).
A credit card is also required for identity and security purposes when exchanging credits for an eGift Card. It's much more stringent in terms of reward redemption compared to many other cashback sites.
Unfortunately, if you are looking for cash rewards, then you will be disappointed because all you can redeem with your shopping credits are gift cards. If you are interested in sites that will allow you to earn cash instead, I suggest you check out the top sites that pay via PayPal.
How much money can you make?
What makes a cashback site good is if it has plenty of cashback offers. That's because if there are plenty of choices, you will more likely find an offer you can avail of.
And fortunately, Capitol One Shopping falls into that criteria because they have a lot of partner stores.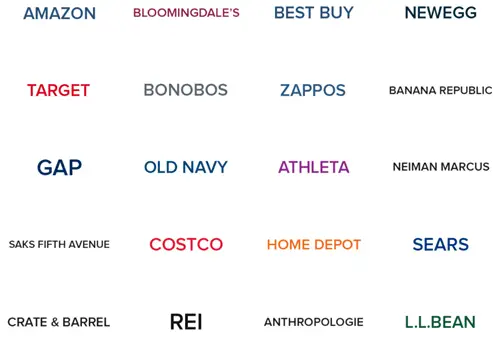 As you can see in the photo above, they have partnered with some of the most popular retail stores today. So, you'll definitely find an offer you can avail of.
The cashback rate typically ranges from 2% to 10%, but sometimes you will see stores that offer more.
It's not the best rate out there but their rates are certainly competitive. That's why in terms of earning potential as a cashback site, I would say theirs is pretty good.
Can you use it on mobile?
If you prefer to do your online shopping from your mobile device, you can do so by downloading the Capital One Shopping app. It is available on both Android and iOS app stores.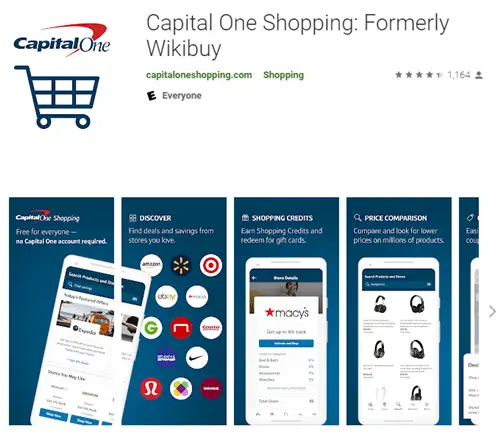 Their app is user-friendly, so you won't have a hard time getting used to it. The user interface is very intuitive. It might be a small thing, but it is a big deal for mobile shoppers because it makes shopping online from a mobile device a lot more convenient.
Who can join Capital One Shopping?
Capital One Shopping is only available in the US. So, if you don't live in the US, then this site is not for you. You also have to be at least 18 years of age to sign up as a member.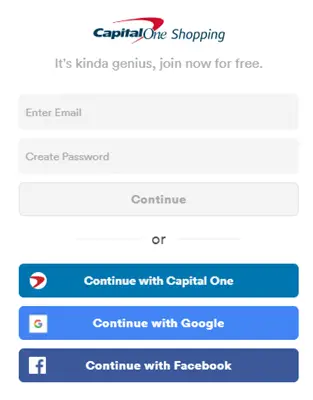 To become a member of their platform, you can simply sign up using your Google or Facebook account. You can also sign up using your own email address or if you already have a Capital One account, you can use that too.
Once you are done with the sign-up form, you will have to complete your profile. It's a relatively short process, so I suggest you do it immediately so you can start availing of cashback rewards.
Final Verdict
Capital One Shopping is a legit cashback site that will allow you to earn back a percentage of what you bought online (provided they are from one of their partner stores). It has a couple of good features to offer but it also has limitations you need to take into account.
Let me wrap up this review with a summary of its pros and cons to give you an overview of what the site has to offer so you can decide if it is worth joining or not.

Pros:
Has plenty of cashback offers
Has an app you can use so you can shop online from your mobile device
Their site and app are both user-friendly

Cons:
Doesn't offer cash rewards
You will need to provide your credit card information when redeeming rewards
Overall, if you don't mind earning gift cards instead of cash, then Capital One Shopping is a decent cashback site to join. It has plenty of cashback offers and it has a mobile app you can use.
You just need to be aware that you need to provide your credit card info to redeem rewards. There won't be any fees charged on your card. It will just be used for security purposes. But still, if you are not comfortable sharing your credit card info, then you won't be able to maximize the site to the fullest.
I also like the features of their extension where it will show you better deals. It can help you save a bit of money if you frequently shop online.
However, if you are looking for sites you can earn from where you don't have to spend money, I would instead recommend you check out the top survey and GPT sites in your country. The sites on this list all offer good earning potential and most of them offer cash rewards.
Plus, you will definitely find a site you can join regardless of where you live.
If you have any comments, questions, or have any experiences with Capital One Shopping yourself, I would love to hear from you in a comment below.