Cash Quizz is an app that claims you'll be able to earn rewards by playing trivia games (hence the name). So, if you are good in those types of games, you might be considering downloading this app.
However, it would be wise to know more about the app first before you download and install it. And the first thing you need to ask is, is Cash Quizz a scam or is it legit? In other words, will it really allow you to earn?
It's a very important question to ask, so let me address it right away. No, Cash Quizz is not a scam. It is indeed a legit Get-Paid-To (GPT) app that will reward you for playing the games they offer. Now, the question is, it is worth using or not?
That's a whole different story and to answer that, there are a few things we have to consider. This Cash Quizz review will give you an inside look so you'll know what to expect before you even sign up. That way, you can determine if it is really worth downloading or not.
What is Cash Quizz and what does it offer?
As mentioned above, Cash Quizz is a GPT app that will reward you for answering quizzes. It reminds me a lot of "Who Wants to Be A Millionaire?" a popular TV show where a contestant has to answer trivia questions to earn a certain amount.
The concept of this app is derived from that show (or so they say) but instead of earning money, you will earn coins, which is the currency they are using.
Now, to understand how the app works, we have to take a closer look at the earning opportunities it offers. It will also give you an idea of how well you can earn rewards from it.
I have, therefore, made a short video that gives you an inside look and shows exactly how you can earn from Cash Quizz. You can also read all the details below the video:
Option 1 – Tournaments
The whole theme of the app is competition. You will compete with other members to win prizes in their tournaments. Every day, you have 8 free Tournament attempts. So, you have to choose which tournaments to join carefully.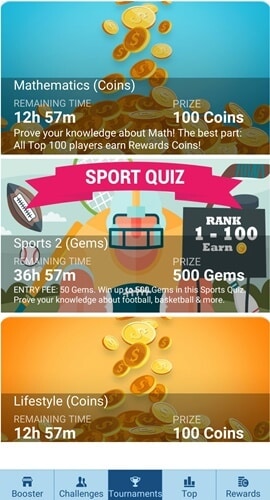 As shown in the photo above, every tournament runs for a specific time. There will be a timer displayed to show the time left for the tournament.
To enter a tournament, just press it and hit play. Every tournament has 12 questions divided into three difficulties (easy, medium, and hard). Every difficulty will have 4 questions. You have to answer a question within 10 seconds. If you fail to answer it within the time allotted, it will be considered as a wrong answer and you'll have to move on to the next question. You will get points for every correct answer.
When playing tournaments, time is of the essence because the faster you answer the question, the more points you earn (if you answer it correctly). After you finish all 12 questions, you will know how many points you've earned and you will see your ranking.
Typically, the top 100 players will receive rewards and the higher your rank is, the more rewards you will get. Once the tournament ends, you will receive a notification if you are among the winners. Your winnings will then be automatically credited to your account.
Option 2 – Challenge
Another way to earn is to challenge other members of the app. In this mode, you will have to bet a certain number of coins (the currency they are using). The minimum bet is 5 coins.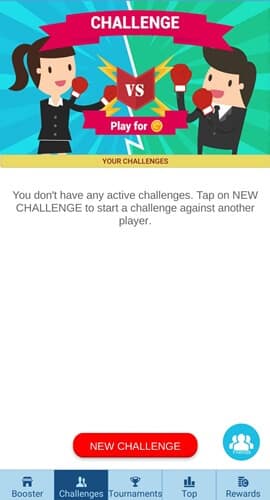 In the challenge, you have the option to challenge friends or a random member of the app. When you start the challenge, just tap on "Challenges" and tap either "Random Player" or "Friends". If you choose the "Friends" option, you have to choose among your friends list (I will discuss later how to add friends).
If you choose "Random Player", the app will find another player to match you with. You will then have to choose how many coins you want to bet.  Then, once you've decided on the number of coins, press the "Search Opponent" to start answering the questions.
The person you challenged will then be given 24 hours to respond to the challenge. They can accept the challenge and answer the questions. Whoever has the highest score will receive the coins. For example, if you bet 5 coins and you won, you will receive 10 coins at the end of the challenge.
If they refuse your challenge, you will get your coins back. During my testing, I kept challenging random members, and they never accepted my challenge. So, I just got my coins back.
So it can take some patience to find members that want to accept challenges, in my experience.
If your challenge keeps getting reject, you can use the other Challenge mode instead where you don't have to bet your coins. You can play a "Free Game" instead. In this mode, you have to watch a video ad first.
Once you finish watching the ad, you will then answer the questions. The difference is, the 5 coins that was set as a prize for the challenge will not be deducted from your account. The app will shoulder it instead. If you win, you get double the coins (10 coins). If you lose, the other player earns the 5 coins instead.
This is the safer and better option, in my opinion. You just have to power through the video ad because it can take about a minute to finish watching it.
Option 3 – Booster
Cash Quizz will also offer free ways for you to earn rewards from time to time. They call it "Booster". The idea is really simple. All you have to do is watch a video.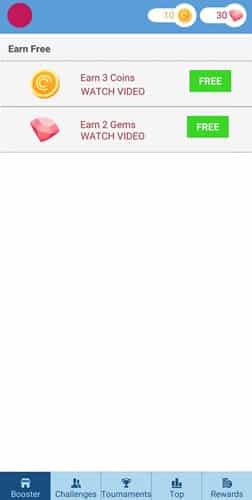 As you can see in the photo above, you will immediately the reward you will earn for watching the video. Just press the "Free" button to start watching it. Wait for the video to finish (there will be a timer displayed on the bottom of the video).
Once you finish watching the video, the reward will be credited to your account right away. If you ever see offers in this section of the app, I would suggest you watch it right away because they don't really offer a lot of these.
Think of it as bonus rewards you can earn.
Option 4 – Adding friends
Adding friends is similar to a referral program. If you've been a member of a GPT site or app before, then this will be very familiar. You have to invite other people to download and use the app.
To do that, you have to go to the "Challenges" page and you have to press the blue button that says "Invite Friends". Then, just choose if you want to send the invite via SMS, WhatsApp, Telegram, etc.
Once your friend accepts the invite and installs the app, you will receive 15 gems (another currency they use – more about how to use these below). Your friend will also receive 15 gems. So, it a win-win situation for you both.
Recommended: Check Out the Top Survey Apps
How do you get paid?
As mentioned above, you will earn coins for joining tournaments and challenges. You can then exchange the coins you've earned for certain rewards.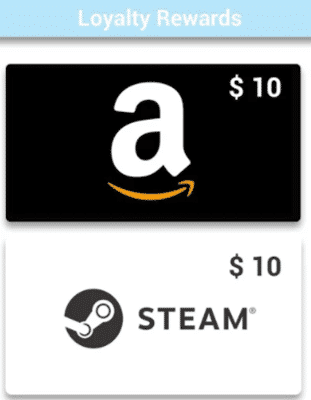 You can redeem various rewards like Amazon gift cards, Steam gift cards, and several more. To redeem a reward, you have to earn 10,000 coins. That will be worth $10.
It is worth noting that during my testing, their rewards system was unavailable. When I went to the section to redeem rewards, it just says "Rewards Coming Soon". I'm not sure if it is just temporarily disabled or if they've stopped allowing people to redeem rewards.
If it's the latter, then that would be a big red flag, in my opinion. And I will keep an eye on this to see how it develops.
As for the gems you earn from adding friends, you can apparently use it to get perks when playing in tournaments. For example, you can use gems to eliminate half of the wrong answers for the question. So, it's just a currency to help you answer a question correctly.
Overall, I would say their payment system is very simple (when it works), but I wish they would also offer cash rewards. If you prefer to earn cash, I would recommend you check out the top sites that pay via PayPal instead.
How much money can you make?
Let me be blunt, you won't earn a lot from this app. Most of the tournaments you can play on will allow you to earn around 100 to 500 coins. That is if you manage to rank 1st.
While it may sound like you've earned a lot, you are actually only earning $0.1 to $0.5 per tournament. That's a very low rate and considering there's no guarantee you will actually win every time you join a tournament (unless you are the trivia god), it will take quite a long time for you to reach their threshold and redeem rewards.
Also, it takes some patience because there are ads you have to watch quite often and this can become a bit annoying, in my opinion.
So, if you are looking to earn a decent amount easily, I would recommend you look for another app instead. This app is really only meant to be used to pass the time, in my opinion.
Can you use it on a desktop?
Cash Quizz is a mobile-only platform. So, you can't use it on a desktop or even a laptop. You will definitely need a mobile device to use it.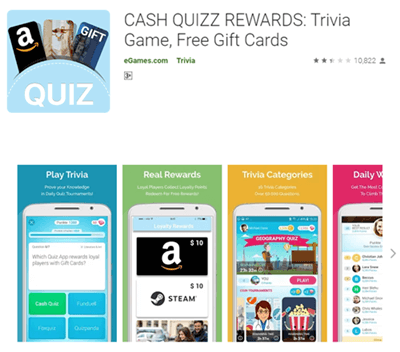 The good thing is, their app is compatible with both Android and iOS devices. So, compatibility won't really be an issue. The one thing I noticed about their app is, while it's relatively user-friendly, it is quite spammy.
You will have to put up with a lot of video ads that run for around a minute or so. This can get quite annoying in the long run and it definitely affects the overall user-experience.
Plus, when you join tournaments, it sometimes doesn't load, in my experience. When I tested it, I had to keep retrying to join and it took several tries to do it, which can get quite annoying as well. So, while their app is user-friendly, the overall user-experience isn't really that great.
Who can join Cash Quizz?
Cash Quizz is available globally. You can register as a member regardless of where you live. It's not even very particular about your age.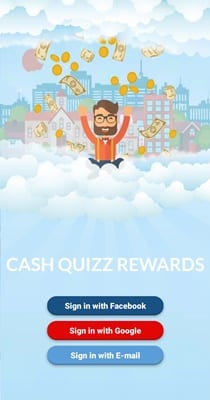 To join the app, you first have to download and install it. Then, once it is installed, just open the app and choose how you can sign in. You can use your Google or Facebook account. You can even sign in with your email address.
Once you've done that, just give the necessary permissions (if you are using Google or Facebook). You can then start joining tournaments right away.
Can you get support?
If you have any questions about the app, you can check out their FAQ page first. Just log in to the app and press the profile button on the upper left-hand corner. Then press "Help & FAQ". You will see their FAQ page and it discusses most of the basic questions you need to know about the app.
If you can't find what you are looking for, you will have to email them at [email protected] since their site doesn't have a contact form you can use as well as their app.
While I would say they have a decent support system in place, it would have been better if the way you can get in touch with their support team would have been easily accessible. I had to dig up their support email in their Google Play page. It's just a small thing but it could help improve the overall usability of the app.
Final Verdict
CashQuizz is a GPT app that will reward you for answering trivia questions. It has a couple of good features but it has several disadvantages you need to be aware of.
Let me end this review with a summary of its pros and cons to give you an overview of what the app has to offer so you can decide if you should install it or not.

Pros:
Offers a fun and interesting way to earn rewards
Available globally

Cons:
Limited earning opportunities offered
Very low rewards
App is quite spammy
The app has a lot of glitches
If you are looking to earn extra cash, then Cash Quizz is not a good option, in my opinion. It will take a long time to earn a decent amount from this app since they don't really offer great rewards.
There are simply far better options out there. This app is really only meant to pass the time, in my opinion, or if you love playing trivia games. But other than that, you are better off investing your time in apps or sites that will allow you to earn a decent amount easily.
For a list of those sites and apps, I would suggest you check out the top survey and GPT sites in your country instead. The sites and apps on this list all have good earning potential and they pay significantly better than Cash Quizz.
If you have any comments, questions, or have any experiences with Cash Quizz yourself, I would love to hear from you in a comment below.