CashKarma app claims it is a way to get free cash and gift cards.
But is CashKarma legit, or is it a scam app to stay away from?
I have tested the app thoroughly myself to see exactly what it offers.
And let me just reveal right away that it is legit – I have been paid by it several times myself. But that does not necessarily mean it is the right opportunity for you.
In this CashKarma review, I will share all the details with you and give you an inside look, so you will know exactly what to expect and can easily find out if it will be worth your time or not.
Disclosure: Some articles on this website contain affiliate/sponsored links. Click for more info.
What is CashKarma and what does it offer?
I first heard about Cash Karma from a reader here on PaidFromSurveys.com that told me he had good experiences with it and suggested me to look into it and give my opinion (thanks for the tip Anthony).
I decided to test it to learn all the details about what it offers and if it is really worth the time.
It is a GPT (Get-Paid-To) app where you can earn by taking surveys and doing other online micro-tasks.
You cannot use it on their website, but you can still find some basic information about the app on the CashKarma.io website. But you need an Android phone or an iPhone to be able to download and use the CashKarma app to earn.
That it is an app makes it easy to use on the go. But before you decide if it is the right option for you, you need to know exactly how you can earn by using the CashKarma app and how good the options are compared to other similar options.
So let's start by going over the earning methods and how good they are.
I have made a video that gives you an inside look and shows exactly how it works and also shows you CashKarma payment proof. You can also read all the details below the video:
Click to Join CashKarma and get a 500-Point Joining Bonus
Option 1 – CashKarma surveys
Paid surveys are the biggest earning opportunity in CashKarma. You can find a pretty good amount of these inside the app.
To be able to start taking the surveys, you first need to answer an initial short survey questionnaire for each of the survey providers CashKarma has as partners.
They take around 2 minutes each, and there are 3-4 of them. Each of them will unlock a survey wall for you. You get points for taking these short profile questions as well, so that is great.
Once you have done that, you will be able to access the lists of available surveys.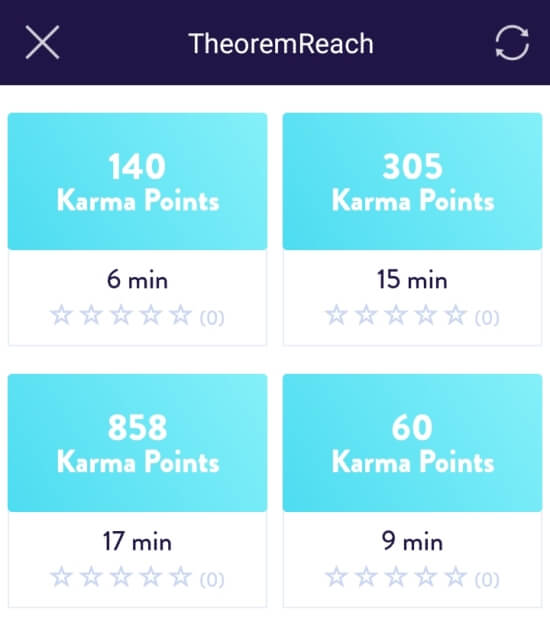 Just be aware that you will not qualify for all the surveys, so sometimes it can take a bit of patience to find the ones you qualify for. But it gives you access to a good amount of surveys that are easy to take because the app is user-friendly.
A nice feature when it comes to the surveys on CashKarma is that you get bonuses when you have been screened out of surveys a certain number of times.
You, for example, get 50 points when you have been screened out 10 times, 100 points when you have been screened out 25 times, 250 points for 50 times, and 500 points for 100 times.
It is not a huge bonus but at least nice you get a small bonus for trying, compared to certain other survey sites.
The rewards for the surveys are not quite as high for the time spent compared to the top paying survey sites.
It can still be worth it if you want access to as many surveys as possible and because it is easy to use on the go.
Some of the same surveys can be taken on other sites for a higher reward – I have, for example, seen Surveytime surveys that only pay $0.20-$0.30 per survey but if you take these directly on Surveytime, you will instead get $1 per survey.
So not all surveys on CashKarma are worth it but it also offers some surveys that you cannot find many other places. So if you choose wisely, it can be a way to earn some nice extra cash in this app.
Option 2 – CashKarma joining bonus/referral code
A great thing about CashKarma is that it gives you a great start by offering several joining bonuses right away to kickstart your earnings.
If you use a referral code when you join. Because I have this website, I have been able to get you a bonus code that will give you 500 points for free right away.
To get these free points, you can use my code which is: moeller79.
You can also join through the link further down in the review and you will then automatically get these free points.
In addition to this, you get 50 free points if you verify your email address.
Option 3 – Watch app trailers / videos
On CashKarma you can find an option to watch small video trailers for other apps.

These is ads that last between 15-30 seconds. By watching them, you will earn a small reward.
It is easy to do, it does not take long, and you can watch a lot of them. But they really do not give very high rewards. The standard reward is 1 point per video (the equivalent of around $0.001).
There are, at times, videos with higher rewards, but, in my opinion, it is really not worth the time to watch these trailers to earn.
If you like watching the trailers and getting ideas for new apps to download, it can be fine and then it is nice to get a small reward at the same time.
But if you think about it, you have to watch around 1000 of these trailers to earn $1 – then it is really not worth it from an earning perspective.
Option 4 – Badges and bonuses
Something I like about CashKarma is that it offers quite a few bonuses and badges.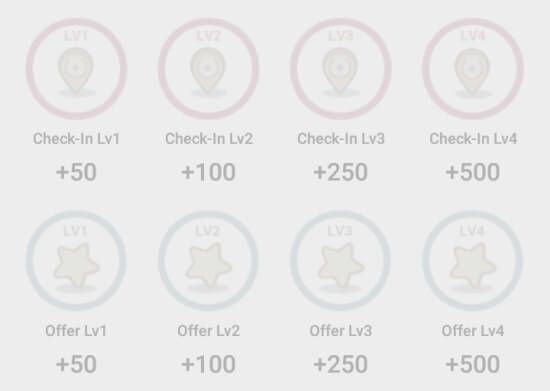 This is, for example, a small bonus and badge when you have checked in a certain number of times, you get a small bonus every day you check in to the app, you get a bonus and a badge when you have watched a certain number of videos, etc.
There are quite a lot of these small bonuses and badges.
They will definitely not make you rich, but it is a nice way to stay motivated and watch your progress, and being recognized for being more active.
Option 5 – Paid offers and deals
There are several paid offer walls inside CashKarma.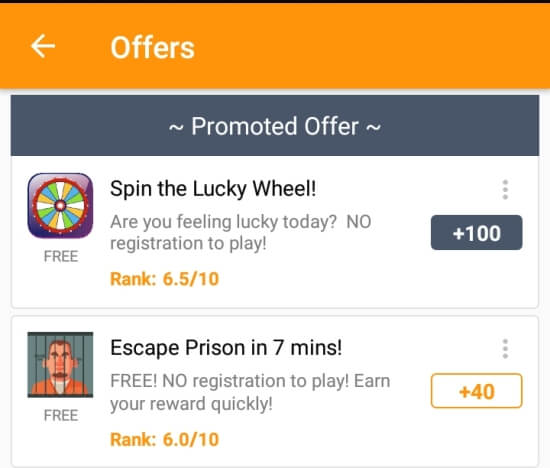 Some of the offers can be fast and fun. I, for example, took an offer where I had to answer some questions and spin a wheel. It was actually kind of fun and only took 5 minutes.
The reward was quite small, but it was entertaining.
Some of these offers have very good rewards, but some of them have very low rewards. Also, many of them are covered in ads and are meant to get you to give your info so advertisers can contact you.
It can still be worth taking some of these as it can be easy money if you find the right offers. You just need to make sure to read the conditions for the offers, so you know exactly what you agree to.
Click to Check Out CashKarma for Yourself
How do you get paid?
Something that is very important to know before signing up for any survey or GPT opportunity is how you can get paid. You need to know this so you are sure it offers methods and conditions you can accept.
Cash Karma, in my opinion, offers some good payout methods. You can get paid in cash through PayPal, get Amazon Gift cards, or choose between many other gift cards.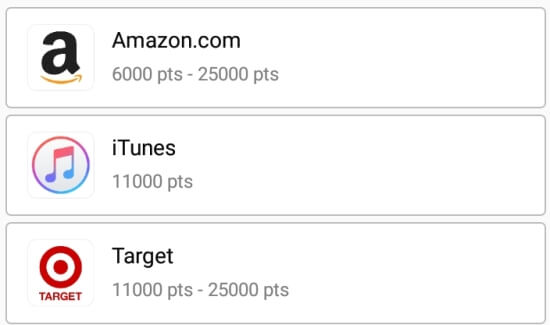 Personally, I prefer survey options that pay through PayPal, as it is such a nice and fast way to get your rewards in cash, so nice CashKarma offers this. But the other methods are also great, depending on your preferences.
It is, however, not as easy to figure out when you can get a payout and how much points are worth as it is on many other sites and apps.
The payout threshold depends on the reward you want and also on the country you live in. The lowest threshold is for Amazon gift cards, as you can get one of these already when you have earned $1 in some countries. This is equivalent to 1850 points.
This is a great low payout threshold, and CashKarma has lowered this since I first joined it and great to see this improvement.
Just be aware that the conversion rate from points to dollars is a bit confusing, and there are, therefore, in my opinion, sites that offer Amazon gift cards as rewards with better conditions.
What is confusing about CashKarma is that the conversion rate depends on the reward and when you request a payout.
As you can see above, if you get an Amazon gift card, you have to use 1850 points for $1. But if you wait until you can get a $25 gift card, you only have to pay 25,000 points.
For PayPal, you can get your money out when you have $3, which will cost you 5250 points, so PayPal is a more expensive option for the lower rewards. But if you wait until you have 100,000 points, you can get $100 for this.
So it is clearly best to wait until you have more points to get a payout on CashKarma as you then get better value for your points. That means it can take a bit of patience to get the best value for your points.
One aspect of the rewards on CashKarma I really like and have only seen a few places like, for example, on the site PrizeRebel, is that when you get a payout, you at the same get a bonus.
The bonus depends on the size of your reward. When you request a $50 PayPal payout, you get 2500 points as a bonus. This is equivalent to $2.5 you get as a bonus.
That is a nice extra bonus to get for cashing out compared to some other sites that charge a small fee for processing the payout.
How much money can you make?
CashKarma offers quite a few ways to earn, as you can see.
It is easy to use it on the go as it is an app, so it can be a way to earn a bit of extra cash.
You should, however, not expect it to make you a full-time income or anything close to this. It can be a way to earn a little extra, but it takes some patience, so you should go into it with this expectation.
Who can join CashKarma?
You can join CashKarma no matter where you live, and you just have to be at least 13 years old to sign up.
As it is an app, you, of course, need to have a phone where you can download the app.
It is available through Google Play and in the App Store.
A strange thing about CashKarma compared to other sites is that when you first join, you do actually not have to create an account. You can just open the app and start using it.
Once you are inside, you can, however, create an account with your email and a password.
I would suggest you do this if you are going to use the app. This makes it possible to also use the app on other devices, and you get a bonus for creating an account and verifying your email.
Can you get support?
It is always good to know if you can get support or not on any GPT site or app you join, as you might need help at some point.
At CashKarma, I had a hard time finding this option and could not find any support option in the app.
However, I managed to find a support form on the website. If you go to the FAQ section through the link at the bottom of the CashKarma website, you can see a link in the right sidebar.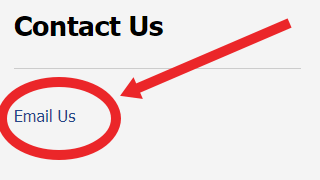 If you click this link, you will get access to a support form where you can ask questions or get help.
A shame it is not made available in the app, but hopefully, that will be made available soon.
But at least nice that it is still possible to contact the support through the website.
I have been in contact with the support myself, and they have responded quite quickly every time, and that is definitely a big plus. So if you should need help, you can expect to get it.
Final verdict
CashKarma offers several ways to earn and offers legit payout methods.
This does, however, not mean it will necessarily be a good option for you.
So let's finish this review by summing up the pros and cons so you can get a better overview before deciding to join or not.

Pros:
Free to join
Easy to use on the go
Many great bonus rewards
Great payout methods

Cons:
Point system can be a bit confusing
Some offers contain a lot of ads
Overall, I think CashKarma can be a fun and easy way to earn a bit extra cash on the go as it is very easy to access through the app.
It has some great payout methods once you have figured out the slightly confusing point system. It can take some patience to earn any real money here, and some of the rewards are lower than on similar sites. But overall, it is definitely a way to earn a bit extra.
I would, however, suggest you also join more survey and GPT sites in your country as well, as CashKarma alone does not give enough opportunities, in my opinion. But as an extra option and easy access on the phone, it can definitely be a good option.
How to join CashKarma?
It is very easy to join CashKarma. You just download the app, and then you can start earning right away.
If you want 500 FREE points right away, just click the button below, and you will then automatically get them after joining.
If you have any comments, questions, or have any experiences with CashKarma yourself, I would love to hear from you in a comment below.