There's an app called CashPiggy that claims you will be able to earn by doing simple tasks like sharing your opinion, playing games, and a lot more. It seems like a fairly easy way to earn.
But is CashPiggy legit and really a way to earn, or is it a scam you need to stay away from? This is the most crucial piece of information you need to know before downloading any app.
So, let me address this right away. Yes, CashPiggy is a legit app that will really pay you for completing simple tasks. But that doesn't necessarily mean it will be worth your time.
To figure out if it is an app worth using or not, we have to consider several factors. This CashPiggy review will show you the full details so you know exactly what the app has to offer so you can make an informed decision about whether it is for you or not.
So, let's go ahead and examine what CashPiggy has to offer.
What is CashPiggy and what does it offer?
CashPiggy is a Get-Paid-To (GPT) app that will pay you for doing short and simple tasks. It's a fairly straightforward app.
However, to find out if CashPiggy is worth using or not, we have to examine the earning opportunities it offers in detail. This is the best way to understand how the app works and how well you can earn from it.
I have, therefore, made a video that gives you an inside look and shows exactly how you can earn from CashPiggy. You can also read all the details below the video:
Option 1 – Tasks
The majority of your earnings from this app will come from completing short tasks. These tasks will usually ask you to answer surveys from survey routers like TheoremReach, Adscendmedia Surveys, and a lot more.
There are also other tasks where you, for example, have to complete paid offers that will require you to play games, watch videos, view ads, and sign up to websites. To view all the available tasks you can do, just open the app and go to the "Earn Points" section.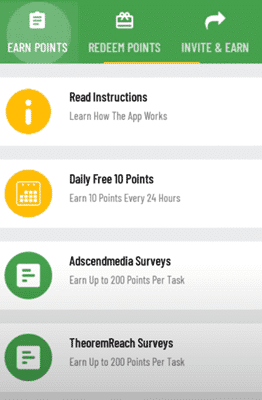 As you can see in the photo above, the tasks are segregated according to the provider of the tasks. Just choose which survey provider you want to work on and press it. You will then see all the available tasks the provider offers.
If you don't feel like answering surveys, press the "Popular Offers" option in the "Earning Points" section. You will then see all the available paid offers. Just choose which one you want to work on and it will show you the details you need to follow to complete the offer.
Make sure you follow everything the offer asks you to do. If you miss one step, you will not be able to complete the offer and you won't earn anything from it.
As for their surveys, they work just like all the other survey sites. You will first have to go through a set of qualifying questions to determine if you belong to the demographic group the survey is intended for. If you do, then you get to answer the actual survey. If you don't, then just move on to the next survey available.
Once you complete a task, you will receive a certain number of points (I will talk about what you can do with your points later).
Option 2 – Daily points
This is by far the simplest way of earning from this CashPiggy. All you really have to do is log in to the app and press the "Daily Free 10 Points" option in their "Earn Points" section.

You can only claim your free 10 points once per day. It resets at a certain time per day (usually 12 midnight server time). It's not much, but at least you are guaranteed a certain number of points per day, which is a nice bonus to have.
Option 3 – Referral program
Lastly, you can also earn by inviting other people to use the app through their referral program.
All you have to do is share your invite code with the person you want to invite. Once they finish installing the app, they have to log in and input your invite code in the "Input Friend's Code" section.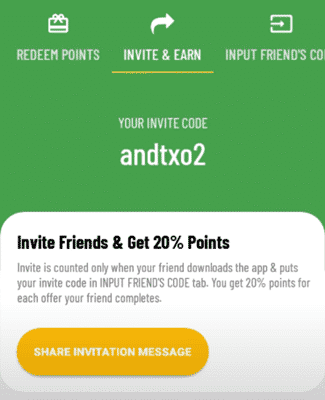 Once they've done that, they will become your referral. You will then earn 20% of whatever they will earn on the app. Your referral, in turn, will receive 10 points for inputting your invite code. So, your referral will also get something out of it, albeit a very small reward.
Recommended: Check Out the Top Survey Apps
How do you get paid?
As explained above, every task you complete on CashPiggy will earn you a certain number of points. It will be credited to your CashPiggy account balance.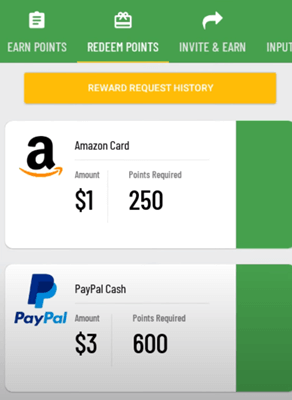 You can then convert your points into an Amazon gift card or cash via PayPal. The minimum amount for an Amazon gift card you can redeem is $1, while the maximum amount will be $30. A $1 Amazon gift card is worth 250 points.
For PayPal, the minimum amount you can withdraw is $3. That will require 600 points. The maximum is $30.
Their payment system is very simple and I like the fact that they offer a convenient payment method like PayPal. If you are interested in more sites that pay via PayPal, I recommend you check out the top sites that pay via PayPal as well.
How much money can you make?
The amount of money you can earn from CashPiggy will depend on how often you can complete tasks and how well they pay. Unfortunately, the availability of tasks isn't something you can control. It will all depend on where you are located.
Based on my experience, there are more opportunities for people living in the US and Canada compared to other countries. So, if you are living somewhere else, then the earning potential of CashPiggy will be significantly lower.
As for how much the app pays, you will typically earn around 10 to 50 points per task you complete, which is pretty low compared to other GPT apps and sites.
The most you can earn is 200 points which, in my experience, will not always happen. But the exact rewards can vary from country to country. But you should not expect high rewards no matter where you live.
That's why overall, I would say the earning potential of this app is quite low.
Can you use it on a desktop?
CashPiggy is a mobile-only platform. So, to answer the question above, no you can't. You will need a mobile device to use CashPiggy.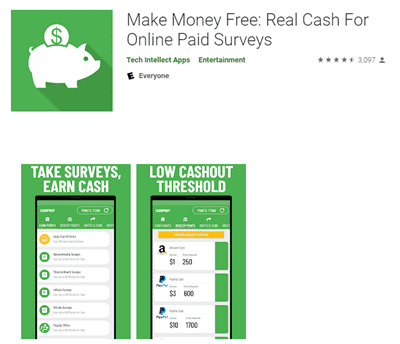 A downside of this app is it is only available for Android devices. So, if you are an iOS user, then this app is not for you.
The app is user-friendly so you can easily get used to how it works. However, ads will pop up from time to time which can get quite annoying. So, you'll have to be a bit patient with it.
Who can join CashPiggy?
CashPiggy doesn't have a site you can refer to for general questions like which countries it is available in.
Everything leads to it being available more or less worldwide, but it really isn't. The only real way to figure out if it is available in your country is to search for it in the Android app store.
If you will see it among the results, then you can join the app. If it doesn't appear in the search results, then your country is not supported. Anyway, as explained earlier, this app is only really beneficial if you live in the US or Canada because these countries offer more opportunities than others.
Another weird thing about the app is, it doesn't have a registration process. Once you install the app, you automatically become a member. You don't have to set up your login details or anything. You can immediately start earning.
It's a very convenient process but it also has couple of major disadvantages. You can only install the app on one device since you don't really have an account you can log in to. If you install it in a different device, that will be considered a different account.
It also means you can't uninstall the app because you will lose all your earnings if you do. Again, it's a bit unusual because in my experience, apps like CashPiggy will usually allow you to create an account.
Can you get support?
As mentioned, CashPiggy doesn't have a site you can refer to if you have any questions. But you will still be able to get in touch with their support team by logging in to the app and going to their Support section. You can send your inquiry through the form provided inside the app.
That's why overall, I would say they do have a decent support system in place even though they don't have a website because at least, they offer a way for you to get support.
But, in my opinion, it would still have been better if they also had a website that would explain what the app has to offer and showed all the necessary information you need to know.
Final Verdict
CashPiggy is a legit GPT app that will pay you for completing short tasks. It has a couple of good features but it also has some major disadvantages you need to consider.
So, let me conclude this review by summarizing its pros and cons. That way, you can get a better overview of what the app has to offer and you can then decide if it is really worth it or not.

Pros:
Offers a convenient payment method (PayPal)
Has a low payout threshold

Cons:
Limited earning opportunities offered for a GPT app
Offers low rewards
Won't allow you to create an account so you can use it on multiple devices
In my opinion, CashPiggy isn't really worth investing your time into. There are simply far better options out there if you want to earn extra cash. While it has a low payout threshold and it offers a convenient payment method, the earning potential is really low.
You are better off investing your time on sites and apps that pay better than CashPiggy. It also doesn't help that you can only install it on one Android device.
Now, for better ways of earning extra cash online, I would instead recommend you check out the top survey and GPT sites in your country. The sites on this list all offer good earning potential and they will allow you to earn a decent amount regardless of where you live.
If you have any comments, questions, or have any experiences with CashPiggy yourself, I would love to hear from you in a comment below.