Earning from your mobile device can be a very convenient way of earning a few extra bucks. There are a lot of mobile apps available today you can download and install to earn extra cash.
CheckPoints is one of these so-called apps. If you've encountered this app before, then chances are, you are interested in installing this app. But before you do that, you have to check a few things first.
The first question that's probably on your mind is, is it legit? It certainly is a valid question to ask because you need to make sure you are not wasting your time on an app that won't really pay you.
So, let me answer that question right away. CheckPoints is a legit mobile app that does pay its members for completing the tasks they offer.
However, this doesn't necessarily mean this app offers a good way for you to earn extra cash. This CheckPoints app review will reveal all the details you need to know so you can decide if you should go ahead and sign up as a member or not.
What is CheckPoints and what does it offer?
As explained above, CheckPoints is a mobile app that promises to pay you for participating in the activities they offer. It is a mobile-only platform, so you will definitely need a mobile device to use it.
Here's a short video explaining what the app is all about:
Now, in order to get a clear picture of the earning potential of this app, we have to take a closer look at what earning opportunities it offers. So, here's how you can earn from CheckPoints.
Option 1 – Check-Ins
As the video explained, you will be able to earn rewards by checking in to certain locations in your locale. Aside from that, you can also do other activities like scanning barcodes in the location you checked in.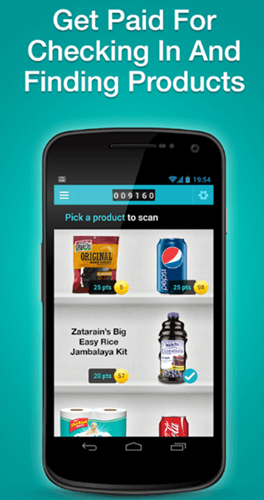 When you become a member of this app, you will be asked to check in to major stores that have partnered with CheckPoints.
When you check in to a store, you will then be asked to scan barcodes of items on their list to earn more points. Every check-in and activity you do will earn you points.
Option 2 – Cashback Offers
With this app, you can also do some mobile shopping and earn back some of the money you've spent. That's because they do also have cashback offers you can avail of.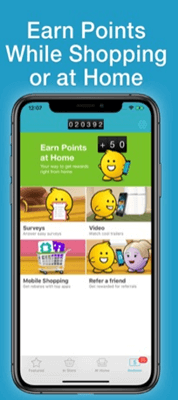 Of course, the cashback offers will be from stores that have partnered with the app. The cashback offers available are not as many as what you can find from pure cashback sites and apps. But it does have a decent number of cashback offers available.
Option 3 – Watch Videos
You can also watch videos (mostly video ads) to earn more points. You can watch as many videos as you like but do take note that the daily limit of points earned from watching videos will be 500 points.
So, if you've earned 500 points from watching videos all day, you can stop doing it since any more succeeding videos you watch won't earn you points anymore. It will just be a waste of time. So, make sure to keep track of the points you will earn from this.
Option 4 – Paid Offers
CheckPoints also has paid offers you can do to earn more points. If you're new to paid offers, they are basically small tasks you can do to earn rewards.
These offers will usually ask you to either answer a survey, play a game or register to a site. But usually, the first two are the most common paid offers available on this app.
When doing a paid offer, it is important to take note of the instructions provided. That's because the only way you can ensure you earn the reward promised for the offer is to follow the instructions carefully.
Once you've completed the offer, you will receive the promised points as a reward, which will then be credited to your account immediately.
Option 5 – Referral Program
You can also invite people to join the platform and get rewarded. Most online rewards platforms do have a referral program in place. CheckPoints is no different.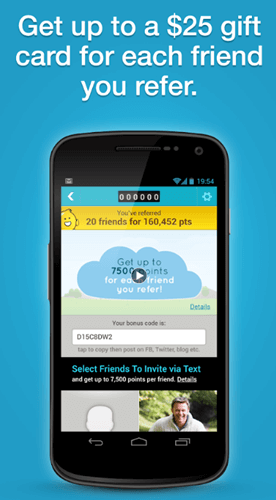 To invite a person to join, you must share your referral code with them and when they register to the app, they must input your referral code.
As for what you will get out of it, as you can see in the photo above, they promise to give you a $25 gift card for every person you refer. It sounds too good to be true but that's what they offer.
In my experience though, in order for you to gain the reward promised for referring somebody, the referral must meet certain requirements like earning a certain number of points. This is to ensure that they have really become an active member of the platform.
They could have at least clarified this on their website though for those who are interested in joining the app.
But you just need to be aware that it will not be as easy as just inviting someone so you only get something out of this if the people you invite to start using the app very actively.
How do you get paid?
Every activity you do on CheckPoints will earn you a certain number of points. You can then exchange the points you've accumulated into gift cards.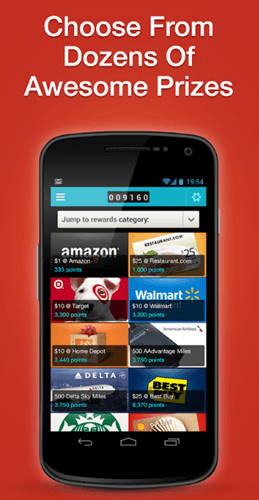 There's quite a number of gift cards available on their rewards catalog like Amazon, Target and Walmart gift cards. The minimum amount you can redeem is $1 (Amazon gift card worth 335 points).
This, in my opinion, is a pretty low payout threshold. If you are interested in more sites that also have a low payout threshold, I suggest you also check out the fastest paying sites.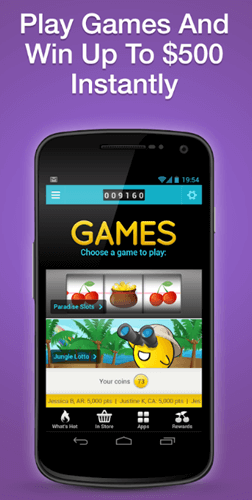 They do also offer another form of reward which they call Sweepstakes. In reality, it's more of a game really.
What you do is redeem tickets to join their sweepstakes instead of gift cards. Each ticket will allow you to join the game. All you have to do is play the game/sweepstakes and if you are lucky enough, win a prize. Most prizes awarded will be points but from time to time, they will also award cash prizes.
A fair bit of warning though. Exercise caution when joining their sweepstakes because there really isn't any guarantee you'll win something. So you can end up losing money instead of earning.
How much money can you make?
Technically speaking, you can't earn cash from this app. But you could say that gift cards are kind of like money as well since you can use it for your next purchase.
And with a platform like CheckPoints, the amount you can make will mostly depend on how active you are on the site. If you use it frequently and you go out often, you can stand to earn more.
That is, of course, if you live in an area where you can find a lot of stores to check-in. The more rewarding earning opportunity in this app is by far the Check-In. It's really what can boost your earnings on this app.
Don't expect to earn a lot from the offers you can do at home. So, I can say that the earning potential of this app is mostly dependent on where you live. If you live in an area where there are plenty of stores to check in from, then you can earn a decent amount from it.
Can you use it on a desktop?
As mentioned earlier, this app is a mobile-only platform. So you really can't use it on a computer. You will need to use a mobile device that has an internet connection as well.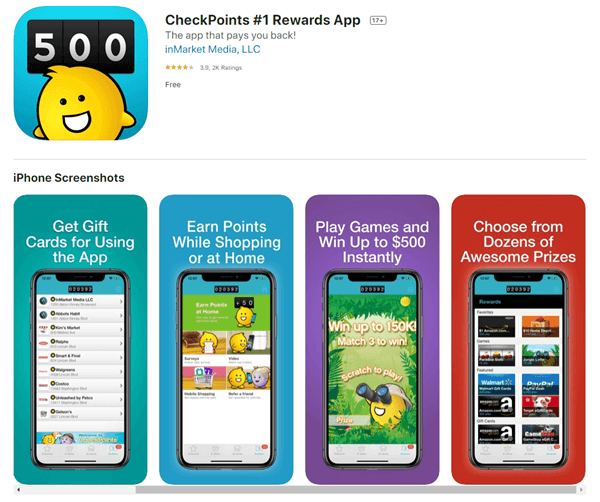 The app is available for download on both Android and iOS app stores. So, compatibility isn't really an issue. You do have to allow the app to determine your location in order for it to function properly.
So, don't be surprised if it asks you to enable your mobile device's GPS. The app is also user-friendly. You won't really have any trouble navigating it. This makes it easier for you to earn while you are on the go.
Who can join CheckPoints?
Unfortunately, CheckPoints is only available in the US. So, if you are not a US resident, then this app is not for you.
If you are though, to join the platform, all you have to do is download the app. Then, go through the registration process and you are good to go. You do have to be at least 13 years of age or older to join the app.
Can you get support?
The problem with this app's website is, it doesn't really explain in detail what the app has to offer.
So, if you were hoping to learn more about the app by checking out their website, it will be of little use to you. Their FAQ page helps a bit, but it still isn't comprehensive enough, in my opinion.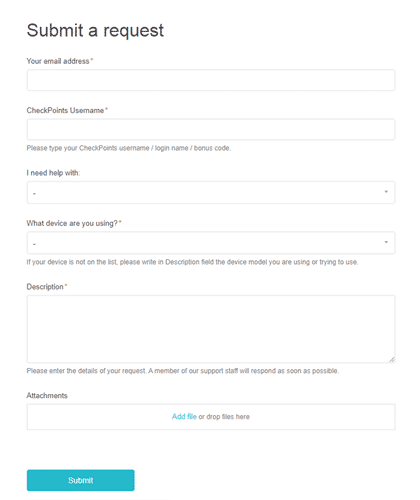 So, if you can't find the answer you are looking for, then you are left with no choice but to contact their support team. Fortunately, you can do that easily by using the contact form provided on their support page.
They do have a Facebook page you can visit but it hasn't posted an update for quite some time. So, don't expect to hear from them through that platform.
Final Verdict
CheckPoints is a legit online rewards platform that rewards you for participating in the activities they offer. It has some nice qualities to offer but some glaring disadvantages as well.
Let me end this review by giving you a list of its pros and cons so you can better decide if you should use this app or not.

Pros:
Low payout threshold
Offers an easy way of earning rewards
The app is user-friendly

Cons:
Limited to US residents
Earning potential will depend on where you live (if you live in a city where there are plenty of stores you can check-in, then you can earn a decent number of points)
No cash rewards offered
CheckPoints can be a fun way to earn rewards. It offers a low payout threshold which makes it quicker for you to redeem rewards. Their app is also user-friendly so you won't really have any problems using it.
However, the fact that its earning potential will mostly depend on the area you live in, you can't really expect to earn from this app on a regular basis. It can serve as a decent secondary app to earn from. Just don't expect to earn cash since all they offer are gift cards.
If you are looking for sites with better earning potential and ones that can allow you to earn cash, I recommend you check out the top survey sites in your country instead.
The sites on this list all offer good earning potential and payment options. Plus, you can find a site you can join regardless of where you live.
If you have any comments, questions, or have any experiences with CheckPoints yourself, I would love to hear from you in a comment below.