Looking for ways to earn online? There are actually plenty of options. You can join a survey site or a Get-Paid-To (GPT) site to earn some cash. If you are new to these kinds of sites, then let me explain what these sites are.
They are basically online rewards platforms that will allow you to earn in exchange for participating in their offers or surveys. Once you've completed an offer or a survey, you will receive some form of currency you can use to exchange rewards in their rewards catalog.
One such site that offers this kind of opportunity is called CoinBucks. This GPT site promises to reward you for completing their offers. But is it any good though or is CoinBucks a scam?
This CoinBucks review will answer that question and more. Hopefully, after reading this article, you will be able to decide if you should join or not.
What is CoinBucks and what does it offer?
As mentioned, CoinBucks is a GPT site that promises to reward you for participating in the activities they offer.
It has been around since 2015. But let me just say right away, this GPT site only pays in Bitcoins. So, if you are not interested in earning Bitcoins, this site is not for you.
Now, in order to truly tell how good a site is in terms of earning potential, we have to examine the earning opportunities it offers. So, here's how you can earn from CoinBucks.
Option 1 – Paid Offers
Since it is a GPT site, the main way you can earn is by completing paid offers. The paid offers available in CoinBucks will come from third-party providers. So, in truth, they are only acting as a router.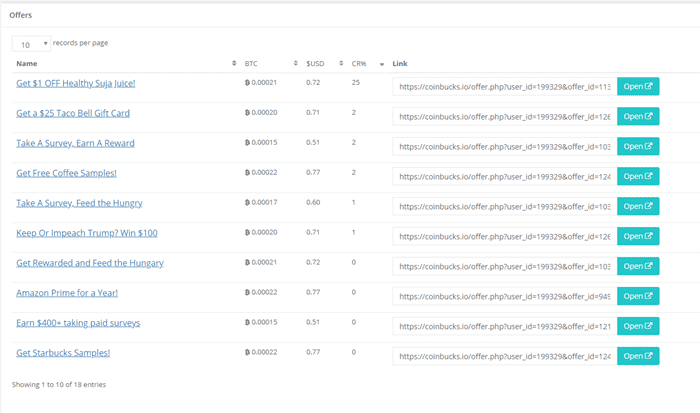 When you log in to their dashboard, the first thing you will see will be the available offers. The paid offers you will see will automatically be filtered according to the country you live in.
When you click an offer, it will display all the necessary details. Once you click on the Open Offer button, it will redirect you to a new tab with the site that contains the offer.
To complete the offer, you simply need to follow the instructions provided in the offer details. Most offers will ask you to either answer a survey or register for a website.
Other forms of offers will appear from time to time but the two mentioned above are the most common.
One thing to take note of their offers is, some can be repeated as many times as you want.
You will then receive the reward promised each time you complete the offer. You will know if you can repeat the offer because they will indicate it in the offer details.
Option 2 – Referral Program
Another way you can earn from CoinBucks is by inviting people to join the site. You simply go to the Referral section of their dashboard and copy your referral link.

Then, share the link with the people you want to invite. For every person that successfully registers to the site, they will become your referral.
You then stand to earn 10% of their earnings. The commission will be shouldered by CoinBucks and not by your referral. So make sure to explain that to the people you will be inviting so that they won't have to worry that their earnings will be deducted.
You can also invite people to join through invite banners. You can get the embed code in the same Referral section. You can embed the banner on your website (if you have one) and every person that clicks that banner and registers to the site, will become your referral.
Option 3 – Install Apps
This last earning opportunity is only available in their mobile app (yes, they do have one and I will talk about it later). As the name suggests, you get paid to install apps on your mobile device.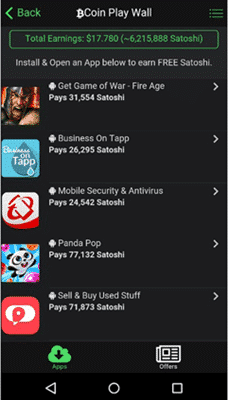 Once you've installed the app on your mobile device, you can then view the apps that are available for download.
Most apps offered are mobile games. So, expect to play these mobile games first before you can earn the reward promised. That's how this type of earning opportunity usually works.
How do you get paid?
As mentioned at the beginning of this article, CoinBucks pays in Bitcoin. So, make sure you have a Bitcoin wallet set up first before you join this site.
Every offer you complete will earn you a certain number of satoshis. If you are not familiar with this term, a satoshi is basically the smallest unit of the Bitcoin cryptocurrency. Its value will change on a daily basis.
The one unique thing about CoinBucks is, it doesn't have a threshold you need to reach to request payout. It will process the payment automatically every 24 hours (or end of the day). So, whatever you've earned for the day will be deposited to your Bitcoin wallet automatically.
So, even though it only pays via Bitcoin, it still does it conveniently. If you are interested in more sites that pay via Bitcoin, I suggest you also check out the top sites you can earn free Bitcoins.
How much money can you earn?
With a site like this, the earning potential is slightly muted compared to other GPT sites and survey sites.
First, the offers will come from other websites. So, the reward you will get will be slightly less. That's because a percentage of what the site will pay will go to CoinBucks.
That's how survey and offer routers work. That's how they make money. So, in a sense, you won't be earning the full reward.
And the reward per offer available on CoinBucks isn't really significant compared to other sites I have tested.
So, you will have to complete a lot of offers in order to earn a significant amount. That in turn, will require more time, which, in my opinion, will be better spent on sites that pay better.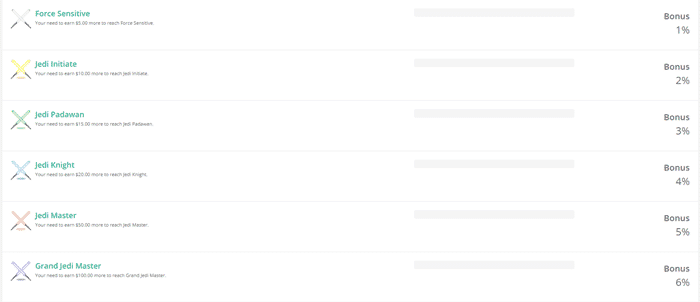 However, CoinBucks does offer a way for you to boost your earnings. As shown in the photo above, when you keep completing offers, your ranking will increase. And as your ranking increases, you will earn additional Bitcoins for every offer you complete.
This is their way of rewarding you for sticking with them. So, what happens is, you will start to earn significantly the longer you are a member of the site and the more offers you complete.
But then again, it will take some time in order to reach that kind of earning. So, you will really need a lot of patience in order to earn a decent amount from this site.
Can you use it on mobile?
As mentioned, you will be able to use CoinBucks on a mobile device since they have an app you can download. Their app is called Coin Play.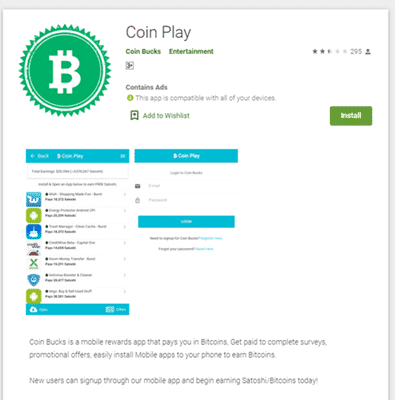 It is available for download on both Android and iOS app stores. So, compatibility won't really be a problem. As I've explained, you can take advantage of one specific earning opportunity if you use their mobile.
But aside from that, you can also complete the offers you can normally do on your computer. Their app does that.
So, I could say that using the app can be very beneficial especially if you go out frequently because you can still earn even when you are not in front of your computer.
Who can join CoinBucks?
CoinBucks is available in many different countries. It is available more or less worldwide. So, you won't really have any trouble signing up.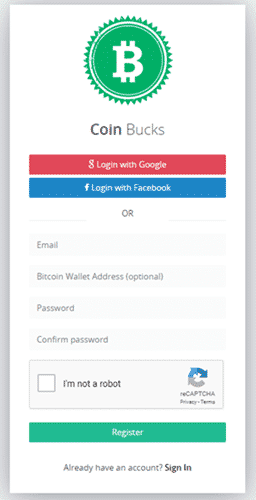 The sign-up process is also very easy. As shown in the photo above, you can sign up using your Google or Facebook account. Or, you can also provide your own login details.
After you finish the sign-up process, you will be taken directly to the member dashboard. You can then start earning. That's how easy their registration process is.
Can you get support?
As for their support system, it's a bit confusing. When you log in to the dashboard, it has a support section you can access.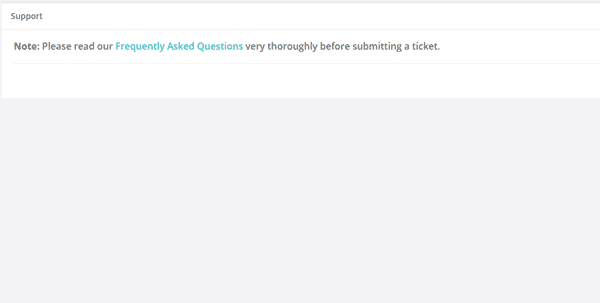 When you click on Support, all you get is a message that you should check their FAQ page first before submitting a ticket.
That's all well and good, but the problem is, you won't always find the answers you are looking for in an FAQ page because it is not very comprehensive.
So, you will maybe need to contact their support team. However, their support page doesn't really give you the option to submit a support ticket. As you can see in the photo above, there's no option to create a ticket.
I'm not sure if it's just a bug of their site or they've disabled it. But the fact that it's not available on their support page is just disappointing, in my opinion. You should always make sure that your members will be able to contact you easily.
That goes to show you are serious in hearing out their concerns. Their site really doesn't give off that kind of vibe. They don't even have a Contact page. So, overall, I would say that they don't offer good support to their members.
Final Verdict
CoinBucks is a GPT site that pays you in Bitcoins for completing their offers. It has a couple of good qualities and some glaring drawbacks as well.
Here's a list of its pros and cons to give you a full idea of what the site has to offer so you can decide if you should join or not.

Pros:
Easy registration process
Processes payouts automatically

Cons:
Low rewards
Offers only one form of payment method
Doesn't provide a good way for you to get support
As you can see, the most glaring drawback of this site is its low rewards. You simply can't earn a decent amount in a short amount of time. You will need to invest a lot of time in order to earn a decent amount.
The fact that it also offers only one form of payment method also doesn't help. The only upside to this site, in my opinion, is that it processes your payout automatically.
If you want to earn Bitcoin, it can be a site to check out – just don't expect to be able to get support if you should need it as there is no way to contact them.
If you are in need of sites that will allow you to earn a decent amount without having to invest a lot of time, I recommend you check out the top GPT sites instead. The sites on this list all have good earning potential.
Plus, they also offer other payment methods which will allow you to withdraw your earnings conveniently.
If you have any comments, questions, or have any experiences with CoinBucks yourself, I would love to hear from you in a comment below.