Earning money from your receipts sounds like a great way to earn, right? It's like turning trash into treasure.
CoinOut claims to offer this kind of opportunity, which, in my opinion, makes it a very interesting app.
But before you go and download this app, there are a few things you must verify. First, you need to make sure if CoinOut is legit or a scam. After all, you wouldn't want to waste your time on an app that won't pay you.
The other thing you need to verify is if this app is really worth your time or not. And to do that, we have to examine everything the app has to offer, which this CoinOut review will absolutely do. That way, you can decide if this app is worth using or not.
So, let's go ahead and take a closer look at CoinOut.
What is CoinOut and what does it offer?
At its core, CoinOut is a cashback app that will allow you to earn a few extra bucks for availing of cashback offers and taking photos of your receipts.
It has been featured in the popular show Shark Tank. Here's a short video explaining what the app is all about.
Now, let me address its legitimacy to put you at ease. CoinOut is indeed a legit app that will pay you for availing of cashback offers and more.
But to truly gauge if this app is worth using or not, we have to take a closer look at the earning opportunities it offers. So, here's how you can earn from CoinOut.
Option 1 – Scanning receipts
This earning opportunity is pretty straightforward. It's a lot like what ReceiptPal offers.
Whenever you have a new receipt, you can simply log in to the app and take a photo of the receipt and upload it, then you get paid for it. Here's a short video explaining how to do it.
The important thing to remember when taking a photo of your receipt is, it must include the merchant name, all the items purchased, total amount spent, as well as the date the receipt was issued. Take note that only receipts issued within two weeks of purchase are valid.
When taking a photo of the receipt, you just need to make sure it is aligned in the rectangular area of their scanning page.
To complete the upload, just hit the "Scan" button. CoinOut will then award you coins once your submission is verified. So, don't expect to receive the compensation right away.
You also have to know that not all types of receipts will be rewarded. These are the types of receipts you won't receive any rewards for uploading:
ATM Receipts
Lotto Tickets
Credit Card Slips
Money Orders
Pictures of just barcodes or QR codes
Coupons
Receipts not in English
Receipts that do not have products included
Receipts not from your own purchase
They have also started accepting e-receipts. For this, the process is even more simple.
Just forward your e-receipts to [email protected]. To receive the reward, the receipt needs to be forwarded the same day of the purchase.
They are currently accepting up to 8 e-receipts per day. Just make sure to register your email through the link you will receive from them via email after sending an e-receipt so you can receive your reward.
Option 2 – Cashback offers
CoinOut also has cashback offers you can avail of. If you are not familiar with cashback offers, they are basically offers that will allow you to earn a percentage of the money you spent.
In CoinOut's case, their cashback offers are for online purchases from their partner stores.
They offer online cashback from merchants like Walmart, Groupon, eBay, Travelocity, and others. To avail of their cashback offers, simply login to the app and go to the cashback section. Then, just choose which online store you want to shop from and click it.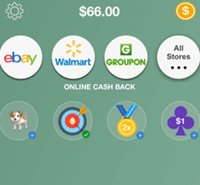 Once you are in the merchant's online store, you just go through the normal process of buying. When you complete the purchase, you will receive the cashback reward. However, don't expect to receive the reward right away.
It usually takes more than a month before the cashback reward will be credited to your CoinOut account balance. This is because merchants have to wait for the refund period to clear before they award the cashback reward.
Option 3 – Referral program
Lastly, you can earn rewards by inviting other people to join the app. You simply have to copy your invite link and share it with the people you want to invite. Once they sign up for the app using your invite link, they will become your referral.
The referral reward will change from time to time, so there's no fixed amount you can earn from it. You will receive the referral reward once they have verified that the person has indeed joined their platform.
Recommended: Check Out the Top Cashback Sites
How do you get paid?
Every activity you complete on CoinOut will earn you a certain amount which will then be credited to your CoinOut account balance.
For the receipts, the rewards are randomized so you will not really know what you will earn and it can differ from receipt to receipt. For the cashback offers, it will usually be a specific percentage and you can see this before you take a cashback offer.
You can then withdraw your earnings via PayPal, direct bank transfer, or you can choose to convert your earnings into gift cards instead.
You don't need to earn a certain amount if you want to do direct bank transfers and gift card redemptions. But for PayPal withdrawals, it's a bit confusing because it says on their homepage that you will need to earn a minimum of $10 to withdraw your earnings via PayPal.
But if you check their FAQ page, it says you need to earn $20 for PayPal withdrawals. I double checked this with feedbacks from other members and most of them say that the threshold for PayPal withdrawals is only $10. So, I guess that settles it.
But personally, I prefer to do direct bank transfers since it eliminates the need to go through PayPal to withdraw your earnings to your bank. It's much more convenient, in my opinion. If you prefer this kind of payment method, I recommend you also check out the top sites that pay via direct bank transfer.  
How much money can you make?
The amount of money you can make from CoinOut will depend on how often you scan receipts and how often you avail of their cashback offers. If we were to consider only the amount you can earn from scanning receipts, then unfortunately, you won't really earn much from it.
The amount you can earn from scanning receipts will be random. But you can usually earn around $0.03 to $0.07, which, as you can see, isn't a lot. There's also a limit to how much you can earn from scanning receipts in a day. So, you really can't say that you can earn an unlimited amount in one day from scanning receipts.
As for their cashback rewards, most of the cashback rates they offer usually range from 1.5% to 5%. There will be offers that have higher cashback rates from time to time, but the above rate is what you usually encounter.
They did recently add weekly and monthly sweepstakes you can join. The prizes will come from their top retailers, so there's no fixed prize you can win. It will depend on the week or month.
But overall, I would say CoinOut doesn't really have a high earning potential. But what I like about this app is it offers an effortless way to earn extra cash. Plus, there's no payout threshold you need to worry about if you plan to withdraw your earnings through direct bank transfer.
Can you use it on a desktop?
CoinOut is a mobile-only platform. So, you won't be able to use it on a desktop. That's why if you plan to avail of their cashback offers, you have to be comfortable using your mobile device when shopping online.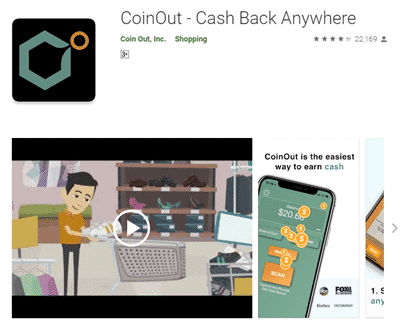 Their app is available for download on both Android and iOS devices. The app is also very user-friendly, so you won't have a hard time getting used to how it works.
Who can join CoinOut?
Their site doesn't mention any country the app is available in. It just says you can join their platform as long as you are at least 18 years of age. But when I checked the iOS version of their app, it is listed under the US apps. This leads me to believe that the app is only available in the US.
Further proof of this is if you look at their partner stores, they are mainly based in the U.S. If you are using an Android device, the best way to check if you can join their platform is to see if you can download the app from Google Play.
If it is available for download, then that means you can register as a member. But I do wish they would be more transparent about this kind of information because it is very crucial information to know beforehand.
Can you get support?
If you have any questions about their app, you can first check their FAQ page to see if your question is among the topics they cover.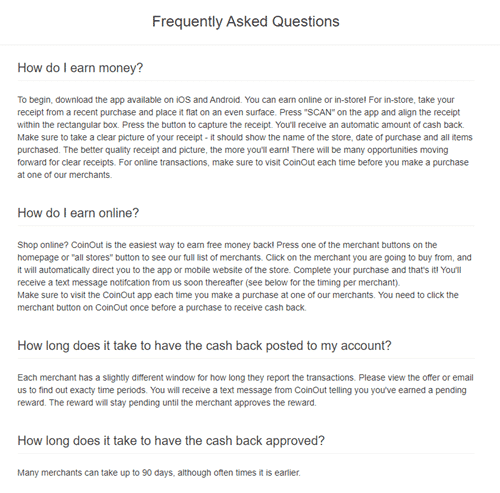 If you can't find the answers you are looking for, you can always get in touch with their support team. You can do that from both their app and their website. You can click the Contact Us link found at the bottom of their homepage to open your email client.
For their app, you can just go to their Help section and the contact form will be accessible from there. Overall, I would say they have a decent support system in place since they provide a way for you to contact their support team.
Final Verdict
CoinOut is a legit cashback app that will allow you to earn rewards for scanning receipts and availing of cashback offers. It offers a couple of advantages but it also has certain disadvantages you need to be aware of.
So, let me finish this review with a summary of its pros and cons to help you make a decision about whether this app is the right fit for you or not.

Pros:
Offers a very easy way to earn rewards
Offers convenient payment methods
Their app is very user-friendly

Cons:
Low rewards
Limited earning opportunities offered
Overall, I would say CoinOut is a decent app to use – that is if you are eligible to join. It offers a very easy way for you to earn rewards (scanning receipts).
They don't offer the best rewards, but considering you don't really have to put in a lot of effort to earn, I would say the amount you can earn is just proportional to the effort you will have to put in.
Now, if you are in it for their cashback offers, there are better options out there. They don't offer the best cashback rates. So, if that's all you are after, I recommend you look elsewhere.
Now, if you are looking for ways to earn extra cash that gives more opportunities, I recommend you check out the top survey and GPT sites in your country instead. The sites on this list all offer good earning potential and you will definitely be able to find a site you can join regardless of where you live.
If you have any comments, questions, or have any experiences with CoinOut yourself, I would love to hear from you in a comment below.