Is Crypto Dragons a fun and great way to earn crypto?
This is a legit question to ask if you are interested in this game. With the recent influx of NFT games, it is wise to always verify if the NFT game is legit or if it is just a scam.
And since I'm always looking for great ways to earn extra cash or crypto, I've decided to try out this game myself. That way, I can reveal the full truth of what this NFT game has to offer.
In this Crypto Dragons review, I will talk about how the game works and how you can earn from it so you'll know exactly what to expect from it before you even play it. Then, you can decide if this is for you or not.
What is Crypto Dragons and what does it offer?
Before I talk about Crypto Dragons, let me just make it clear that what I will be reviewing will be the app and not the Crypto Dragons platform. If you search Crypto Dragons on the web, you'll also come across a platform also named CryptoDragons. This is not what I will be reviewing.
Instead, what I will be testing is an app called Crypto Dragons that was developed by CryptoSoul, a crypto game studio that makes various mobile games that will reward you with LIS, which is CryptoSoul's own coin.
So, how does this app work exactly? Let's take a closer look at the earning opportunity of Crypto Dragons.
I have made a video that gives you an inside look and shows you exactly how Crypto Dragons work. You can also read all the details below the video.
Recommended: Check Out the Best Ways to Earn Money by Playing Games Online
The earning opportunity – Playing the game
The only way to earn from Crypto Dragons is by playing the game.
However, when I was testing the game, it wasn't really clear from the beginning how you'll earn from it. It took me quite a while to figure out how it works.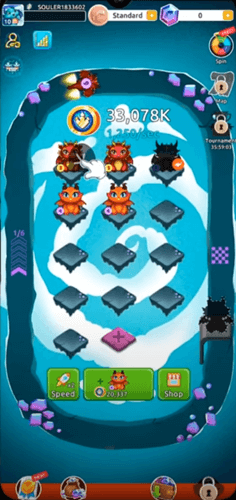 You'll start out by combining dragons to form a higher-level dragon. Then, when you are content with the dragon that you have, you can deploy it so that it will fly around the race track. When that happens, you will notice that you will start earning coins when a dragon completes a lap.
The idea is that a higher-level dragon will fly around the track faster. So, if you want to collect more coins quickly, you have to fuse a lot of dragons to increase the level. You can only fuse dragons of the same kind.
You will regularly get boxes you can open and it will reveal a dragon you can use to either fuse to another dragon or deploy to the track. But as I've explained earlier, you will want to keep fusing the same dragons to get a higher level. That's the best way to increase your coin production.
You can deploy as many dragons as you want onto the race track, and that will increase your coin collection rate. It's quite easy to build a strategy to collect more coins and I admit, it can actually get quite addicting, which brings me to my next point.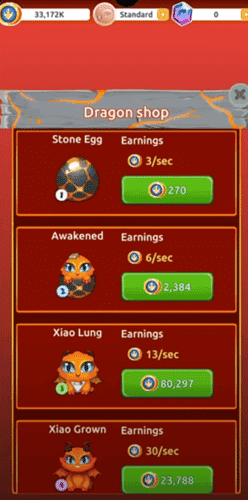 As shown in the photo above, you can use the coins you've collected to buy more dragons. There are also special dragons you can buy with real money, and they will have a significantly higher coin collection rate. This can be a tempting offer, but I would really advise you not to do this and I will explain why later.
In many similar NFT and crypto games I have tested, there is what you call a "money sink" feature and in Crypto Dragons' case, it is their shop. It is designed to tempt you to spend money. That's how the app is able to earn.
The game also has additional features you can use to speed up the coin collection process so you can earn more coins. These buffs will eventually run out and the only way to get more is to spend money again.
But as I've said, I would advise you not to spend any money on this game.
Recommended: Check Out the Best Ways to Earn Money by Playing Games Online
How do you get paid?
Here's where it becomes a bit confusing. The game doesn't really do a good job of explaining how you can earn the cryptocurrency they use (LIS).
You see, the coins you've earned from playing the game can actually be used to buy LIS (refer to the photo above). But you'll have to collect a ton of coins before you can do so. Plus, the payment feature will only be enabled when you've played the game for quite some time. It's not readily available, which I found weird because most of the games I've played before offer their cashout options right from the start.
So, the process is to collect coins that you can use to buy LIS. Then, when you've earned at least 1,000 LIS (which is roughly equivalent to $135, but it will still depend on the exchange rate of LIS), you will be able to withdraw it to your Ethereum wallet. You just have to link your Ethereum to the site to do so.
The threshold is quite high, so it will definitely take you quite a long time to withdraw your earnings, which is not a good sign, in my opinion. Also, as I will explain in the next section, it might not even be possible for you to get your earnings currently.
If you prefer sites and apps that will allow you to quickly withdraw your earnings, I would recommend you check out the fastest paying sites instead.
How much money can you make?
The thing with this app is that I've played it for quite some time already and I haven't even managed to collect enough coins to buy even 1 LIS. And to think you have to collect 1,000 LIS just to withdraw your earnings, it will definitely take you several months before you can reach that point.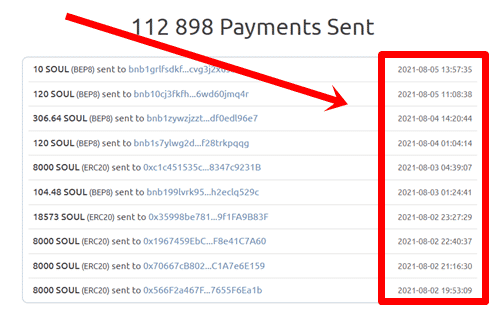 Plus, there's another thing that bothers me. When I checked out the developer's website, they list down all the payments they've made to people who played the game (refer to photo above). And as you can see, these payments were made a long time ago.
I'm not exactly sure if they still update this list, but it's a big red flag, in my opinion. As I've said, it takes quite a long time to even earn 1 LIS from playing the game. So, it will definitely take an even longer time to earn 1,000 LIS.
The most likely scenario I can think of is people get tired of playing the game and they will just eventually quit without ever reaching the payout threshold. Hence, there are no new payments made. Or maybe they have completely stopped processing payments. This is just a guess, but nevertheless, it still gives you cause for concern.
That is why, in my opinion, this is not a game worth investing your time into because the earning potential is really quite low.
Can you use it on a desktop?
Crypto Dragons is a mobile-only game, so you'll need to use your mobile device to play it. It doesn't have a web version you can use.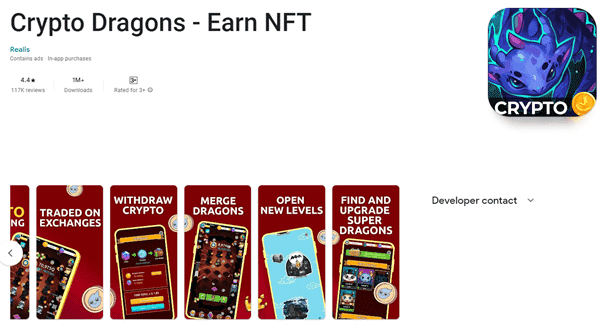 The app is only available for Android devices, so if you are an iOS user, then this app is not for you. As I've mentioned earlier, the app really doesn't do a good job of explaining how you will be able to make money from it.
So, the overall user experience of this app is quite poor, which is not a good sign, in my opinion.
Who can join Crypto Dragons?
Crypto Dragons is available worldwide. To sign up, you just have to download and install the app.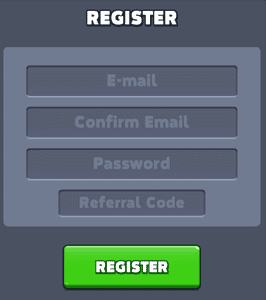 Then, all you have to do is open the app. You can actually start playing the game right away. Then, during the tutorial, you'll be asked to either log in or register.
As shown in the photo above, you can register by using your email address. Once you've done that, you can now play the game and not worry that your progress will be lost if you uninstall the game.
Can you get support?
If you have any questions about the app or your account, you have to check out the website. But I do have to warn you, you won't get much from the site. Most of the info presented on the site is relatively useless.
That's why if you have a question or if you encountered any issue while playing the game, you'll have to get in touch with their support team by emailing them at support@cryptosoul.io. They also have a Discord and Telegram channel you can join, so you can interact with their support team and other players.
Overall, I would still say they have a decent support system in place for their members since they offer a way for you to contact the support department. The developer also frequently replies to comments on the review section of their app page in Google Play.
But I do wish their app would have some sort of Help Center option. That way, you don't have to visit the site if you have any questions or if you just want to learn more about the app.
Final Verdict
Crypto Dragon is a mobile game that will offer you an opportunity to earn cryptocurrency. It doesn't have a lot of good features and it has some limitations you need to consider.
Let me finish this review by summarizing its pros and cons to give you an overview of what the app has to offer. Then, you can decide if you should start playing it or not.

Pros:

Cons:
Limited earning opportunities offered
Low rewards
Withdrawal method is not available right away
High payout threshold
If you are looking for an app to earn cryptocurrency from, you are better off going for other crypto-earning apps, in my opinion. This app simply doesn't offer enough reason for you to invest time in it. It has a very low earning potential and it has a high payout threshold which is a very bad combination.
It will take you several months before you will be able to withdraw any earnings. Your time will be better spent on other apps or even sites with better earning potential.
If you are looking to earn extra cash, I would instead suggest you check out the top survey and GPT sites in your country instead. The sites on this list all have good earning potential and they will allow you to earn extra cash without investing a significant amount of time.
If you have any comments, questions, or have any experiences with Crypto Dragons yourself, I would love to hear from you in a comment below.