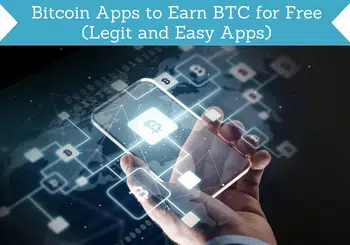 If you are looking to get into the world of Bitcoin investing, there are a few ways you can do it.
The first and easiest way is to buy Bitcoin, but that can be very expensive and risky if you are a beginner. Another way is to mine it. But this too will be a very expensive method.
The last method is to join online rewards sites and/or apps that pay in Bitcoin. If you are not willing to spend any cash, then the latter is your best option.
And if you are looking for more convenient ways, you can opt to use mobile apps that pay in Bitcoin instead of websites. That way, you can still earn conveniently even if you are not in front of your computer.
So, the question now is, which apps should you use? This guide will show you the best Bitcoin apps to earn BTC for free.
All you have to do is pick which apps suit your preferences and download them. I will include a brief description of the app so you can easily gauge which one suits your needs.
Are Bitcoin apps worth it?
The thing with Bitcoin apps is that they are so popular that there are literally hundreds of apps out there. And if you were to test all of them, it will take you months to finish only to reach the conclusion that most of these apps are really not worth it.
But, as with everything, there will always be a few exemptions. Yes, there are really Bitcoin apps that are worth it.
And the apps I will include in this guide are what I consider the best. I have personally tested them and got paid as well. So, everything I will be sharing will be based on my actual experiences.
How much Bitcoin can I earn?
Let me just make it clear, you won't get rich by using free apps like these. The thing with Bitcoin earning apps is that you can't expect to earn a lot of BTC from them in a short period of time.
Any app that claims you can earn hundreds of Bitcoins for clicking a few buttons is really just a scam. So, I would advise you to avoid these at all costs.
But if you are willing to put in a bit of effort and time, you will be able to earn a decent amount of Bitcoin, which you can use as a starting point for your Bitcoin investment.
Top 7 Bitcoin earning apps
Now that you know what to expect let's talk about the best apps that will allow you to earn Bitcoin. As I've mentioned earlier, I have tested these apps personally, and I would consider them all as worth using.
I will keep updating this guide if I find more apps that are really worth it. So, make sure to bookmark this page and check on it from time to time for new opportunities.
#1 – CryptoTab
CryptoTab is a unique platform where you can earn using your computer or your mobile device. It is really a browser that is designed to mine Bitcoin. All you have to do is set it up, and it will start mining in the background.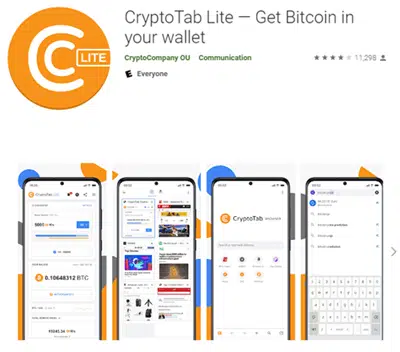 Their app does the same thing, and it has two versions. You can go for the Pro version of the app, but it will cost $4.49 to download. You can instead go for the Lite version, which is free to download. Both versions will allow you to mine Bitcoin. The only difference is that the Pro version will have added benefits that will help you mine Bitcoin faster.
Another good thing about CryptoTab is that it has a low payout threshold. You only need to earn 0.00001 BTC to withdraw your earnings. And speaking of withdrawing your earnings, CryptoTab works with any crypto wallet. So, withdrawal of earnings shouldn't be an issue.
#2 – Crypto.com
Crypto.com is actually a crypto exchange platform, but it also offers earning opportunities. The best way to use Crypto.com is to use it in conjunction with the other apps on this list. All you have to do is store your Bitcoin (or other cryptocurrencies) in their platform, and you will start earning interest.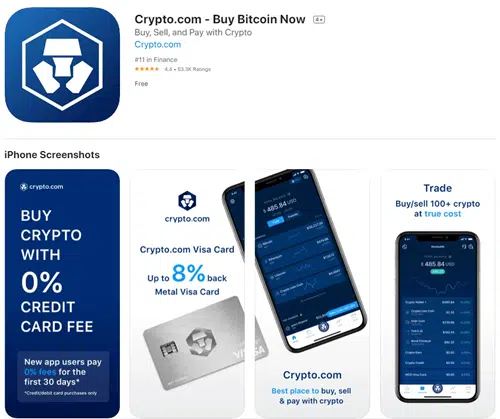 The app works with both Android and iOS devices, so you shouldn't have any issues with compatibility. Crypto.com also has cashback opportunities, so if you frequently shop online, you can earn back a portion of what you spent.
You can learn all about how it works in this Crypto.com video.
#3 – Binance
Binance is another crypto exchange platform that offers opportunities for you to earn Bitcoin (or other cryptocurrencies). It is actually one of the most popular crypto exchange platforms around because you can earn Bitcoin by just storing it on their platform (you will earn through the interest just like in a bank).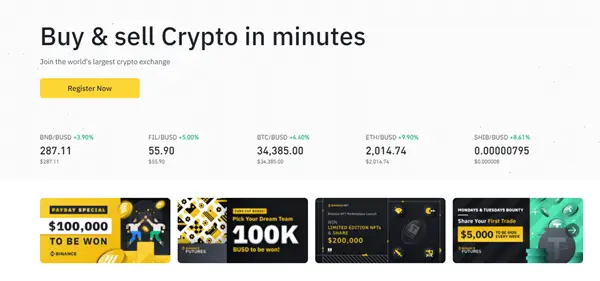 The best way to earn from Binance is to stake your cryptocurrency. You can just sit back and watch your cryptocurrency grow. So, it's more of an investment platform that can serve as a crypto wallet. That means you can use it in conjunction with the other apps in this guide.
I have a Binance video here that will show exactly how it works and how to get started if you want to know more.
#4 – FeaturePoints
Another option where you can earn free Bitcoin is called FeaturePoints. This Get-Paid-To app has many earning opportunities. You can earn by answering surveys, downloading apps, watching videos, and more.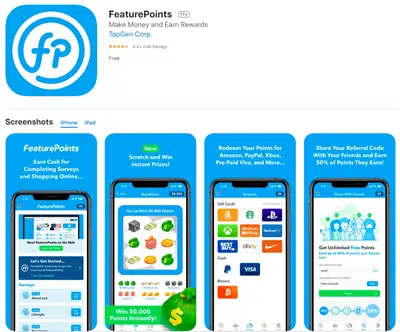 Their app works with both Android and iOS devices. But you can also earn using your computer since you can just log in to their site and start earning.
The good thing about FeaturePoints is that it has a low payout threshold. So you won't have to wait long to withdraw your earnings. And if you don't want to earn Bitcoin, you can convert your rewards to cash or even gift cards.
#5 – Honeygain
If you are looking for an effortless way of earning, Honeygain is one of your best options. This platform will allow you to earn simply by sharing your unused internet bandwidth. And the best thing is, you can do it either on your computer or your mobile device.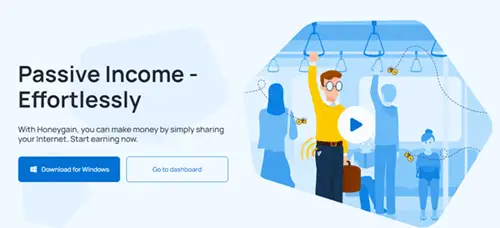 Just install the app on your mobile device and set it up. Once set up, you just have to sit back and wait to accumulate enough rewards to withdraw your earnings. It does have a high threshold of $20 regardless if you will convert it to cash or cryptocurrency like Bitcoin.
But since it is a passive form of earning, it shouldn't really matter if the threshold is high, in my opinion. You will eventually reach it.
#6 – Cointiply
Cointiply is mainly a GPT website that can also be used on a mobile device since it has an app. To earn from Cointiply, you just do what you usually do on GPT sites which is answer surveys, download apps, watch videos, play games, and more.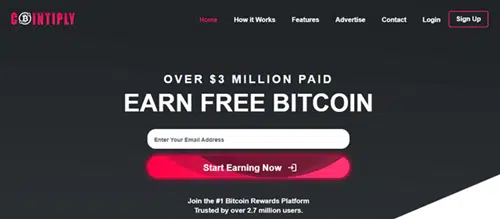 Their app is only available for Android devices, though. So, if you are an iOS user, then their app is not for you. But, as mentioned above, you can still use it on your mobile device since they have a website you can log in to. So, just use your mobile web browser instead.
Their payout threshold is only $5, and you can withdraw your Bitcoin earnings to any crypto wallet you choose. So, their payment system is pretty convenient as well.
#7 – Pawns (aka IPRoyal)
Pawns (previously IPRoyal Pawns) is pretty similar to Honeygain because you can also earn passively from this app. In fact, you can use it at the same time as Honeygain and earn Bitcoin.
It's the same concept. You install their app and set it up. Then, just wait until you've earned enough to withdraw your earnings.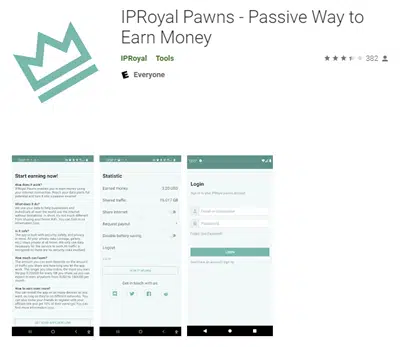 However, their app will only work with Android devices. So, it's a bit limited in terms of compatibility. But, their payout threshold is quite low at $5. So, you'll be able to withdraw your earnings a bit faster compared to Honeygain.
You can withdraw your Bitcoin earnings to any crypto wallet you are using, or you can also choose to convert your earnings to cash via PayPal.
Final thoughts
So there you go. These are the best Bitcoin apps to earn BTC for free. All the apps mentioned above are legit and free to join. So, all you have to do is register, and you can start earning right away.
And if you want to maximize your Bitcoin earnings, I would recommend you use around 5 apps. That way, you gain access to more earning opportunities and earn more. You can always join more later if you feel like you can handle more apps.
If you have any comments, questions, or you know of any Bitcoin apps where you can earn BTC for free that you think belong on this list, I would love to hear from you in a comment below.