Are you looking for a simple way to earn extra cash? Well, there's an app called Daily Status Earn Money that claims you can do so simply by posting status updates. So, if you love to post status updates, then you might be considering using this app.
But I would suggest you first read this Daily Status Earn Money review before you hit the register button. This review will verify if the app is legit or if it is just another scam. It will also reveal the full details of what the app has to offer so you can decide if it is indeed worth using or not.
And at the end of this review, I will also give my recommendation. So, let get this review started, shall we?
What is Daily Status Earn Money and what does it offer?
This app is essentially a Get-Paid-To (GPT) app that will reward you for posting or sharing status updates on the app like you normally would on a social medial platform. You could even say this is a social media platform as well.
As for its legitimacy, it is indeed legit because it will really pay you for doing such things. But there are a lot of nuances you need to know before you can expect to get paid by this app. Before we talk about how you get paid though, we have to examine the earning opportunities it offers.
That way, you can understand how the app works and you will get a better idea of its earning potential. So, here's how to earn from Daily Status Earn Money.
Option 1 – Posting or viewing status updates
As mentioned above, one way to earn from this app is by posting status updates. There are three ways you earn. You can either share a post, upload your own, or view a post to earn rewards.
Now, here's the thing, normal users can post a status only on Sunday and contest days. Verified and premium users, on the other hand, can post every day.
If you don't want to pay to become a premium user, your other option is to become a verified user so you can post every day. So how do you become a verified user? You have to contact Daily Status Earn Money and apply to become one.
But before you can do that, you have to have 20 published posts. So, if you are going the free route, you have to share or upload posts every Sunday or during contest days until you reach the 20 published posts. Once you've accomplished that, you can send Daily Status Earn Money a message (I will discuss later how to do that).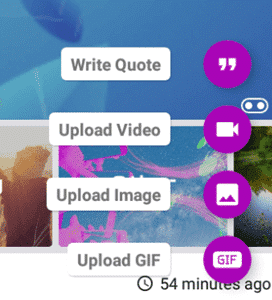 Now, to upload a status update, you can upload a video, photo, or GIF. You can also write your own quotes. But before you upload anything, there are a few things you need to keep in mind. I would suggest you read their Upload Guide first to learn how to post on the app.
The gist is, you have to upload quality content for them to approve your post. But the one thing you need to remember is, you must not upload personal, private, or copyrighted content. That will never be approved.
Once you've uploaded a post, the app will have to review it. If it is approved, it will show up in the app's feed and other members will see it. You will then receive a certain number of points (I will discuss later the breakdown of the points rewarded) as compensation.
As for sharing a post, it will have to be approved by the app as well unless you are already a verified or premium member. It's a very painstaking process if you are just a normal user. That's why I recommend you become a verified user as soon as possible so you can earn any time.

As for viewing posts, it's fairly easy. You just press any post you want to view and wait for it to load completely. Once it fully loads, it will be considered a view. You will then receive the reward.
Now, there is a daily limit to how many views you can do and how many posts you can make (this will including sharing posts). For viewing posts, you can only do a maximum of 20 views per day. For posting, the limit will be 10.
After 24 hours of doing your last action (viewing or posting), the counter will then reset. As I've mentioned earlier, there are a lot of nuances to this app that you need to be familiar with. So, it's actually not as simple as you might think.
Option 2 – Contests
Another way to earn rewards is to join their contests. From time to time, the app will hold contests and to view them, just go to the "Contests" section"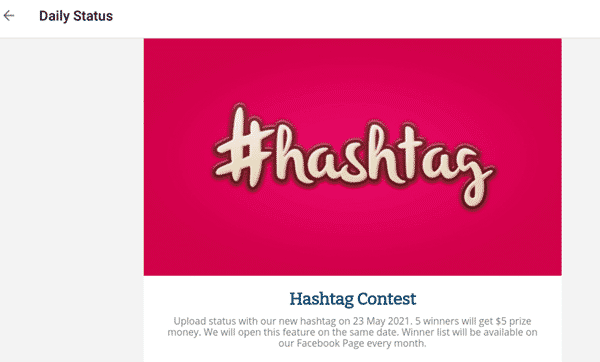 You will then see the list of contests available. If you want to join a contest, just press it and you will see the instructions you need to follow. In the photo shown above, the contest will require you to upload a status using the hashtag they've specified.
There will be 5 winners of $5 each and the winners will be announced on their Facebook page. The type of contests they run will really vary, so you'll have to regularly check that page. But the good thing about their contests is, they are usually fairly easy to join.
I would even say it is the easier earning opportunity they offer. However, just like with any contest, don't expect a lot from it. After all, it will still all depend on luck.
Recommended: Check Out the Top GPT Sites
How do you get paid?
As mentioned earlier, you will earn a certain number of points for posting or viewing status updates. The points will be credited to your account balance.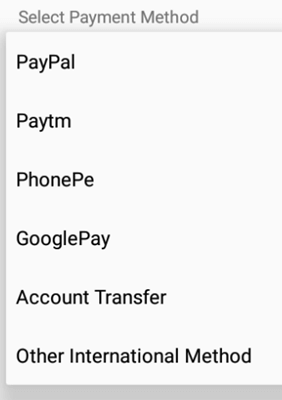 And once you've earned 10,000 points, which is equivalent to $10, you can withdraw your earnings. And as you can see in the photo above, there are several payment options to choose from. You can withdraw your earnings via PayPal or via direct bank transfer.
If you live in India, you can also withdraw your earnings via Paytm or PhonePe. But if you live in another country, all international payment options are allowed. You will just have to request for them.
Now, before you can withdraw your earnings, you must have a minimum of 1 follower. This is the main condition that needs to be met to withdraw your earnings.
If you get lucky and you win in any of their contests, the payment will be made right away. You just have to get in touch with their support team.
In my opinion, their payment system is quite straightforward. I like the fact that they offer multiple payment systems. I especially like that they offer PayPal as a payment method because that is, in my opinion, one of the most convenient payment methods around.
If you are interested in more sites that pay this way, I recommend you also check out the top sites that pay via PayPal.
How much money can you make?
Let me be blunt, you can't earn a lot from this app. Let me show you a breakdown of how they will reward you for posting status updates.
As shown in the photo above, the most points you can earn is 4 points and that will be by sharing, uploading or viewing videos. The rest are worth a lot less especially the quotes. And considering there's a limit to how many you can do each day, your earnings will really be limited.
So, it will take quite some time before you can reach their payout threshold. Plus, you'd also have to factor in the time it will take to become a verified user.
Now, you might be tempted to become a premium user which will cost around $7, but I highly recommend you don't do that. It will take quite a long time to earn back what you spent for the upgrade.
That's why I would say the earning potential of this app is very low. You are better off spending your time on apps that pay better.
Can you use it on a desktop?
Daily Status Earn Money is a mobile-only platform. So, you'll need a mobile device to work on it. They have a website but it really doesn't do anything except to show you where you can download the app.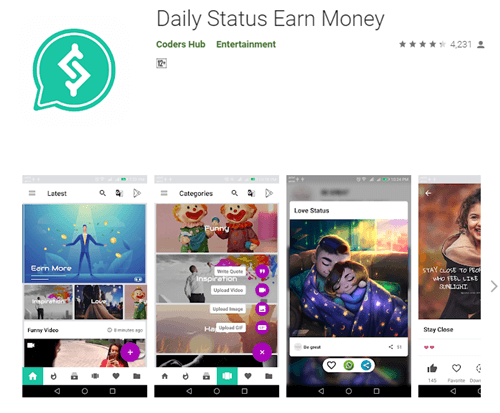 And speaking of the app, it is only available for Android devices. So, if you are an iOS user, then this app is not for you. As for the app itself, it's relatively easy to figure out how it works. But it can get quite spammy at times because there will be ads that will be displayed.
You can reduce the number of ads shown, but it will significantly affect your earnings. So, that really isn't ideal if you want to maximize your earnings from this app.
Who can join Daily Status Earn Money?
Daily Status Earn Money is an India-based app. It even follows India time. But you will be able to join the app regardless of where you live.
All you have to do is install the app and sign in using your Facebook or Google account. These are the only two options available though. But since you are already using an Android device, you can just join using your Google account. That would be the simplest way to join.
Can you get support?
The site and their app has a FAQ page you can refer to if you have any questions about the app. It discusses some of the most important topics you need to know about the app.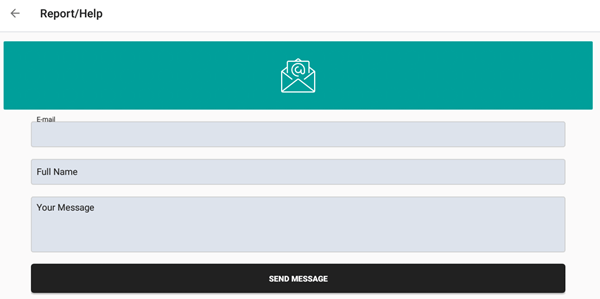 But if you can't find the answers you are looking for or if you want to contact their support team so you can become a verified member, you can use the contact form provided inside the app. Just press the menu tab on the upper left-hand corner and hit Report/Help.
Overall, I would say they have a decent support system in place for their members since they provide a convenient way for you to get in touch with their support team.
Final Verdict
Daily Status Earn Money is a GPT app that will reward you for posting status updates inside the app. It has a couple of good features but it also has glaring drawbacks you need to consider.
Now, let me end this review by summarizing its pros and cons to give you an overview of what the app has to offer. That way, you can figure out if this is an app that is really worth it or not.

Pros:
Offers payment via PayPal
Available globally

Cons:
Limited earning opportunities offered
Low rewards
It will require a bit of time before you are able to consistently earn rewards
There's a limit to how much you can earn per day
In my opinion, Daily Status Earn Money isn't really worth your time. Here are a few reasons why. First, it doesn't offer a lot of ways for you to earn. Secondly, there are a lot of things you have to keep in mind when posting status updates. So, earning from it isn't as simple as you might think.
It also doesn't pay that well. You will literally have to post hundreds (or thousands) of status updates before you can withdraw your earnings. So, it will take a lot of time before you can taste the fruits of your labor.
You are better off investing your time in sites and apps that offer simpler and better earning opportunities, in my opinion. For a list of these sites and apps, I would recommend you check out the top survey and GPT sites in your country instead.
The sites and apps on this list all have significantly better earning potential than Daily Status Earn Money. Plus, you won't have to go through hoops to earn on a regular basis.
If you have any comments, questions, or have any experiences with Daily Status Earn Money yourself, I would love to hear from you in a comment below.