There's a niche-specific survey site called Dentavox that promises to pay you for answering surveys.
But is Dentavox legit or a scam to stay away from? This is one of the most important things to know, so let me address that concern right away.
Yes, Dentavox is a legit survey site that will pay you for answering dental-related surveys. Yes, it is a specific survey site that deals with dental care and oral hygiene, hence the name. So, don't expect to get surveys that aren't related to that niche.
Since you already know it is legit, you must be wondering if it is worth your time or not. Well, to answer that question, there are a few things we must consider first.
And this Dentavox review will give you the inside scoop of what the site has to offer so you can determine if it is worth signing up or not.
What is Dentavox and what does it offer?
As the name suggests and as mentioned above, Dentavox is a survey site that deals exclusively with dental care and oral hygiene surveys.
So, all the surveys you will answer on this site will be related to those topics.
For you to understand the full extent of the site's earning potential, we have to take a closer look at the earning opportunities it offers.
I have made a short video that gives you an inside look and show exactly how you can earn from Dentavox. You can also read all the details below the video:
Option 1 – Paid surveys
As expected, since it is a survey site, the main way you will be able to earn rewards is by answering surveys.
When you log in to the site, you will immediately see all the available surveys you can take (refer to the photo below).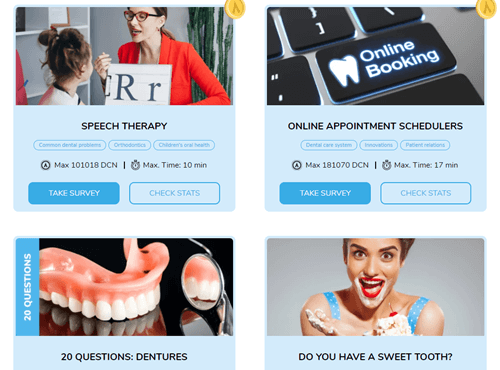 As you can see, every survey will show you the estimated time it takes to complete it and the possible reward you will get for completing it.
Also, from time to time, there will be surveys you can answer where you can earn twice the regular reward. It will be marked with a "x2" coin icon.
Before you answer a survey though, it is important to remember not to rush into it. You will see this reminder before answering your first survey.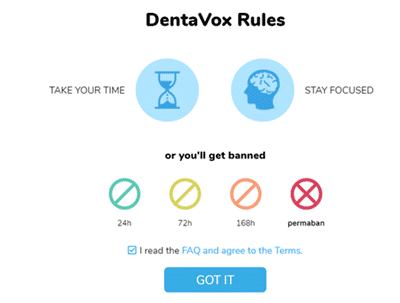 You have to take your time and focus on the survey questions because some questions will be designed to test if you are really paying attention to the question or you are just clicking random answers. This is their fail-safe system to make sure you are really answering the questions honestly.
If you don't heed the warning, your account might get banned or suspended. Suspensions can last up to several days and during that time, all you can do on the site is check your profile and see when your suspension will be lifted.
If you get permanently banned, all your earnings will be forfeited. So make sure that doesn't happen by answering the questions honestly.
Now, the good thing about their surveys is, you won't have to answer a set of qualifying questions like you usually would on other survey sites.
When you click a survey, you get to answer the actual survey right away. So basically, you will always qualify for the surveys offered.
But, each survey has a maximum number of respondents allowed. When you answer a survey you might get an error that says "Oops! Survey not available…" – that means the maximum number of respondents has already been met.
All you can do is to then move on to the next available survey.
As for the reward you will earn when you complete the survey, it will actually vary depending on the answers you've provided. As you can see in the first photo, there's a maximum reward you can earn.
That means that's the most you can earn from the survey. But it also doesn't mean that is what you will earn.
Again, the reward you will get will depend on the answers you've provided. But there's no point trying to figure out the best way to get the maximum rewards. The best thing you can do is to answer every survey honestly.
Another thing you need to remember about answering their surveys is, you can only answer a maximum of 10 surveys per day.
Although, in my experience, that's actually plenty enough and most of the time, you won't get invited to that many surveys anyway.
Option 2 – Referral program
You can also earn bonus rewards by inviting other people to join the site. This is called a referral program.
Just like with most survey and Get-Paid-To sites, you can earn referral bonuses by inviting other people to join the site.
Simply share your invite link with them and when they sign up to the site using your link, they will become your referral and you are now eligible to receive the referral bonus. However, they don't specifically say what the reward is.
In my experience, it's usually a certain number of points (if the site is using a points-system, which is what Dentavox is using). I will discuss what to do with these points next.
But it would have been better if they had been completely transparent about exactly what you can expect to earn from this option, in my opinion.
How do you get paid?
Now that you know how to earn from this site, the next topic we need to discuss is how you will get paid.
As you already know, Dentavox uses a points-system. It is called Dentacoin (DCN). So, for every survey you complete, you will earn a certain number of DCN.
Now, in order to withdraw your earnings, you will actually need to setup something first. Here's a video showing you how to redeem rewards.
As shown in the video above, they use Dentacoin as their rewards platform. Dentacoin is a cryptocurrency you can use as a means of payment for dental services and products within the Dentacoin Network.
So basically, you have to create a wallet for your Dentacoin account where you can store everything you have earned from the site.
Before you can withdraw your Dentavox points to your wallet, you will need to earn at least 300,000 DCN.

To give you perspective, the photo above shows the conversion rate of Dentacoins. So, although 300,000 DCN sounds like a lot, it really isn't. And if we follow the conversion rate, it will only be worth $1.5, which, as you can see, isn't really a lot.
Also, you can only withdraw Dentacoins to your wallet once a week. That's why, I suggest you wait until you've earned a decent amount before you withdraw it.
And I also suggest you withdraw all to your wallet in one transaction since it doesn't serve any purpose to leave DCN in your Dentavox account.
Personally, I think their payment option is quite limited. I would have loved this site if it offered another payment method like PayPal.
If you are interested in sites that have a more convenient payment method, I suggest you check out the top sites that pay via PayPal.
How much money can you make?
To determine the earning potential of this site, we have to consider two key factors: survey availability and rate of rewards.
From what I've observed, Dentavox does reward you with a decent number of Dentacoins per survey so you can practically reach the threshold after completing just a few surveys.
Many of the surveys you will answer will reward you with more than 100,000 DCN when you complete it. So, their reward rate is actually quite decent.
To put it into perspective, most surveys that will take you more than 10 minutes to complete will pay you around $1. That's a decent rate, in my opinion.
As for their survey availability, they do say they upload at least two surveys every week. The thing though is, getting to the surveys is actually a race since there's a set number of respondents allowed per survey.
That's why it is important to answer surveys as soon as you receive them. So, if I were to describe the earning potential of the site, I would say it has decent earning potential.
But you do have to remember, the money you will earn from this site can only be spent to pay for dental services and products within the Dentacoin Network. So, I would dare to say, it's not for everyone.
Can you use it on mobile?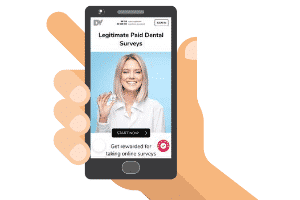 Dentavox doesn't have a mobile app you can use so you can answer surveys conveniently from a mobile device. However, you can still access their site from a mobile device using a web browser.
And the good news is, their site is very mobile-friendly. That means you will be able to read all the content clearly without zooming in and you will be able to click links easily as well.
This is very useful especially since you need to get to the surveys as quickly as possible. And being able to answer surveys even when you are not in front of a computer will help a lot. This can help make you a more efficient earner which is a huge plus, in my opinion.
Who can join Dentavox?
Dentavox is available globally, which means you can sign up regardless of where you live. But keep in mind that this site uses Dentacoin as its rewards platform.
So in reality, this site will only be beneficial to people who live in countries where the Dentacoin Network operates (i.e. the US, UK, Canada, and a few more) – you can see a full list of partners on their website.
But even in the countries where there are Dentacoin partners, you can only find them in limited areas.
If there aren't really any dental practitioners in your area that are members of the Dentacoin Network, then I don't see the point of joining this site.
So, you need to check the exact partners they have and if there are any in your local area before starting to earn.
If there are Dentacoin Network members in your area, then you will be able to take advantage of this platform. To sign up as a member, you have to be at least 18 years of age or older. You can sign up using your Facebook or Civic account.
I suggest you download the Civic app before signing up since you will still need this app to verify your identity before you can withdraw any earnings.
So, even though it's a relatively easy sign-up process at first glance, it actually involves a few steps before you can become a full-fledged member of Dentavox.
Can you get support?
Dentavox does provide decent support for its members, in my opinion. It has a FAQ page that discusses most of the important topics you need to know.
That's why I suggest reading their FAQ page first before you sign up.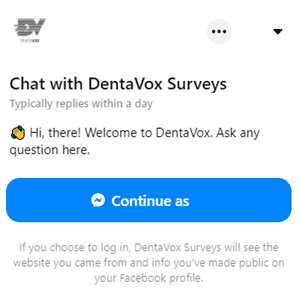 If you have further questions about the site or if you are already a member and you have an inquiry to make, you can contact their support team through their chat support which is powered by Facebook messenger (refer to photo above).
Final Verdict
Dentavox is a legit niche-specific survey site that has a couple of good qualities. It also has certain limitations that are hard to ignore.
So, let me end this review with a summary of its pros and cons to give you a better overview of the site and help you make your decision about whether you should join this site or not.

Pros:
Low payout threshold
Their site is user friendly
Offers decent rewards

Cons:
Limited earning opportunities offered
Limited payment options
Slightly more complicated sign-up process
The number of dentists accepting Dentacoin is still quite limited
In my opinion, Dentavox is a survey site that isn't for everyone. You will only stand to benefit from this site if there are dental practitioners in your area that are members of the Dentacoin network because of the payment structure their offer.
They do offer decent rewards for their surveys, and if they have partners in your area, it can be a different and interesting survey site to join.
But if you are just looking to earn extra cash, you will have to look somewhere else because Dentavox doesn't offer that. I would suggest you check out the top survey sites in your country instead.
The sites on this list all have good earning potential and offer several payment methods you can choose from. Plus, you will find sites you can join that you can benefit from regardless of where you live.
If you have any comments, questions, or have any experiences with Dentavox yourself, I would love to hear from you in a comment below.