A good way to use your mobile device is to download an online rewards app.
If this is your first time hearing about this kind of app, there are actually plenty of apps that offer this kind of opportunity. So, it can be hard deciding which one to download.
One such app is called Drop. This app promises to reward you for using it to do your purchases. So, it really acts like a cashback site. Is it legit though?
This is the most important question you can ask because before you decide to join this platform, you have to make sure it is not a scam.
Fortunately, Drop is as legit as they come. But this doesn't necessarily mean though that it really offers a good opportunity for you to earn. Before you decide if you should join this platform or not, you have to consider several factors first.
This Drop app review will show you what it really offers so you can determine if it is really worth your time or not. Hopefully, after reading this article, you can figure out if it is for you or not.
What is Drop and what does it offer?
Drop is a mobile application that will reward you if you shop through their app. Think of it as a cashback app without the actual cashback offers.
Now, to be able to determine if it is worth your time, we have to take a closer look at how you can earn rewards from this app. So, here's how you can earn from Drop.
Option 1 – Drop Offers
When you've installed the app and registered, you will have access to plenty of offers.
As mentioned, in order to earn from this app, you will, however, have to spend your money. So, if you don't like this sort of thing, then this app is not for you.
But if you frequently shop online, then Drop can be a beneficial app mainly because it has a lot of offers to choose from.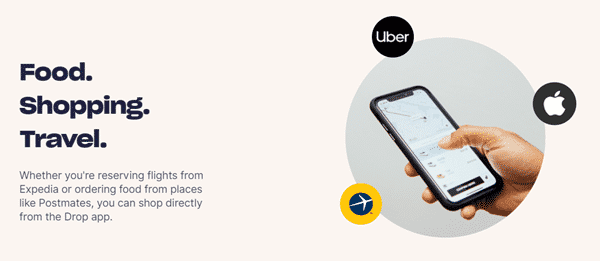 As you can see, the idea is really simple. For every purchase you make, you get Drop points.
For example, if you decide to buy an item from Walmart using Drop, you will earn a certain number of points depending on the amount you spent.
The number of points you will earn per $ will vary in the store you bought it from.
So, don't expect to earn the same number of points from different sellers. You can then use the points you've earned to buy other items or exchange them for gift cards (I will talk about this later).
Option 2 – Referral Program
You can also earn points by inviting people to join Drop. You and the person you invite will then receive 5,000 points each as soon as they finish the registration process (which I will discuss later).
You can invite people to join in several ways. You can either send them your referral code or share your invite link through Facebook, Twitter, and WhatsApp.
The reward you get, in my opinion, is pretty significant. There aren't a lot of sites, let alone apps, that offer this type of referral program.
Plus, the condition you will have to meet in order to get the reward is very achievable.
How do you get paid?
As mentioned above, you will receive Drop points for purchases you make via the Drop app (or through the Chrome extension). The points will be accumulated in your Drop account.

You can then use the points you've accumulated and exchange them for gift cards from Amazon, Starbucks, Netflix and a lot more.
You will need to accumulate 5,000 points (which is worth $5) before you can redeem any gift card.
It's a low payout threshold, which allows you to redeem gift cards rather quickly. This is the best thing about the app, in my opinion.
Although it could have been a lot better if they also offered a way for you to redeem cash as well.
If you are interested in platforms that will allow you to earn cash aside from gift cards, I suggest you also check out the top survey sites that pay via PayPal.
How much money can you make?
This platform uses the "spend more to earn more" strategy. Obviously, in order for you to earn more rewards, you will have to avail of more of their offers.
So, in reality, this platform can only be beneficial if you like to shop online. If you join this platform just to earn rewards, then it can be counterproductive since you will have to spend money to earn.
If you do a lot of shopping online, you can earn a lot of points especially if you take advantage of several offers coming from one shop.
You will earn more points if you buy from one shop at least 5 times. Think of this as a form of loyalty reward.
This is how their system rewards members who stay active on the platform. So, the more offers you take from one seller, the more rewards you can get. But again, keep in mind that you will have to spend your own money.
If you prefer to earn rewards without having to spend your own money, I recommend you check out the top survey sites in your country instead.
Can you use it on a desktop?
The good thing about Drop is, it's not a mobile-only platform. In fact, you will also be able to use it on a computer. You simply have to install their extension.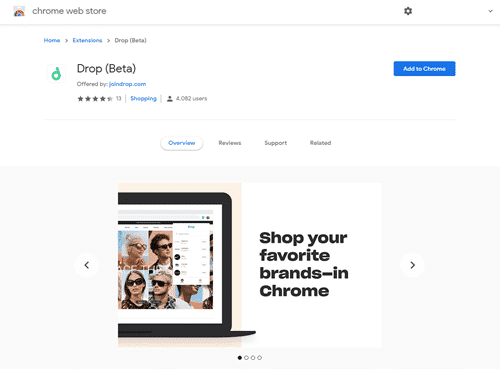 The extension is only available for Google Chrome, so make sure to use that browser if you want to avail of Drop offers using your computer.
There is a limitation for this feature though. Drop for Chrome is currently available to select US members by invite only.
If you haven't received the invite yet, you will have to earn rewards using the mobile app.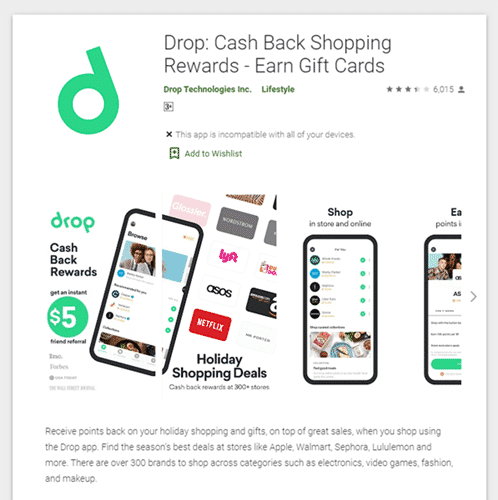 The app is available for download on both Android and iOS devices. So, compatibility won't really be an issue.
Who can join Drop?
There is no mention on their site on who can join their platform. But upon testing, you will only be able to join the platform if you live in the US or Canada and have a mobile phone subscription.

To become a member, you have to provide your mobile phone number first (refer to the photo above) and click the Get Drop button. An SMS will be sent to the number you provided with the link to download the app.
Once you've downloaded the app, you will have to go through the registration process. If somebody referred you to the app, you will have to input the referral code.
Once you are finished with the registration process, you will have to complete one more thing to become a fully-fledged member.
You have to link your credit or debit card to your Drop account. This will be the card you will be using to complete in-app purchases.
This is an important part of the registration process, especially if you are inviting people to join the platform.
The reward you will get for your referral will only be given once your referral links their card to their account.
That's the indication they have become members of Drop. So, don't forget to do that after installing the app and don't forget to remind the people you've invited to join.
But if you do not like to give your credit card details to an app, then this one is not for you. Then you can check out the best cashback sites instead where you can get cash back the same way without linking your credit card.
Can you get support?
Drop App does provide a comprehensive FAQ section for its members. If you have a question you need to ask their support team, I suggest you check out the FAQ page first before submitting your inquiry.
It covers most, if not all of the basic questions. So, apart from account problems, you should be able to find the answers you are looking for in their FAQ page.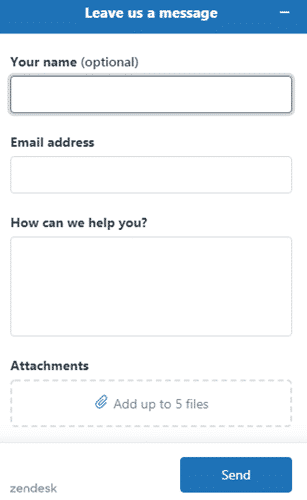 If you can't find the answers you are looking for, you can use their contact form to send in your questions. You can log in using your Facebook or Google account to access their contact form, which is powered by Zendesk.
It is possible to see from reviews of the App in the stores where it can be downloaded that they have very active support. They reply to all feedback there – both positive and negative which is a great sign.
So overall, they do provide a decent way for you to get support, in my opinion.
Final Verdict
Drop is a legit shopping rewards app that will reward you for inviting people to join their platform and availing of their in-app offers. It has certain advantages and a few drawbacks as well.
Here's a list of its pros and cons to help you with your decision.

Pros:
Plenty of offers available
Has a wide variety of gift cards you can choose from
Low payout threshold

Cons:
Cash rewards are not available
You have to spend money to earn rewards
Only available in the US and Canada (and they are not very clear about this)
If you shop online on a regular basis, Drop can be a very profitable platform to join. This is because it has plenty of offers to choose from, which is really what you will want from a shopping rewards app.
But if you prefer to earn without having to spend your own money, this app will offer no value to you.
You will be better off joining a survey or Get-Paid-To site or app. If you are interested in apps like that, I suggest you check out the top paid survey apps.
You will find several apps that will allow you to earn without having to spend money. Plus, you will definitely find an app you can join regardless of where you live.
If you have any comments, questions, or have any experiences with Drop yourself, I would love to hear from you in a comment below.