Joining a Get-Paid-To (GPT) is one good way to earn online. If you are not familiar with GPT sites, they are basically a type of online rewards site that will pay you for completing short tasks (hence the name Get-Paid-To).
Of course not all GPT sites are created equal. Some GPT sites are better than others – especially in the earning potential department. Ideally, you will want to join a GPT site that has good earning potential.
This is where this Earn99 review comes in. If you've been doing your research and you've encountered this site, you must be wondering if Earn99 is a scam or a legit site.
That's a valid question to ask and this review will not only address that concern, but it will also show you what the site has to offer so you can decide if it is worth joining or not.
Important Update: Earn99 closed!
As of January 2023, Earn99 has ceased operating.
You can check out the best free ways to make money online here instead.
What is Earn99, and what does it offer?
Let me just say right away, yes, Earn99 is indeed a legit GPT site that will reward you for completing short tasks and other activities.
Now, before you sign up as a member, you need to make sure Earn99 is really a site worth your time.
The best way to do that is to take a closer look at the earning opportunities the site offers. So, here's how you can earn from Earn99.
Option 1 – Offerwalls
Offerwalls are in-site advertising platforms that are designed to promote specific apps and websites through the short tasks they offer. These tasks are called paid offers.

As you can see in the photo above, Earn99 does have a decent number of offerwalls available although there are still other GPT sites that have more offerwalls. Now, to start earning, just choose any offerwall you want to work on and click it.
It will then show you a list of paid offers you can do. These paid offers will immediately show you the task you need to do and the reward you will earn for completing it. Make sure to take note of the requirements of the offer because you need to fulfill all of them to earn the reward.
To start working on an offer, just click it and it will open a new window. Just follow the instructions given until you are able to complete the offer. Once the offer is completed, you will receive the reward.
Most of the paid offers you will encounter on these offerwalls will ask you to answer surveys and quizzes, download mobile apps, register for certain websites, and play browser-based games.
In my experience, offers usually have to be validated first before you receive the reward. In many cases, offers are validated after a few minutes but others might take a month or so – especially the offers that require payment as well as offers that require you to answer a survey. So, expect to receive the reward for these offers a bit later.
Option 2 – Paid surveys
Another way you can earn rewards from Earn99 is by answering paid surveys. It's a lot like the surveys you will encounter on their offerwalls.

Earn99 doesn't have its own surveys. They only act as a survey router. That means the surveys you will answer will come from survey partners.
A benefit to this is, you get access to more surveys because many of the surveys are not offered directly on a specific survey site but only through routers. Now, when you answer a survey, you will have to first go through a series of qualifying questions.
This is necessary to figure out if you are among the people the survey is intended for. If you qualify, you get to answer the actual survey. If you don't qualify, then you simply move on to the next survey available.
Once a survey is completed, you will earn the reward. But just like the surveys on their offerwalls, it can sometimes take longer to receive your reward.
Option 3 – Captcha solving
If this is your first time hearing about captcha solving, here's a guide on how to earn money by solving captcha. The premise for this earning opportunity is pretty simple. You solve captchas to earn rewards.
But unlike a full-fledge captcha solving site, you will earn 0.1 diamonds per approved completion.
Usually, on captcha solving sites, you have to reach a certain number of captchas solved to earn. Earn99, on the other hand, will pay you for every captcha you solve.
To solve a captcha, just tick the "I am human" box to display the captcha you need to solve. Once you've solved it, click the submit button. If a message appears saying "Congratulations, 0.1 diamond has been added to your account", that's your cue to start another round.
It's a fairly simple way of earning, but as you can see, you won't earn much from it. So, don't spend too much time on it if you want to earn efficiently.
Option 4 – Watching videos
You will also be able to earn additional rewards by simply watching videos. The videos you will watch will come from HideoutTV.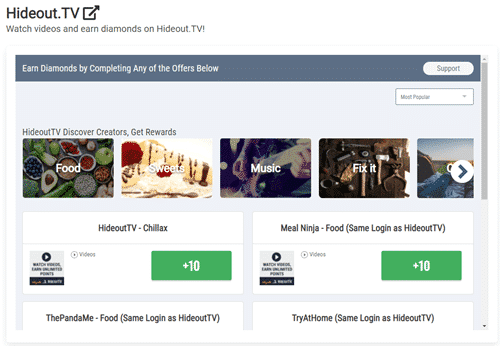 To start watching a video, pick a category you want to watch. It will then show you the videos you can watch to earn the reward. Click on any video to start the process.
One thing you need to know about this opportunity is, you don't actually get rewarded by watching the videos. Instead, you will be rewarded by watching the ads that will be played before, during, and in between the videos.
And sometimes, there won't be any ads shown. You just have to continue watching videos until you have watched ads to earn. For a more in-depth look on how this works, I suggest you read my HideoutTV review.
I would say, this can be a fun and interesting way to earn rewards. But you need to keep in mind that just like captcha solving, this isn't really the most efficient way of earning rewards.
That's because you won't earn a lot from this kind of earning opportunity and it will take up a lot of your time. So, I only suggest you do this if you don't have anything else to do on the site.
Option 5 – Bonus rewards
Earn99 will hand out a one-time bonus for completing certain activities.

As you can see in the photo above, the site sometimes offer you the chance to earn bonus rewards, usually by further promoting the website.
In this case, during your first sign-in, you will receive a bonus. You can also receive a heftier bonus if you create and upload a video promoting the site on YouTube.
Bonus rewards aren't a regular thing, but you should always keep an eye out for opportunities to earn more from the site.
Option 6 – Promo codes
Lastly, you can also earn rewards by entering promo codes posted on their Twitter page and in the emails they will send to you.
So, that's another thing you can keep an eye out for to earn more rewards. To redeem a promo code, just go to the promo code section and type in the code and click the Redeem button.
Recommended: Check Out the Top GPT Sites
How do you get paid?
Every activity you complete will earn you a certain number of diamonds. This is the currency Earn99 uses.
It's actually just their term for points but I guess diamonds sounds more valuable?. You can then exchange the diamonds you've earned for certain rewards.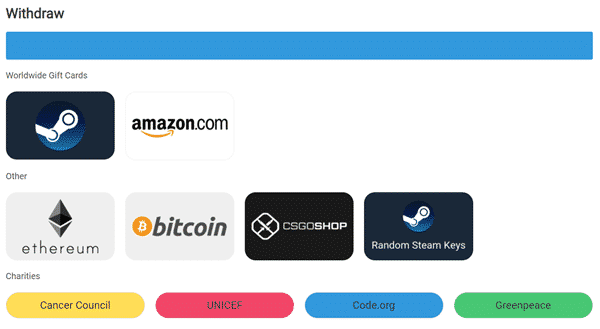 The rewards available for redemption will depend on the country you live in. But usually, the most common reward options are Steam and Amazon gift codes. The conversion rate for these codes is 1000 Diamonds = $1. The minimum amount you can redeem will only be $1 Amazon gift codes and $5 for Steam gift codes.
You can also choose to convert your diamonds into cryptocurrency like Bitcoin or Ethereum. For Bitcoins and Ethereum, you will need to earn at least 10,000 diamonds. There will also be a 10% transaction fee that will be deducted from the amount you will withdraw. The same conversion rate also applies to this kind of reward.
As you can see, their payment system is fairly straightforward and I like the fact that they have a very low payout threshold for certain rewards. This means you can withdraw your earnings quickly.
If you are interested in more sites that will allow you to withdraw your rewards quickly, I recommend you check out the fastest paying sites.
How much money can you make?
With GPT sites, the amount of money you can earn will mostly depend on the availability of earning opportunities and how well they pay.
In terms of availability, Earn99 doesn't really have any problems mainly because there are plenty of offers available on their offerwalls.
But as for how well they pay, I would say the rewards you will earn for most activities/offers on the site aren't that good. You will only typically earn around 10 to 100 diamonds from paid offers. Surveys are worth a lot more, but keep in mind that you won't always earn from available survey because you won't always qualify.
So, if you want to earn a significant amount from this site, you will have to complete hundreds of offers which will take a bit of time. That's why I would say its earning potential isn't really that good.
Can you use it on mobile?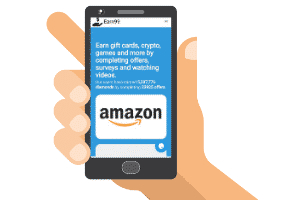 Fortunately, you will still be able to earn from this site even when you are not in front of your computer.
Although there is no Earn99 app you can download, you can still access their site from a mobile device using a web browser.
Their site is mobile-friendly, so you won't have a hard time navigating through the site and you won't have to zoom in to read the content. This can be very useful especially if you are completing offers that will involve downloading mobile apps.
This will allow you to be a bit more efficient in earning because you will be able to earn rewards anytime and anywhere.
Who can join Earn99?
Earn99 is available globally. That means you can sign up as a member regardless of where you live. But, only one account per person and per IP address is allowed. So, if another individual in your household is also interested in joining the site, you must figure who of you should join.
To sign up as a member, you have to use your Google account. That's the only way to sign up for their site. It's a bit weird because usually, on other GPT sites, you also have the option to provide your own login details when signing up.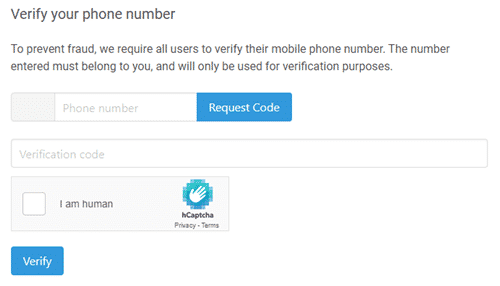 When you are done signing up using your Google account, you have to verify your registration by providing your mobile number. They will then send you a verification code that you need to input to complete the registration.
If you don't verify your account, you won't have access to some of the feature (withdrawing your earnings) and opportunities on the site. So, make sure to do that first once you are registered.
Can you get support?
If you have any questions about the site or your account, you can check out their Knowledgebase first. It discusses most of the important topics you need to know about the site. If you can't find the answers you are looking for, you can contact their support team.
You have several options to get in touch with an Earn99 support representative. You can send your questions through the chat link found on the bottom right-hand corner of the site, or you can email them (the link to their email is also found on their Knowledgebase page).
You can also get in touch with them via Twitter or Steam. The links to their profiles on Twitter and Steam are found at the bottom of their site.
Overall, I would say they do provide good support for their members because they offer multiple ways for you to get in touch with their support team.
Final Verdict
Earn99 is a legit GPT site that will reward you for completing short tasks and offers. It has a couple of good features but it also has some drawbacks you need to be aware of.
So let me conclude this review with a summary of its pros and cons to give you an overview of what the site has to offer so you can decide if you should join or not.

Pros:
Has a low payout threshold
Their site is mobile-friendly
Available globally

Cons:
Low rewards
Doesn't offer cash rewards, only cryptocurrency
In my opinion, Earn99 doesn't really stand out as a GPT site. It's not that bad, but it's not that good either.
I like that it has a low payout threshold for certain rewards, but you will still have to invest a good amount of time to earn a decent amount because they don't really pay that well.
So, the low payout threshold won't really be that beneficial. I would only recommend you join this site if you are okay with earning cryptocurrency instead of cash and only if you need additional GPT sites to join.
Otherwise, I would recommend you check out the top survey and GPT sites in your country instead. The sites on this list all have better earning potential than Earn99 and most of them offer cash rewards as well.
If you have any comments, questions, or have any experiences with Earn99 yourself, I would love to hear from you in a comment below.