At first sight, Earnably.com looks like an easy way to earn instant rewards online.
But is Earnably legit and a real way to earn, or is it a scam with fake claims to stay away from?
I have joined to test Earnably myself and have compared it to the hundreds of other similar sites I have tested over the last few years.
Let me reveal right away that it is legit, and I have been paid by it many times myself. But that does not necessarily mean it will be a good option for you. It does have potential, but there are also aspects I do not think are that great.
In this Earnably review, I will give you all the details and give you an inside look so you can see exactly what you get and judge for yourself if it is worth it for you or not.
Disclosure: Some articles on this website contain affiliate/sponsored links. Click for more info.
What is Earnably, and what does the site offer?
Earnably is an online reward site, commonly known as a GPT (Get-Paid-To) site, where you can earn money, and it is free to use.
It was started in 2015, so compared to some of the biggest GPT sites, it is still fairly new. But that does not mean it cannot be worth it.
Registration is fast and free. You only need to provide your email address, create a username and password, confirm your email, and you are good to go.
As soon as you get your account up, you get to your dashboard and can see how you can earn.
It has a clear and simple interface, so it is fairly easy to get started. But most importantly, you need to know how you can then earn there and how good the opportunities are compared to other similar sites.
So let's go over all the options below so you can see if it will be worth it for you or not.
I have created a video that gives you an inside look and shows you exactly what you get and how it works. It will also include Earnably payment proof so you can see it actually does pay.
You can also read all the details below the video:
Click to Check Out Earnably for Yourself
Option 1 – Daily surveys
Paid surveys are a big part of most GPT sites, and it is also one of the best ways to earn on Earnably.
It has a section called Surveys, where you can find access to a good amount of paid surveys.
When you first join, you just need to take a short profile survey (which takes around 5 minutes), and then you will get access to the paid surveys.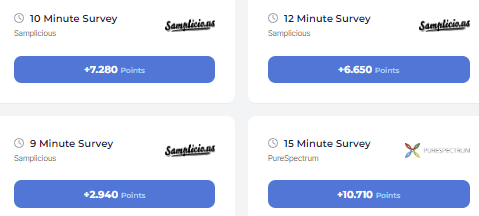 All the survey options are from survey routers, which means you will be taken to partners of Earnably to take the surveys there, but you will get the rewards into your Earnably account.
Just be aware that for many of these partners, you have to fill out some basic information again before you can start taking surveys. That is a bit annoying, but that is how it is, and luckily only the first time you use each of the routers.
Earnably gives you access to quite a few survey opportunities, and one of the things it improved during a recent update of the platform was that it is now very easy to see what you get for a survey before you start it. This is a great improvement, in my opinion, as you did not use to be able to see this until after starting a survey.
Overall, you definitely can earn by taking surveys on Earnably, but compared to other survey sites I have tested, it does not give the best overall options.
Also, be aware that the exact survey routers and the number of available surveys can vary from country to country and from time to time.
Option 2 – Offer walls
All GPT sites have offer walls where you can find all kinds of online offers, and Earnably also has several of these.
In fact, it gives you access to quite a lot of them. You can find paid offers both in the section they call "Explore" and the "offers".

Here you can find offers and get paid to, for example, download apps, play games, click ads, sign up for trials, and more.
If you make sure to read the conditions for each offer, you can find some great ways to boost your earnings here.
You can see on the image above which offer walls Earnably gives access to at the time of updating this review. Just be aware that the exact offerwalls available and the paid offers on them will vary from country to country.
Many other GPT sites give access to the exact same walls.
So if you are a member of several other sites already, there is no need to join Earnably just for access to the offer walls unless you like the overall experience and opportunities on Earnably better.
Also, be aware that I have seen it reported that offers were not tracked properly.
Imagine the effort and time that you've spent only for you to find out that your completed offers were not tracked or did not reflect in your account.
Ok, so here are a few things you need to make certain of before you get started with the offers.
First, you have to disable your ads blocker since their website works with cookies, and the ads blocker might not allow some scripts from their website to run correctly.
Second, your browser must allow third-party cookies.
Third, make sure you follow each and every instruction that comes with the offer carefully to avoid invalid entries or submissions.
Lastly, clear your browser's cache from time to time and always take screenshots of any error messages when completing offers. You might need them just in case.
Following these steps will ensure you will get paid for the offers.
Option 3 – Watch videos
Getting paid to watch videos sounds great, right?
Well, to be honest, the video option is easy to do, but it is rarely worth your time – that goes for more or less all GPT sites and not just for Earnably.
It can, however, be entertaining as you can find videos in more or less any category.

You should, however, not do it just for the money, in my opinion. You usually have to watch a video, including ads, to get a reward.
You will then get points for that specific video platform, and you need to also sign up for those specific platforms to be able to earn. You can then transfer the points you earn into your Earnably account.
Usually, it will take you hours of watching videos just to earn $1.
Earnably does give you access to a lot of videos, so you will likely not run out of videos to watch. Just be aware that there will not always be ads showing in the videos, as that depends on the current number of advertisers.
And if no ads are shown, you will not earn for the videos you watch. This is very important to remember so you do not end up watching hours of videos just to find out you have not earned.
Overall, the videos should just be used as entertainment, but if you are on Earnably to earn, there are other methods that are a lot better.
So use the videos as entertainment, but if you are on Earnably to earn, there are other methods that are a lot better.
Option 4 – Download apps
There used to be a whole section on Earnably with apps and games you could download on your phone or tablet and earn points by doing this.
However, this section has been removed in a recent update, but I still wanted to mention it here, as you can still find the same opportunity, and many have asked me about this.
Now you can instead find these opportunities on the offerwalls or in the "offers" section. So they are still there – you just have to look a different place to find them.
You can see right away what the reward will be and what the conditions are.
Make sure to pay attention to the conditions, so you know exactly what you need to do to get the reward. Usually, you need to reach a certain level to get your reward, use the app for a certain amount of time, etc.
You can also browse through the app section on desktop. When you have found an app you would like to download, you can then click and send a download link to your phone.
If you choose carefully, it can be an easy way to earn and a fun way to get to test new apps.
Option 5 – Invite friends to join
If you like Earnably, you can earn a bit extra by inviting friends to join.
You will earn a 10% commission of everything your friends earn. This will be paid by Earnably as a thanks to you for inviting a friend so the earnings of your friend will not be affected.
So if you like Earnably and know friends or family that would also like to join, then it can be a way to earn a little extra.
Option 6 – Earnably promo codes
Another way of earning points on Earnably with less effort is to watch out for their promo codes because they give out codes that you can use to claim or earn instant points.
They give out two types of codes – one is the Bonus Code which basically adds a certain percentage on top of any of your completed offers for a certain period, and the other one is the Point Code which will automatically add free points to your account right away.
To get those codes, you will have to follow their Facebook or Twitter pages, where they regularly post these. However, they used to be published more often, and now it can take patience to find them.

The bonus codes a rarely very high, but if you are actively using Earnably, it can be worth getting this extra bonus.
Also, sometimes you might get a promo code via email if you allow them to send promotions during the sign-up process.
Right after joining, I, for example, got a welcome email with a promo code with 25 free points.
But the free points are quite rare compared to the bonus codes, in my experience. So do not expect to be able to make a lot of money just by waiting for free points via the Point Codes.
Recommended: Click to See The Top Paying GPT Sites
How do you get paid?
Now you know how you can earn on Earnably, but how will you then get paid for your effort?
The ways you can get your earnings out depend on the country you live in. But there are 3 methods that are available in more or less all countries – these are PayPal, gift cards, or cryptocurrencies like Bitcoin and Litecoin.

The payout threshold depends on your chosen reward. You can request a PayPal payout already when you have earned 10,000 points, but for gift cards, the threshold will depend on your chosen reward.
The exact gift cards you can choose from depends on the country you live in. In some countries, you can also choose between a lot of different gift cards.
10,000 points are $1. The point system used to be more complicated, but this is one of the many improvements they made when they did a huge update of the platform.
This means that you only need to earn $1 to be able to get paid, which is a very low payout threshold, and it makes it one of the fastest paying survey and GPT sites.
It takes up to three days for them to process your rewards. But, in my experience, you often get the money a lot faster.
I have recorded a video where I show step-by-step how to withdraw and where I also show payment proof, so you can see for yourself that Earnably actually pays.
If you wish to have access to a "VIP" feature like priority payments, you have the option to apply for a "Trusted Account".
Take note that you are only eligible to apply for the trusted account if you are located in the United States, United Kingdom, Canada, Australia, and EU.
Also, your account should already be at least a month old, with multiple rewards gained and with no history of chargebacks or suspension.
Once approved, you will get a tiny yellow crown on top of your dashboard avatar, and your rewards payment will be prioritized, which means you can receive your rewards in as fast as 5 minutes.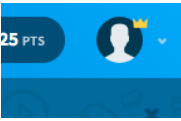 Their website FAQ page provides full instructions on how you can apply for a "Trusted Account". But in short, you have to contact Earnably and apply, and then you will be told if you are eligible or not.
How much money can you make?
Earnably has quite a lot of ways for you to earn. But you just need to do it with the right expectations.
It is not a way to become rich or make a full-time income or anything like that. But it can be a decent option for some extra cash on the side.
100 points are worth $1, which means you are required to get 1000 points to earn $10.
This will not take too long to reach, but compared to many other GPT sites I have tested, it does not offer quite as good opportunities and can take some patience.
It definitely is a way to earn some extra cash, but, as mentioned, you just need to be aware that it will just be some extra cash on the side and go into it with that expectation if you decide to join.
Can you use it on mobile?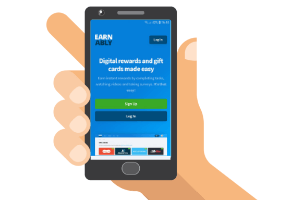 Absolutely!
In fact, some of the earning opportunities (like downloading apps) are only available on mobile.
But in general, you can access their platform on your mobile or tablet browser, so you don't need to rush to a desktop computer to complete their offers because you are still able to do so even if you are on a train, at the coffee shop, out of town, waiting for your bus, or you simply don't have access to a laptop or PC.
Their website is Android and iOS-friendly, which is good since they do not have a mobile app available yet.
However, they do say in their FAQ section that they are hoping to create an app at some point. But until then, it is great to know you can use it on almost any screen without problems.
Who can join Earnably?
Earnably is available to join from most countries. However, the number of available offers and surveys will depend on your location.
They used to only accept members from around 40 countries, but they have now opened up so you can join basically no matter the country you live in.
But overall, the majority of their offers are for the US, UK, Canada, Australia, and Europe. But you can also join from countries like South Africa, India, Hong Kong, China, and Mexico.
One more thing you have to be aware of is that they do allow up to 3 accounts in one household on 3 different devices.
But having multiple accounts yourself is a no-no. I personally would advise you to stay away from using multiple accounts from a single device because their system will detect it, and that might cause your account to be suspended.
Also, you should not use VPNs when accessing Earnably, or it will automatically lock your account as they see this as an attempt to cheat.
Can you get support?
It is always good to know if you can expect support or not if you should ever need it.
Earnably offers support in several ways. The fastest is to visit their FAQ section on the website which has quite a lot of info.
But you can also send them a message. Just be aware that they say it can take several days before you get an answer.
However, I have been in contact with them via email myself and received quite fast replies. So, in my experience, their support is very responsive.
Finally, you can contact them on their Facebook page. From what I have seen, they are fast at getting back to people that post there about issues.

It is a good sign that you can see they respond quickly there.
But in most cases, they tell people to send an email. So it looks like there is no shortcut, and you might as well send an email right away if you should need support.
Final verdict
Earnably is definitely a legit site, and it is a real way to make some extra cash, so you do not have to worry about getting scammed.
This does, however, not mean it will necessarily be worth it. So let's finish this review by summing up the pros and cons so you can get a better overview before deciding to join or not.

Pros:
It is completely free and easy to use.
Offers and rewards are sponsored by reputable brands.
Low payout threshold
Good support

Cons:
Not as good options as some other similar sites
Overall, I like Earnably is so easy to use, and it has a good amount of opportunities. So it is a real way to earn a bit extra, and it is fast to get started.
However, there are, in my opinion, sites that offer many of the exact same opportunities but with better overall options.
Therefore, I would recommend you also check out the best survey and GPT sites in your country to get the best value for your time.
How to join Earnably?
If you want to join Earnably, just click the joining button below, and you will be taken to the page where you can sign up.
It only takes 1 minute to get started.
If you have any comments, questions, or have any experiences with Earnably yourself, I would love to hear from you in a comment below.