If you are looking for a convenient way to earn extra cash online, you could consider using an online rewards platform that can be used from a mobile phone.
One such platform is called EarnByApp. This platform promises that you will be able to earn by simply using your smartphone. But is EarnByApp a scam or is it a legit opportunity to earn a few extra bucks?
Let's address this question right away because this is the most important thing to know before you join an app or site. EarnByApp is a legit Get-Paid-To (GPT) site that will pay you for downloading other apps and doing other activities.
However, it being a legit site really doesn't tell us if this is worth joining or not. To be able to tell if an app is worth using, we have to consider a few things.
This EarnByApp review will examine exactly what the platform has to offer so you will be able to judge if you should join this site or not.
What is EarnByApp and what does it offer?
As explained above, EarnByApp is an online rewards platform where you will be asked to download other apps to earn.
Although you will be able to log in to this site from a laptop or desktop, all the earning opportunities offered will require the use of a mobile device.
Now, to understand the earning potential of this app, we have to take a closer look at the earning opportunities it offers. So, here's how you can earn from EarnByApp.
Option 1 – Direct installs
One way for you to earn from this app is by doing direct installs. Again, let me remind you that you have to do this on your mobile device and not on your computer.

As the name suggests, direct installs will ask you to download a certain app to your mobile device. By clicking the install button, you will be taken directly to the app's PlayStore or Appstore page. All you have to do is download and install it.
Then, take a screenshot showing the app is installed on your mobile device and then go back to the EarnByApp dashboard and upload it.
Once you've uploaded the screenshot, you will get a popup message that says your task is a success and you just earned the amount.
One thing you need to remember is, you have to keep the app for at least 24 hours to get the credits.
Their platform has an algorithm that will check it and remove the credits if you uninstall it before 24 hours. And if you do this regularly, your account will be suspended.
Option 2 – Keyword installs
Keyword installs works a lot like direct installs. You also have to install a specific app on your mobile device.
The main difference is, when you click the install button, instead of being taken directly to the download page of the app, you will only be taken to the PlayStore or AppStore app.

So, you will have to manually search for the app you need to download. The best technique to find the app quickly is to memorize the app icon.
Make sure you download the right one to earn the reward. If you use the right keyword when searching, it will usually appear in the top 20 results, in my experience.
Once you find the correct app, simply download and install it. And after it is installed, take a screenshot proving you've installed the app and then upload it on the EarnByApp page.
Again, you will get a popup message that says your task is a success and you just earned the amount.
You also have to keep the app for 24 hours so that EarnByApp won't remove the reward from your account balance.
Option 3 – Referral program
Lastly, you will be able to earn additional rewards by inviting other people to join the site. All you have to do is share your invite link with them and once they sign up to the site using your link, they will become your referral.
You will then earn 10% of all the money generated by your referrals for up to 1 year from they sign up. It's a good form of passive income, in my opinion, but the drawback is, as you can see, you can only earn from your referrals for 1 year.
Most GPT sites have a referral program that lasts for a lifetime and also often a higher percentage. On a site like ySense, you will, for example, get up to 30% for life.
So, EarnByApp's referral program is a bit unique and a slightly less appealing one long term wise.
How do you get paid?
As you can see from the photos shared above, every app you install will earn you a certain amount.
Once you've earned a minimum of $2, you can then withdraw your earnings via PayPal. This is the only payment option available, but if you live in India, you have the choice to withdraw it via Paytm or UPI id.
You will get payout within 2 business days of payout request. So, it's a pretty fast turnaround, which is a good thing for you since you won't have to wait that long to receive your earnings.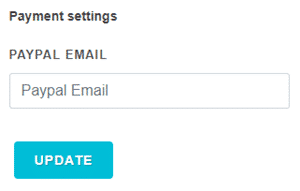 To set up your payment settings, just click on My Account on their dashboard and select Settings. You will then see the box which is shown in the photo above. Simply provide your email address for your PayPal account and hit update.
I like the fact that they have a low payout threshold because it won't be that hard to reach. Plus, they offer one of, if not the best, payment methods today (PayPal). So, withdrawing your earnings will be very convenient.
If you are interested in more sites with a low payout threshold, I suggest you check out the fastest paying sites.
How much money can you make?
With GPT sites, availability of earning opportunities won't really be an issue, in my experience. There are typically plenty of ways to earn. But with EarnByApp, it's a bit different. They actually have limited earning opportunities available.
So, I wouldn't say that it's your typical GPT site. This can affect the earning potential of the site. Since there are fewer ways to earn, then naturally, you won't earn as much as you would hope. Plus, the rewards they offer for every app you install are pretty low.
That's why I would say the earning potential of this site is very low.
Also, it does seem like the availability of apps you can install will mostly depend on your location. EarnByApp is based in India, so I would assume that if you live in India, you have access to more opportunities than in other countries.
But overall, you should not expect to earn much from this site.
Can you use it on mobile?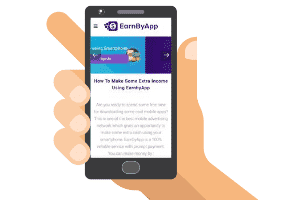 For a platform that requires you to install apps on a mobile device, it is, in my opinion, certainly weird that they don't have a mobile app of their own.
Usually, platforms that specifically deal with mobile apps also have a mobile app of their own you can install so it would be more convenient for you to participate in their earning opportunities.
But, you will still be able to access their site from a mobile device with ease because their site is mobile-friendly.
You will be able to read all the content properly without having to zoom in. The links are also relatively large in size so you won't have a hard time clicking it even if you have a small mobile device.
All in all, even though they don't have a mobile app, they did make sure that their site would be very user-friendly for mobile users, which is a good sign.
Who can join EarnByApp?
EarnByApp is available globally. This means you can sign up as a member regardless of where you live. You just have to be at least 18 years of age to join.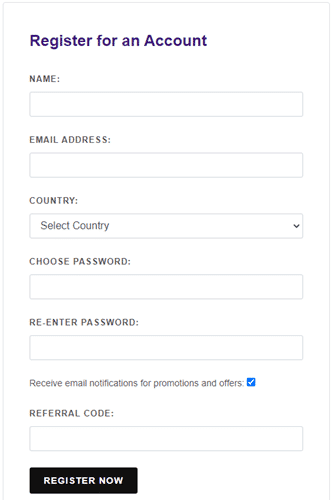 The registration process is also very simple. Simply fill out their sign-up form and then click the activation link that will be emailed to you. Once you've done that, you can log in to the site and start earning.
Bear in mind though that even though the site is available globally, the availability of earning opportunities will vary from country to country. In some countries, there will be more opportunities for you to earn, while in some there will be very few.
Can you get support?
What I like about their site is, they clearly explain to you how you will be able to earn from their site by reading their Instructions page. It shows you what you need to do to earn and they even provide screenshots.
This, in my opinion, is one of the best ways to educate members on how to use their site. Now, if you have any questions, you can always check their FAQ page first to see if you can find the answers you are looking for.
If you can't find it on their FAQ page, you can always send them an inquiry by emailing them at [email protected]. Overall, I would say they do provide decent support at least, for their members.
Final Verdict
EarnByApp is a GPT site that will pay you for installing apps. It has a few good qualities but it also has certain limitations you need to consider.
So, let me conclude this review with a summary of its pros and cons to help you decide if this is a site worth joining or not.

Pros:
Low payout threshold
Offers payment via PayPal
Available globally

Cons:
Limited earning opportunities offered
Low rewards
Poor referral program
Does not have an app even though the offers are for mobile devices only
My main concern about this GPT site is that it doesn't offer as many earning opportunities as other GPT sites I've encountered. So, the earning potential will be noticeably low. It also doesn't help that they don't pay that well.
That's why their low payout threshold is a bit inconsequential, in my opinion, because you will still need to complete a lot of offers to reach it. And that will take time because they don't have that many offers to begin with.
If they offered more ways to earn, then I would say that it can be a decent option if you are looking for more sites to earn from. But as it is now, I would suggest you spend your time on sites that have better earning potential.
For a list of sites where you will be able to earn more, I suggest you check out the top survey and GPT sites in your country. The sites on this list all have good earning potential and offer more ways to earn. Plus, you will also find a site you can join regardless of where you live.
If you have any comments, questions, or have any experiences with EarnByApp yourself, I would love to hear from you in a comment below.