EarnCrypto is a Get-Paid-To (GPT) site that claims to pay you in cryptocurrency for completing their offers (hence the name).
So, the first question you should be asking is, if this site is legit or a scam? I'll answer this question right away so we can proceed with discussing other details.
Yes, EarnCrypto is a legit GPT site that does pay you for completing their offers.
But before you go and sign up as a member, I suggest you keep reading this EarnCrypto review first so you'll know what to expect. That way, you can figure out if this site is for you or not because it might not be worth it.
What is EarnCrypto and what does it offer?
As explained above, EarnCrypto is a GPT site that promises to pay you for completing their offers and participating in other earning opportunities. Since it is a GPT site, you can expect there are several ways you can earn rewards.
And in order to get a good grip on the earning potential of this site, we have to examine the earning opportunities it offers. So, here's how you can earn on EarnCrypto.
Option 1 – Paid Offers
The primary earning opportunity offered on EarnCrypto is paid offers. If you are new to GPT sites, paid offers are basically small tasks you can do to earn rewards.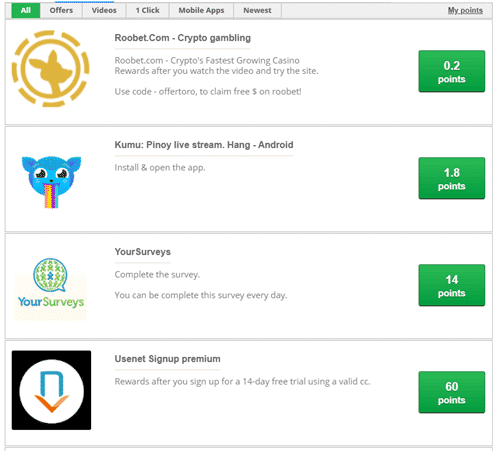 One thing to take note of with EarnCrypto's paid offers is, it won't come from them. Instead, it will come from other GPT sites who have partnered with them. I will explain later what this implies.
Most paid offers you will find on EarnCrypto will either ask you to sign up to certain websites, watch videos, play games, download mobile apps or answer surveys. Every offer presented will have a set of instructions you need to follow.
It is important to make sure you follow every instruction given. Otherwise, you won't be able to complete the offer and earn the reward.
Now as for the offers coming from other sites, the main drawback of this is you won't earn as much as you should. That's because EarnCrypto will take a percentage of what the site is paying when the offer is completed.
So, in effect, you won't actually be earning the full reward of the offer. This is how their site makes money.
And the offers available there are the same as many other GPT sites have but just for a lower reward so even though you can find plenty of offers on EarnCrypto, it is not really an effective way to earn.
Option 2 – Paid Surveys
Although you can find paid survey offers on the Paid Offer section of the site, paid surveys have a specific section on EarnCrypto as well. Having a paid survey section just makes it easier for you to locate the paid survey offers.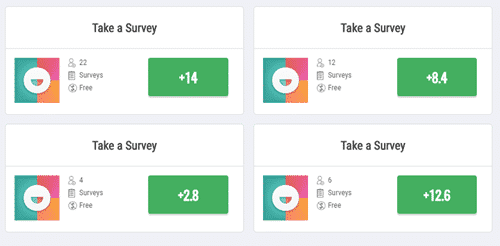 Just like the paid offers, the surveys will come from other sites. So, don't be alarmed if you click on a paid survey offer and it takes you to a different site.
When you click on a survey offer, it will first ask you to answer several qualifying or profile questions. This is done to ensure you belong to the group the survey is intended for.
If you qualify, you get to answer the actual survey. If you don't, then you just have to try another survey offer. Once you complete the actual survey, you will then receive the reward promised.
In my experience, with sites like this, it can take quite a bit of patience to qualify for surveys. So, don't always expect to get rewarded for each survey offer available.
Also, with the paid surveys the reward you get for the time spent is quite low compared to taking surveys on actual survey sites.
So you need to know that it will both take patience to find surveys you qualify for and to earn any real money like this on EarnCrypto.
Option 3 – Jobs
You can also earn rewards by doing certain jobs offered on the site. These jobs are created by other members of the site and are usually intended to get referrals, social media followers, and more.

As you can see in the photo above, most jobs will ask you to sign up for a certain site. The downside of this earning opportunity is since it is being offered by other members, you can't really expect to earn a lot from it.
Most of the jobs listed are just offers that other members found online. So, essentially you will be doing all the work while they sit back and receive a percentage of the reward. That's how these jobs usually work, in my experience.
Option 4 – Typing
EarnCrypto also offers a rather unique earning opportunity. You can earn by simply typing in certain information in the typing section.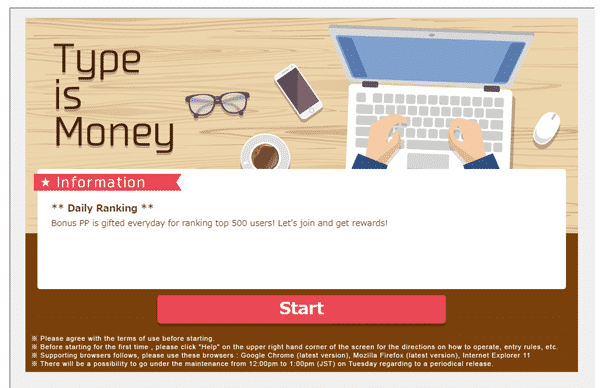 This opportunity is actually a service where you can earn rewards by entering business card items. All you have to do is input what you see in the image that will be provided.
The way their point system works is, when you type in the correct information, you get points called PP.
You will get 10 PP per correct entry you make. The PP you've earned will be converted into points you can use to redeem rewards (I will talk about their reward system later).
Option 5 – Referral Program
Lastly, you can earn by simply inviting people to join the site. You can invite them by sharing your invite link with them or by sharing your invite link via Facebook or Twitter.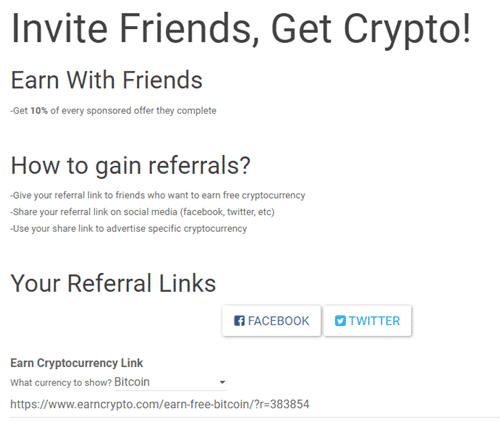 Whoever uses the link and registers to the site will become your referral. You will then get 10% of every sponsored offer they complete. This will be your reward for taking the time to invite people to become members.
It's not really a significant amount, but if you manage to get a lot of referrals, it can pile up and allow you to earn a decent amount. Of course, that is if your referrals become active on the site.
How do you get paid?
Every offer you complete will earn you a certain number of points. You can then convert the points you've earned into cryptocurrency.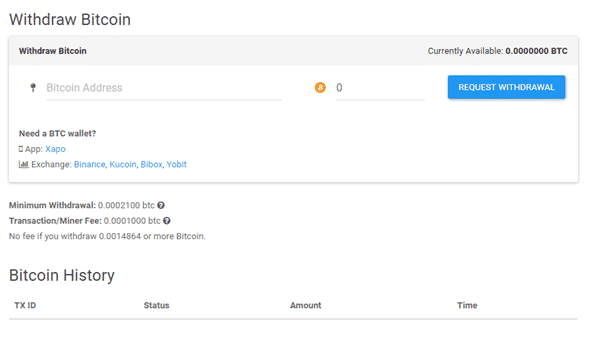 The downside of this site is, it only pays you in Bitcoins. So, if you were hoping to redeem gift cards or even withdraw your earnings via PayPal, then this site is not for you.
If you are interested in more sites that pay in Bitcoins, I recommend you also check out the best sites to earn Bitcoins.
In order to withdraw your earnings, you will need a BTC wallet. If this is your first time hearing about BTC wallet, it is actually a software program where Bitcoins are stored.
And in order for EarnCrypto to send Bitcoins to your Bitcoin wallet, you will need to provide your BTC wallet address.
The good thing about EarnCrypto's payment system is, it doesn't have a threshold you need to reach to withdraw your earnings.
You can withdraw any amount to your Bitcoin wallet. The downside is, withdrawals are processed within 7 days. So, don't expect to receive your earnings right away.
I do like the fact that it doesn't have a payout threshold you need to reach because it means you can withdraw your earnings rather quickly but it would have been great if they also offered other payout methods.
How much money can you make?
As I explained earlier, EarnCrypto doesn't actually have its own offers. It relies on other websites and other members to provide earning opportunities for its members.
So, naturally, the downside is, you can't expect to earn a lot from their offers since they will be taking a percentage of what the offer pays. This is how they earn money and sustain the website.
So, even though they have plenty of offers available, it will still require a lot of time and patience to earn a significant amount.
That's why I would say that this site doesn't have good earning potential and you can't expect to earn a lot from it.
Can you use it on mobile?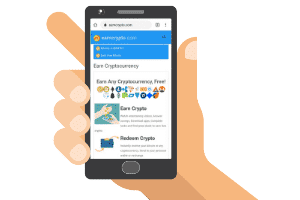 You can access their site from a mobile device using a web browser since they don't have an app you can install. Fortunately, their site is mobile-friendly.
That means you will be able to read all the content properly without having to zoom in or scroll left and right. However, considering the nature of most of the offers available on EarnCrypto, I don't really recommend you use your mobile device.
This is because most of the offers will open new browser tabs or windows. If you do it on a mobile device, it can get quite inconvenient in the long run.
I only suggest you use your mobile device when you are working on offers asking you to download mobile apps. For anything else, it is best you use your computer since it will be more convenient and efficient.
Who can join EarnCrypto?
Probably the only saving grace of EarnCrypto, in my opinion, is that it is available globally. That means you will be able to sign up as a member regardless of where you live.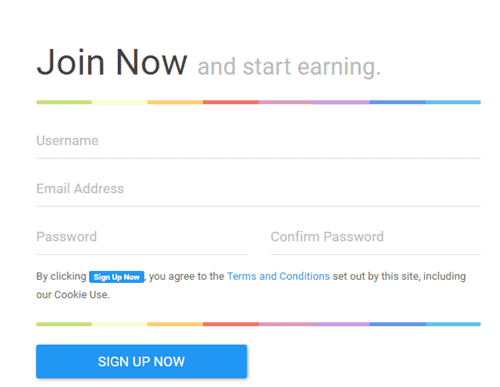 Their registration process is also quite simple. You just have to provide your username, email address, and password. Once you've done that, check your email and click on the verification link that will be sent to you.
When you do that, you will be logged in to the site automatically and you can start earning. One thing to take note of when becoming a member of this site is, you have to make sure you have a BTC wallet. Otherwise, you won't have any way of withdrawing your earnings.
So, before you sign up, make sure to create a BTC wallet if you don't have one yet.
Can you get support?
If you have questions about the site, I suggest you check out their support page first. You will see a list of frequently asked questions. You might find the answer you are looking for on that list.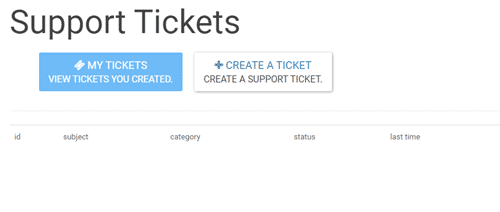 If none of the FAQ answers your question, you can create a support ticket to send in your question. The good thing about this support system is, you will be able to track down the status of your inquiry.
Plus, you will be able to go back to it from time to time if you encounter the same problem and forgot how to resolve it. So, overall, I would say that EarnCrypto does provide a decent support system for its members.
Final Verdict
EarnCrypto is a GPT site that pays you for completing offers among other things. It has a couple of good features to offer but some serious disadvantages as well.
To finish this review, let me summarize its pros and cons to better help you decide if you should join this site or not.

Pros:
No payout threshold
Available globally
Plenty of offers available daily

Cons:
Low rewards
Limited payment options offered
Not very user-friendly
If you are interested in earning cryptocurrency instead of gift cards or cash, EarnCrypto can be an option. That's because you will be able to withdraw your earnings quickly because it doesn't have a threshold you need to reach.
It also has a lot of offers available regularly. The downside is, it really doesn't pay that well. So, you will need a lot of time and plenty of patience in order to earn a significant amount.
But if you are looking to earn cash or even gift cards, this site won't be for you since they don't have that kind of reward in place. Instead, I recommend you check out the top GPT sites.
The sites on this list all offer better earning potential than EarnCrypto and they offer several payment methods including PayPal. Plus, you will also be able to find a site you can join regardless of where you live.
If you have any comments, questions, or have any experiences with EarnCrypto yourself, I would love to hear from you in a comment below.