If you love to shop online, there's an app called Earny that claims it can help you find money saving opportunities on almost every item you buy online.
It's an interesting opportunity and a great way to save cash, right?
Before you download this app, I would, however, recommend you read this Earny app review first so you'll know more about the app. This review will verify if the app is legit or if it is just a scam. It will also give you an inside look of everything Earny has to offer.
That way, you will know exactly what to expect before you even download this app. Then, you can decide if this is really an app worth using or not.
So, let's go ahead and take a closer look at Earny.
What is Earny and what does it offer?
Earny is essentially a cashback platform that will reward you for availing of their cashback offers and other earning opportunities. It is a lot similar to LetyShops, another cashback platform that offers the same kind of opportunities.
And yes, it is indeed a legit cashback platform. It will really give cashback rewards. Now, as to the question of whether it is worth using or not, we have to first discuss its earning opportunities so you can understand how it works and how well you can earn from it.
So, here's how to earn from Earny.
Option 1 – Cashback offers
The main way to earn rewards from Earny is by availing of their cashback offers. There are two ways you can do this. The first one is through their mobile app.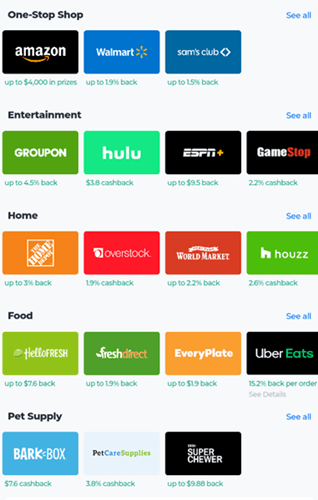 The way it works is, you just have to open the app and you will immediately see all the cashback offers you can avail of. Just press which one you are interested in and it will open the details for the cashback offer.
Make sure to take note of the conditions shown on the details page. Then, once you are ready to buy, just click the "Shop" button on the details page and it will take you to the online store.
Just complete the purchase like you normally would. Earny will be able to track it since you accessed the offer through their app.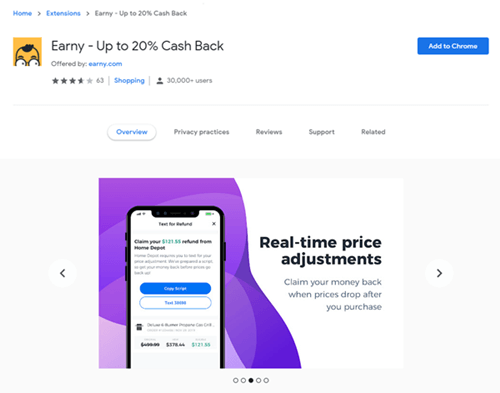 The other way to avail of their cashback offers is to install their Google Chrome extension. Once it is installed and set up, you will be able to avail of cashback offers from their partner sites without going through the app.
What the extension does is, when you visit a retailer site, if you see a pop-up notification from the extension that means you can get cashback rewards from it. Just click the button to activate the cashback offer and the page will refresh.
Continue to checkout like normal.
As for the cashback reward you will receive, it will typically be credited into your Earny account balance within 30 to 90 days. It's quite a long time to wait, but that's pretty normal with cashback platforms.
Retailers need time to validate your purchase before they award the reward to your account because they need to wait for refund period to finish. If they award the cashback reward immediately, most people will just take advantage of it and return the product for a refund once they receive the reward.
That's why, there's a waiting period before you receive the cashback reward.
Option 2 – Linking your Amazon account
This is technically not an earning opportunity. It acts as more of a safeguard for you when you buy products from Amazon. And in order to avail of this feature, you have to upgrade your membership subscription, which I will talk about later.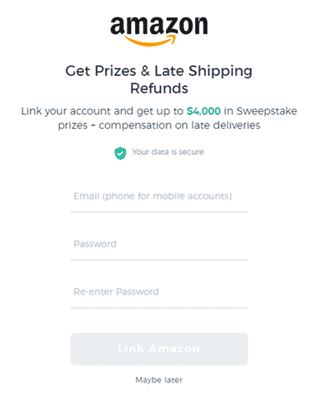 You see, when you link your Amazon account to Earny, you will be entitled to price adjustments and even late shipping refunds. Earny will be able to track all of your Amazon shipment dates to make sure that Amazon sticks to its word once your Amazon account is linked.
If a package arrives outside of the promised window of time, you are owed compensation by Amazon per their late shipping policy. As for price adjustments, if you bought a product from Amazon and the price drops after a few days, Earny can post a claim so you can get some of your money back.
This is actually a good feature to help you save money because it will essentially always allow you to buy the most affordable product from Amazon. Of course, if you don't really shop on Amazon, then this is not for you.
Option 3 – Sweepstakes
Earny is giving out prizes every month for taking actions that improve your overall experience with the platform.
Those actions will vary from time to time and might include account setup actions like downloading the extension, linking your Amazon account, inviting people to join the platform, etc.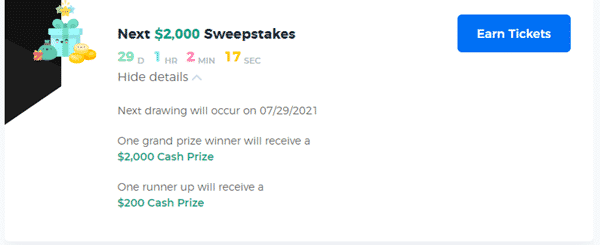 Every time there is an action where you can gain an entry into their sweepstakes, you will be prompted by their extension or their mobile app. Just complete the action to gain an entry for their sweepstakes.
Their sweepstakes times will vary from time to time. Sometimes, it will be run on a weekly basis and sometimes on a monthly basis. Just log in to the app or website to check when the draw is. When I was testing Earny, the grand prize for their sweepstakes was $2,000, which is a pretty significant amount.
Of course, you can't consider this a reliable way of earning since it will all be based on chance. But I do like the fact that you don't have to spend any money to join their sweepstakes.
Option 4 – Referral program
Lastly, you can earn rewards by inviting other people to join Earny through their referral program. All you have to do is share your invite link with the person you want to invite.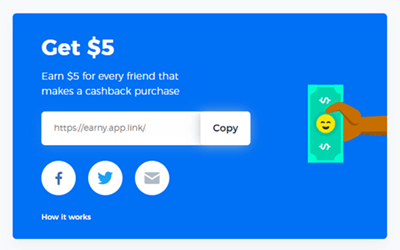 Once the person you invited clicks the link and signs up as a member, they will become your referral. But before you will earn the $5 reward, your referral must complete a cashback offer first. That is the only condition they need to meet for you to claim your referral reward.
Once that is met, the reward will be credited to your account balance. It's a relatively simple way to earn a reward, but you have to make sure the people you invite are really interested in availing of cashback offers. Otherwise, you'll just be wasting your time.
Recommended: Check Out the Best Cashback Sites
How do you get paid?
For every cashback offer you successfully avail of, you will receive a certain amount and it will be credited to your account balance. Once you've accumulated at least $15 in your balance, you can request for a payout via PayPal.
This is the only payout method they offer, so if you don't have a PayPal account, I suggest you sign up for one before you register as a member. Their payment system is really very straightforward. The payout threshold is relatively high, but I like that it offers a convenient payment method like PayPal.
If you are interested in more sites that offer a convenient payment method, I recommend you also check out the top sites that pay via PayPal.
How much money can you make?
If you want to take a look at the earning potential of a cashback platform, the main thing to consider is the number of partner stores they have. The second important factor is the actual cashback rates they offer.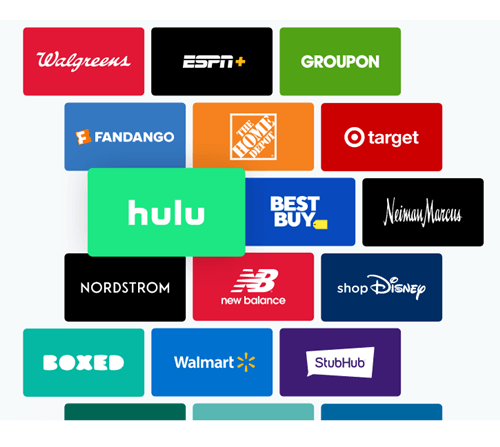 In Earny's case, they have partnered with over 5,000 brands and some of them are popular retailers. So, there's a high chance you will find cashback offers you can avail of. As for their cashback rates, it will range from 1% to 3% cashback, which isn't very high.
Now, as I've mentioned earlier, you can upgrade your membership subscription from free to paid so you can avail of their other earning opportunities like price protection and late shipping refund. This can help you earn more but only if you shop frequently online.
If it you don't, then this kind of upgrade isn't really worth getting, in my opinion. Overall, I would say the earning potential of Earny isn't that good, but it also isn't that bad. It sits right in the middle. There are other cashback sites that offer higher cashback rewards.
Can you use it on mobile?
Earny's app will work with both Android and iOS devices. So, you won't have any problems with compatibility.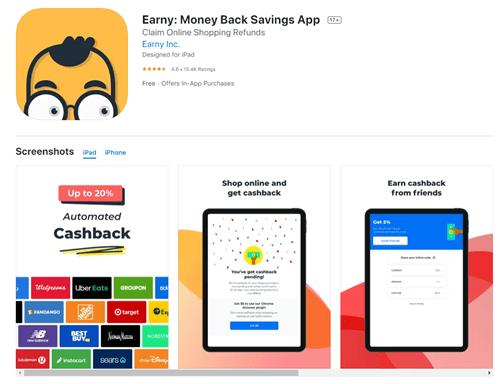 The app is also very user-friendly. You won't have a hard time getting used to how it works. It's also not spammy. You will never see any pop-up ads appear, which is good because pop-up ads can get quite annoying.
Who can join Earny?
While you are able to register as a member of Earny regardless of where you live, it is only actually available in the US. You can tell by just looking at their partner brands since these brands and stores are all located in the US.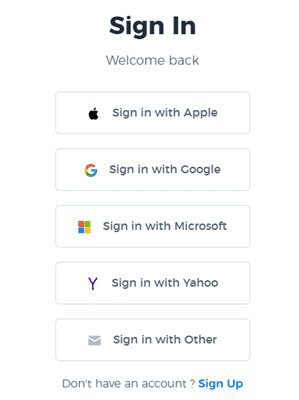 You also have to be at least 18 years of age to join. To sign up as a member, you can use your Apple, Google, Microsoft, or Yahoo account. You can also just use your own email address.
Now, as I've mentioned before, Earny has a free and a paid version. You can register as a free member and just earn from their cashback offers and referral program. But if you want to maximize your earnings, you have to get their paid subscription which will cost $19.99 per year.
It's not a very high fee and you can actually get a lot of value from it, but only if you shop from Amazon frequently. If you don't, I would recommend you don't get this upgrade because it will be quite useless for you.
Can you get support?
If you have any questions about your account or how Earny works, you can refer to their FAQ page. It has a comprehensive list of most of the important topics you need to know about the platform.
But in case you can't find the answers you are looking for, you can just get in touch with their support team and send in your inquiry via email at contact@earny.co.
Overall, I would say they have a decent support system in place for their members. I like that their FAQ page contains most of the important topics you need to know about the platform.
Final Verdict
Earny is a legit cashback platform that will allow you to earn back a percentage of what you spend buying products from their partner stores. It has a few advantages, but it also has some limitations you need to be aware of.
Let me summarize its pros and cons to wrap up this review so you can get an overview of what it has to offer. Then, you can decide if Earny is a good fit for you or not.

Pros:
Has a lot of partner brands
Offers payment via PayPal
Their app is user-friendly

Cons:
Low cashback rates
Relatively high payout threshold
Requires a yearly subscription to get access to all earning opportunities
In my opinion, Earny is mainly worth joining if you shop from Amazon frequently. That's because they offer great features that are tailor-made for Amazon shoppers. Of course, you have to avail of their paid subscription to gain access to these features, but the good thing is, it really doesn't cost a lot ($19.99 to be exact).
By doing so, you can potentially save a lot of money. But if you are just looking for a good cashback site, there are better options out there that offer higher cashback rates.
Now, if you are just looking to earn extra cash online without having to spend money, I recommend you check out the top survey and GPT sites in your country instead. The sites on this list all have good earning potential. Plus, you will definitely find a site you can join regardless of where you live.
If you have any comments, questions, or have any experiences with Earny yourself, I would love to hear from you in a comment below.