LetyShops is a cashback site that promises you'll be able to earn back some of the money you spend when shopping online.
But is this really true or is it just false claims?
You've come to the right place to find out. This LetyShops review will examine the site in detail so you'll know exactly what to expect before you even sign up for this site. It will also verify whether the site is a scam or if it is legit.
That way, you will be assured you are making the right choice whether you decide to join or not. So, let's start the review.
What is LetyShops and what does it offer?
As explained above, LetyShops is a cashback site where you will receive a portion of what you've spend on products or services you buy online. As for its legitimacy, let me address this right away because it is very important.
It is indeed a legit cashback site that will really pay you for availing of their cashback offers. But is it worth joining though? To answer that, let's dig a little bit deeper into the earning opportunities of this site so you can understand how good or bad this cashback site is.
So, here's how you can earn from LetyShops.
Option 1 – Cashback offers
As the name suggests, a cashback offer is an offer where you will get a percentage of the amount you spend for a product or service. Think of it as a discount.
First off, LetyShops only offers cashback rewards for online purchases. Let's make that clear. It doesn't offer any cashback rewards for purchases from physical stores. You can only avail of cashback offers from online purchases.
Now, the mark of a good cashback site is that it has plenty of cashback offers you can choose from. Because if there are more cashback offers to choose from, there's a good chance you'll find something that is truly worth buying.
After all, buying something just for the sake of getting the cashback rewards will be counter-productive.
And the first thing I noticed about LetyShops is it really has plenty of cashback offers you can choose from.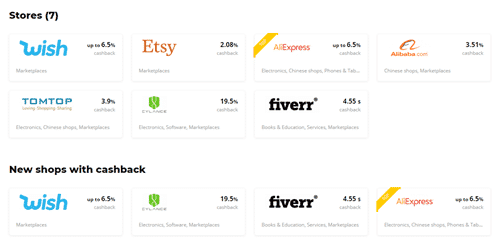 In fact, they say, they have 3,030+ stores you can shop from where you will be able to get cashback rewards. That's a good sign, in my opinion.
Now, as shown in the photo above, you will immediately see the cashback rate of each store you can shop from. And if you click a store, you will also see the additional conditions for the cashback reward, as well as when you can expect the cashback reward to be credited to your account.
Usually, the average waiting time for these cashback rewards to be credited to your LetyShops account is 40 days, with a maximum of 90 days.
It usually takes this long for the cashback rewards to be credited because stores will have to let the refund period clear before it is considered a valid purchase for a cashback reward.
Now, there are two ways for you to avail of cashback offers from LetyShops. The first method is by going through their member dashboard. To do this, you simply have to log in to their site and choose a store you want to shop from.
Then, you have to click the Go to Store button to get to the online store. Once you're in the online store, just proceed with the purchase like you usually would. Once the purchase is completed, the online store will know you took the cashback offer from LetyShops.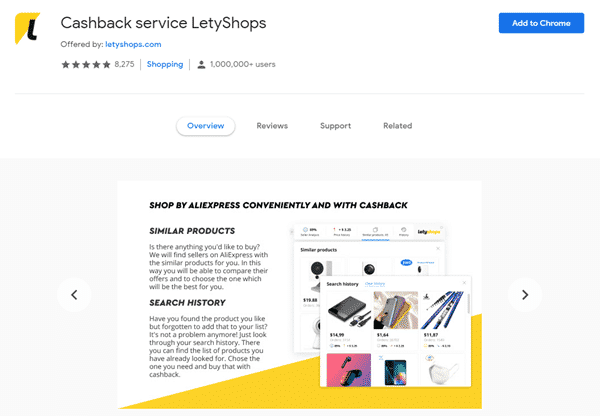 The other method is by using their Google Chrome extension (refer to the photo above). LetyShops has a Google Chrome extension you can install so you can avail of cashback offers even when you are not logged in to their site.
The extension will do it for you. Once it is installed in your Google Chrome browser, you simply provide your login credentials and then you can just browse for cashback offers using the extension.
So essentially, the extension allows you to be always logged in to their site without actually logging in to the site like you normally would.
Think of it is a shortcut to the cashback offers of LetyShops. And one more thing, the extension also works with the Opera browser. So, if you prefer to use that instead of Google Chrome, then you can do so as well.
Option 2 – Referral program
The other way you can earn rewards from LetyShops is by participating in their referral program. If you don't know what a referral program is, it is a program that will reward you for inviting other people to join the site.
You simply share your invite link with the person you want to invite and once they sign-up for the site using your link, they will become your referral. You will then get 15% of the cashback reward your referral will receive.
This commission will be covered by LetyShops and will not be deducted from what your referral will earn. You can share your referral link through email, via social networks, or any other way you like.
So, if you know a lot of people who like to shop online, this can be a good way to get a passive form of income.
How do you get paid?
Every cashback reward you receive will be stored in your LetyShops account balance. Once you've earned 500 Ruble (roughly equivalent to $6.5), then you will be able to withdraw your earnings via PayPal.
It's a relatively low payout threshold which can be easily reached especially if you buy a lot of stuff online. Unfortunately, this is the only payment method LetyShops offers. Once you've requested for a payout, it will be processed within 1-3 working days.
That's a decent turnaround, but again, you have to remember that your cashback rewards will take time before they get credited to your LetyShops balance. So, don't expect to be able to request for a payout right away.
If you prefer to withdraw your earnings quickly, I would suggest you check out the fastest paying sites instead.
How much money can you make?
The amount of money you can earn from a cashback site will mostly depend on how often you shop and how high the site's cashback rates are. As explained earlier, one of the strengths of LetyShops is, it has a lot of cashback offers you can choose from.
So, there's a good chance you will be able to find a cashback offer you can avail of at any given time. As for its cashback rates, in my opinion, they are actually pretty good. It's almost on par with some of the popular cashback sites like Rakuten.
Their cashback rates will usually range from 0.5% to 5%, and can go as high as more than 10%. But what makes this site better , in my opinion, is their loyalty program. With their loyalty program, every cashback gets you closer to your next status upgrade.
Their status upgrades will actually increase the cashback rates you will receive from offers. They have 3 status upgrades: bronze, silver, and gold. To reach the bronze status, you have to earn $10 worth of cashback rewards. Once you've hit that, you are now entitled to 10% added to the basic cashback rate.
For the silver status, you have to earn $50 worth of cashback rewards and you will be entitled to 20% added to the basic cashback rate. And as for the gold status, you need to earn $150, which will net you 30% added to the basic cashback rate.
Let me elaborate on how this works. Let's say a store offers 3% cashback rate. If you are on the bronze status, you will instead receive 3.3% cashback rate. For silver, it will be 3.6%, and for gold, it will be 3.9%.
It's not a huge bump but it's an increase nonetheless, and not a lot of cashback sites offer that kind of increase. That's why overall, I would say LetyShops has decent earning potential.
But there are still cashback sites that just offer higher rewards, in general, even without a bonus system.
Can you use it on mobile?
Another great thing about LetyShops is, it has a mobile app you can download so you'll be able to avail of cashback offers conveniently from your mobile device. If you frequently shop online through your mobile device, their app will be a big help.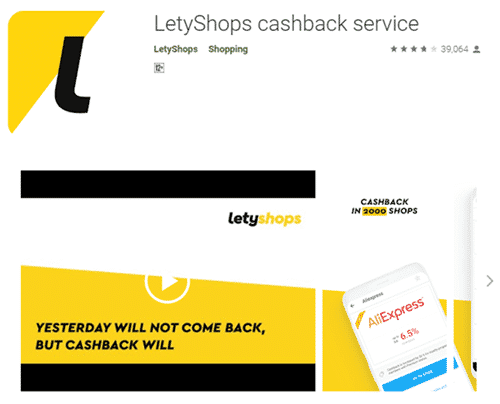 You won't have to open a web browser just to log in to the site and get to the cashback offers. You can simply use their app to check what cashback offers are available.
Plus, their app is available for both Android and iOS devices. So, compatibility won't really be a problem. Their app is also very user-friendly. You will get used to how it works in no time.
I would say that this is also pretty timely because, a lot of people nowadays shop through their mobile device and having an app will allow you to do that more conveniently.
Who can join LetyShops?
LetyShops is not available globally, but it is available in a lot of countries. Check out this photo of which countries it is available in.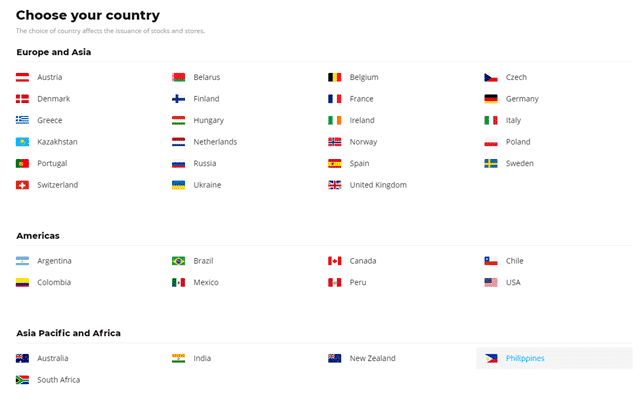 So, you can more or less say it is available worldwide. However, they do say the availability of offers will depend on your location. That means some countries will have more cashback offers than others.
To become a member of their site, you can simply fill out their sign-up form. Or you can use your Google or Facebook account to sign up as a member. You do have to be at least 18 years of age to become a member.
Once you are logged in, I highly suggest you link your mobile number with your account for enhanced security and withdrawal speed. But if you are not comfortable sharing your mobile number, you can also opt not to do that.
Can you get support?
If you have any questions about the site, you can check out their Help page. It discusses most of the important topics you need to know about the site.
But if you can't find the answers or if you want to contest a claim for a cashback reward that was denied, or if you are simply experiencing technical issues, you can contact their customer care support by submitting a request.
Just scroll all the way down on their site and you will see a link to their Customer Care Support. If you are using the app, you can go to the support section to submit your request.
Overall, I would say they do have a decent support system in place for their members because they provide a way for you to get in touch with their support team.
Final Verdict
LetyShops is a legit cashback site that will indeed pay you for availing of their cashback offers. It has a couple of good features to offer and it also has limitations you need to consider.
So, let's wrap up this review with a summary of its pros and cons so you can get a clear overview of what the site has to offer. That way, you can decide if this site is really worth joining or not.

Pros:
Low payout threshold
Offers payment via PayPal
Has a mobile app you can use
Has a loyalty program that will help you to earn more cashback

Cons:
You have to wait a long time for the cashback reward to be credited
Limited payment options available
In some countries there are not a lot of cashback offers
In my opinion, LetyShops is a decent cashback site. It has plenty of cashback offers to choose from – but only in some countries.
I like that they have a loyalty program that rewards long-term users and I also like the fact that they have a mobile app you can use. So, if you are looking for a cashback site to join, LetyShops can be a decent option, provided you are eligible to join.
But if you are just mainly looking to earn without having to spend money, I recommend you check out the top survey and GPT sites in your country instead. The sites on this list all have good earning potential and you will be able to earn without actually having to buy anything.
Plus, you will definitely find a site you can join regardless of where you live.
If you have any comments, questions, or have any experiences with LetyShops yourself, I would love to hear from you in a comment below.