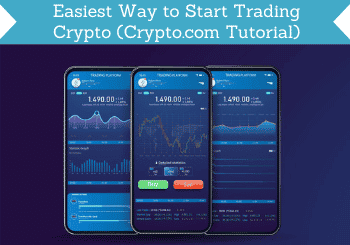 Are you a newbie and looking to get into crypto trading? Then this guide is for you.
I remember how overwhelming it was when I first got started with crypto. Most platforms were very confusing and it was difficult to figure out how to even buy and sell coins and tokens.
In this article, I will therefore show you an app called Crypto.com as it is very easy to use, and I wish I had started using it when I first got into crypto.
In my opinion, Crypto.com is perfect for people who are just starting to dip their toes into the crypto trading industry. This platform is very user-friendly and it also offers other features aside from crypto trading.
But for the purpose of this guide, I'll mainly focus on how you can buy and sell crypto from this app.
Disclosure: Some articles on this website contain affiliate/sponsored links. Click for more info.
Why use Crypto.com?
If this is your first time hearing about this platform, Crypto.com is actually a mobile app that will allow trading crypto.
Now, to answer the question above, the reason why I would advocate using Crypto.com for trading crypto if you are a beginner is because of its auto trading feature. You can set the app to buy or sell certain crypto for a certain price automatically with just a few clicks.
This is a unique feature that not all crypto trading platforms offer. This is also a very convenient feature to have due to the nature of any cryptocurrency. As you probably already know, crypto is volatile. The value of any crypto can change without any notice.
So, if you want to maximize your profits, you want to buy or sell crypto at a certain price, and waiting for the crypto to reach the price you are targeting and then buy or sell manually is next to impossible because it can change any minute.
It's certainly not practical to stare at your mobile device the whole day just to be able to buy or sell crypto at the price you want. And it can also happen while you sleep.
Being able to buy or sell crypto at a certain price automatically just makes your trading a lot easier. It will also save you a lot of time. This is the primary reason why I would recommend you use Crypto.com for trading especially if you are new to the crypto trading industry.
I have made a video that gives you an inside look and shows exactly how to start trading crypto on Crypto.com. You can also read all the details below the video.
Click to Join Crypto.com and get a $25 JoiningBonus (use code: mikem)
Step 1 – How to start trading crypto?
The first step you need to do to trade crypto on Crypto.com is to fund your account with money to trade for. You can do this in several ways. If you don't want to spend a dime, you can join sites allowing you to earn crypto for free.
If you choose this option, I suggest you check out the top sites to earn Bitcoin for Free. This will require a bit of time and effort on your end, but you'll be able to start crypto investing this way without spending money.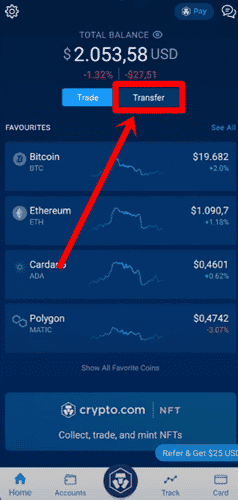 But if you want to start trading crypto immediately, you can invest money in it by logging in to the app and pressing the "Transfer" option. Then, you can use your credit or debit card to transfer money to your Crypto.com account, or you can do a bank transfer.
Once you've transferred money to your Crypto.com account, you can now start buying crypto. In the next section, I will discuss how you can buy crypto in different ways.
Step 2 – How to buy crypto?
Once you've funded your Crypto.com account, you can start buying any crypto it offers. If you log in to the app, all you have to do is press the "Trade" option.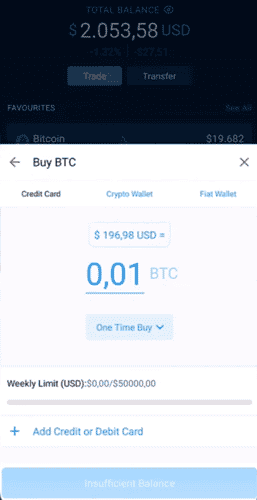 Then, press the "Buy" option, and you will see a list of all the crypto available on the platform. Simply choose the crypto you want to buy and press it. Then, you'll see something similar to the photo shown above.
As you can see, there are several ways to pay for the crypto you want to buy. You can pay using your credit card, or you can use your crypto wallet (yes, Crypto.com also doubles as a crypto wallet). You can also use your Fiat wallet, which is the choice you will select if you follow the instructions mentioned above.
After you've selected the payment method, you'll have to choose how you want to buy the crypto you selected.
You can make a "one-time purchase," or set it to "recurring buy". The "recurring buy" option will allow you to buy the crypto of your choice on a recurring schedule and that way by using the DCA method.
For example, you can buy Bitcoin every Monday at 10 AM in the morning. If you choose this option, Crypto.com will execute the purchase during your specified schedule.
Lastly, you can also buy crypto at a targeted price. I personally prefer this option because this will allow you to maximize your profits easily because you can buy crypto when the value is low.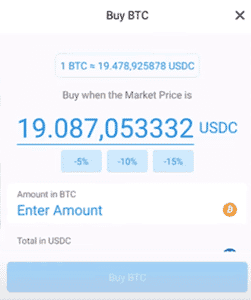 If you select the targeted price, you can specify the amount of the crypto you want to buy when it hits the target market price.
Once you've set the target price and the amount you want to buy, then Crypto.com will just wait to execute your purchase when the value of the crypto you've chosen hits the target price.
Step 3 – How to sell crypto automatically?
If you want to earn by trading, then you, of course, also need to sell your crypto again.
To do this, you just have to log in to the app and press the "Trade" option again. This time, you should press the "Sell" option.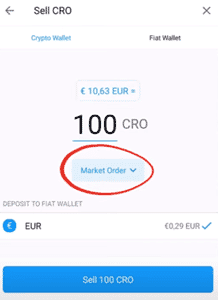 Then, you have to select the crypto you want to sell. Once you've chosen the crypto you want to sell, you will then have the option to choose how you want to get paid for your sale. You can get paid in other forms of crypto, or you can get paid in fiat currency.
After you've selected the form of payment, you then have to choose how the sale will be executed. You have the option to sell it right away at market price, or, just like the buying process, you can also choose to sell it at a target price.
The second option follows the strategy of targeted price buying. If you want to maximize your profit, this is the easiest option. When you choose this option, you will be asked to specify the target price you want to sell and the amount of crypto you want to sell.
Then, when the market value of the crypto hits the target price you specified, Crypto.com will execute the sale automatically, so you don't have to keep monitoring the price. This is a very convenient feature that will allow you to squeeze out every bit of profit from the crypto you want to sell.
This is the feature that is most utilized by experienced traders on Crypto.com but it is so easy to use that even beginners can do this with just a few clicks.
If you want to see it in action, you can check out the video earlier in this article.
Final Thoughts
As you can see, Crypto.com has features that, in my opinion, make it the easiest way to start trading crypto. Even if you don't have a lot of experience in crypto trading, you will be able to profit quickly by making use of the auto buying/selling features of the platform.
That being said, it is important to keep in mind that Crypto.com is just a tool you can use (a very user-friendly tool, I might add) to help you profit from crypto trading. It goes without saying that it will still be up to you to develop your crypto trading strategy to maximize your profits and choose the coins and tokens you believe can make a profit.
Crypto.com just makes it easier for you to implement your strategy. So, before you start trading crypto, make sure to do your research first before diving in. That way, you'll be sure to profit from this endeavor.
How to join Crypto.com?
If you are interested in using the app, just click the join button below, and it will take you to the download page. It will only take you a couple of minutes to set up your account.
Plus, you will qualify for a $25 joining bonus (in the form of Cronos, Crypto.com's own cryptocurrency) once you've met all the requirements.
If you have any comments, questions, or have experience trading with Crypto.com, I would love to hear from you in a comment below.