Ebuno.net is a survey panel that claims you can make money while making your voice heard, and that they have paid out more than $100K to its members.
But is Ebuno legit and really a way to earn, or is it a scam?
I have joined and tested the site myself to see what it really offers and to compare it to the hundreds of other survey sites I have tested.
In this Ebuno review, I will give you all the details and give you an inside look so you can easily see if it will be worth your time or not.
Disclosure: Some articles on this website contain affiliate/sponsored links. Click for more info.
What is Ebuno.net, and what does the site offer?
Ebuno.net is a fairly new survey panel and was just launched at the beginning of 2019.
There is a Swedish company behind it, but it is still available in many more countries (more about this later).
There is really not much more background info to be found about Ebuno, but what I can say after having tested it is that it is working with some reliable and long-lasting survey providers.
Ebuno is actually a fairly simple survey panel. However, since it was first launched it has evolved a lot which shows the company behind it is serious about improving it and giving more options.
So let's look into how you can earn on Ebuno and how good the options are, so you can see if it is a panel you want to join or not.
I have created a video walkthrough so you can get an inside look and see exactly how to use Ebuno and how it works. You can also read all the details below the video:
Click to Check Out Ebuno for Yourself
Option 1 – Ebuno surveys
Ebuno is, first of all, a survey panel.
This means the main way to earn here is by taking surveys and getting paid for sharing your opinion.
Ebuno is working with several survey providers, and if you have taken paid surveys before, you might recognize some of the providers like, for example, Cint and YourSurveys.
These are reliable providers, which is a good sign.
How it works is that you join Ebuno, and then you get access to surveys from these different providers.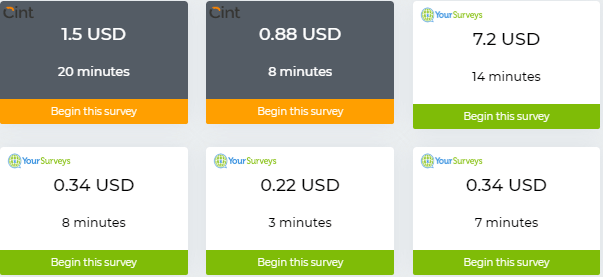 After you log in, you get an overview of available surveys, and when you have completed a survey, you will get the earnings into your Ebuno account.
Be aware that there might not be surveys available right after you join, but new ones are continuously added.
And you do not really have to log in to check for available surveys all the time, as Ebuno also often sends out emails when there are new surveys available.
In my experience, it has quite a good amount of surveys available. But as with all other survey panels, you will not qualify for all the available ones. So sometimes, it will take a bit of patience to qualify.
But a unique feature Ebuno has that I have not seen on any other platform is that they have divided the surveys into groups according to how difficult they are to quailify for.
The groups are:
Easy to qualify for
Medium difficult to qualify
Hard to qualify for
In each of these sections, you can also see the probability of qualifying. Some surveys will say 100%, which means you should be more or less sure to qualify for them. Others have less, and I have seen it all the way down to 4%.
Personally, I think it is really great to have this division, and it is a very user-friendly way to make it possible for you to optimize your time.
The rewards in relation to the time spent are quite decent compared to other survey panels. You can see before you start how much you will get for each survey and how long it approximately will take. There is a way to increase the earnings further but more about this later.
Be aware when you join, there are several profiling questions you can fill out.

There are quite a few of them, but you do not have to fill them out. But supposedly, it will increase your chances of getting matched with the right surveys, so it might be worth filling them out.
Even though there are quite a lot of them, it does not take too long to fill them out. Probably around 10 minutes or so.
But just be aware that you do not get rewards for filling out these profile questions. A shame, but if it can help you qualify for more surveys in the future it might still be worth doing.
Option 2 – Invite friends to join
As many other survey sites, Ebuno offers to pay you to invite friends to join. As a member, you get a link you can share to invite others to join.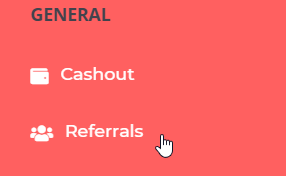 If a friend you invite joins and becomes active, you will earn 10% commissions of what he/she earns.
It will not affect the earnings of your friend but will be paid out of the pockets of Ebuno to thank you for telling someone else about the platform.
So if you know a lot of people that might be interested in getting paid to share their opinion, it is a way to boost your earnings a little.
Option 3 – Free points
Ebuno has a way to make easy money – you can claim free points every 180 minutes.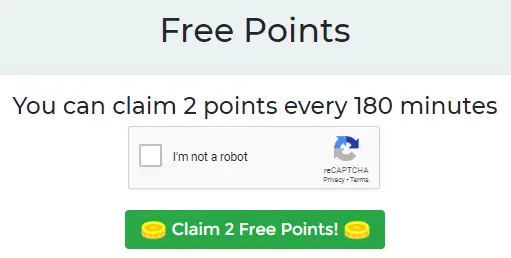 You only get 2 points, but it literally also only takes 2 seconds as you just need to click a button.
When they first introduced this feature, it was every hour, but then it changed to every 180 minutes. So by the time you read this review, it might have changed again, but I hope not, as it is a pretty nice way to make a bit of easy money.
Option 4 – Play games
There is a gaming section on Ebuno.
It does not have a huge number of different games, but if you are lucky, it can be a way to boost your earnings.

Be aware that all of these games will cost you points to participate in. so it is only if you are willing to gamble your earned points you can use the games.
But it is possible to win – when I was recording the video earlier in this review, I actually won a small prize:-) so if you want to see proof of this, you can watch the video above.
Click to Check Out Ebuno for Yourself
Ebuno membership options
There is one more feature of Ebuno that is important to know about, and that is the different membership types it has.
The higher membership you get, the higher a reward you will get for the surveys you take, according to the table below.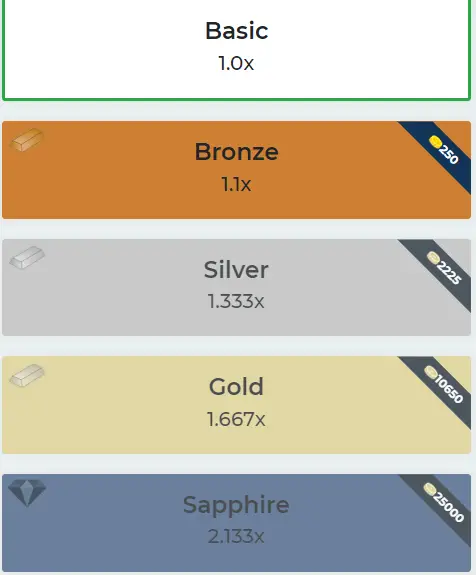 With a basic membership, you just get the regular rewards for any survey. But you can go all the way up to a Sapphire membership, where you can multiply the reward by 2.133. This means you can get some really good rewards for the surveys you take.
However, be aware that it is not like on, for example, PrizeRebel, where you just get a higher membership by being active.
You have to use your points and, in that sense, pay to upgrade. And it is quite a lot to pay to get the highest membership.
So before doing this, you need to make sure you are planning to keep being a member of Ebuno for a long time – then it can give you really high rewards. But make sure to calculate before upgrading so you are sure it will be worth the investment for you according to the time you are planning to spend on the platform.
How do you get paid?
A very important aspect of any survey panel is, of course, how you can get the money you earn out.
On Ebuno, the exact available payout methods depend on the country you live in. But PayPal is one of the worldwide options.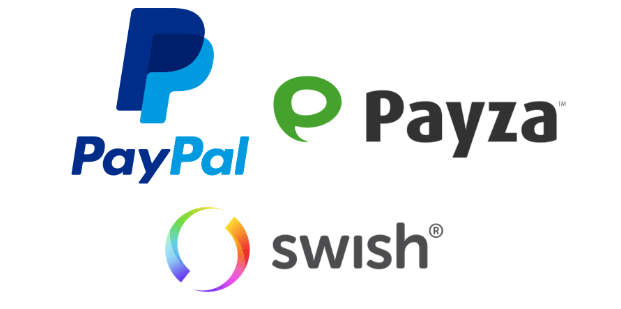 Personally, PayPal is my preferred way to get paid from survey sites as it is very easy and fast. So I definitely think it is a big plus that Ebuno is one of the survey sites that offer PayPal as a payout option.
The payout threshold is $10, so you need to earn this to be able to request a payout.
In my opinion, this is a fairly low and decent payout threshold and something that should not take too long to reach.
How much money can you make?
Ebuno offers quite regular surveys you can take. Exactly how many you will get access to depends on the country you live in.
But in many countries, you will be able to find daily surveys and thereby also be able to earn every day.
This does, however, not mean you will be able to make a living by joining. That is important to remember.
Paid surveys are, in general, not a way to make a living but can be a great way to earn some extra cash and have your opinion heard at the same time.
On Ebuno, they mention you will get between $0.10-$0.15 per minute of survey you take. This means the hourly rate will be around $6-$9.
This can add up and become some nice extra cash on the side, but you just need to do it with the right expectations.
There is also a list of the top users after you log in. This can give you an indication of the earning potential.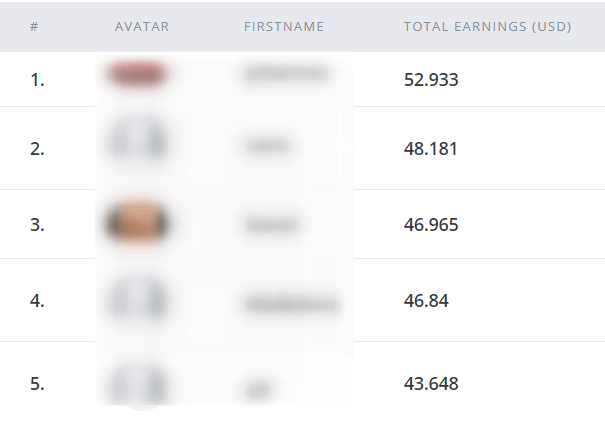 At the moment of taking the screenshot above, the top 5 earners had all been members for just over 1 month.
As you can see in the image above, the top earner had made almost $53 in that time.
Since then, the platform has, however, changed so you can no longer see how much the top earners have made – you can instead see the number of completed surveys they have.
Anyway, the earning potential on Ebuno is not bad for answering surveys, but as you can also see, it might be a good idea to also join other survey sites in addition to Ebuno to get more earning opportunities and more daily ways to earn.
Can you use it on mobile?
Being able to take surveys on your mobile is a great way to get access to them from anywhere.
Ebuno can be used on mobile, and one of the newer options they introduced was an Ebuno app.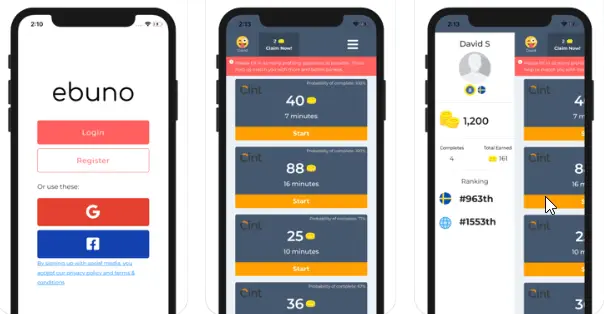 Before it was not very easy to take the Ebuno surveys on mobile, but the app makes it very user-friendly.
So great you have developed an app which means you can now easily take the surveys on the go if you prefer. You can download the app both in Google Play and the App Store.
Who can join Ebuno survey panel?
Ebuno started in just a few countries, but since it was launched, it has expanded to many more countries, and now they are available in quite a few countries.
You can now join from around 65 different countries, so it is too many too mention all of them below. But some of the countries you can join from are:
USA
UK
India
Sweden
Norway
Finland
Australia
Netherlands
Denmark
Brazil
Canada
China
France
Italy
Japan
Spain
Turkey
Germany
Malaysia
Bangladesh
UAE
According to themselves, the plan is to become a truly global survey panel, and it might therefore be available in even more countries soon.
Can you get support?
Being able to get support and help if you need it is important on a survey site.
When it comes to Ebuno, there is a small FAQ section with a few questions where you can find the most basic info. But if you need more help than this, you can also find an email address in the help section once you have logged in and write them.
I have personally been in contact with the staff of Ebuno with some questions and got good and helpful answers, so that is good.
Final verdict
Ebuno is a decent survey site that works with legit partners and has legit payout methods, which are good signs.
However, that alone does not mean it will necessarily be worth it. So let's finish this review by summing up the pros and cons so you can get a better overview before deciding to join or not.

Pros:
Free to join
Available in many countries
Good amount of available surveys
Clearly displays how easy it is to qualify for each survey

Cons:
Not super easy to use on mobile
You will not qualify for all surveys
For a new survey panel, I think Ebuno looks promising. It has a good amount of surveys for decent rewards, and it is available in many countries.
As with most other survey sites, you just have to be aware that you will not qualify for all surveys, so sometimes, it can take a bit of patience. But contrary to most other survey sites, Ebuno clearly displays how easy or difficult it is to qualify for each survey which is very user-friendly.
I would recommend you also join other survey sites in your country, as Ebuno alone does not give enough opportunities, in my opinion.
But as an extra survey site, I think it can be worth joining. And then time will tell how good a survey panel it ends up becoming after it has been live for a while longer.
How to join Ebuno?
It is very easy to join Ebuno.
Just click the button below, and you are taken to the sign-up form. It takes less than a minute to sign up.
If you have any comments, questions, or have any experiences with Ebuno yourself, I would love to hear from you in a comment below.