Is Entireweb a legit platform to earn extra cash or is it just a scam?
I decided to try it out for myself since I'm always looking for ways to earn extra money from online platforms and many visitors here on my website have asked about this platform.
I will share all I've learned about this platform in this Entireweb review so you'll know exactly what to expect from it. That way, it will save you valuable time since you don't have to try it out for yourself to see if it is a platform that is really worth your time.
And let me just reveal right away that there are some very important details you need to consider before joining.
So, let's go ahead and examine everything Entireweb has to offer, shall we?
What is Entireweb and what does it offer?
Entireweb is actually a search engine just like Google. And yes, it is indeed a legit site since it really offers a way for you to earn extra cash.
However, that does not necessarily mean it is a good way to earn as you will learn all about below.
Now, to fully understand how this site works, we have to take a closer look at the earning opportunity it offers. That way, you will have a good idea of how to earn from it and can see if it will be worth it for you or not. So, here's the earning opportunity Entireweb offers.
The earning opportunity – Affiliate program
The only way to earn from Entireweb is to become a member of their affiliate program. In case you don't know what this is, an affiliate program is a rewards program designed to reward people who promote the site using an affiliate link or banner.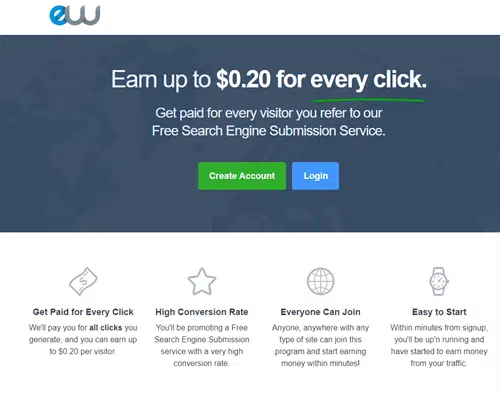 The one thing you need to keep in mind with affiliate programs is, that before you will earn from it, a purchase usually has to be made.
Let me elaborate. Let's say you share your affiliate link with someone. When that someone clicks the link and buys any product or service from the site, then you will receive compensation.
That being said, there are free tools that your referrals can start using and it will still count towards your earnings even though they didn't spend any money. So, it doesn't necessarily mean your referrals must spend money in order for you to earn. They can just "purchase" the free tools for you to earn rewards.

To get your affiliate link, you have to log in to the affiliate program dashboard and go to the "Banners & Links" section. Then, you will see something similar to the photo above. If you have a website, you can just copy the banner code in that section and embed it on your website.
If someone clicks that banner and purchases something on Entireweb, you will receive a commission. Now, if you are thinking it's a very simple way to earn, then you will actually be mistaken. There are several things you need to factor in when doing affiliate marketing.
Sure, you can just share your link on social media platforms, but that doesn't really equate to guaranteed earnings. You also can't just spam your link everywhere on the internet because if you do, you will just end up getting banned from the sites you will be posting it on.
There are proper ways to share affiliate links. It's not something you can just do on a whim. Also, if you just keep sharing it on social media sites, more often than not, people will just ignore your post and think of you as a spammer or worse, a scammer.
The bottom line is, that you have to have the proper knowledge and skills to do affiliate marketing.
Recommended: Check Out the Best Passive Income Apps
How do you get paid?
The earnings you will receive from Entireweb will show up in your Entireweb account balance. You can also keep track of your earnings by logging in to the member dashboard and clicking the Reports link on the left side of the dashboard.
Then, you just have to click the Commissions link. You will then see a breakdown of all the commissions you have received so far.
In order to withdraw your earnings, you have to earn at least $50 (which is quite a high payout threshold) in commission. Once you do, Entireweb will process the payment at the end of the month and send it to your PayPal account or send you a check via postal mail.
Let me give you a scenario of how their payment system works. Say for example you were able to earn $60 in the month of April. Since you were able to reach the threshold for that month, Entireweb will process the payment at the end of May.
If you fail to reach the threshold for the month, you'll have to wait for the next month to have a chance at withdrawing your earnings. It's quite a long wait, in my opinion.
If you prefer sites with a low payout threshold, I would recommend you check out the fastest paying sites.
How much money can you make?
The thing with affiliate marketing is, that it is hard to declare an exact amount you can earn. It will really all depend on how well your affiliate marketing skills are.
But what I can say is, that their rewards are actually quite low compared to other affiliate programs. It will really take a lot of time before you are able to reach the threshold.
That is why I would say the earning potential of Entireweb is very low. It also doesn't help that what you are marketing is a search engine. The reason why I say this is, that it's really hard to make people switch from Google to a different search engine. When it comes to search engines, most, if not all, would really prefer Google.
Also, Entireweb is not very transparent about the exact requirements for you to earn. And it just says you can UP to $0.20 per click but they do not explain exactly what people need to do for you to earn the maximum amount.
This is a big issue in my opinion, and one of the reasons I do not really recommend this as a way to earn.
Can you use it on mobile?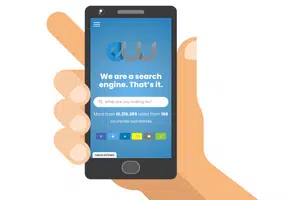 Entireweb can be accessed from a mobile device but the earning opportunity it offers, in my opinion, isn't really suitable for mobile devices. The only situation I can think of where you can use your mobile device is if you are sharing your affiliate link on social media platforms.
If you will be embedding your affiliate banner on your website or other sites, then you'll most likely have to use a laptop or desktop.
Who can join Entireweb?
Anybody can participate in the affiliate program of Entireweb. You just have to be at least 18 years of age to join.
To sign up as a member, you just have to fill out the registration form. Afterward, you can log in to the member dashboard and get your affiliate link or affiliate banner code.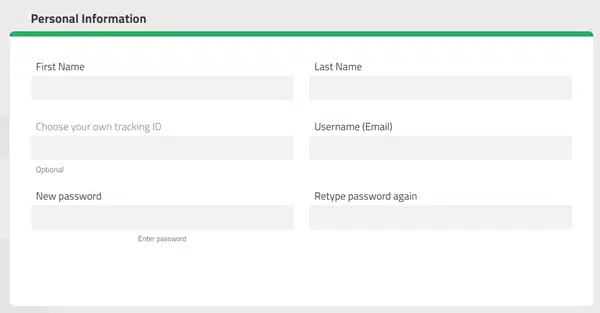 I would also suggest you set up your PayPal details once you've logged in to the site. That way, you can focus solely on your affiliate marketing strategies after registering.
Can you get support?
If you have any questions about the site or your account, you can check out the FAQ section of their affiliate program. To do so, you have to log in to the dashboard and click the FAQ link on the left side.
It's not as comprehensive as you might've hoped, but it discusses some of the basic topics you need to know. If you have an inquiry or if you've encountered any technical issues, you can get in touch with their support team by clicking the My Profile link on the left side of the dashboard and hitting Contact Us.
Then, you just have to fill out the contact form and hit submit. Overall, I would say they have a decent support system because they do provide an easy way for you to communicate with their support team.
Final Verdict
Entireweb is a site that will allow you to earn extra cash by participating in their affiliate program. It has a couple of decent features, but it also has a lot of limitations you have to consider.
Let me wrap up this review with a summary of its pros and cons to give you an overview of what it has to offer. Then, you can decide if you should push through with signing up or not.

Pros:
Offers payment via PayPal

Cons:
Earning opportunity requires a lot of work
High payout threshold
Low rewards
The site is not very transparent with the earning opportunity it offers
Entireweb is not a site I would recommend you join. The reason why I say this is the earning opportunity it offers isn't as simple as what you might think. Earning from an affiliate program is a bit complicated and requires the right strategies in order for you to be successful.
It is not something you can just do without any training or experience, in my opinion. It also doesn't help that it has a high payout threshold but offers low rewards. It's a bad combination because you will have to wait a long time before you can withdraw your earnings.
So, if you are just looking for ways to earn extra cash, I would instead suggest you check out the top survey and GPT sites in your country. The sites on this list all have good earning potential and the earning opportunities are all very simple.
If you have any comments, questions, or have any experiences with Entireweb yourself, I would love to hear from you in a comment below.