FamilyClix is a Paid-To-Click (PTC) site that supposedly offers to pay you for clicking and viewing ads.
If you aren't familiar with PTC sites, they are basically online rewards sites that will allow you to earn with as little effort as possible.
All you have to do is click and watch ads in order to earn. But with so many PTC sites out there today, it is important to make sure you join a legit one.
So, is FamilyClix legit and really a way to earn, or is it a scam?
Let me answer this right away so we can discuss other important details. No, FamilyClix is not a scam. It will pay you for clicking and viewing ads.
But does it allow you to earn efficiently? That is an entirely different question that's a bit more complicated to answer.
To answer this question, we will have to examine all the details of the site. This FamilyClix review will do just that. After reading this review, you will know exactly what to expect and can decide if it is indeed worth joining or not.
What is FamilyClix and what does it offer?
As explained above, it is a PTC site that offers to pay you for viewing ads.
It does offer other earning opportunities and in order to get a good grip on its earning potential, we have to take a closer look at all the earning opportunities it offers.
So, here's how you can earn from FamilyClix.
Option 1 – Paid Ads
A PTC site won't be a PTC site if you can't earn by viewing paid ads. FamilyClix is no different. In fact, it offers several types of paid ads.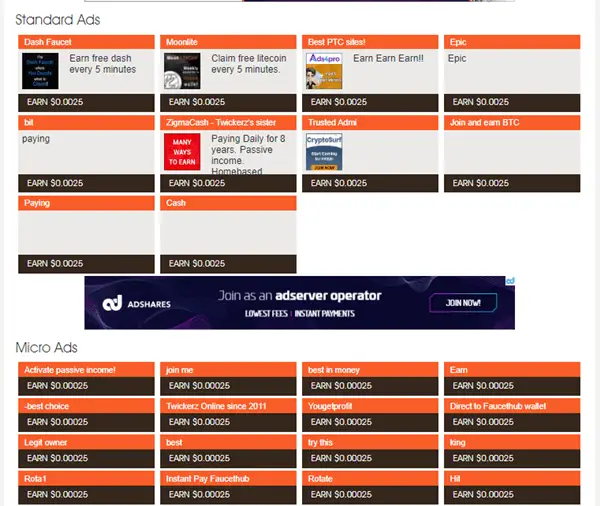 Here are the types of ads you can view on this PTC site:
Standard
Bonus
Micro
Tiny
Mini
Extended
To earn, all you have to do is click an advertisement and wait until the loading bar completes. Then, confirm the captcha and the reward will be credited to your account. That's how simple it is.
The main difference between these types of ads is mainly the amount you can earn. You can earn the most from Extended ads than the Standard ads.
Although this type of earning opportunity requires little effort to do, don't expect to earn a lot from it because each ad will only earn you $0.005 at most. That's less than a penny. So, in order to earn a significant amount, you will have to click on thousands of ads.
But you can't really forego doing it since other parts of the site will ask you to click on a certain number of ads every day to get the reward (I will talk about this more later).
Option 2 – Paid Offers
Paid offers are the higher paying earning opportunity offered on FamilyClix. This earning opportunity is what you will typically see on a Get-Paid-To (GPT) site, but it can also be found on most PTC sites as well.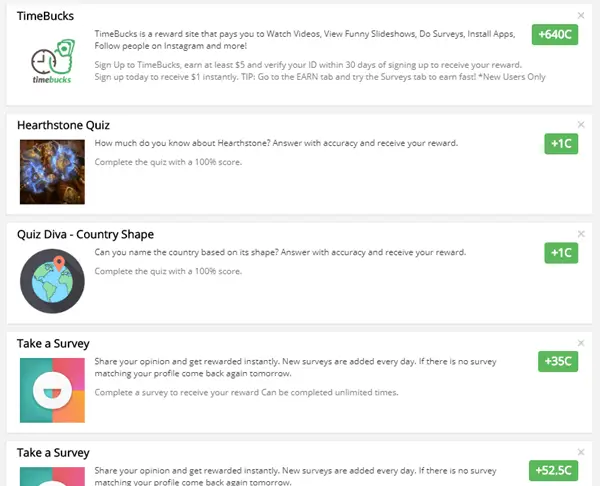 The paid offers will come from other PTC and GPT sites. So, it's more of an offerwall. To earn the reward, all you have to do is click the offer and follow the instructions provided. Once you've completed the offer, you will receive a certain number of points.
Most offers will ask you to answer a survey, sign up to a website, answer a quiz, watch a video or play a game. You just need to make sure you follow the instructions carefully to receive the reward promised for each offer.
Option 3 – Paid-To-Sign-Up Offers
As the name suggests, you can earn on FamilyClix by signing up on certain sites. This is a straightforward earning opportunity. All you have to do is click and see the offer details on the Paid-To-Sign-Up (PTSU) page and follow the instructions.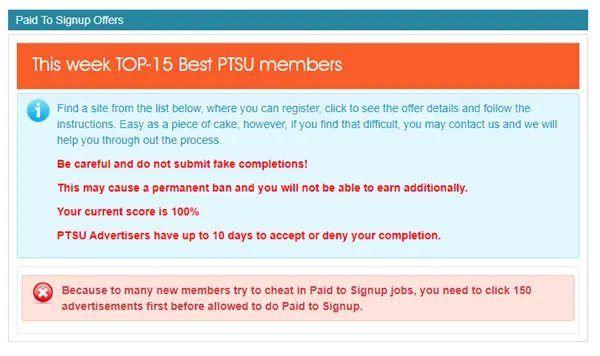 Usually, each PTSU offer will ask you to submit proof that you have registered to the site. This is usually done by providing a screenshot of the completed registration.
Remember that I mentioned earlier that you need to view a certain number of ads in order to avail of some offers on the site? Well, this is where it comes into play. In order to avail of any PTSU offer, you will need to view at least 150 ads.
It can be a mixture of any type of ads, as long as the total reaches 150. You will know if you've reached that requirement because when you visit the PTSU page, you will now see all the offers available.
It is important to make sure you submit real proof when doing PTSU offers since submitting fake ones can lead to your account being banned and your earnings being forfeited. So, make sure not to cheat.
And read the conditions for the offers carefully as many of them are definitely not worth the time, in my opinion.
Option 4 – Bonus Game
There are also often games you can play on PTC sites that will allow you to earn small rewards. In FamilyClix's case, you can play their bonus game to win certain rewards.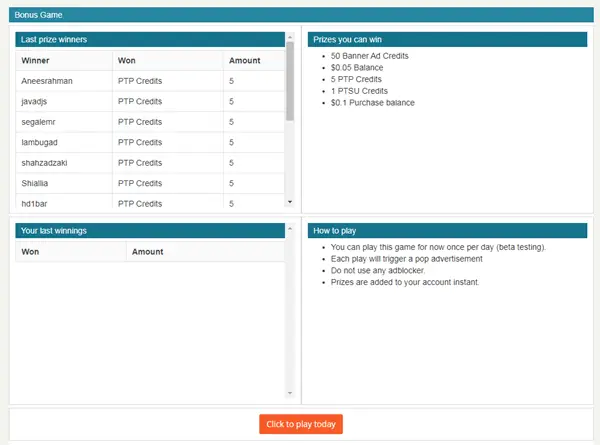 The idea is pretty simple. All you have to do is click the Click To Play button. It will then generate a random result. You can win banner credits or a certain amount you can use to purchase ads on the site. You can even win a certain amount that will be credited directly to your account balance.
However, don't expect to win anything significant from this game and you can only play this game once per day.
Each play will trigger a pop advertisement, so make sure to let the ad finish loading before you close it and see the result and make sure you do not use an adblocker.
Option 5 – Flip The Coin
Another popular game you can play on PTC sites is the Flip The Coin game. This one is purely a betting game.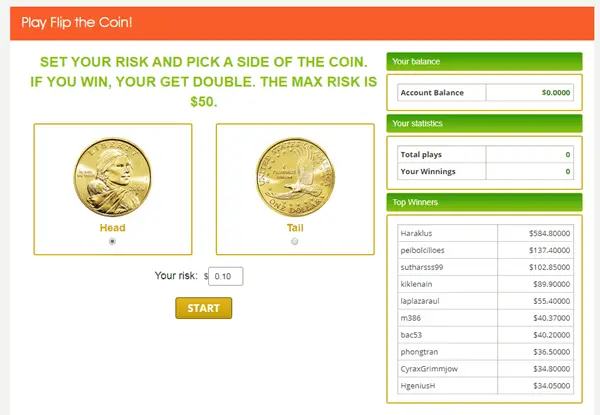 To play the game, you will choose either heads or tails and place your bet. The bet will be deducted from your account balance. If you win the flip, you will receive the amount you bet. If you lose, the amount will be deducted from your account balance.
In my opinion, this isn't really a profitable game to play since you can end up losing all your earnings if you don't control yourself. So, my advice, exercise constraints when playing this game.
Option 6 – ClixGrid Clone
Most PTC sites offer a grid game you can play. FamilyClix is no different. In this case, it is called the ClixGrid Clone.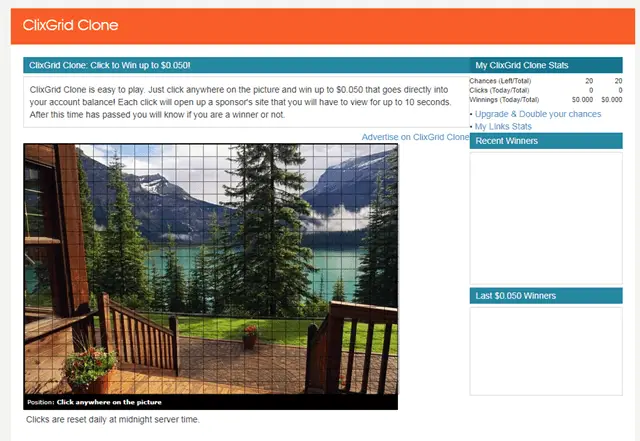 The idea is simple. Just click anywhere on the picture (refer to photo above) and win up to $0.050 that goes directly into your account balance.
Each click will open up a sponsor's site that you will have to view for up to 10 seconds. After this time has passed, you will know if you are a winner or not.
You will have 20 chances per day to open grids. It will reset daily at midnight server time. You can increase your daily chances by upgrading your membership, which I will discuss later.
Option 7 – Referral Program
Lastly, you can earn by inviting people to join the site. This is another common earning opportunity you can find on online rewards sites.
Their referral program is a bit complicated in my opinion. The process starts with you inviting people to join by sharing your referral link or embedding your referral banner to your blog/site (if you have one).
When they sign up to the site using your link or banner, they will become your referral. You can then earn a certain percentage (according to your membership type) of 4 standard ads click value for 30 days. You also earn from "Extended Ads", but this ad is not available daily.
So, in order for you to earn from your referrals, they must click and view at least 4 Standard ads or Extended Ads. There is no guarantee you will earn something for inviting people to join, which is not a good thing, in my opinion.
You need to make sure the people you invite will remain active on the site in order for their referral program to be of use to you. So, in the end, you don't really earn a lot from this type of earning opportunity.

But they do offer a way for you to increase your earnings from their referral program by renting referrals. As you can see in the photo above, you can rent direct referrals by paying a certain amount for a certain number of referrals.
The payment will be deducted from your purchase balance (which I will discuss later). I'm not really a fan of this "spend more to earn more" strategy because, in my opinion, it totally defeats the purpose of joining an online rewards site.
And if you are not careful you can quickly end up losing money renting referrals – because there is no guarantee the referrals you will rent will actually be active.
Recommended: Check Out the Top Survey Sites in Your Country
How do you get paid?
Now that you know how to earn from this site, the next thing we need to discuss is how you will get paid.
You can get paid via PayPal, Payza, or Neteller. However, they don't really explain this on their website (aside from Neteller).
You may request a payment once you have reached $2 in your account balance. But if you use Neteller, the minimum payout is $5 due to Neteller rules. Do not request below $5 if you will choose Neteller, otherwise, it will be refunded.
As a free member, you can withdraw $2 every 7 days. This is their limit. But you can increase this limit by upgrading your membership, which I will discuss in the next section.
One thing you need to remember when withdrawing your earnings, there will be a transaction fee per withdrawal. So, don't expect to get the full amount you requested.
I do like the fact that they have a low payout threshold. This at least ensures that you can get your rewards quickly. If you are interested in more sites with a low payout threshold, I suggest you also check out the fastest paying sites.
How much money can you make?
The problem with PTC sites in general is, that they don't really have good earning potential. Sure, the earning opportunities require little effort, but that is at the expense of the amount you can earn.
To understand what a PTC site is, check out this guide on the difference between a PTC, GPT, and survey site.
As explained earlier, every ad you view will only earn you a very small amount. So, in order to earn a significant amount, you literally have to view thousands of ads, which can be very tedious and in the long run, very time-consuming.
It won't be the best use of your time either because there are other sites you can spend your time on that will pay better. Now, on FamilyClix, to increase your earnings, you can actually upgrade your membership.
As you can see in the photo above, there are several upgrades you can choose from and each with its own set of benefits. I won't discuss each level but the gist is, that you get to enjoy certain advantages when you upgrade.
For example, if you upgrade to a higher membership level, you will earn more from clicking ads, you will have a higher direct referral limit, you can withdraw more cash every day and you will have a higher commission from your referral's paid ads earnings.
This is where the "spend more to earn more" strategy really comes in. The good thing is, that you can use your earnings to purchase this upgrade, which is typically the route long-time members take to avail of the upgrades.
However, before you do this, you have to carefully plan out a strategy to earn back the money you will spend on this upgrade. Because if you can't, you will wind up losing money instead of earning. So, it's not as simple as you might think.
Can you use it on mobile?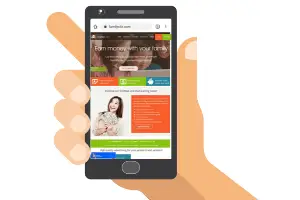 PTC sites are rarely really suited for mobile use due to the nature of the offers available. Keep in mind that when viewing ads, it opens up a new tab in your browser. And when you do that on your mobile device, it can get a bit tiresome in the long run.
That is also the case for FamilyClix.
I'm not saying though that you can't do it on a mobile device. In fact, you can log in to the site from a mobile device using a mobile web browser.
However, their site is not designed for mobile use. Although you can view all the content properly, it can still get a bit inconvenient, in my opinion.
It is best to work on this site on a desktop or laptop.
Who can join FamilyClix?
The one redeeming factor of FamilyClix is that it is available globally. That means you can register as a member regardless of where you live. This is actually the case in most PTC sites, so it really doesn't come as a surprise.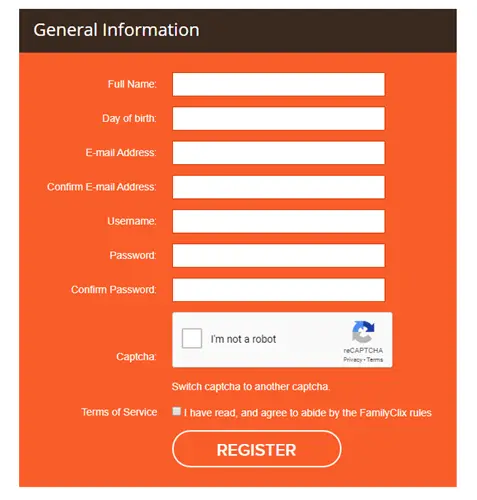 Signing up is also a very simple process. All you have to do is fill out the registration form. Once you are done with that, you can log in to the dashboard and start earning.
I do have to warn you though that getting to the registration form can be a bit irritating because the first few times you click on Register, it will instead open a pop-up ad. You will have to close it and click on the register button again.
I'm not sure how many times I clicked on the register button before it managed to load the sign-up form. It also happens from time to time when you are on the member dashboard. Pop-up advertisements will appear randomly when you click on a link on their dashboard.
This can get quite annoying especially if you are in a hurry.
Can you get support?
Their site has a decent FAQ page that tackles most of the basic questions you will encounter. However, their site simply lacks transparency in providing enough information about certain features of their site.
Case and point are their payment methods. They don't really mention what other payment methods are available apart from Neteller. You will only find out that they do offer PayPal and Payza as other payment options once you hit their payout threshold.
This could have been important information to know before signing up as a member. In my opinion, it's just poor website planning on their part.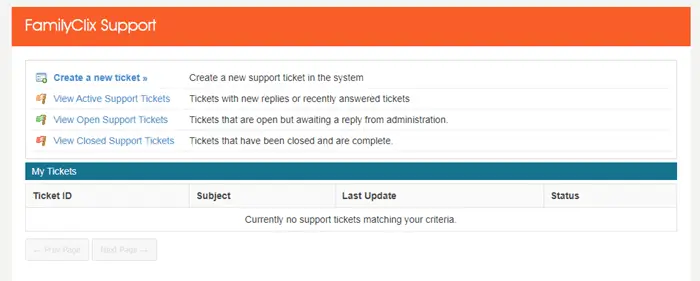 Now, if you want to get in touch with their support team, you can log in to the dashboard and go to their support page and file a support ticket. This, in my opinion, is a good system for providing support because you will be able to track the status of your support ticket.
However, they do warn you not to contact them about restoration or asking details about the suspension.
They simply don't entertain that kind of inquiry, which, in my opinion, is a bad thing, especially if you think you didn't do anything wrong.
Final Verdict
FamilyClix is a PTC site that rewards you for viewing ads, completing offers, and participating in their contests. It has a few good qualities to offer but it also has glaring drawbacks.
Let me finish this review by providing you with a summary of its pros and cons to help you decide if you should become a member of this site or not.

Pros:
Plenty of ads and offers available
Low payout threshold
Available globally

Cons:
Low rewards
Some important info lacking on the website
Will not entertain any account suspension inquiries
FamilyClix is more or less like any other PTC site, in my opinion. It has plenty of ads you can view and offers you can complete. That usually means good earning potential. But the reality is, in order for you to earn a significant amount from this site, you will have to go the "spend more to earn more" route.
It's not really my cup of tea because it totally defeats the purpose of joining an online rewards site. You are supposed to be there to earn extra cash and not spend your own in order to earn a good amount.
In my opinion, there are simply better sites to spend your time on; sites that will pay better for your time. If you are interested in sites like those, I recommend you check out the top survey sites in your country.
The sites on this list all have good earning potential and are much more efficient in terms of the time-to-money ratio. Plus, you can also find a site you can join regardless of where you live.
If you have any comments, questions, or have any experiences with FamilyClix yourself, I would love to hear from you in a comment below.