A good way to earn free cryptocurrency is to join a faucet site. One such site that claims you can do so is called Fire Faucet. This faucet site claims you can earn free crypto by doing multiple tasks. It sure is an enticing offer, in my opinion.
But before you hit the sign-up button, we have to verify a few things first. And the most important thing you need to know before you join any site is whether it is a legit site or just another scam you need to stay away from.
So, let me address this concern immediately so we can discuss other things about the site. Yes, Fire Faucet is a legit Get-Paid-To (GPT) site that will really allow you to earn free crypto. Now, the question is, is it worth joining or not?
This Fire Faucet review will show you the full details so you'll know exactly what to expect from it before you even register. That way, you can decide if it is a good fit for you or not.
What is Fire Faucet and what does it offer?
As mentioned above, Fire Faucet is technically a GPT site that will reward you for completing short tasks.
What makes Fire Faucet slightly better than some other faucet sites I've encountered is it offers multiple ways for you to earn.
And speaking of ways to earn, let's now examine the earning opportunities it offers so you will fully understand how the site works and how much you can earn from it.
I have, therefore, made a video that gives you an inside look and shows exactly how you can earn from Fire Faucet. You can also read all the details below the video.
Option 1 – Shortlinks
One way to earn rewards from Fire Faucet is by clicking shortlinks. In case you haven't encountered this earning opportunity yet, let me explain to you how it works.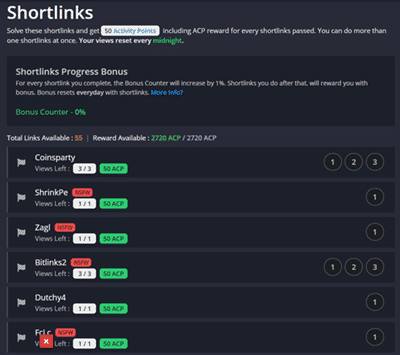 The idea is very simple. Just click the link for the shortlink. It will open a new browser tab and it will take you to the site you are supposed to view. Then, you're supposed to solve a captcha to complete the shortlink and get rewarded.
Here's where I encountered problems. After testing all the shortlinks, not once was I asked to solve a captcha. So, I couldn't effectively complete the shortlink and earn the reward.
I'm also not a fan of this kind of earning opportunity because it usually takes you to websites with a lot of pop-up ads.
These sites can possibly contain malicious software that can infect your computer or mobile device if you don't have the appropriate anti-virus software installed.
So, I always tell people to approach this kind of earning opportunity with caution.
Option 2 – Paid surveys
A better way to earn from Fire Faucet is by answering paid surveys.
The site doesn't have its own surveys so it relies on survey providers to provide its members with surveys you can earn from. So, it only acts as survey router. But that isn't really very important. What matters is you can earn from it.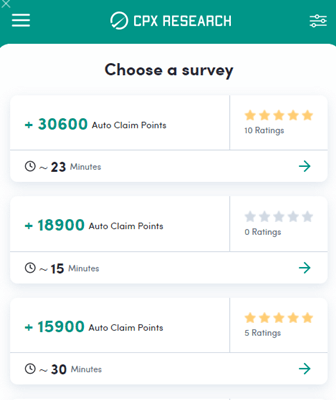 The way their surveys work is pretty much the same as the paid surveys you will encounter on survey sites. You will first have to go through a set of qualifying questions. Then, if you qualify, you get to answer the actual survey.
If you fail to qualify, you just have to move on to the next survey available. Once you manage to complete the actual survey, you will receive the reward promised, which will be a certain number of Auto Claim Points (ACP).
You just need to be patient with this earning opportunity because you will not always qualify for the surveys. But if you do qualify, you will receive a decent number of ACP.
Option 3 – Offerwalls
Now, if you run out of surveys to answer, you can go check out their offerwalls and complete the paid offers so you can earn more rewards.
In case you don't know, offerwalls are in-site advertising platforms that are designed to promote specific websites and mobile apps.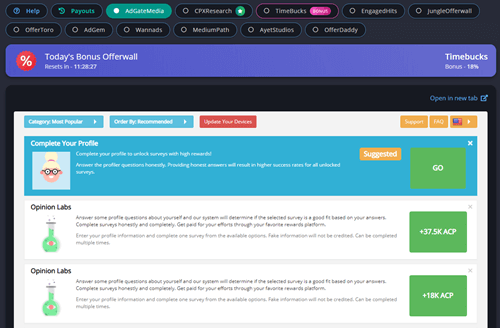 To earn from offerwalls, you just have to click on one and choose an offer you want to complete. During my testing, there were 11 offerwalls available. That's a pretty decent number of offerwalls, in my opinion. So, you almost always have something you can work on to earn rewards.
As shown in the photo above, each paid offer will tell you the number of ACP you will earn for completing it. However, you will also receive an additional 10% of the reward posted as activity points (which I will discuss later).
Most of the paid offers will ask you to answer a survey or quiz, download a mobile app or game, watch a video, or register to a website. The thing you need to remember when working on a paid offer from an offerwall is, you need to make sure you've fully understood what the offer is asking you to do.
When you click on a paid offer, it will show you the instructions you need to follow to complete the offer. So make sure to read and understand the instructions given before you start working on the offer. Because if you miss even just one step, you will not be able to complete the offer and you won't receive the reward.
Once you've completed the offer, you will receive the promised reward. Some offers will reward you instantly while others will take some time because they need to be verified first. So, don't be surprised if you don't receive your reward immediately.
Option 4 – ACP faucet
This earning opportunity is really very simple. Every 30 minutes, you can claim free ACP. Just head on over to their "Faucet" section.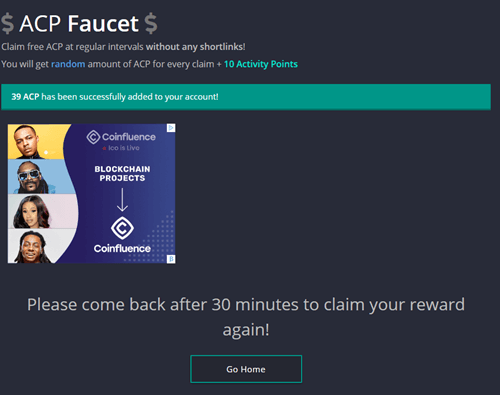 Then, all you have to do is solve the captcha to receive the reward. I would recommend you set the captcha to ReCaptcha since it will be easier to solve. Once you've solved the captcha, just click the claim button and you will receive a certain number of ACP. That's all there is to it.
You will also see a timer on your main dashboard to see the remaining time before you can claim your next reward.
Option 5 – Daily tasks
Your daily tasks can serve as your checklist for what you need to do on the site for the day. At least that's how I approach it. Every task under the daily task section will reward you with a certain number of ACP.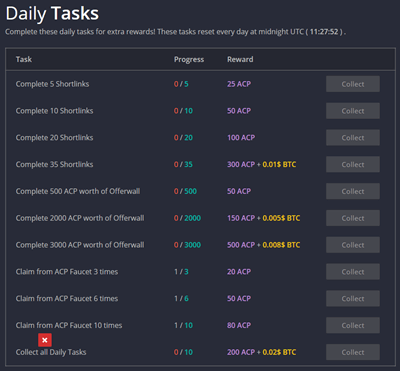 Usually, these tasks will require you to complete a certain number of offers, surveys, and other earning opportunities. Once you've met the required number, all you have to do is click the "Collect" button to receive the reward.
As I've mentioned, you can let your daily tasks guide you on what you need to do on the site for the day. That's the best way to maximize your earnings.
Option 6 – Viewing ads
Another way to earn rewards from Fire Faucet is by viewing ads. This opportunity is pretty similar to their shortlinks. The main difference is, this one works.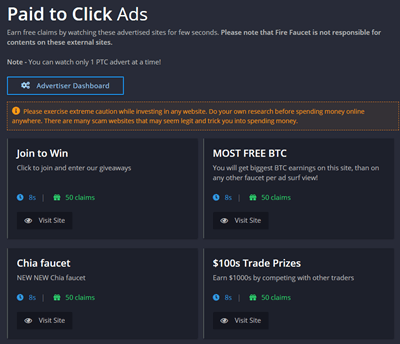 All you have to do is click the "Visit Site" button and it will open a new browser tab taking you to the ad you are supposed to view. You have to stay on that page until the progress bar finishes loading and you will see a captcha you need to solve.
Once you finish solving the captcha, you will hear a sound. That will mean you've earned the reward for that ad. You can now close it and view the next ad.
Option 7 – Referral program
Lastly, you can invite other people to join the site through their referral program. You just have to share your invite link with the person you want to invite and when they join the site using your link, they will become your referral.

But, in order for you to earn from your referrals, they must become active members of the site. That's because you will receive a 20% commission every time your referral earns from any of the earning opportunities the site offers.
This commission will be shouldered by Fire Faucet, so it won't be deducted from your referral's earnings. It's a decent way to earn passive rewards, but you have to make sure the people you invite are really interested in the site.
Recommended: Check Out the Top GPT Sites
How do you get paid?
As explained above, every time you complete an earning opportunity on Fire Faucet, you will earn a certain number of ACP (Auto Claim Points), as well as activity points (I will talk more about this later). Then, it's up to you how you want to use your ACP.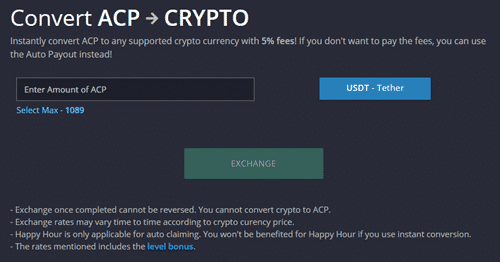 Your first option is to convert your ACP into any cryptocurrency supported by Fire Faucet. The amount you will receive will not be fixed because the exchange rate will always depend on the current value of the cryptocurrency.
Once you've converted your ACP to your preferred crypto, you can then withdraw it to your crypto wallet. But, you can only withdraw a maximum of $10 worth of cryptocurrency per day. So, the major downside of this method is, you can't withdraw a big amount.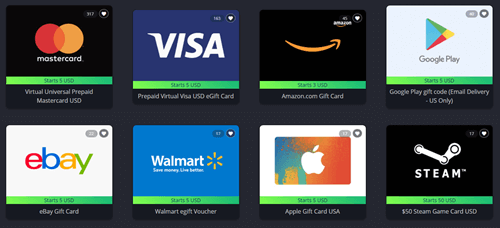 If you want to withdraw more than $10 from your account in one day, the best way to do that is to convert your ACP into various gift cards. The gift cards you can redeem will depend on the country you live in, but usually, the minimum threshold required to redeem a gift card will be $5.
To redeem a gift card, you first have to convert your ACP to any cryptocurrency. I would suggest you stick with one cryptocurrency like BNB (Binance). Then, you can redeem different gift cards as long as you have earned the minimum amount.
That's how their payment system works. It's a bit more complicated than some GPT sites, but once you get used to it, you shouldn't encounter any issues redeeming rewards.
However, if you want to earn cryptos, there are many better options to earn Bitcoin for free and you can also find many great sites to earn Ethereum for free, where the payout systems are a lot easier to use and without the same limitations that Fire Faucet has.
How much money can you make?
The amount you can earn from this site will depend on how active you are on the site and how well the site pays.
As for the latter, I would say they don't pay that well. The rewards are quite low. That's the one major drawback of this site, in my opinion.
But they do alleviate this a little by providing bonuses depending on your account level. As mentioned earlier, you will earn a certain number of activity points every time you complete an earning opportunity. This goes to your account level.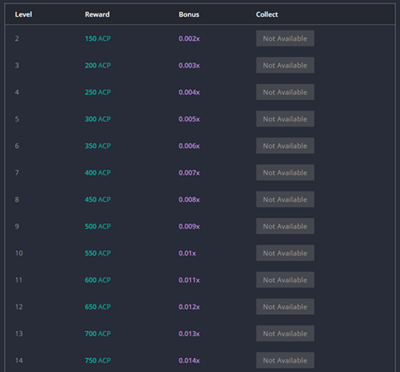 As your account levels up, you will receive a certain number of ACP, but you will also receive a passive benefit where you will earn more from every earning opportunity you complete (refer to photo above).
This can definitely bring your earnings up a little bit, but still, I would say the earning potential of this site is still quite low. It will take some time before you will be able to redeem a decent amount.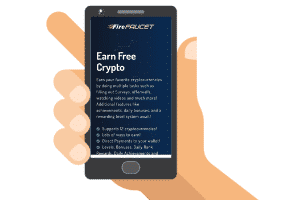 Can you use it on mobile?
Fire Faucet doesn't have a mobile app you can download, but you can still access the site from a mobile device. And the good thing is, their site is mobile-friendly. So, you will be able to navigate through the site easily.
Plus, you won't have to zoom in to read the content properly. This can come in quite handy when you are working on offerwalls that will require the use of a mobile device.
But aside from that, I would recommend you work on the site mainly on your laptop or desktop since most earning opportunities will involve opening a lot of browser tabs and that can get quite annoying when done on a mobile device.
Who can join Fire Faucet?
Fire Faucet is available globally. You will be able to register as a member regardless of where you live. You just have to be at least 18 years of age or older to join.
To sign up as a member, just fill out their registration form. Then, the site will send you a confirmation link via email. Just click the link to complete the registration. Once you've done that, you will also receive 1,000 ACP as a sign-up bonus.
Can you get support?
If you have any questions about the site or your account, you can check out their FAQ page first. It covers most of the basic topics you need to know about the site. But if you can't find the answers you are looking for, then you can just get in touch with their support team.
Just go to their support center and create a support ticket. Then, fill it out with the appropriate details and send it.
Overall, I would say the site has a decent support system in place for its members since it offers a convenient way for you to communicate with their support team.
Final Verdict
Fire Faucet is a legit GPT site that will reward you for completing the earning opportunities it offers. It has a couple of good features but it also has a few drawbacks you need to be aware of.
Let me end this review with a summary of its pros and cons to give you an overview of what the site has to offer. That way, you can gauge if this site is really a good fit for you or not.

Pros:
Will allow you to earn cryptocurrency for free
Their site is mobile-friendly

Cons:
Some earning opportunities don't work as advertised
Low rewards
Complicated and limited payout system
Doesn't offer payment via PayPal
If your goal is to start earning cryptocurrency without spending money, then this can be a site to join since you will be able to earn any popular cryptocurrency from this site. However, there just are many better sites to earn free cryptos from, in my experience.
Also, if your goal is to earn extra cash, then there are better options out there.
The one main downside of this site, in my opinion, is its low rewards. It will take quite some time before you will be able to earn a decent amount from this site.
That's why I would recommend you check out the top survey and GPT sites in your country instead if you are looking for ways to earn extra cash online. The sites on this list all have good earning potential, plus most (if not all) of them offer cash rewards.
If you have any comments, questions, or have any experiences with Fire Faucet yourself, I would love to hear from you in a comment below.