If you are looking to earn extra cash online, there's a site called GamerMine you might be interested in. This site claims you can earn by doing simple tasks. So, it's certainly an interesting offer.
But before you hit the sign-up button, I would recommend you read this GamerMine review first. I have personally tested the site and I will share everything about what it has to offer including whether it is really a legit site or just another scam.
That way, you can properly decide if it is a site worth joining or not. So, let's go ahead and learn the truth of what GamerMine has to offer, shall we?
What is GamerMine and what does it offer?
GamerMine is a Get-Paid-To (GPT) site that offers multiple ways for you to earn. It's pretty similar to another GPT site called GameTame in terms of earning opportunities offered. And yes, it is indeed a legit site since it will really pay you for doing the earning opportunities they offer.
However, whether it is really worth it, is a completely different story.
In order to fully understand if it will be worth your time and how it works, we have to take a closer look at the earning opportunities it offers. So, here's how to earn from GamerMine.
Option 1 – Paid surveys
Like most GPT sites, one way to earn from GamerMine is to answer paid surveys. However, GamerMine doesn't have its own surveys. Instead, it has partnered with other survey sites to provide its members with surveys to earn from.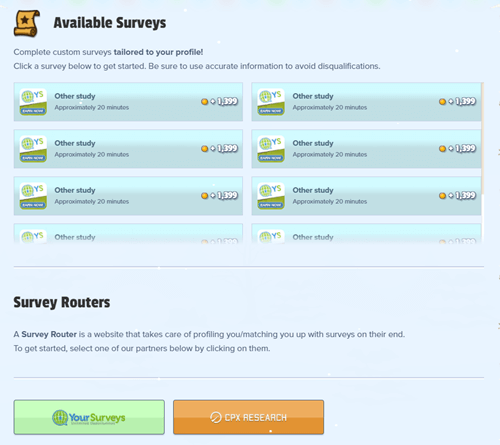 During my testing, I noticed that they partnered with YourSurveys and a couple of other survey providers. And if you've been a member of other survey sites before, then it's basically the same thing. You answer a survey by going through the qualification process.
If you fail to qualify, you move on to the next survey available. If you do qualify, you proceed to the actual survey. Then, you receive the reward promised. The one thing I noticed though is, the site has a low qualifying rate. Meaning, you will rarely qualify for surveys.
So, I would say this isn't the best earning opportunity available. But regardless, you can't really ignore this earning opportunity because it is one of the better-rewarding opportunities of the site.
Option 2 – Offerwalls
In case this is your first time hearing the term offerwall, it is an in-site/app advertising platform that is designed to promote other websites, mobile apps, and more. And the offerwalls on GamerMine are no different.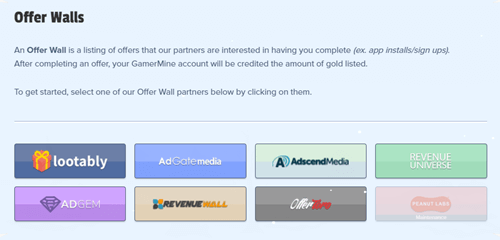 When you complete the offers found on GamerMine's offerwalls, expect to earn by answering surveys, downloading apps, signing up for certain websites, watching videos, and more. When you complete an offer on an offerwall, you will earn the reward promised.
But the major difference I found with GamerMine's offerwalls when I compare it with other GPT sites that have the same options is, the number of offerwalls found on GamerMine isn't that high.
During my testing, there were only eight offerwalls available. On good GPT sites, you will sometimes find more than 20 offerwalls at any given time.
That's why I would say GamerMine's offerwalls pale in comparison to other popular GPT sites.
Option 3 – Watch videos
Another way to earn from GamerMine is by watching videos. Specifically, you need to watch videos from a video hosting platform called HideoutTV.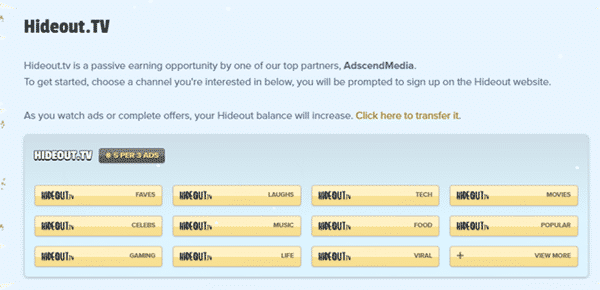 The thing you need to know about this earning opportunity is, you actually don't get rewarded by watching videos. Instead, you will be rewarded by watching the ads that will be played before the video, during the videos, and in between the videos.
That's what you get paid to do. While this may sound like a great earning opportunity since you will usually encounter interesting videos, the reward for watching one video is actually very low. You will typically earn less than $0.1 per video you watch.
So, it's not exactly the most efficient way to earn rewards. That's why I would only recommend you work on this if you've run out of things to do on the site.
Option 4 – Passive earning by gaming
This is a unique opportunity offered by GamerMine and I personally haven't encountered this on other websites. So, here's how this passive earning works.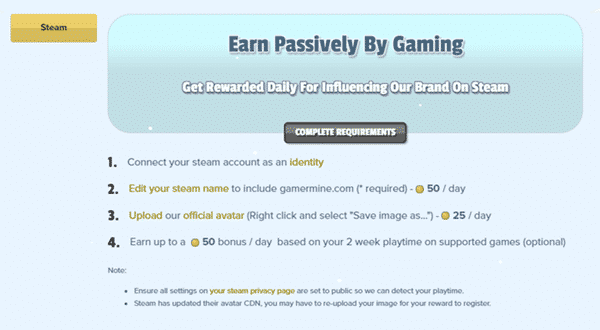 All you have to do is connect your Steam account to GamerMine. Once you've done that, you have to include gamermine.com in your Steam name. Then, you have to use their official avatar. When all of that is set up, you just have to play any of their supported games for at least two weeks.
Then, GamerMine will award you with the corresponding rewards depending on your time spent playing their supported games. Of course, you will earn more for more hours invested in playing the said games. That's how it works.
It's a relatively simple way of earning and if you already play some of their supported games (Dota 2, CS:GO, PUBG Battlegrounds, GTA 5 to name a few), then it's a great form of passive earning.
But if you aren't really a gamer, this isn't the best earning opportunity in terms of time-to-money ratio. As you can see in the photo above, the reward for doing what they are asking is quite small. Even if you do all the things it will ask of you, your earnings will be quite minimal.
Also, personally, I would not want to add their name to my Steam name as that makes it look spammy in my opinion. Especially, when you do not get very high rewards for it anyway. But that is, of course, a matter of personal preferences.
Option 5 – Referral program
GamerMine also has a referral program you can participate in. If you've been a member of other GPT sites, then you already know how this opportunity works. If you haven't yet, then let me explain how it works.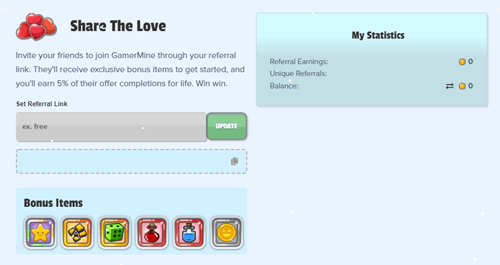 To earn from their referral program, you just have to share your referral link with the person you want to invite. Then, when that person clicks the link and signs up as a member, they will become your referral.
Then, your referral will receive exclusive items that will help them earn more on the site. As compensation for your efforts in promoting the site, you will receive a 5% commission every time your referral completes an offer. This commission will be shouldered by GamerMine and it will not be deducted from the earnings of your referral.
The percentage for the referral program on GamerMine is very low compared to what it is on many other platforms, but it can still give a nice form of passive earnings if you know a lot of people you can invite.
Option 6 – Betting game
This is technically not an earning opportunity because you can potentially lose money from this game. But you can also win money.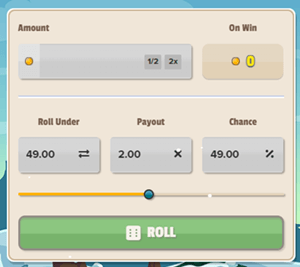 The idea is, you bet a certain amount of your earnings. Then, you choose the multiplier for the bet. The higher the multiplier, the lesser the chance you will win.
You have to be careful when playing this game because you can potentially lose all your earnings. I even suggest you avoid playing this game altogether because nothing really good ever comes from gambling, in my opinion. But that's just me. If you like the thrill, then, by all means, play this game. It's a high-risk high-reward game after all.
Recommended: Check Out the Top GPT Sites
How do you get paid?
Every earning opportunity GamerMine offers will reward you with a certain number of coins. Then, you can use the coins to redeem various rewards.

As you can see in the photo above, GamerMine has several reward options you can choose from. If you want cash, then luckily, you can get paid via PayPal. But it also offers to pay you in various cryptocurrencies like Bitcoin, Ethereum, LiteCoin, and Bitcoin Cash, which are also really great options, in my opinion.
You can also convert your rewards to an Amazon gift card, BitSkins, or OPSkins credits. The threshold required to redeem a reward will depend on the reward you chose. The same thing goes for the processing fee involved.
For example, if you choose to convert your coins to cash via PayPal, you need to earn at least 500 coins which is equivalent to $0.5. However, there will be a processing fee involved which will be 250 coins or $0.25.
For other reward options, the processing fee will be significantly higher. If you look at their Ethereum option, the processing fee will be 22,134 coins, which, in my opinion, simply isn't worth it. That's why I would recommend you only use PayPal to get the most out of the coins you've earned.
But I do like the fact that they have a very low payout threshold for PayPal. If you are looking for more sites with a low payout threshold, I would recommend you check out the fastest paying sites.
How much money can you make?
The amount of money you can earn from a GPT site will mostly depend on how active you are on the site and how well the site pays. You obviously have control over the first one, but as for the second one, in my opinion, the site really doesn't pay that well.
The offers found on their offerwalls will usually reward you around 200 to 300 coins. That will only be worth around $0.2 to $0.3. As for their surveys, you can earn around 500 to 1,000 coins per survey. But as I've said earlier, their qualifying rate is quite low.
So, it's not a very reliable way to earn. That's why I would say the earning potential of GamerMine is really low because of the low rewards it offers. So, it will take you quite some time before you can earn a significant amount from this site.
Can you use it on mobile?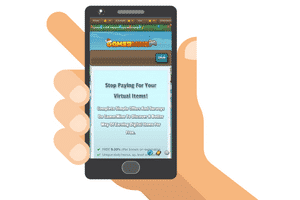 GamerMine doesn't have a mobile app, but its site is mobile-friendly. It's almost like you are using an app if you check out the mobile version of their site.
That's why it's relatively easy to use on a mobile device. That's a good thing because you will be able to earn rewards conveniently even if you are not in front of your desktop or laptop.
Who can join GamerMine?
GamerMine is available globally. You can register as a member as long as you are at least 18 years of age.
To sign up as a member, you can use your own login details or you can use your Google or Steam account to sign up. Once you are done with the registration process, you will be logged in to their member dashboard.
You will then be prompted that your account is on a trial version and to be a verified user, you have to set up your email and password. Just follow the instructions to complete the verification process. When you've done that, you can now start earning on the site.
Can you get support?
One thing that GamerMine doesn't do a good job on is explaining some of the features they offer. Their FAQ page also offers very little help. It doesn't discuss a lot of useful topics.
So, if you have any questions or if you encounter any issues when using the site, you will most likely need to contact their support team. Fortunately, they have a contact page where you can submit your inquiries.
Plus, they have a Discord channel you can join so you can communicate with their support team immediately. That's why even though their FAQ page is pretty useless, in my opinion, they still have a decent support system in place for their members since they provide multiple ways for you to get in touch with their support team.
Final Verdict
GamerMine is a legit GPT site that will reward you for working on the earning opportunities it offers. It has a couple of good features, but it also has glaring drawbacks you need to consider.
Let me end this review with a summary of its pros and cons to give you an overview of what the site has to offer. Then, you can decide if you should join this site or not.

Pros:
Offers payment via PayPal
Available globally

Cons:
Low rewards
High withdrawal fee for most of their reward options
Overall, I would say GamerMine isn't a great GPT site. It just pales in comparison to other GPT sites, in my opinion. This is in terms of earning opportunities offered, the rewards you can earn, and even the payment system offered.
The biggest blow for me is the high transaction fee for redeeming rewards. It's almost like they don't want you to earn a decent amount. That's why I don't really recommend you join this site. There are far better options out there, in my opinion.
For a list of better options, I would recommend you check out the top survey and GPT sites in your country instead. The sites on this list all have good earning potential and their payment methods don't involve high transaction fees.
If you have any comments, questions, or have any experiences with GamerMine yourself, I would love to hear from you in a comment below.