I love testing different ways to earn extra cash – and what better way to earn than by having fun at the same time.
One great way to do this is to watch movies and get paid.
And surprisingly, there are a few websites that will allow you to earn by watching movies. Sounds great, right?
The question is, where do you start?  
Here's where this guide on how to get paid to watch movies comes in handy.
It will show you legit and free options to choose from so you can easily get started earning by watching movies.
Each option involves a bit of creativity, so I will include a brief summary of each option. That way, you can easily identify which ones will suit your preferences.
How much money can you earn?
Before we discuss the options you can choose from, let us first talk about the amount you will be able to earn from an earning opportunity like this. That way, you can head in with the proper expectations in terms of earning potential.
It is important to note that getting paid to watch movies is not a get-rich-quick scheme. You will never earn hundreds of dollars from this opportunity per day right away or anything like that.
So, if you see a website claiming you can earn hundreds or thousands of dollars a day without any effort, it is most likely a scam, and you should stay away from that site.
In general, getting paid to watch movies is not something you can earn a living from. That being said, you will be able to earn some nice extra money on the side with enough patience.
However, in my opinion, the best value this kind of earning opportunity offers is the simple fact that you can earn while having fun. So, if you are looking for a method that offers a fun and interesting way to earn, the options listed below are definitely good choices.
5 ways to get paid to watch movies
Now that you know what to expect from this kind of earning opportunity, it's time we discuss the actual options to choose from. Keep in mind that this is not a prioritized list, so you can just choose the option that suits you best.
In fact, I would even suggest you choose multiple options so that you will gain access to more opportunities to earn by watching movies. That way, you will be able to maximize your earnings properly.
I will keep updating this guide if I find new options that are really worth your time. So make sure to bookmark this page and check on it from time to time for new opportunities.
#1 – Movie mystery shopper
One way to earn by watching movies is to become a movie mystery shopper. Mystery Shoppers America offers an opportunity for you to earn by becoming a mystery shopper for a movie theater.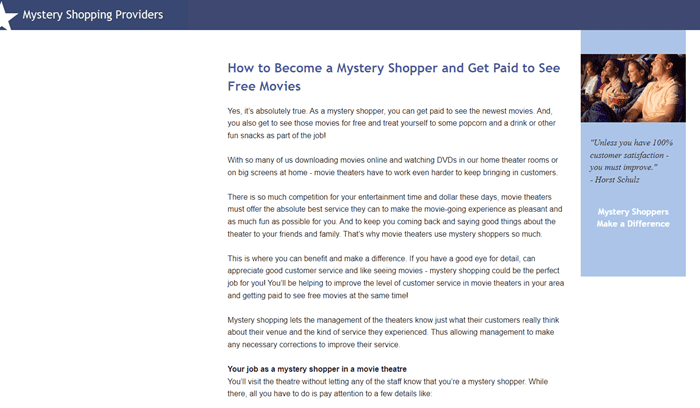 This process is relatively simple. You apply to become a mystery shopper for a movie theater. You not only get to watch the movie and get paid, but you also get to evaluate the service the movie theater offers. So, you'll have a hand in improving everything the theater needs improvement on.
There are also other movie mystery shopping sites that will allow you to become a movie mystery shopper, so this opportunity isn't just limited to one website. You can, for example, also find ways to get paid to go to the cinema and watch movies on Amusement Advantage.
However, just keep in mind that this opportunity isn't available in all countries. Usually, this opportunity is mainly for people who live in the US, UK, or Canada.
But you might be able to find specific platforms for other countries as well. If you have come across any options like that, feel free to share them in the comments below this article.
#2 – Write about movies
You can also write about movies, specifically movie reviews. You can join a movie review platform like Taste of Cinema so you can get paid to write a review of a certain movie.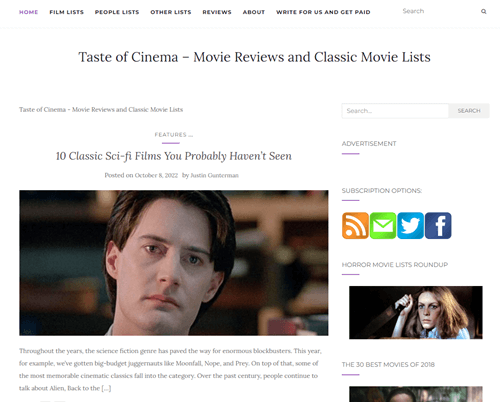 Of course, you get paid to write, but you will still have to watch the movie you will have to write about, so it can still be considered as getting paid to watch a movie. You just have to write something afterward.
You can also do this with your own blog. You can create a blog where you review various movies you've seen. Then, you can earn through the ads on your blog or in other ways. This method is a bit more time-intensive, but it can potentially be a full-time opportunity if done properly.
#3 – Nielsen Computer & Mobile Panel
This option is a bit different compared to the other options listed on this list. That's because, with Nielsen Computer & Mobile Panel, you will have to install software that will track your viewing activities or any activity you do on your computer or mobile device.
You can watch movies or your favorite TV shows, and you will get paid as long as the software is running in the background. You can consider it as a passive form of earning. However, just be aware that this option is only available in certain countries like the US, UK, Australia, New Zealand, Italy, and Germany.
#4 – Watching trailers
Watching trailers or short videos isn't like watching movies, but at least you can still get paid to watch something movie-related. This opportunity can be found on Swagbucks, which is one of the most popular Get-Paid-To (GPT) sites around today.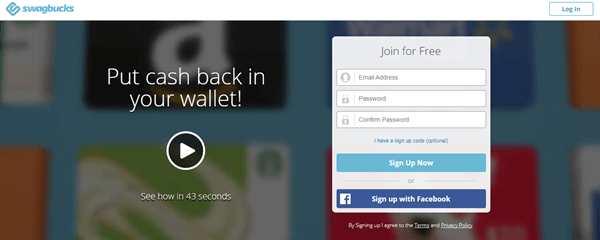 This site offers other ways for you to earn, so when you are done watching trailers or other short videos, you can work on the other earning opportunities to earn more cash. Overall, this site is just a great site to earn extra cash from because you will never run out of things to do to earn.
Just be aware that the earning opportunities offered will depend on the country you live in, so even though Swagbucks is available more or less worldwide, the opportunity to earn won't be equal in all countries.
#5 – Join movie focus groups
Joining movie focus groups can be a great way to earn. It's also a necessary process that movie companies do to get feedback from the movies they make. So, it's something that is always available.
One such site that offers this kind of opportunity is called Before the Premiere. You can register as a member, and when there are screenings in your area, you will be notified via email so you will know when to attend them.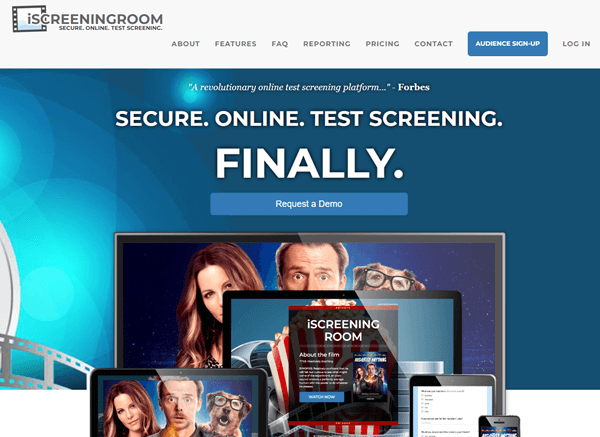 Another option is called iScreeningRoom where you can share your thoughts about the movie with the filmmakers, and you get paid to do so in some cases. But most of the time, you will get to watch unreleased movies for free, so if you are a cinephile, this is definitely right up your alley.
You can also watch the video below for more info about the best movie focus groups.
Final Thoughts
As you can see, it is definitely possible to earn from watching movies. However, you just have to be a bit more creative about the way to do it. If this is an earning opportunity you would like to pursue, I would highly recommend you choose multiple options so you can maximize your earnings.
Most options will require some skills to pull off, but you will mostly end up watching movies still, which is the most important part, right? And as mentioned earlier, some options can even lead to full-time opportunities if done properly (like making a blog about movies).
If you are interested in going that route, I would suggest you check out simplest and safest way for a beginner to build a profit-ready online business. This guide will take you through the fundamentals of setting up your own blog and earning from it.
If you have any comments, questions, or you know of a way to get paid to watch movies, I would love to hear from you in a comment below.