There are lots of copy editing tools found online but they can only do so much. That's why an actual copy editor is a much more valuable resource for writers. Hence, there's an actual market for this kind of service.
Gramlee is a site that provides copy editing services for a specific fee. So, if you are interested in earning extra money and you are confident in your copy-editing skills, this might be something you want to consider.
But before you apply for an editor position, I would recommend you read this Gramlee review first so you'll know exactly what to expect from it. This review will also verify if the site is really legit or if it is just a scam.
Then, after reading, you will be able to make an informed decision about whether this opportunity is right for you or not. So, let's go ahead and examine what Gramlee has to offer.
What is Gramlee and what does it offer?
As mentioned above, Gramlee is a site that offers article editing services for its clients.
That means, in order for you to earn from it, you will have to work as one of their editors. And yes, it is indeed a legit site since it will really pay you for working on their projects as an editor.
Now, the question is, is it worth pursuing or not? To answer that, we have to first look at the earning opportunity it offers. That way, you can clearly understand how to earn from it and you can properly gauge if this is the kind of work you are looking for.
So, here's how to earn from Gramlee.
The earning opportunity – Editing services
There's only one way to earn from Gramlee and that is through their editing services. Every time a client requests their services, Gramlee will match them with the appropriate editor that has the skills required to do the project.
Here's a photo of all the services available on Gramlee.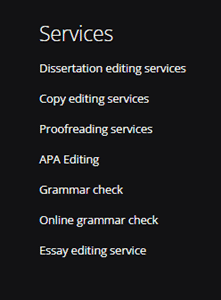 It is important to note that when you work for Gramlee, you become an independent contractor. So, that means you aren't really required to log in a specific number of work hours. You can always choose to work on your own time.
Now, as shown in the photo above, Gramlee offers several services. However, you won't be expected to provide all of the services. What happens is, Gramlee will only match you with projects they think are appropriate for your skills.
When you get offered a project, you will only be given 24 hours to complete it. If you haven't finished the project by then, you won't get paid. This is because Gramlee gives a 24-hour turnaround guarantee to their clients.
If they can't deliver, they will refund the payment. So, if you get offered a job, it is important to work on it as soon as you can if you want to get paid.
When you are doing editing work, you have to follow the guidelines set by Gramlee. Another thing you need to keep in mind is, if the client is not happy with your work, Gramlee will refund them. That means you won't get paid.
So, it is important to always do your best when editing a project. Because if you keep submitting unsatisfactory work, Gramlee won't offer any projects to you anymore.
They don't exactly tell you how many "strikes" you are allowed, but in my experience, sites that offer this kind of service are quite strict with the quality. So, don't expect to get a lot of chances if you mess up or you submit low-quality work.
When your work is forwarded to the client and they have no complaints, the project will be considered completed and you will receive the payment. That's all there is to it.
The process is relatively straightforward, but I do have to warn you that their site really lacks information about the ins and outs of being a Gramlee editor. And later on, I will elaborate more about this issue.
Recommended: Check Out the Top Survey Sites in Your Country
How do you get paid?
As mentioned above, there really isn't a lot of information about how they pay editors. This is the problem with Gramlee really. They don't do a good job of explaining how the process for getting paid as an editor works. Their site only talks about the basics.
But in my experience, sites like Gramlee usually use PayPal as their mode of payment for their editors. Again there's no way to confirm this, but that's my best guess. Aside from that, this kind of site usually doesn't have a payout threshold since you get paid by the project because you are an independent contractor.
So, if we consider this assumption, then I would say Gramlee uses a convenient payment. If you are looking for more sites that offer a convenient payment method, I would recommend you check out the top sites that pay via PayPal.
How much money can you make?
The only information displayed on their site that proved slightly useful, in my opinion, is the amount they charge their clients. They say they charge $0.03 per word for up to 3,000 words. For any project that involves more words than that, the rate per word will be higher.
So, if we consider that as what the client will pay Gramlee, we can more or less gauge how much you can earn per project. Let me elaborate. Let's say the project was exactly 3,000 words long. That means the client will pay $90 to have it edited by a Gramlee editor.
The pay you will receive for this project will more or less be around $10 to $20 per hour depending on how many corrections you've made and the type of editing service you rendered. That's actually not a bad rate, in my opinion.
While this is not exactly the confirmed amount, there is plenty of feedback from Gramlee editors that support this claim. So, you can more or less expect to earn that kind of amount.
Now, the only real question you need to ask is, how often can you get to work on projects?
Unfortunately, there's really no guarantee you can work on projects on a regular basis. That's why I would say that even though Gramlee pays a decent amount, its earning potential isn't that good because there aren't a lot of projects.
I would know because I still haven't heard from them since I submitted my application weeks ago. The number of projects you can receive will also depend on your credentials, so to speak.
If you have been working as an editor for a long time, then chances are, you will receive more work since Gramlee will trust you with projects because they know you can deliver and you are already an experienced editor.
So, if that's the case, then you can expect to earn more from Gramlee. But if you don't have any prior background as an editor, then there will be fewer opportunities (if any) for you.
Can you use it on mobile?
In my opinion, there's really no point in doing editing work on a mobile device. So, to answer the question above, no, you can't. Not only is it hard to type quickly on a mobile device, but there's a high chance you will have a lot of typographical errors.
That's why if you are going to be editing any work, I would really recommend you do it on your laptop or desktop. That way, you can conveniently type in all your changes and comments.
Who can join Gramlee?
The one good thing I can say about Gramlee is, they aren't really very particular about where you live. As long as you have an internet connection and you have the skills to provide quality editing services, then you are eligible to join.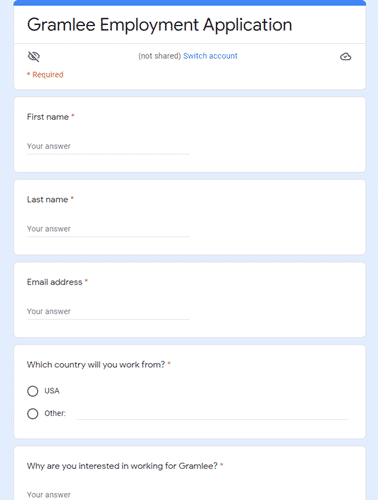 Gramlee uses Google docs for its sign-up form, which, in my opinion, is really quite low quality. I'm not saying Google docs isn't effective, but normally, when we talk about registration, sites use their own platform and do not rely on free services like Google Docs to gather information for potential members.
Aside from the basic information you need to provide, you will also have to provide information about your qualifications as an editor like any prior work experience as an editor, college courses you've taken that are related to writing, and a few other things.
Once you've submitted the registration form, all you have to do is wait for them to reach out to you via email. If you get accepted as an editor, they will email you with the next set of instructions you need to follow to start earning.
Can you get support?
As I've explained earlier, their site really does a poor job at explaining what being an editor is all about. They don't even have a dedicated FAQ page for editors. So, I would understand if you have plenty of questions about Gramlee.
The good thing though is, they provide an email you can direct your inquiries to. You can email them at [email protected] for any inquiries you might have.
That's why I would say they still have a decent support system in place since they provide a way for you to get in touch with their support team. However, I do wish they would provide more useful information regarding being a Gramlee editor. Because as of the writing of this article, their site really doesn't provide anything other than the bare essentials, which isn't a good thing, in my opinion.
Final Verdict
Gramlee is a copy editing/proofreading platform that will pay you for providing editing services to their clients. It has a couple of good features, but it also has several drawbacks you need to consider.
Let me wrap up this review with a summary of its pros and cons to give you an overview of what the site has to offer. Then, you can decide if you should apply to become an editor or not.

Pros:
Offers a passive way of earning extra cash
Payment via PayPal is available
Available globally

Cons:
Limited earning opportunities
High payout threshold
The app consumes more battery charge, so you will have to charge your device more than you're used to
You have to install the app manually
In my opinion, there are better sites that offer the same kind of earning opportunity compared to Gramlee. Their site really does a poor job at convincing you to sign up as an editor because they don't really talk much about it. This is really my main issue about Gramlee.
While they do pay a decent amount, you will practically be going in blind when you apply for an editor position because there's little to no information given on their website about what it entails to be one of their editors. And that's a big NO, in my book.
That's why I would only recommend you join this site if you really love doing editing work. If you are just simply looking for ways to earn extra cash, I would instead recommend you check out the top survey and GPT sites in your country.
The sites on this list all have good earning potential and they all offer simpler ways for you to earn. Plus, you will immediately know what to expect because these sites do a good job of explaining what they have to offer.
If you have any comments, questions, or have any experiences with Gramlee yourself, I would love to hear from you in a comment below.