Earning extra cash from online rewards sites has become a very viable option. There are so many ways to earn and sites to join that it can get quite confusing which ones you should go for if you are just starting out.
There's a site called Kolotibablo that promises a stable job for you regardless of where you live. It sounds appealing right? But before you go and sign up for this site, we have to check a few things first.
The main priority is to verify if this site really does what it says. So, is Kolotibablo legit or is it just a scam?
Let's address this concern right away. Kolotibablo is indeed a legit Get-Paid-To (GPT) site that will pay you for doing small jobs.
Now, is it worth your time? That's a different kind of discussion and to answer that, there are a few things we need to take a look at. This Kolotibablo review will give you an inside look so you will know exactly what to expect and can decide if it is worth joining or not.
What is Kolotibablo and what does it offer?
Kolotibablo is a GPT site that specializes in captcha solving.
In other words, you will get paid to solve captchas. That's what it offers in nutshell. So, you can say that it does provide an easy way for you to earn.
However, to truly tell if this site is worth joining, we have to take a closer look at the earning opportunities it offers.
So, I made a short video that gives you an inside look and shows exactly how you can earn from Kolotibablo. You can also read all the details below the video.
Option 1 – Captcha tasks
As mentioned above, this site mainly offers captcha solving tasks.
When you log in to the site you will be presented with several captcha tasks you can take (refer to image below).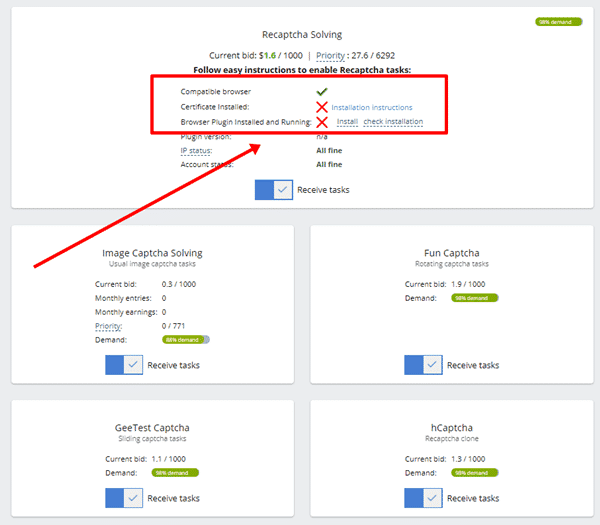 Before you can start working on captcha tasks though, you will have to add a security certificate on your browser and install their extension for Google Chrome.
Take note that you have to use Google Chrome when you are working on this site since that's the only browser their extension will work on.
As for adding the security certificate, they will provide you with a step-by-step guide on how to do that.
It can be a bit daunting if this is your first time adding a security certificate on a browser. Fortunately, the site provides clear instructions, so you will be able to do it properly even if it's your first try.
Now, once you've got those two things covered, you can start working on captcha tasks. To earn from these tasks, you actually have to solve 1000 captchas. If you check the photo above, there's something that says "Current bid".
That will be the amount they will pay you for solving 1000 captchas. Naturally, you will want to do tasks that have a higher bid.
Now, to start working on the captcha tasks, you have to choose which ones you want to receive.
Again, if you notice in the photo above, there's a box that says "Receive tasks". If you want to do that task, make sure it has a check mark. If you want to skip it, just uncheck the box. If you've already chosen the tasks you want to do, just scroll up the dashboard and click the "Start working" button.
It will then take you to where you can solve the captchas. Each captcha will have a timer. You need to complete the captcha within the allotted time, otherwise, it will count as an error. Getting too many errors will result in your account getting banned.
They offer you a way to remove the errors though. You can use your earnings to remove the errors, which is actually pretty smart on their end but not so favorable for you.
So, if you want to maximize your earnings from this site, you should be accurate and fast when solving these captchas.

Another thing you need to know about solving captcha tasks is, you can do it on your desktop/laptop or on your mobile device.
They have an app available for Android device so you can solve captchas even when you are not in front of your computer (I will talk about their app later).
So, if you're not at home, you can install the app on your Android device and be able to work on the tasks, which will help you become a more efficient earner.
Option 2 – Factory tasks
Factory tasks are another batch of tasks you can do to earn additional rewards on Kolotibablo.
When you are on the member dashboard, just click the "More Jobs" button in the upper right corner and you will be taken to the Factories page.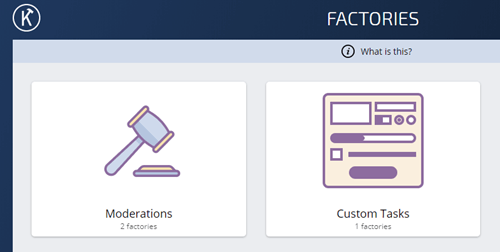 The tasks found on the Factories page are a bit different from the captcha tasks. You will find moderation tasks that will ask you to evaluate correctness of captcha entries as well as moderation of screenshots.
This one will ask you to judge screenshots as jobs accomplishment confirmations. There will also be customs tasks available from time to time which will ask you to solve custom captcha tasks.
For factory tasks, payment will be done per task unlike for captcha tasks where you will only get paid once you complete 1000 captchas. So, it's a bit easier and faster to do. The downside is, it pays less.
Option 3 – Referral program
As with most GPT sites, you can also invite other people to join the site and earn rewards once they sign up using your invitation.
You will then earn 10% of your referral earnings which will be shouldered by Kolotibablo.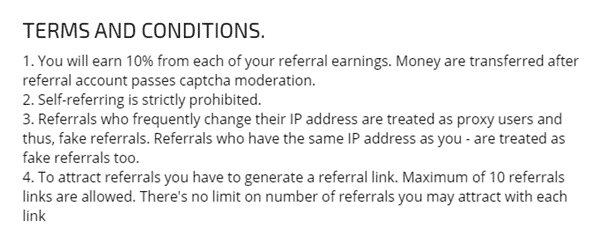 As you can see in the photo above, it's quite easy to invite people to join the site. You just have to generate an invite link.
However, they are pretty strict with their referral program. If they find that you are exploiting their referral program by getting fake referrals, your account will get banned.
They will be able to easily detect fake referrals too. So, never exploit their referral program because they will ban you and you will lose all your earnings.
How do you get paid?
As you already know, you will earn a specific amount for every task you complete (or for every 1000 tasks in most cases).
This will be reflected in your protected balance. You can then withdraw your earnings in several ways. They offer PayPal, Payza, Walletone, OKpay, and Bitcoin as modes of payment.
Each payment method will have its own threshold you need to reach. For the other payment gateways, you have to earn at least $1. But for PayPal, you will need to earn $5 before you can withdraw your earnings.
Now, to withdraw your earnings, you actually have to do something first. Here's a video explaining what you need to do before you can receive payment.
You first have to set up your pin. To do so, you have to go to your account settings and set up your PIN. The site will then send you a code that you need to input to complete the PIN setup. Once you've done that, you can now request a payout to the payment method you want (as long as you've reached the threshold).
I like the fact that they have a low payout threshold because it will be easier to reach, which will then help you receive your earnings a bit faster.
However, as we will go more into next, it can still take some patience to reach the payout threshold.
If you are interested in more sites with a low payout threshold, I recommend you also check out the fastest paying sites.
How much money can you make?
Let's just make this clear first. The money you will earn from Kolotibablo won't compare to what you can earn from a full-time job.
Now, as for the earning potential of this site, to put it bluntly, it has a low earning potential.
Take for example, the photo in the Captcha tasks section. The highest reward you can earn is $1.9 for solving 1000 captchas and solving 1000 captchas will take more or less around 4 to 5 hours depending on your speed.
So, if we are talking about efficiency, $1.9 for 5 hours isn't really that good. Now, if you want to earn a significant amount from this site, you will have to spend a lot of time solving captchas and completing factory tasks, which, in my opinion, is better spent on sites that pay better.
Also, a lot of members have been complaining that your account can get easily banned from this site, which makes it a less appealing option.
Remember, if you have too many errors when solving captchas, you will either get banned or your pay will be significantly reduced, which will not help your earnings.
That's why, in my opinion, this site is not very enticing if we're talking about earning potential. It feels like you're jumping too many hoops just to earn a small amount, in my opinion.
Can you use it on mobile?
As I've mentioned earlier, you can also solve captchas from the Kolotibablo app.
Unfortunately, their app is only available for Android devices. If you are using an iOS device, then you have to access their site from a mobile web browser.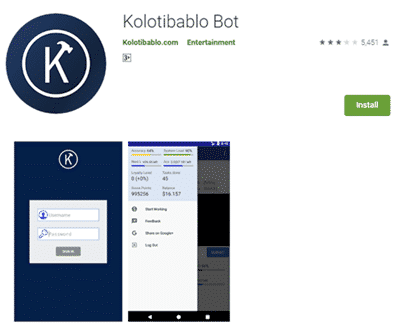 As for the app, it is user friendly and it will allow you to work on the tasks conveniently, which, as I've mentioned, will be able to help you become a more efficient earner because you can just solve captchas whenever you have a bit of extra time even when you are not in front of a computer.
Who can join Kolotibablo?
The best thing about this site, in my opinion, is it is available globally. That means you can join the site regardless of where you live.
You just need to make sure you have a Google Chrome browser installed on your computer or you have an Android device.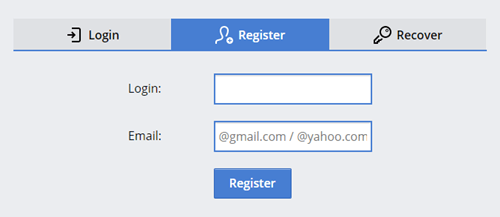 To sign up as a member, you just have to fill out their registration form. It will only ask you for your username and email address. Once you've provided the necessary details, they will email you your password so you can log in to the site.
You can then just change your password in the account settings if you want. But basically, that's how their sign-up process works.
Can you get support?
As for the support you can get from them, they only provide you with an FAQ page, which, in my opinion, doesn't really cover all of the important topics you need to know about the site.
Now, the problem is, if you have any questions about your account or you are encountering any issues on the site, there's no way for you to contact the Kolotibablo support team.
That's why I would say they don't have a good support system in place. It feels like you will be left hanging if you ever encounter any problems with the site or even if you just have a question you want to ask.
Final Verdict
Kolotibablo is a GPT site that will basically pay you for solving captchas. It has a couple of good features but it also has certain drawbacks that are hard to ignore.
Let me summarize its pros and cons to end this review. Hopefully, this will give you a better overview of what the site has to offer and help you decide if you should sign up or not.

Pros:
Low payout threshold
Offers payment via PayPal

Cons:
Limited earning opportunities offered
Low rewards
Doesn't provide a way to contact support
Their app is only available for Android devices
In my opinion, Kolotibablo is not an ideal site to join if you are looking for an efficient way to earn extra cash online.
It simply doesn't offer good earning potential. The low rewards and limited earning opportunities offered will mean you have to invest a lot of time to earn just a small amount.
Plus, they don't have a good support system in place, so if you encounter any issues, you won't have any way of getting help from them to resolve it. So, most likely, you will just wind up quitting the site. To be honest, just save yourself the hassle and find other sites to earn from.
For a list of sites with better earning potential and better support system, I suggest you check out the top survey sites in your country instead. The sites on this list offer better rewards and will be able to help you out if you encounter any problems.
Plus, you will also find a site you can join regardless of where you live.
If you have any comments, questions, or have any experiences with Kolotibablo yourself, I would love to hear from you in a comment below.