If you love to shop online, there's a site called Lemoney that claims it offers the highest cashback rates.
But is this claim true, though? Well, we're about to find out.
I have tested this site to see what it really offers and have compared it with other cashback sites to see how it holds up.
In this Lemoney review, you will get an inside look, so you will know exactly what to expect from it. Then, you can decide if it is a site worth joining or not.
What is Lemoney and what does it offer?
Lemoney is a cashback site that will reward you for availing of its cashback offers. It is indeed a legit site because you will really receive cashback rewards. But is it worth it?
Well, the best way to find out is to first understand how the site works, so you will have an idea of how to earn from it and how much money you can earn. So, here are the earning opportunities of Lemoney.
Option 1 – Cashback offers
The primary way to earn from Lemoney is by availing of the cashback offers. There are two ways you can avail of cashback offers. You can use the member dashboard, or you can use the browser extension. I'll discuss the member dashboard method first.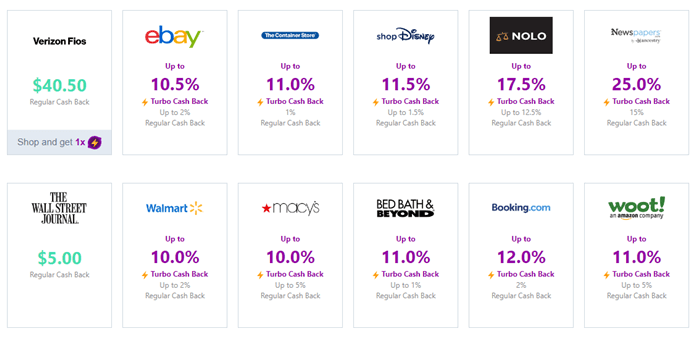 When you log in to the member dashboard, you will immediately see all the available cashback offers. The first thing I noticed was that a good number of cashback offers are available, which is a good thing.
There are also cashback offers from popular retail stores like Macy's, Walmart, Costco, Sears, and more. Now, to avail of a cashback offer from a store listed on the site, you just have to click on the store you want to shop from.
Then, you will see the full details of how you can avail of cashback rewards. When you are ready to shop, just click the "Shop Now" button, and it will take you to the online store.
All you have to do is proceed with the purchase like you normally would, and if you follow the requirements, you will be awarded the cashback reward. Some stores will allow you to also earn Turbo Credits (more on this later).
The important thing to remember here is that you have to go through the member dashboard to get to the online store you want to shop from. That way, Lemoney will be able to track your purchase and award you with the corresponding cashback rewards if the requirements are met.
Also, don't expect to receive the cashback reward immediately after your purchase. Lemoney states that the cashback reward will be available after four months of your purchase for the majority of retailers. For travel/rental sites, it will be six months.
That's an unusually long waiting period. Normally, on many other cashback sites, you just have to wait 45 to 60 days for the cashback reward to show up in your account. This is a huge drawback, in my opinion.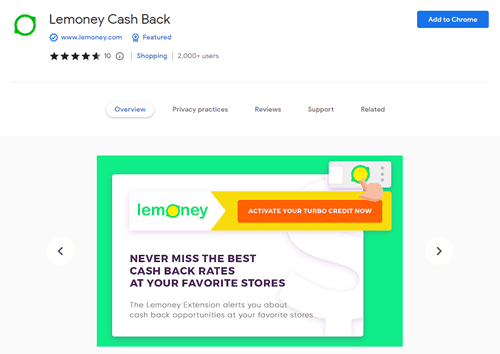 The other way to avail of cashback offers from Lemoney is by installing its browser extension. By doing so, you won't have to log in to the member dashboard to avail of cashback offers.
When the browser extension is all set up, Lemoney will be able to track your purchases from partner stores using the browser extension.
So, you can just go to the online store you want to shop from, and the extension will notify you if it has current cashback offers from Lemoney. If it does, it will automatically apply to your purchase, provided, of course, you meet the requirements.
Once the purchase is completed, you just have to wait 4 to 6 months (depending on the store) for the reward to be credited to your account.
Most of the stores offer around 2% to 10% cashback rates, which is a pretty decent rate, in my opinion. But there's a way to increase the cashback rates, and I will discuss it later.
Option 2 – Referral Program
Technically speaking, Lemoney's referral program is not an earning opportunity. You will only earn Turbo Credits for participating in the program. Here's how it works.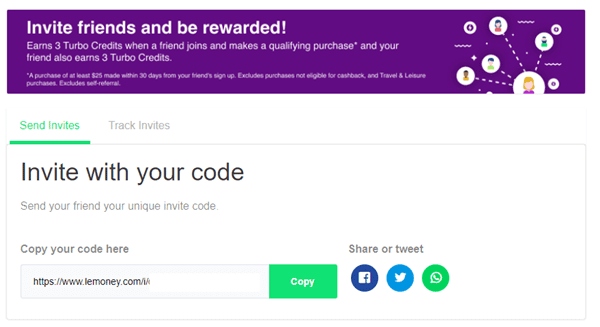 To invite a person, you just have to share your invite code with them. When they click the link and register as a member of Lemoney, they will become your referral.
But, as the photo above shows, your referral must make a qualifying purchase of at least $25 within 30 days after registration for you to receive the referral reward, which will be 3 Turbo Credits. If your referral meets this requirement, they will also receive 3 Turbo Credits.
It's not a very profitable referral program, in my opinion, because you won't be earning anything. The Turbo Credits you will earn can only be used to boost cashback rates. I will explain this later.
Recommended: Check Out the Best Cashback Sites
How do you get paid?
You will receive a certain amount every time your cashback reward is credited to your account. Then, once you've earned at least $25, you will be able to withdraw your earnings to your PayPal account.
This is the only payment method Lemoney offers, so if you are interested in joining, you have to make sure you have a verified PayPal account.
Overall, the payment system of Lemoney is relatively simple, and I like the fact that it offers a convenient payment method. But, as you can see, the threshold is actually quite high compared to other cashback sites.
Plus, as mentioned earlier, you have to wait four to six months before you can actually withdraw anything. That's quite a long wait, in my opinion.
If you prefer sites that will allow you to withdraw your earnings quickly, I recommend you check out the fastest paying sites instead.
How much money can you make?
As mentioned earlier, Lemoney claims it offers the highest cashback rates. It's partly true mainly because of their Turbo Credits system.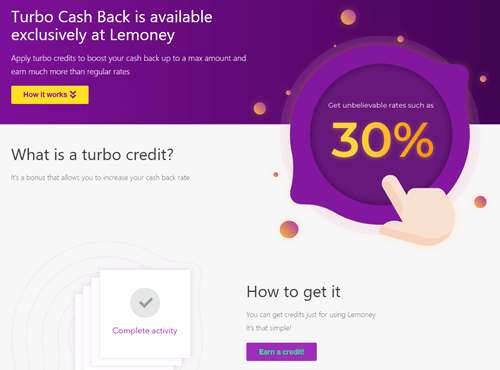 You see, you can use the Turbo Credits you've earned to increase the cashback rate of a store. So, instead of receiving only a 10% cashback reward, if you use your Turbo Credits, it can reach up to 45%.
So, what it claims is really true, but you have to keep in mind that you'd have to spend money or invite people to earn Turbo Credits. So, it still kind of evens things out, in my opinion.
The maximum amount of Turbo Credits you can use per purchase will only be 5. Plus, not all stores offer Turbo Cashback, so you really have to pick which stores you want to use it on.
Overall, I would say that even though Lemoney will allow you to receive a high cashback rate, its earning potential isn't that great. Sure, the Turbo Cashback can help increase your earnings, but it will still take several purchases to earn enough Turbo Credits. So, it kind of balances everything, in my opinion.
You will practically receive little advantage from it. Be that as it may, Lemoney still offers decent base cashback rates, so you can still earn a decent amount even without applying the Turbo Cashback.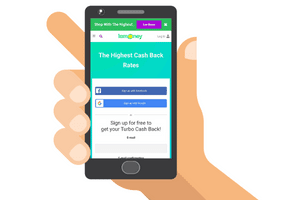 Can you use it on mobile?
Lemoney doesn't have a mobile app you can download, but its site is optimized for mobile use, so you will be able to access it from a mobile website conveniently.
You won't have to zoom in to click the links or offers. It's especially useful if you like to shop using your mobile device. The site is also not spammy. You will not encounter any annoying pop-up ads while using it, which is all you can really ask for, in my opinion.
Who can join Lemoney?
Lemoney is focused on US-based websites. It cannot guarantee cashback payment on purchases made on sites outside the US. Plus, Lemoney cannot process a withdrawal for any member who does not have a physical address in the US.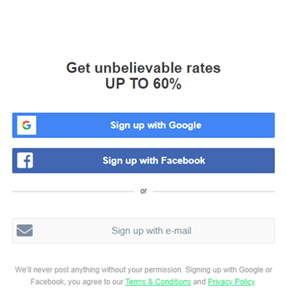 So essentially, Lemoney is only available for people who live in the US, which also makes sense because most (if not all) of their partner stores are US-based stores.
To register as a member, you have to be at least 18 years of age. Then, you can use your Google or Facebook account to sign in. You can also just provide your own login details. Once you are done with the sign-up form, you can now log in to the member dashboard and start shopping.
Can you get support?
If you have any questions about the site or your account, you can check out the Help/FAQ page. It discusses some of the basic info you need to know about the site.
If you can't find the answers you are looking for, you can click on the message icon found in the lower right-hand corner of the page and submit your inquiry. Just fill out the necessary fields and hit submit.
Overall, I would say Lemoney does provide decent support for its members since you can get in touch with their support team quite conveniently.
Final Verdict
Lemoney is a legit cashback site that will allow you to earn cashback rewards from its cashback offers. It has a couple of decent features, but it also has some disadvantages you need to be aware of.
Let me conclude this review with a summary of its pros and cons to give you an overview of what the site has to offer. Then, you can decide if you should give this a go or not.

Pros:
Offers payment via PayPal
Offers decent cashback rates
Has a lot of partner stores

Cons:
The wait time to receive the cashback rewards is very long
High payout threshold
In my opinion, Lemoney is a decent cashback site. But as you can see, the one major disadvantage of this site is the long wait time to receive your cashback reward. Among all the cashback sites I have tested, this one has the longest waiting period.
So, if you decide to join Lemoney, you have to be very patient because it takes a while before you can withdraw your earnings.
Now, if you are looking to earn extra cash without spending a single dime, I would suggest you check out the top survey and GPT sites in your country instead. The sites on this list all have good earning potential, so you'll be able to earn a decent amount on a regular basis, and you'll be able to withdraw your earnings quickly, to boot.
Plus, you will definitely find a site you can join regardless of where you live.
If you have any comments, questions, or have any experience with Lemoney yourself, I would love to hear from you in a comment below.