If you've been looking for mystery shopping sites to join, you might have already encountered a site called Market Force.
This mystery shopping site promises you will be able to earn by doing mystery shopping assignments.
But does it hold up to its promise? In other words, is it legit or is it a scam? And if it is indeed a legit site, is it worth joining?
This Market Force review will address those questions and more. It will reveal all the details you need to know about the site so you can decide if it's a yay or a nay.
What is Market Force and what does it offer?
Market Force is a customer experience management company that offers a couple of ways for you to earn extra cash.
They have a movie studios and theatre panel but it is a separate panel. But for this review, we'll be focusing on the mystery shopping aspect they offer.
It is indeed a legit site that will pay you for completing mystery shopping assignments. Now, to answer the question whether it is worth joining or not, we have to consider a few things. The first thing is to take a closer look at the earning opportunity it offers.
This way, you can understand how the site works and how well you can earn from it. So, here's how you can earn from Market Force.
The earning opportunity – Mystery shopping assignments
The main way you can earn from Market Force is by completing mystery shopping assignments. When you become a mystery shopper, you can either use their website or mobile app (I will talk about their app later) to find mystery shopping assignments.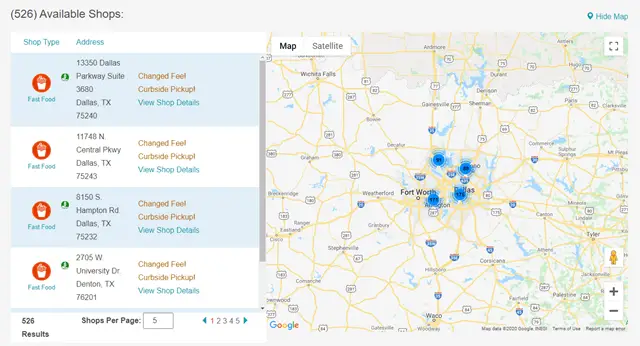 Once you log in to the site or app, you will be able to see all the shops near your location with mystery shopping assignments. Simply choose which shop you are interested in and click the View Shop Details link.
It will then show you the details for the assignment (refer to the photo below).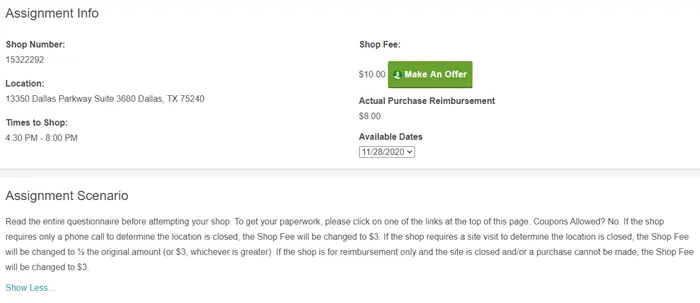 You will see the reward you will get for completing the assignment as well as the dates and time available to do the shopping (I will discuss later how their reward system works). You will also see the reimbursement details for the assignment.
If you want to do this assignment, you have to click the Accept Assignment button at the bottom of the page. When you click the button, it means you are willing to do the assignment at the date you specified.
If you notice on the photo above, there's a "Make an Offer" button. That button is actually for negotiating the fee for the assignment, (more on this later) which is one of the more unique features of Market Force.
Sometimes, an assignment will require a very specific criteria to be met, so you might have to answer a set of questions first before you can accept the assignment. If you encounter that kind of assignment, just answer the questions presented as honestly as you can.
Now, before you accept the assignment, you have to carefully read the Assignment Scenario so you can understand what you need to do to complete the assignment. Make sure you fully understand what the assignment is asking you to do.
You will then have to wait for a confirmation email from Market Force. If you receive the confirmation email, it means you have been accepted as a mystery shopper for that shop. Simply perform what the assignment is asking you to do at the specified date and time.
Once you have done the assignment, you have to submit your report to Market Force. Submitting the report is actually a very crucial process when doing mystery shopping assignments. You have to make sure all the necessary information is included in your report.
Otherwise, you will not get paid and you have essentially just wasted your time and money. So, when submitting your report, you have to take your time and make sure everything is in order before you submit it.
Once your report is submitted, you'll just have to wait for Market Force to verify your report. If everything is in order, you will receive the payment for the assignment (I'll talk about the payment process next).
Recommended: Check Out the Top Survey Sites in Your Country
How do you get paid?
Once your report for the assignment has been verified, you'll be eligible to receive the compensation. Payment will then be processed once a month, specifically on the 15th day of each month.
The good thing about their payment system is, you won't have to reach a certain threshold to get paid. Whatever you earn for the month will be the amount you will receive.
So, for example, if you've earned $25 within November, the payment will be processed on the 15th of December. You can then choose to receive the payment through a check which will be mailed to you, or you can choose to get paid through direct bank transfer.
Obviously, payment via check will take longer. So, if you want to receive your payment quickly, the better option is through direct bank transfer.
If you are interested in more sites that pay via direct bank transfer, I suggest you check out the top sites that pay via direct bank transfer.
How much money can you make?
One unique thing about Market Force's mystery shopping assignments is that you can negotiate the fee you will receive for doing the assignment.
As mentioned earlier, you can actually set the fee you want to receive for completing an assignment by clicking the Make an Offer button.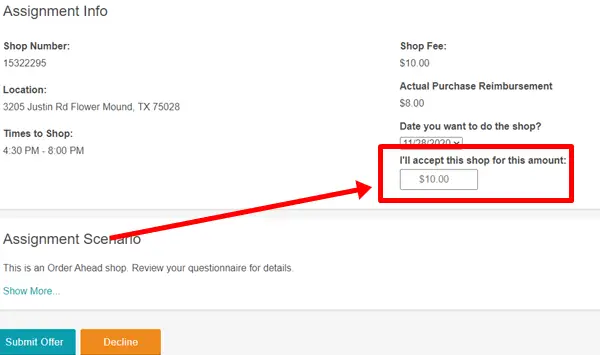 Now, it's up to Market Force whether they agree with the fee you set or not. So, the amount of money you can make from Market Force will actually depend on well, the market.
Normally, you will be offered around $10 to $15 for every assignment, which isn't that bad, in my opinion. But if these assignments are not being taken by members, that would mean the offer isn't really worth the trouble. So, Market Force might be forced to pay more for these assignments.
The smart move is to observe the assignments available to you. If you see an assignment that has been around for quite some time, then it's safe to say you can negotiate for a higher fee so you can earn more. That will give you a better chance of earning more from an assignment.
Overall, in my opinion, Market Force has a decent earning potential because they will allow you to negotiate a higher reward.
Can you use it on mobile?
As mentioned earlier, Market Force does have a mobile app you can use to take on mystery shopping assignments using your mobile device. It's called Eyes: On.
Here's a short video explaining what the app can do.
Their app is available for download in both Android and iOS app stores. So, you won't really face compatibility issues, unless of course if you are using a Windows-based mobile device. If that is the case, you can still access their site from a mobile device using a web browser.
Their app is user-friendly, so you won't have a hard time learning how to use it and it can be very useful for reviewing details about the assignment. You can also use the app for checking if there are available assignments and you can use it to take on assignments.
But that's about the extent of what the app can be used for. I don't really recommend you use the app to submit your reports. As explained earlier, your reports must be accurate, and it can be a bit hard to do that on a mobile device.
I suppose that can be an option, but in my opinion, it isn't a very efficient one. But, there is one benefit to using their app though and I will explain it next.
Who can join Market Force?
The mystery shopping panel for Market Force is available in certain countries in Europe and it is also available in North America. But, they have different platforms for each country.
If you go through the normal link on their site, it will take you to their North America Shopper Force portal. This portal is for US and Canada residents.
If you live in Europe, specifically in the UK, Ireland, Spain, Italy, and France, you have to register through the appropriate portal. You will find the link to their European shopper portal on their Shopper Force login page.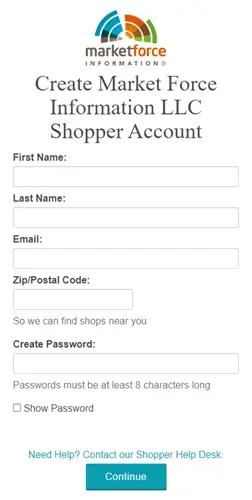 If you sign up through their website, you will have to fill out their registration form (refer to the photo above). Once you are done with the form, you will have to answer a set of profile questions. Then, you can log in and start taking assignments.
But if you use their mobile app, you don't actually have to choose the panel to register to. You can simply download the app and install it and it will recognize the country you live in by allowing it to determine your location. So, it's less complicated.
Can you get support?
The one main issue I have with their site is that there is quite a lot of important information you cannot find on their website.
Apart from the basic introduction to their mystery shopping portal, you can't really find any pertinent information about how the site works.
You will have to check their FAQ page to find out more about how the site works. The problem is, the FAQ page for their US portal doesn't seem to work. If you click on any question, it will only take you to a Salesforce page that will ask you to try out a software for free.
So essentially, you won't be able to read the answers to their frequently asked questions. For their European shopper portal though, their FAQ page is working. You will be able to read the questions and their answers.
I'm not sure if this is just how their portals work or if there's something wrong with the Help Desk for the US portal. Fortunately, the contact form on their US portal still works. So, you can still send in your inquiries using the contact form.
Overall, I would say their support system could use a bit of work, in my opinion.
Final Verdict
Market Force is a legit mystery shopping site that will pay you for taking on mystery shopping assignments. It has a couple of good features but it also has a few drawbacks you need to consider.
So, let me end this review with a summary of its pros and cons to give you an overview of what the site has to offer. That way, you can decide if you should join or not.

Pros:
No payout threshold
Process payments automatically
You can negotiate your fee for assignments

Cons:
Some important info is lacking on the website
You'll have to wait more or less a month to get paid
Their North America support system is less than ideal
The unique thing about Market Force is that you can haggle and try to get a higher fee for mystery shopping assignments. But that doesn't always work in your favor. Apart from that, there's really nothing special about what they have to offer.
They offer a couple of payment methods but one option is less than ideal (payment via check). You also have to wait for quite some time to get paid. And in my opinion, their help desk for their North America Shopper portal could use some improvement.
I would only recommend you join this site if you need another mystery shopping site to join. Now, if you are looking for a way to earn extra cash without having to do any shopping, I recommend you check out the top survey and GPT sites in your country instead.
The sites on this list all have good earning potential and you don't have to wait that long to get paid. Plus, you will definitely find a site you can join regardless of where you live.
If you have any comments, questions, or have any experiences with Market Force yourself, I would love to hear from you in a comment below.