There are plenty of ways to earn online. You can even earn by playing mobile games. Yes, that's an option. One app that claims you can do that is called Match to Win.
This app claims you can win real money and various prizes. So, it's definitely an enticing offer, in my opinion. But before you download this app, I would suggest you read this Match to Win app review first. It will first verify if the app is really legit or if it is just a scam.
And it will give you an inside look so you know exactly what to expect and can determine if it is an app worth using or not. So, let's go ahead and start this review, shall we?
What is Match To Win and what does it offer?
Match To Win is a Get-Paid-To (GPT) app that will reward you for playing a puzzle game. It is indeed a legit app since it will really pay you once you meet the requirements for withdrawing your earnings (I will talk about this later).
However, that doesn't immediately imply that this is a good app to use. To figure out if it is worth using or not, we have to first take a look at the earning opportunities it offers. That way, you can get a clear understanding of how the app works and its earning potential. So, here's how to earn from Match To Win.
Option 1 – Playing their puzzle game
The premise of their puzzle game is pretty simple. All you have to do is match 3 of the same pieces. For every level, there's a target score you need to reach to complete it. Usually, it will be a certain number of tokens.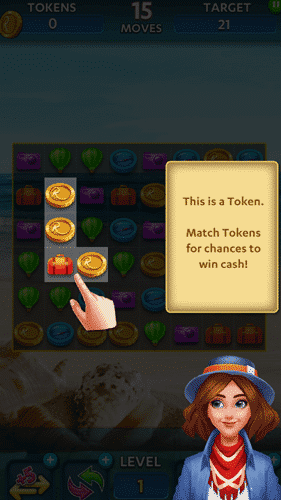 To play the game, you have to spend 1 energy. Then, you have to reach the target score before you run out of moves. Once you reach the target score, all the remaining moves you have will be converted into power ups that will be activated immediately so you can get a bonus on top of your final score.
At the end of every level, you will earn all the tokens you've unlocked for the level and you will have to play a scratch game where you will win a bonus prize. But before you can play that game, you will have to watch a video ad first.
Once the ad has finished, you can play the scratch game. You can win cash, tokens, and more time to play the game without spending energy. Repeat the process for the next level.
You can keep playing until your energy runs out or if there aren't any levels left to play.
Option 2 – Spin the wheel game
You can also play their spin the wheel game to win more prizes. Every day, you will be given 3 free spins. Just press the Spin the Wheel button at the bottom of the app and wait for the prize to be revealed.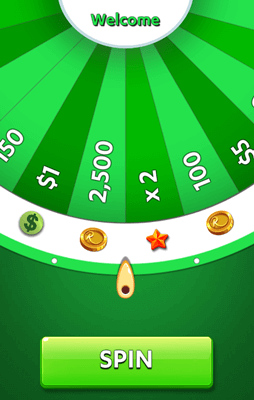 The usual prizes you can win are tokens, energy, prize multiplier, and cash (usually around $0.25 to $10). When you run out of free spins, you can watch video ads to get more spins. Once you've watched all the video ads, you'll have to wait for another four hours before you can spin the wheel again.
Option 3 – Sweepstakes
Another way you can win prizes from this app is to join their daily and monthly sweepstakes. This opportunity is actually where you can spend the tokens you've earned from the game. As explained above, you will earn tokens for playing their puzzle game and even on their spin the wheel game.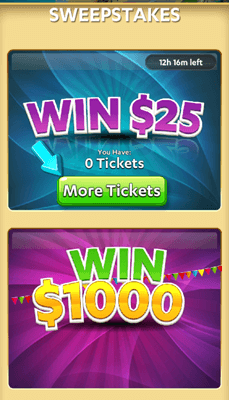 You can use these tokens to buy a sweepstakes entry. You can join their daily sweepstakes where you can win $25 in cash or you can opt for their monthly sweepstakes where you can win $1,000.
One entry to their daily sweepstakes will cost 2,500 tokens. For their monthly sweepstakes, one entry will only cost 1,500 tokens. So, you have to choose wisely which sweepstakes you want to join. The winner will be announced in the "Raffle" section of the app. So, if you joined their sweepstakes, make sure to check their "Raffle" section to see if you won.
Option 4 – Paid offers
Match To Win also has paid offers you can work on so you can earn a different type of reward (you will earn gold bars for this). In case you are not familiar with what paid offers are, they are basically short tasks you can do to earn rewards.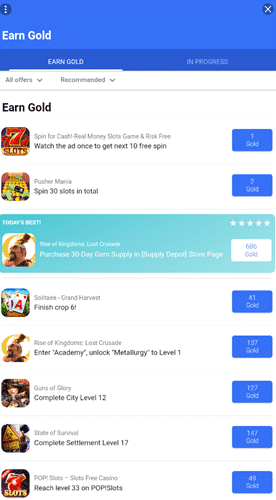 These tasks usually will ask you to answer surveys or quizzes, watch videos, play mobile games, or register to websites. In Match To Win's case, most of the paid offers will ask you to play mobile games.
To work on an offer, you just have to press the one you are interested in. You will see the exact instructions you need to follow to complete the offer. Make sure you take note of all the steps because if you miss just one, you won't be able to complete it.
The only problem with this opportunity is, as I've mentioned earlier, you will earn gold with this instead of tokens or cash. However, the app really doesn't explain what the gold is for. But based on my experience, it's going to be part of the game. You might be able to use it to unlock special features of the game.
During my testing, I wasn't able to reach the point where I had to use this kind of reward. So, I really can't tell what it is for and it is definitely a big minus that they are not clearer about this.
Option 5 – Quests
Quests are like special goals you can strive for to earn additional rewards. Every quest will usually reward you with a certain number of tokens or scratch rewards.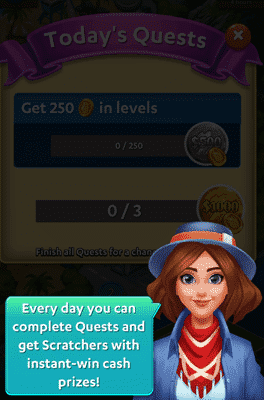 Usually, a quest will require you to match a certain number of tokens or achieve a certain score when playing. They are fairly easy to complete as long as you keep playing the game. So, you will eventually complete these quests without even trying. It's a nice way to earn additional rewards from the app.
Option 6 – Referral program
Lastly, you can earn additional rewards by inviting people to join the app through their referral program. All you have to do is go to the "Invite" section of the app and choose how you want to invite people.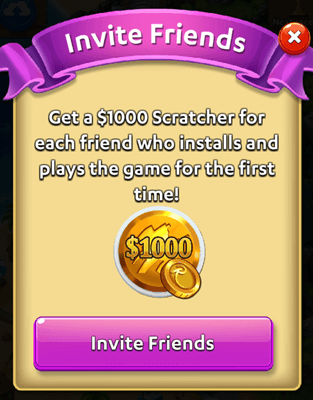 You can invite someone via email or via Facebook. Once they click your invite link and download the app, they will become your referral. But they do have to complete the registration first (which I will discuss later) for you to get the reward.
Once they've finished registering to the app, you will receive a $1,000 scratch reward where you can win up to $1,000 in cash or tokens. The reward will be random, so you really can't rely on earning cash from it.
Recommended: Check Out the Top Survey Apps
How do you get paid?
As explained earlier, you can win cash from playing their games (the main game and their spin the wheel game) and opening their scratch rewards. Every cash reward you win will be reflected in your account balance.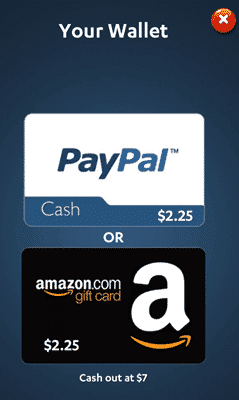 You can then withdraw your earnings via PayPal or convert it to an Amazon gift card once you've earned at least $7. That's the threshold you need to reach to withdraw your earnings. It's relatively low but later on, I will explain the issues about this.
As for the tokens you will earn, they can only be used to join their sweepstakes. It's not something you can redeem for rewards.
Overall, their payment system is relatively straightforward and I do like the fact that they offer payment via PayPal since it is one of the most convenient payment options around. Plus, they have a relatively low payout threshold.
If you are interested in more platforms that have a low threshold, I recommend you check out the fastest paying sites.
How much money can you make?
The problem with Match To Win is, everything will be based on chance. Plus, there's one thing I don't like about how their reward system is designed. At first, it feels like earning will be pretty easy because you can win cash prizes rather easily.
So, you might be thinking it will be easy to reach their threshold. However, after checking their app page, there are a lot of reports saying that it gets harder and harder to reach the payout threshold once you earn around $6.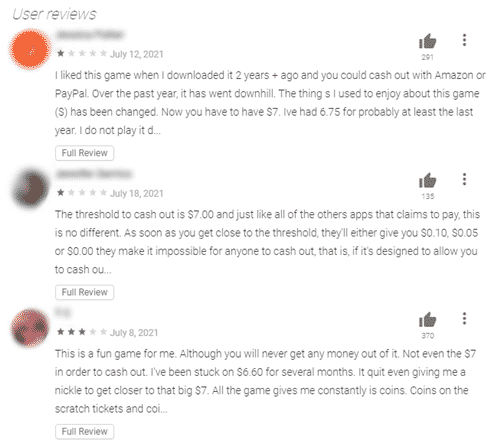 There are a bunch of user reviews on their app page saying that when you get closer to the threshold, the chances of winning cash prizes will significantly drop to the point that you get stuck and you won't reach the threshold to withdraw your earnings.
But there are users who say that you will eventually get there but it will take a lot of time. This kind of system is what worries me. Since their reward system is based on chance, it's already quite difficult to earn on a regular basis.
And since there is a lot of feedback about their game being made in a way where you will have a hard time reaching their threshold, then I would say the earning potential of this app is really low. Sure, you will eventually reach it, but it will take a long time.
Plus, you will eventually run out of levels to play if you are very active. When that happens, there's no way for you to earn except for playing their spin the wheel game. You will have to wait for the app to add new levels you can play to earn more.
That's why if your goal is to earn quickly, this is not the ideal app to use. You are better off spending your time on other platforms that will allow you to earn regularly and quickly.
Can you use it on a desktop?
Match To Win is a mobile-only platform. So, you will really need a mobile device if you intend to use this app. The app can be downloaded either from the Android or iOS app store. So, compatibility won't be an issue.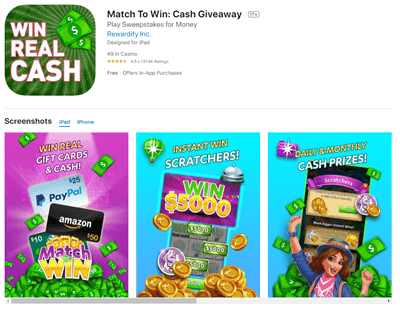 As for the app, it is easy to use. The user interface is intuitive. However, there are a lot of video ads. So, it can get quite annoying to wait for the video ads to finish before you can proceed to the next step when playing the game.
I do understand the video ads though because from what I can see, this is how the app earns money, through the ads they place. So, you can't really eliminate that from platform because it's what allows them to pay you if ever you reach their payout threshold or win their sweepstakes.
Who can join Match To Win?
The only redeeming quality of this app is that it is available globally. You will be able to register as a member regardless of where you live. But you do have to be at least 18 years of age to join.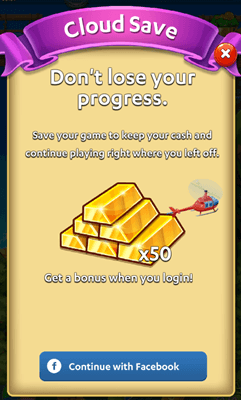 When you download and install the app, you will immediately get to play it when you open it for the first time. So, you won't undergo the typical registration process you encounter on other apps. So, in order to register, you have to open the app and press the "Arrow" button on the upper left-hand corner.
You will then see something similar to the photo above. To become a registered user of this app, you will have to link your Facebook account. You actually have to do this so that your progress will be recorded. So, make sure to do that first when you open the app for the first time.
Can you get support?
If you have any questions about the app or your account, you can check out their "Help & Support" section first. It discusses some of the basic topics about the app. But if you can't find the answers you are looking for, you can get in touch with their support team.
Just go to the "Help & Support" section and press "Get Help". It will take you to their contact form. Just fill out the necessary fields and submit your inquiry once you are done.
Overall, I would say they have a decent support system in place for their members since they offer a way for you to communicate with their support team. But I do wish they would have done a better job with their FAQ page. It's actually not very helpful. There are important topics that are not discussed.
Final Verdict
Match To Win is a GPT app that will reward you for playing their game. But, it has more limitations than advantages.
Let's finish this review by laying out its pros and cons so you can get an overview of what the app has to offer. That way, you can decide if it is really an app you should use or not.

Pros:
Offers a fun way to earn rewards
Offers payment via PayPal

Cons:
Rewards will be based on chance so you can't rely on it to earn regularly
Their app lacks relevant information (like what you can do with the gold rewards you have earned)
Difficult to reach the payout threshold
The main downside of this app, in my opinion, is its reward system. There's really no guarantee you can earn from it because everything will be based on chance. Yes, you might be able to win cash rewards here and there, but at the end of the day, you are at the mercy of their algorithm.
So, it's not exactly a reliable way to earn extra cash. But the game is fun to play. So, if you are just looking to pass the time, this can be a decent app to use. But if you are mainly looking to earn extra cash, there are better platforms you can use.
And speaking of better platforms, I would recommend you check out the top survey and GPT sites in your country instead. The sites and apps on this list all have good earning potential and will allow you to earn rewards on a regular basis.
If you have any comments, questions, or have any experiences with Match To Win yourself, I would love to hear from you in a comment below.