Microwork is an app that claims you will be able to make money with your smartphone. How it does that exactly, we'll find out in this Microwork app review.
But before we get to the nitty-gritty stuff, let me give you an overview of what this review is all about. It will show you everything you need to know about the app. It will answer all the important questions like, is this app legit or is it a scam? Is it worth your time or not? What does the app exactly do?
This review will answer all those questions and more so you will know exactly what to expect before you even sign up. That way, you can decide if this app really is something you should invest your time into or not.
What is Microwork and what does it offer?
Microwork is a Get-Paid-To (GPT) app that will pay you for completing small tasks. It is indeed legit since it will really pay you once you complete the tasks.
However, it being a legit app isn't the real indicator of whether the app is truly worth using or not. In order to find out if it is worth your time or not, we have to examine the earning opportunity it offers so you can understand how it works and how well you can earn from it.
I have, therefore, made a video that gives you an inside look and shows exactly how you can earn from Microwork app. You can also read all the details below the video.
Recommended: Check Out the Top Survey Apps
The earning opportunity – Tasks
The only way for you to earn with this app is by completing the tasks it offers.
To give you an idea of what you need to do to complete tasks, usually, you will have to take photos of certain items and upload them inside the app.
You will usually have to take a photo of certain products in stores because most of Microwork's clients want to ensure their products are displayed properly on shelves across different stores.
So, you will have to go out of your house and go to certain locations to take these photos. From time to time, you will also have to answer a short survey aside from taking photos.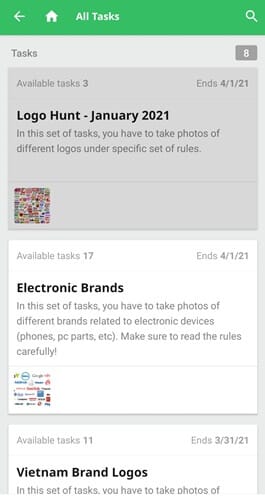 To view all the tasks available, simply log in to the app. Then, you have to press the Menu icon and press the "All Tasks" option. You will then see all the available tasks you can do.
When you see a task you are interested in doing, simply press it to see the details. In the task details page, you will see the instructions you need to follow to complete the task. You will also see the reward you will receive when you complete it, as well as the deadline of the task.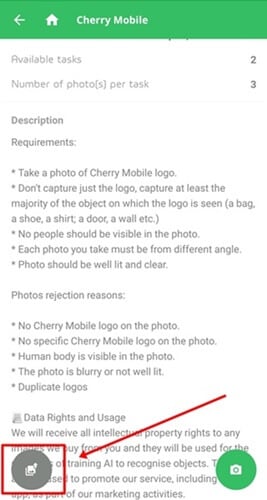 Aside from that, you will see the guidelines on why the task will might rejected. So, make sure to take note of that so you'll know what things to avoid. When you've completed everything the task asks you to do, just go back to the task details page and hit the "Upload" button on the lower left hand corner (refer to photo above).
Once you've done that, Microwork will review your submission. If they find that everything is in order and you've followed all the instructions and guidelines, they will award you with the amount promised (I will talk about how you will get paid in the next section).
Recommended: Check Out the Top Survey Apps
How do you get paid?
As explained above, once you complete a task, you will earn a certain amount. It will be credited to your Microwork account balance. You will then have two options to withdraw your earnings.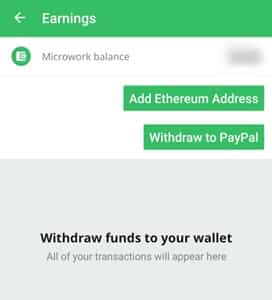 You can withdraw what you've earned via PayPal or convert it to Ether (a type of cryptocurrency) through Ethereum wallets like CoinBase or MyEtherWallet. The good thing is, you will only need to earn $1 in order to withdraw your earnings.
That's actually a very low payout threshold which means you shouldn't have a hard time reaching it. If you are interested in more sites that have a low payout threshold, I would recommend you also check out the fastest paying sites.
How much money can you make?
The amount you can earn per task will vary. Usually, you can earn $0.05 per photo you upload for a task. That's a very small amount, in my opinion. So, in most cases, you will have to upload 20 photos to reach their payout threshold.
And if you want to earn a significant amount using this app, you will literally have to upload hundreds of photos and complete a lot of tasks. That will take quite some time to accomplish.
That's why I would say the earning potential of this app isn't really that good. Plus, the number of tasks available isn't really that many compared to other apps that offer the same kind of opportunity.
That being said, Microwork can still be a decent secondary app to use since it doesn't really require much effort to complete the tasks it offers. Just don't expect to earn a lot from in a short period of time.
Can you use it on a desktop?
Microwork is a mobile-only platform. So, if you plan to become a member of this app, you will definitely need a smartphone or a tablet with an internet connection.
I would recommend you stick with your smartphone though since they have better cameras compared to even the best tablets around. And you will need to take good quality pictures to complete the tasks they offer.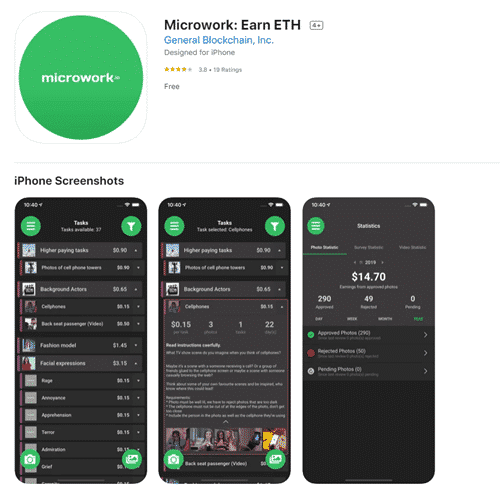 As for their app, it can be used either on an Android or iOS device. So, compatibility isn't really an issue. Their app is very user-friendly and you can easily figure out how it works.
Who can join Microwork?
Microwork is a global platform. That means you will be able to sign up as a member regardless of where you live. You just have to be at least 18 years of age to join.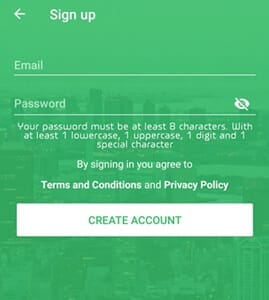 To become a member, you have to download and install the app first. When you run the app for the first time, you will have to go through their registration process. Simply fill out their registration form with your desired login details.
Then, Microwork will send you an email to verify your registration. Just click the verification link in the email that will be sent to you to complete the registration process. Once you've done that, you can log in to the app and start earning.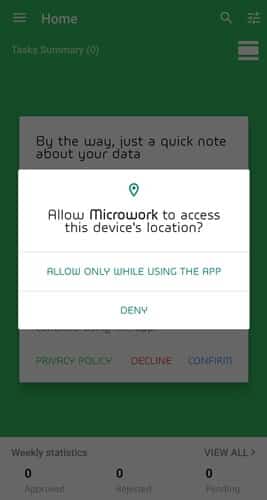 One thing you need to do though once you've installed the app is, you need to make sure you allow the app to determine your location so it will know which tasks to send your way.
You also have to allow the app to take photos. These two permissions are very essential to make sure the app will work as intended.
Can you get support?
The one thing I don't like about their app is, there is no support offered inside the app itself. You can't find any option to contact their support team. You can't even find an FAQ page.
So, if you have any questions about the app, you will have to go to their website and check out their FAQ page from there. The problem is, it only discusses a few of the basic questions.
Their site does show you an email address you can use if you need to get in touch with their support team. You can email them at hello@microwork.io for any inquiries you might have.
Overall, I would still say they have a decent support system in place because they do offer a way for you to communicate with their support team. I just wish it was also accessible through their app. It would have been more convenient for you.
Final Verdict
Microwork is a legit GPT app that will pay you for completing short tasks. It has a couple of good features to offer but it also has certain limitations you need to consider.
To wrap things up, let me finish this review with a summary of its pros and cons to give you an overview of what the app has to offer so you can decide if it is an app you should use or not.

Pros:
Has a low payout threshold
Offers payment via PayPal
Available globally

Cons:
Limited earning opportunities offered
Their app doesn't have any support options
In my opinion, Microwork isn't a bad app. It's just not that good either. It can serve as a decent secondary app to earn from since it offers a very simple way for you to earn. It also has a low payout threshold and it offers a convenient payment method (PayPal).
However, if you want to earn a decent amount from this app, you will have to invest a significant amount of time because their tasks don't really pay that well. Plus, they don't have a lot of tasks available. So, it will take quite a while to earn a significant amount.
That's why I would recommend you check out the top survey and GPT sites in your country instead if you are looking for great ways to earn online. The sites on this list all have good earning potential and can serve as your main source of extra cash online.
If you have any comments, questions, or have any experiences with Microwork yourself, I would love to hear from you in a comment below.