Mobee is an app that claims you can earn while shopping at your favorite stores. So, if you are looking for a fun and flexible way to earn extra cash, you might want to consider using this app.
But before you hit the download button, I suggest you read this Mobee app review first. It will verify if the app is truly legit or if it is just a scam. And if it is really legit, then it will check if the app is really worth using or not.
By reading this review, you will find out exactly what to expect from this app before you even download it. That way, you can make an informed decision on whether it is a good fit for you or not. So, let's begin.
What is Mobee and what does it offer?
Mobee is a mystery shopping app that will allow you to earn by taking on mystery shopping missions.
It is pretty similar to BeMyEye, another app that will allow you to earn by completing missions. And yes, it is indeed a legit app since it will really pay you when you complete missions.
Now, to fully understand how the app works and if it will be worth your time, we have to take a closer look at the earning opportunities it offers. This will also give you a snapshot of the app's earning potential. So, here's how to earn from Mobee.
Option 1 – Missions
The main earning opportunity of Mobee is their missions. If this is your first time hearing about mystery shopping apps, missions are really just mystery shopping assignments you can take on to earn rewards.
Mystery shopping assignments usually involve purchasing a product from a certain store and providing feedback about the product, store, or the service it provides.
When doing mystery shopping assignments, you have to make sure that the store staff will not know you are doing a mystery shopping task. So, it's like you are going undercover.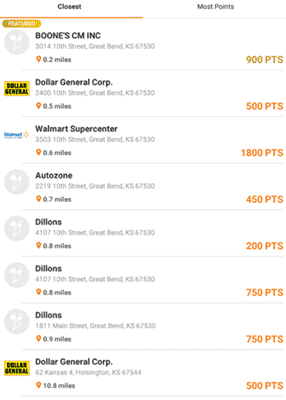 When you log in to the app, you will immediately see all the missions once you've allowed the app to detect your location. You can toggle the view of missions to display it on map or list mode. Map mode makes it easier for you to see if there are missions near your location.
List mode will make it easier to see all the available missions in your area. You can then sort it according to distance or most points offered as a reward.
To start working on a mission, just press which one you are interested in doing. You will then be taken to the mission brief page (refer to photo below).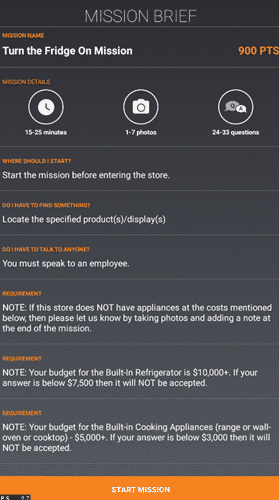 Make sure to read all the conditions stated in the mission brief because you will need to meet all those conditions to complete the mission. Now, you have to remember this. Only press the "Start Mission" button when you are ready to take on the mission.
The reason for this is, usually, missions will have to be completed within a certain time after you start it.. You typically have around 15 to 60 minutes to complete a mission. Keep in mind that most missions will have a maximum number of completions.
If a mission has reached the limit for completions, any further completions will not be accepted. It will also be taken off the list of missions that are available.
Once you complete a mission, you will receive a certain number of points as a reward and it will be credited to your Mobee account balance. I will talk about what you can do with your points later.
Option 2 – Achievements
Another way to earn points from Mobee is by reaching certain achievements. You see, when you complete missions, Mobee will keep track of it. And once you've completed a certain number, you can then go to the Achievements section to claim the reward (refer to photo below).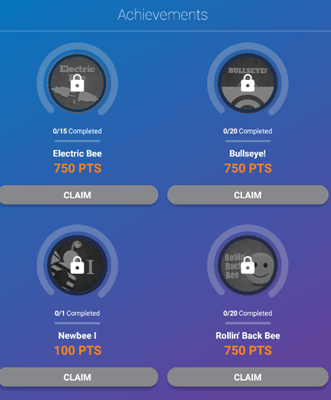 The first achievement will only require 1 completed mission and you will receive 100 points for reaching it. Just press the "Claim" button to receive the points. The next achievement will be at 7 completed missions. For this achievement, you will receive 300 points.
The last achievement you can reach is 30 completed missions and you will receive 2,000 points for reaching it. So, you can only earn a finite number of points from this opportunity.
Option 3 – Referral program
Lastly, you can also earn through Mobee's referral program. You just have to invite people to join the app. You can do this by sharing your invite code with the person you want to invite.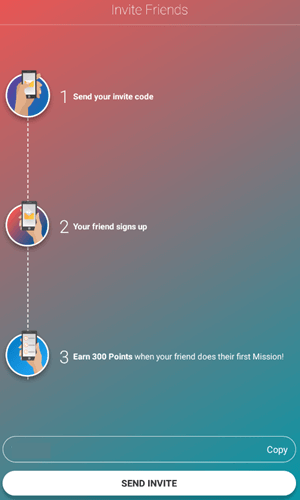 Then, you just have to remind the person you invited to input the code during registration so that they will be registered as your referral. Now, in order for you to receive the referral reward, your referral must complete his or her first mission. Once they've done that, you will then receive 300 points.
So, you need to make sure the person you invite is really interested in becoming a mystery shopper for Mobee. Otherwise, you won't earn from this opportunity.
Recommended: Check Out the Top Survey Apps
How do you get paid?
As explained earlier, for every mission you complete, you will earn a certain number of points. Then, you can exchange your points for various rewards. The minimum number of points required to redeem a reward is 500 points. That will be equivalent to a $5 gift card of your choice.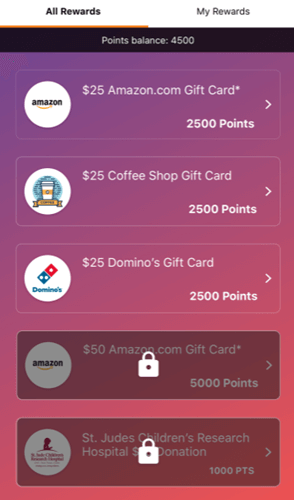 There are plenty of gift cards you can choose from but there are certain gift cards that are only available in a specific country (I will discuss later which countries Mobee is available in). Now, if you are looking to earn cash, then the only reward you can redeem that comes close to cash is a Visa eReward virtual account gift card.
There are no actual cash rewards being offered by Mobee. So, if you are mainly looking to earn cash, then this app is not for you. I would instead suggest you check out the top sites that pay via PayPal if you want to earn cash.
Now, as I've mentioned earlier, some missions will require you to make a purchase. In this instance, you will actually be reimbursed for the amount you spent on the mission. But it will be in the form of points and not actual cash. It will be included in the reward you will receive for completing the mission.
This is not really ideal, in my opinion, as you will be spending cash but are only able to get it back as a gift card. But that is how their system is and you have to accept that if you want to use Mobee.
How much money can you make?
Most of the missions available will reward you with around 500 to 900 points. To put it into perspective, that will be worth $5 to $9, which isn't bad. But for a mystery shopping site, it isn't that good either.
Plus, the availability of missions will mostly depend on your location. In my experience, major cities usually have the most number of missions available. So, if you live in a major city, then the earning potential will be relatively good.
But if you don't, then don't expect to earn a lot from this app. That's why I would say the earning potential of this app will depend entirely on where you live.
Can you use it on a desktop?
Mobee is a mobile-only platform. So, you will definitely need a mobile device to use it. And considering the nature of the opportunities it offers, you won't really find a need to use a laptop or desktop.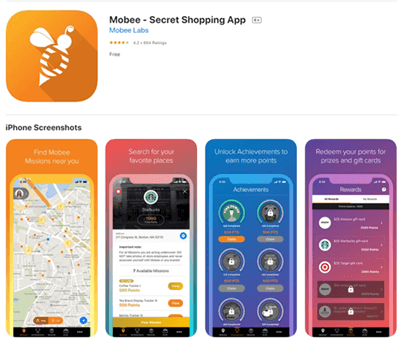 As for their app, it is available for both Android and iOS devices. So, you shouldn't have any trouble with compatibility. The app is very user-friendly. You will easily get used to how it works. Plus, you won't encounter any pop-up ads.
Who can join Mobee?
Mobee is only available in the US and Canada. So, if you live somewhere else, then this app is not for you.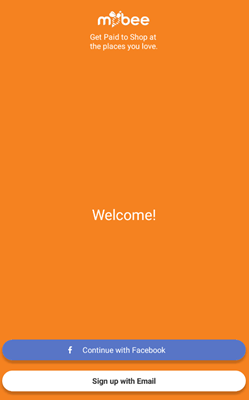 To sign up, you have to install the app first. Then, when you first open the app, you will be taken to the sign-up page. You can use your Facebook account or you can set up your own login details. Once you've done that, you can now log in to the app and start earning.
You just have to set up your profile and location before you can find any missions. After the setup, you can now start earning from Mobee.
Can you get support?
If you have any questions about the app or your account, you can refer to their support page first. Just press the settings icon on the lower right-hand corner and press "How to play Mobee". You will be taken to their FAQ page.
You can find answers to most of the common questions you will encounter about the app. If you can't find what you are looking for, you can file a support ticket to send in your inquiry for their support team. You can file a support ticket under the same section. Just press "Open a support ticket" instead of "How to Play Mobee" to access their contact form.
Overall, I would say Mobee has a decent support system in place for their members since they ensure you have a way to communicate with their support team.
Final Verdict
Mobee is a legit mystery shopping app that will reward you for completing mystery shopping missions. It has certain advantages but it also has a few drawbacks you need to keep in mind.
Let me wrap up this review with a summary of its pros and cons so you can get an overview of what the app has to offer. Then, you can decide if it is really worth joining or not.

Pros:
Offers an interesting way to earn rewards
Their app is user-friendly
Low payout threshold

Cons:
Limited earning opportunities offered
Doesn't offer cash rewards
In my opinion, Mobee is not a bad mystery shopping app. But it's also not a great one. There are a few reasons why I say this. First, you won't earn a lot from their missions. So, it does not exactly have a great time-to-money ratio.
Secondly, it doesn't offer any cash rewards. The best you can hope for is a prepaid Visa card. Lastly, the availability of missions will entirely depend on where you are located. So, if you live in a city where there aren't a lot of missions available, then you won't earn a lot from this app.
That's why I would only recommend you join this app if you really feel the need to join another mystery shopping app. Otherwise, I would recommend you check out the top survey and GPT sites in your country instead.
The sites on this list all have good earning potential and you will be able to earn a decent amount regardless of where you live.
If you have any comments, questions, or have any experiences with Mobee yourself, I would love to hear from you in a comment below.