There are a lot of mobile apps that offer ways for you to earn extra cash. But there are only a few that are really worth your time.
In this article, we will be talking about an app called BeMyEye. This app claims you will be able to earn money in your spare time.
Now, the question is, is the app legit or is it a scam? This is a very important question to ask so let me address this immediately. Yes, BeMyEye is indeed a legit app that will pay you for completing short missions.
However, this doesn't really tell us if the app is worth your time or not. To do that, we have to consider a few things and this BeMyEye review will help you find out whether this app is really worth using or not.
What is BeMyEye and what does it offer?
BeMyEye is essentially a micro task app that will pay you for completing short missions. These missions are geared towards gathering data from stores.
It's a lot like Mobeye, another micro task app. They do have slight differences, but overall, the missions you have to do are pretty similar.
To fully understand how this app works and how well you can earn from it, we have to take a closer look at the earning opportunities it offers.
I have, threfore, made a short video that gives you an inside look and shows exactly how you can earn from BeMyEye. You can also read all the details below the video:
Option 1 – Missions
As mentioned earlier, in order to earn from this app, you will have to complete short missions. And yes, these are mystery shopping missions.
This means the missions will usually ask you to check placements and prices of products in stores, evaluate the services provided by in-store personnel, and a lot more.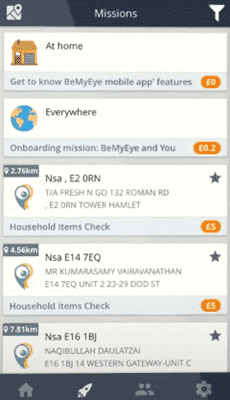 To view the missions, you simply have to log in to the app and go to the "Missions" section by clicking the rocket icon at the bottom of the app. You will then see a list of all the available missions you can complete. You can view missions in map mode so you can easily see which missions are close to your area.
Every mission will tell you how much money you will earn when you complete it. If you see a mission you are interested in, simply press it to view the instructions you need to follow to complete it. Make sure to fully understand what the mission is asking you to do before you work on it.
You will also see the deadline for the mission in the mission details page. When you book a mission, make sure you finish it before the deadline. Otherwise, you won't earn anything from it. So, only book missions when you are ready to do them.
Take note that every mission is on a first-come-first-serve basis. If somebody has already booked the mission, you won't be able to take it on. If the mission was a failure, it will be listed back as a mission you can take.
You can only reserve one mission at a time (unless your account reaches a certain level, which I will talk about later). When you've done everything that needs to be done, you have to submit all the data needed.
BeMyEye will then review your work and if everything checks out, they will credit the reward to your account (I will talk about how to withdraw your earnings later). You will also receive a certain number of experience points for your account level.
So as you can see, it is very important you do everything you are asked to do and pay attention to detail. If not, you risk not getting paid and will have wasted your time.
Option 2 – Referral program
You can also earn additional rewards by participating in their referral program. To earn from their referral program, you have to invite other people to join BeMyEye using your referral code.
Simply share your referral code with the person you want to invite and once they sign up as a member and input your code during registration, they will become your referral. You will then receive €1 when your referral completes his or her first mission.
The reward isn't that high, but I do like the fact that it's fairly simple to qualify for it. You just have to make sure the people you invite are really interested in using the app.
Recommended: Check Out the Top Survey Apps
How do you get paid?
As explained above, for every mission you complete, you will earn a certain amount which will be credited to your BeMyEye account.
And the good thing about their payment system is, you can withdraw conveniently either via PayPal or direct bank transfer through SEPA.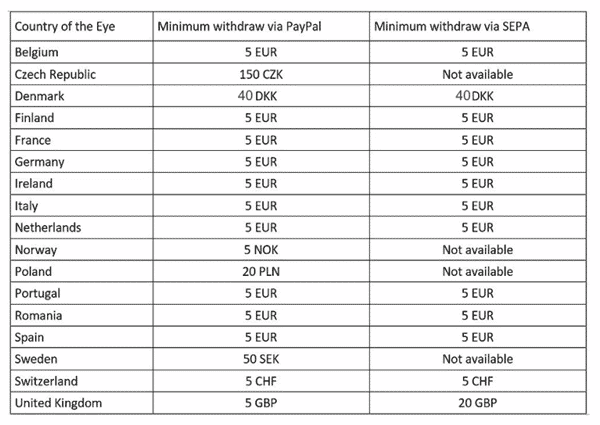 As shown in the photo above, the threshold required to withdraw your earnings will vary depending on the country you live in. Usually, you will have to earn €5 before you can withdraw your earnings via PayPal or direct bank transfer.
Overall, I would say the payment system of the app is pretty straightforward. I like the fact that for most countries, the payout threshold is relatively low. This means you will be able to withdraw your earnings pretty quickly.
I also like that you can withdraw your earnings via direct bank transfer because, in my opinion, this is one of the most convenient payment options around.
If you are interested in sites that offer direct bank transfer payments, I recommend you also check out the top sites that pay via direct bank transfer.
How much money can you make?
The amount you can earn from BeMyEye will mostly depend on your location. The app pays a fairly decent amount for every mission you complete. You will usually earn around €5 for every mission.
So, it will all depend on how many missions you are given access to. And with an app like this, the number of missions available to you will depend on your location. If you live in a major city, you will have access to more missions.
If you live in a rural area, there are fewer opportunities to earn. So, the earning potential of the app will totally depend on where you live. That's why I would say this app will only really be beneficial if you live in a city where there are a lot of missions to do.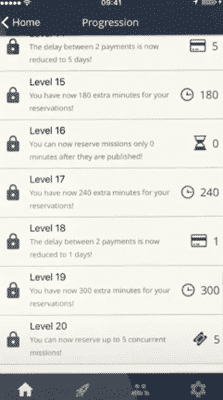 Now, as mentioned earlier, when you keep doing missions, your account will level up. And when it does, you will receive several benefits that are geared towards helping you earn more.
Basically, the higher your account level, the more missions you will gain access to. Also, when you reach a certain level, you can reserve two missions simultaneously. Another benefit is, the deadline for the mission will be longer compared to when you started.
There are a few other minor benefits but the three mentioned above are what will impact the amount you can earn from the app. With these benefits, it will be a lot easier for you to reserve and complete missions, in general.
It's a nice thing to have, because you don't really have to do anything special to gain these benefits. You will just receive them over time when you regularly complete missions.
Can you use it on a desktop?
BeMyEye is a mobile-only platform. That means you will have to use your mobile device to earn. Their missions also usually require the use of a camera. So, it's really quite impossible to do it on a laptop or desktop.
Fortunately, you shouldn't have any compatibility issues with their app because it is available for both Android and iOS devices. The only problem is, the link to their iOS app can't be found on their website (it links directly to the Google Play page for BeMyEye). So, you will have to go to the iOS app store and search for it.
Their app is also user-friendly, so you won't have a hard time getting used to how it works.
Who can join BeMyEye?
BeMyEye is only available in certain countries in Europe, namely:
Belgium
Czech Republic
Denmark
Finland
France
Germany
Ireland
Italy
Netherlands
Norway
Poland
Portugal
Romania
Spain
Sweden
Switzerland
United Kingdom
You also have to be at least 18 years of age to register as a member. To sign up, you have to download and install the app. Then, all you have to do is follow the registration process when you first launch the app.
During registration, the app will ask you to allow permission to determine your location. You just have to allow the app to do that so it can figure out which missions will be made available for you. Once you are done with the registration process, you can log in to the app and start earning.
Can you get support?
If you have any questions about the app or your account, you can go to the support section of the app and check out their help desk. If you can't find the answers you are looking for, you can send your inquiry via email at [email protected].
Overall, I would say BeMyEye has a decent support system in place because they do ensure you are able to contact their support team in case you need any assistance.
Final Verdict
BeMyEye is a legit micro task app that will pay you for completing short missions. It has a couple of good features but it also has some limitations you need to consider.
So, let me end this review with a summary of its pros and cons to give you an overview of what the app has to offer. That way, you can better decide if it is really a good fit for you or not.

Pros:
Has a user-friendly app
Offers convenient payment methods
Has a low payout threshold for most countries it is available in

Cons:
Limited earning opportunities offered
The amount of money you can earn will mostly depend on where you live
If you are eligible to join BeMyEye, it can be a decent secondary app to use to earn extra cash if you live in a city where there are a lot of missions available. It offers an interesting way to earn and it pays a decent amount for every mission you complete.
That being said, in my opinion, BeMyEye is best utilized if you are already out of the house and you have time to spare. You can simply open the app and check if there are nearby missions available. It can be a bit counterproductive if you have to go out of your way to go to certain locations to earn.
You have to take into consideration the travel expense of going to and from the mission location (gas money). So, the amount you will earn from the mission will sometimes not be enough to cover the expenses if you are not close by anyway.
Now, if you are more interested in ways to earn at the comfort of your own home, I would suggest you check out the top survey and GPT sites in your country instead. The sites on this list all offer earning opportunities you can do at home.
Plus, you will definitely find a site you can join regardless of where you live.
If you have any comments, questions, or have any experiences with BeMyEye yourself, I would love to hear from you in a comment below.