If you are looking for free ways to make some extra money online, there are plenty of apps that offer convenient ways to do this.
There are, for example, apps that will ask you to answer surveys and download mobile games. These are the most common mobile apps you can find that will allow you to earn a bit of extra cash.
But, there's this one app called Money SMS that promises to pay you just for receiving SMS messages. Judging by what it promises, it's a very easy way to earn extra cash indeed.
But I understand if you are a bit hesitant. After all, it sounds too good to be true. So is Money SMS legit or is it a scam?
This Money SMS app review will look into whether it is legit or not and it will also give you an inside look so you can determine if it is an app you should use or not.
What is Money SMS and what does it offer?
At its core, Money SMS is a Get-Paid-To (GPT) app. It is indeed a legit app that will pay you for simply receiving SMS messages.
So, in a sense, it offers a passive way of earning.
However, this does not necessarily mean it will be worth it.
To figure that out, you need to clearly understand how this app works and how well you can earn from it. Therefore, we have to take a closer look at the earning opportunities it offers.
So, I created a short video that gives you an inside look and explains exactly how it works. You can also read all the details below the video:
Recommended: Check Out the Best Passive Income Apps
Option 1 – Receiving SMS
The main earning opportunity moneysmsapp.com offers is, as mentioned earlier, by receiving SMS messages generated by their system or by their customers. To start this process, you have to download the APK installer for their app.
Money SMS used to be available in Google Play, but they are not able to offer the app on Google Play anymore. This is because Google has a very strict policy regarding reading the user's SMS. That's why they can't post it on Google Play anymore.
So, if you want to use this app, you have to learn how to install an app through its APK installer. Once you've installed the app, you just have to go through their registration process (which I will discuss later) and you are all set.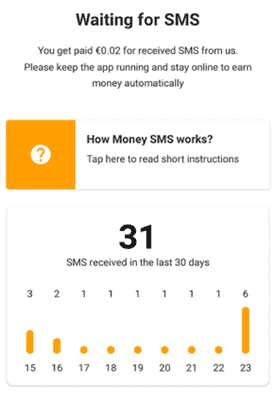 As mentioned above, Money SMS offers a passive way of earning because you won't really have to do anything once you have registered. You will just keep receiving SMS messages and they will pay you €0.02 per message you receive.
As for the messages you receive, you can simply delete them once you've confirmed you've received the payment for it. Again, there's no need to reply to these messages. That's all there is to it really.
Now, if you are worried that their app is invading your privacy, they do guarantee their app does not read any of your private messages or use any other data. So, according to themselves, it's not really a security threat you should be worried about according to their terms.
But whether you feel comfortable about this or not is a personal choice you can make after reading all of this review so you know exactly what it overall offers.
Option 2 – Referral program
You can supplement your earnings from receiving SMS messages by participating in their referral program. You can invite other people to join the site to receive a referral commission.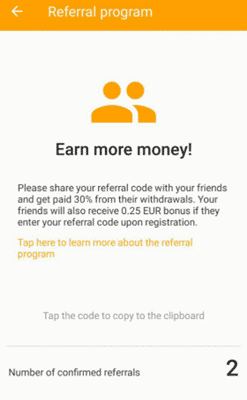 All you have to do is share your referral code with the people you invite and make sure to remind them to input the code when they register. You will then receive a 30% commission (which will be shouldered by Money SMS) when your referral will withdraw his or her earnings.
Your referral will also receive a €0.25 bonus for using a referral code from someone that is already a member during sign-up.
Personally, I do not long have a referral code that can give you a bonus as I have deleted the app after having tested it for more than a year but just simply decided it was not worth having on my phone for the reasons I will explain later in this review.
In my opinion, their referral commission rate is actually quite good since it will be calculated from the amount your referral will withdraw. So, it can add up to a decent amount once you've accumulated a lot of referrals.
Recommended: Check Out the Best Passive Income Apps
How do you get paid?
As explained earlier, you will earn €0.02 per SMS message you receive. It will be credited to your Money SMS account balance. Once you've earned a minimum of €2, you can request for payment via different payment methods.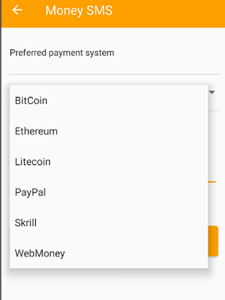 You can choose to get paid via PayPal, WebMoney, or BitCoin. These are the only payment options they offer and they are not planning on adding other payment options in the future.
I like the fact that they offer payment via PayPal and Bitcoin, because, in my opinion, these are some of the most convenient payment options available. I also like the fact that they have a very low payout threshold. You won't have to wait that long to request payment.
If you are interested in more sites that have a low payout threshold, I recommend you also check out the fastest paying sites.
How much money can you make?
If you really think about it, €0.02 is a very small amount. You will literally have to receive hundreds of SMS messages just to earn a decent amount. So, objectively speaking, Money SMS doesn't really have good earning potential.
But you also have to consider that you don't actually have to do anything special to earn. This, in my opinion, is what makes this app worth considering.
You can just set it and leave it. Then, you can just check your account balance from time to time to see if you can withdraw your earnings.
However, in some countries, you might only receive a couple of text messages per week or less, which means it could take you years just to reach the €2 payout threshold.
Personally, that is why I have deleted the app after having tested it for more than a year. I still had not managed to reach the payout threshold and therefore was just simply not worth having on my phone.
But this can vary from country to country, but no matter what, you should not expect to earn a lot.
Can you use it on a desktop?
The answer is NO. This is a mobile-only platform, and seeing as the main method of earning from this app is by receiving SMS messages, I don't really see the need to use it on a desktop. So, let's talk about their app instead.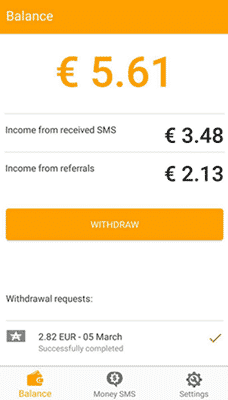 The Money SMS app is only available for Android devices. So, if you are an iOS user, then this app is not for you.
As mentioned earlier, to install this app, you have to download their APK installer. The app itself is very user-friendly. You will easily be able to navigate through the app since the user interface is very intuitive.
Who can join Money SMS?
They don't really indicate on their website which countries this app is available in – all they say is that if your country is not available during sign-up, you cannot join.
However, when I joined, you could basically choose any country. But you will not know for sure if you can then earn by using the app until you input your phone number and it will verify if you can or not.
But overall, it is definitely available in A LOT of countries.
To find out for sure if it is available in your country, you need to just download the APK installer and install the app (they have very clear instructions about how to do this on their website).
During registration, it will also ask you to provide your mobile number. They will then send a confirmation SMS message to the number you've provided. Once you are done with the registration process, you will receive a €0.25 sign-up bonus, which is nice.
And if you use a referral code you will get another €0.25 joining bonus which will give you a total of €0.50 right from the start.
Once the app is installed and you are registered as a user, then, you just have to input your preferred payment option. Everything else will be on auto-pilot mode.
Can you get support?
If you have any questions about the app, you can first refer to their FAQ page. It discusses most of the common questions you will encounter. If you can't find the answers you are looking for, you can submit a support ticket from their website.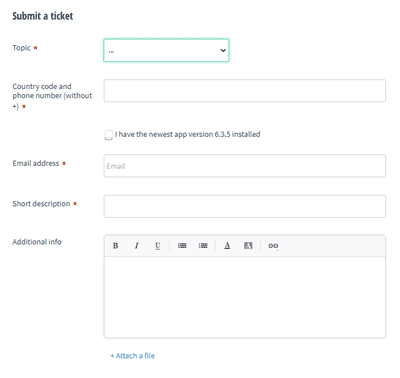 To access their contact form, just go to their FAQ page and scroll all the way down. You will then see a "Submit Inquiry" button. When you click that button, it will take you to their ticketing system (refer to photo above).
Just fill out the necessary fields and be as detailed about your inquiry. Overall, I would say they have a decent support system in place since they offer a way for you to get in touch with their support team.
Final Verdict
Money SMS is a legit GPT app that will pay you for simply receiving SMS messages. It offers a couple of good features, but it also has limitations you need to consider.
Here's a summary of its pros and cons to give you an overview of what the app is all about so you can decide if it is for you or not.

Pros:
Offers a very simple way to earn

Low payout threshold

Cons:
The app is only for Android devices
Limited earning opportunities offered
Low rewards
If you don't mind receiving random SMS messages from time to time, then Money SMS can be worth considering. You just need to set your expectations properly. You will not be able to earn a significant amount from this app since the rewards are really quite low.
But considering you don't really have to do anything else aside from installing and registering, then, in my opinion, it's fair to say it's a decent tradeoff. It can serve as a decent secondary app to earn from. That is of course, if this app is available in your country.
So, if you can use this app in your country, it can be worth considering. But if you are looking for ways to earn a decent amount, I would suggest you instead check out the top survey and GPT sites in your country.
The sites on this list all have good earning potential. You will be able to earn a decent amount without having to invest a lot of time. Plus, you will definitely find a site you can join regardless of where you live.
If you have any comments, questions, or have any experiences with Money SMS yourself, I would love to hear from you in a comment below.