Opini is a survey site that promises to pay you for answering the surveys they offer.
But is Opini a scam or a great way to earn some extra cash?
This is a valid and important question to ask, especially when you are trying to decide if it is a site worth signing up to.
So, let me just answer it right away. No, Opini is not a scam. It is a legit survey site that does what it promises to do.
But is it a survey site worth joining? This Opini review will tell you all the details you need to know about the site so you can decide if it is indeed a good fit for you or not.
What is Opini and what does it offer?
As you already know, Opini is a survey site that will pay you for completing surveys.
It is owned by Asia Opinions Ltd and is based in the UK. It has been around since 2018.
To be able to understand what the site is capable of, we need to take a closer look at how you will be able to earn from it.
This is the best way to gauge the earning potential of the survey site.
So, here's how you can earn from Opini.
The earning opportunity – Paid Surveys
There is only one way to earn rewards from Opini, and that is by completing paid surveys.
Once you complete the registration process, you can then log in to the member dashboard and see all the surveys you can take.
You will see all the available surveys you can take when you click on the Surveys tab of the dashboard. But before you can hope to receive any survey invite, you will have to complete your profile first (shown in the photo below).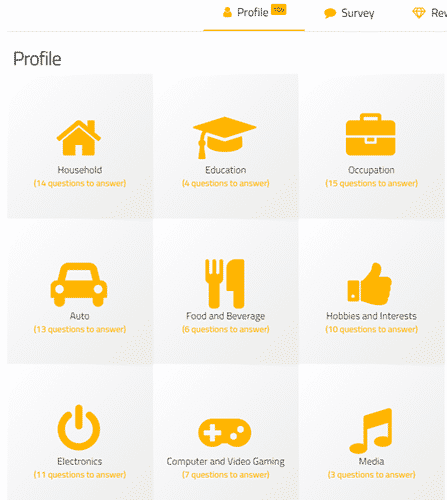 This is very important because the information you will provide will be the basis of which surveys Opini will send your way.
It's quite a long process, so you have to be patient. Plus, you won't get rewarded with anything for completing your profile.
Once you complete your profile, you will start to receive invites to answer surveys. You will see the available surveys in the Surveys tab. You will also receive an email notifying you that there's a survey you can answer.
As for the process of answering the surveys, you will have to go through a set of pre-qualifying questions. They do this to make sure you are really included in the demographic the survey is targeting.
If you qualify, you will then proceed to answer the actual survey. Once you complete the survey, you will receive the reward promised.
However, if you don't qualify, the process ends and you can simply move on to the next survey available.
As for the rewards you will get for completing a survey, I'll discuss that next.
How do you get paid?
For every survey you complete, you will be rewarded with a certain amount. The currency and the payout threshold will depend on the country you live in.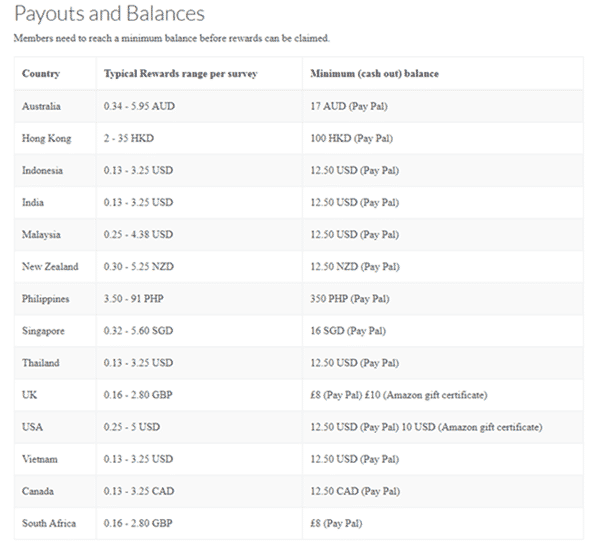 Once you reach the amount required to withdraw your earnings (refer to the image above for the exact amount for each country), you will be able to request payment via PayPal or GCodes.
Just be aware that if you use PayPal, you will have to pay a 2% handling fee so you will not get the full amount into your PayPal account.
You also have the choice to redeem Amazon gift cards instead.
If you are not familiar with GCodes, it is a virtual gift code that is redeemable for thousands of rewards like merchandise, gift cards, digital magazines and books, travel, event tickets, mobile top-up and more.
So, if you are planning to become a member, make sure to register to any of the two platforms.
You can also check out the top survey sites that pay via Paypal if you are looking for more opportunities where you can get paid in cash.
How much money can you make?
The answer to this question will largely be dependent on the frequency of survey invites you will receive, the number of surveys you will actually complete and the amount you will receive per survey completed.
To increase your chances of receiving survey invites, you need to make sure you complete your profile.
As for the number of surveys you will complete, the best way to increase that number is to make sure you answer the surveys as soon as you receive the invite.
That's because, usually, surveys will have a maximum number of respondents or an expiration date (so to speak). If you answer the survey as soon as you receive the invite, you have a higher chance of being included in the respondents who will be rewarded.
These are the best practices you can do to make sure you increase your earning potential.
What makes Opini a better choice than other surveys sites is, the payment threshold is relatively low regardless of which country you live in. This, at least, ensures that you get paid rather quickly.
All in all, Opini's earning potential isn't that high to warrant it becoming your main survey site for earning money though.
Can you use it on mobile?
What I like about this survey site is that it has a mobile app you can download on your mobile device so you can work on surveys even when not sitting in front of the computer.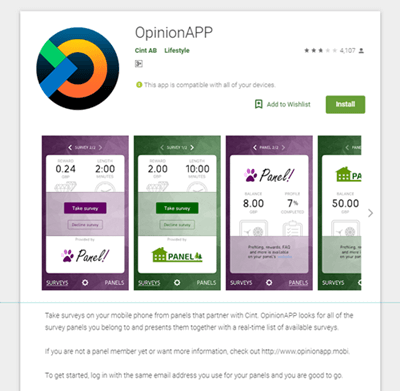 Their app is called OpinionApp, which is available for both Android and iOS devices.
What makes it great is, as I've mentioned, it is best to answer surveys as soon as you receive the survey invite to increase the chances of actually getting the reward.
You will be able to do that if you install the app on your mobile device. All you have to do is make sure your mobile device has an internet connection at all times. That way, you don't have to hurry home and open your computer.
You can simply open the app and answer the survey from there.
Something interesting but also a bit confusing about this app is that it actually works as an app for several survey sites at the same time.
So once you have it, you can easily get an overview of several sites at the same time. A few of the sites you also get access to through the OpiniApp is Surveyeah, Triaba, and Panel Champ.
This makes the app quite convenient. Just be aware that most of the sites you can connect to through OpiniApp do not give a huge number of surveys, but when you put it together it can still give you some extra earnings.
Who can join Opini?
Opini is available in 14 different countries. These are the list of countries where Opini is available.
United States
United Kingdom
Canada
Australia
New Zealand
Hong Kong
India
Malaysia
Singapore
Philippines
Thailand
Vietnam
Indonesia
South Africa
If you are a resident in any of the countries listed above, you are eligible to become a member directly on the website.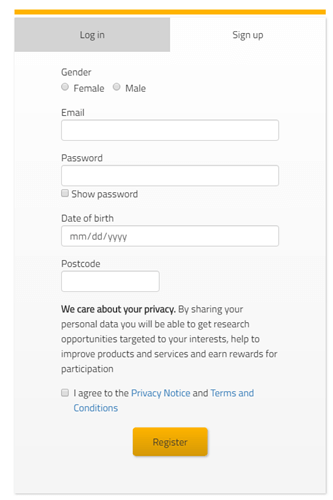 To register, just click the Join button on their homepage and choose the country where you live. You will then be redirected to the registration form shown in the photo above.
Just fill out the form and submit it. You will then receive an email confirming your registration. Click the link in the email to activate your account.
You do have to be at least, 16 years of age in order to register. There is no mention on their membership terms about a restriction on the number of members allowed to join per household. So, most probably, any number of people in the same household can join their panel.
However, as mentioned, if you use the app, you might be able to use the OpiniApp in more countries because it connects to several other panels as well.
To see if this is the case for you, you can just go to the App Store or Google Play and see if it is available in your country.
Can you get support?
Opini does provide a way for you to get support.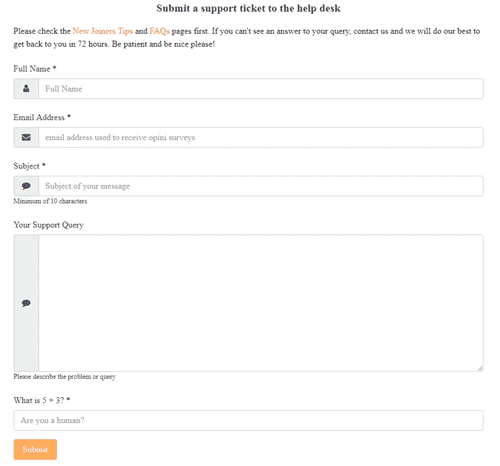 If you have any questions for their support team, you can use their contact form (shown in the photo above), which can be accessed by clicking the Help tab on their homepage.
They do set the expectation that they will try to get back to you within 72 hours.
In my experience, they don't always meet this time frame. I guess it will depend on the volume of inquiries they will receive. But, it is good that they give you a time frame, which is more than what you will get from some of the other survey sites.
They also have a FAQ section that discusses the basic topics, which can be of help to some extent. Plus, they have a section about tips where they discuss some of the things you can do to maximize your time, which is pretty nice.
One thing I noticed about their site though is, if you scroll all the way down to the bottom of their website, you will see links to their social media pages.
But if you click any of the links, you won't be redirected to the corresponding social media page. So, if you are expecting to contact them via their social media pages, you will be disappointed because as far as I can tell, they don't have one.
Overall though, they have a decent support system, in my opinion.
Final Verdict
Opini is a legit survey site that does pay you for completing their surveys. It's a pretty decent survey site, but it's not without its flaws.
So let's finish this review with a summary of its pros and cons so you can get a better overview before deciding if it is worth it to become a member or not.

Pros:
Payment via PayPal is available
Available in several different countries
Has a mobile app you can download

Cons:
As you can see, it has more pros than cons, but the downside is just too huge to ignore.
If you were hoping to make Opini your primary site to earn, unfortunately, it just pales in comparison to other survey sites in terms of earning potential.
It can, however, be a decent secondary site to join. The earnings you get from Opini can be a good supplement to other survey sites you can join.
For survey sites that will allow you to earn more, I suggest you check out the top survey sites in your country.
The earning potential of the survey sites on this list is all pretty good. Plus, you will be able to find a site for you if you don't live in any of the 14 countries where Opini is available.
If you have any comments, questions, or have any experiences with Opini yourself, I would love to hear from you in a comment below.