If you are looking for easy ways to make some extra money online, there's a site called Paid to Read Email that promises to pay you for, well, simply reading emails.
It sounds too good to be true right?
So, is Paid-to-Read-Email.com legit and really a way to earn or a scam to stay away from?
Let me just reveal right away that it is actually possible to earn by reading emails and doing other activities on the platform. However, this doesn't really tell whether this site offers a good opportunity for you to earn extra cash or if it is a waste of time.
To truly know if a site is worth joining or not, we have to evaluate a few things. This Paid to Read Email review will do exactly that.
It will take a close look at everything the site has to offer and give you an inside look, so you can decide if this is worth your time or not before joining.
What is Paid to Read Email and what does it offer?
As mentioned above, Paid to Read Email is a GPT site that will pay you for essentially, reading emails. It also has other earning opportunities, which is to be expected from a GPT site.
Now, to understand the earning potential of the site, we have to examine each of the earning opportunities it offers.
I have, therefore, made a short video that gives you an inside look and shows exactly how you can earn from this site. You can also read all the details below the video:
Recommended: Check Out the Top GPT Sites
Option 1 – Paid emails
As the name suggests, you will be able to earn by reading emails. But, it's not as simple as you might think. There are a few things you need to take note of when earning from reading emails.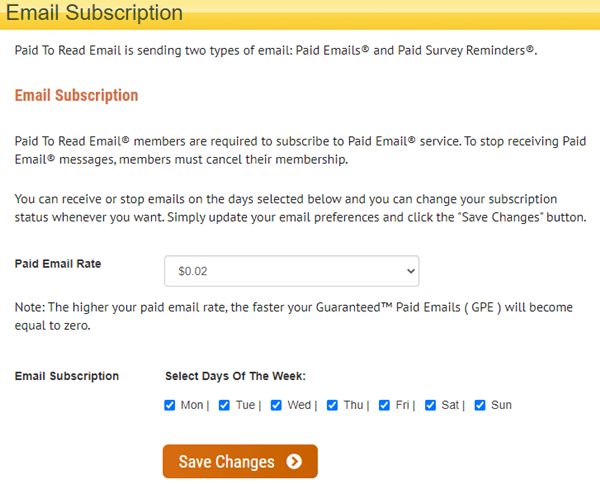 The site sends two types of emails: paid emails and paid survey reminders.
Paid emails are obviously what you can earn from while the others are just a reminder that you have surveys available to answer where you can earn additional rewards.
Now, let me explain how their paid emails work. When you become a member of the site, you will automatically be given $2 worth of guaranteed paid emails (GPE). That will be equivalent to 100 GPE for an email rate equal to $0.02.
Now, why is this important? Well, because you will only be able to earn from paid emails while your GPE is more than zero. So, if you keep reading paid emails, then, naturally, your GPE will go down. When it reaches zero, you won't earn anything. You will need to get your GPE back up.
You can do that by doing other earning opportunities the site offers (which I will explain next) or by earning points and redeeming them for GPE.
Earning from paid emails, in my opinion, is actually a balancing act. Since you can adjust the rate you earn for each paid email you read, you can either quicken or slow the decrease of your GPE.
The trick is to find the correct rate to be able to earn from paid emails on a regular basis. And to do that, you have to consider how to increase your GPE.
Option 2 – Paid surveys
Speaking of other opportunities, as mentioned earlier, you can also earn from this site by answering surveys. The site doesn't have its own surveys though. The paid surveys you will have to answer will come from other survey sites.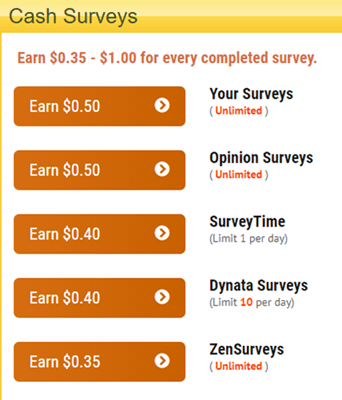 As you can see in the photo above, you will be asked to take surveys from other survey sites and in return, you will receive rewards once you are able to successfully complete a survey. Take note, I said successfully complete and not answer.
Why is it important? Successfully completing a survey means you were able to pass the qualification process of the survey. If you aren't aware, every survey has a qualification process you need to undergo. This is done to determine if you belong to the intended target of the survey.
So, answering a survey involves a couple of processes. First is the qualification process. You will need to answer a few screening questions. If they deem you are qualified for the survey, then you get to proceed to the next step, which is answering the actual survey.
To recap, once you pass the qualification/screening process, you will now have to answer the actual survey. Once you finish answering the actual survey, then you have completed it and you are now eligible to receive the reward promised.
If you did not qualify for the survey, the answering process ends and you simply move on to the next survey offer. In some cases, sites will give you a small compensation for the time you spent answering the qualifying questions. But usually, in my experience, you won't receive any.
In this site's case, there isn't any compensation offered if you don't qualify. Now, don't go thinking you should answer surveys with qualifying in mind. In my experience, that is not the best strategy.
If you provide inaccurate or dishonest information or "speed through the survey," your eligibility to participate in future surveys may be limited and you may not receive credit for completing the survey.
So, it's still best to answer surveys as honestly as you can. That, in my opinion, is the best strategy.
As for the surveys on Paid-to-Read-Email.com it can take quite some patience to find the ones you qualify for, and they do not pay quite as much as when you take them through many other sites.
Option 3 – Earning points
Earning points isn't really an earning opportunity per se, but it is important we discuss this and consider it an earning opportunity because as mentioned earlier, you will need this to increase your GPE and earn more from paid emails.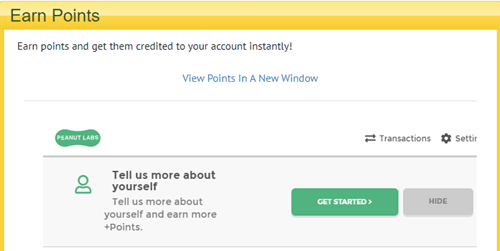 You can earn points by completing any offers presented in that section of the dashboard (refer to the photo above). When you go to the Points section of their website, you will see all the available offers you can complete to earn points.
Usually, in my experience, the offers you need to complete will mostly be surveys. So, you'll still be completing surveys to earn points.
But, there aren't really a lot of offers available in this section of their site, so if I were you, if you see any offer, you better complete it right away.
Option 4 – Cashback offers
Paid to Read Email also has cashback offers you can take advantage of. However, it is important not to expect a lot from it. The cashback offers available on this site aren't that many if you compare them to the best cashback sites.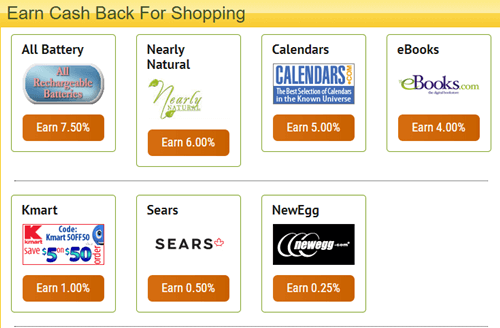 If you've been a member of a cashback site, then this will be very familiar to you. If you haven't yet, then the premise is really simple.
Buy the product using the link on the site. After purchasing, you will receive the cashback reward, which will be credited to your account.
The important thing to remember here is, you need to click on the offer on the site to earn the reward. That's all there is to it.
Option 5 – Referral program
You can also invite people to join the platform to earn additional rewards. You invite people to join the site using your invite link or banner. When they successfully sign up through your link or banner, they will become your referral.
You will then receive 15% of your referrals' earnings for completing offers, taking surveys and shopping online. It's not a bad deal, in my opinion. 15% is not groundbreaking but it's a pretty decent rate. If you are able to get plenty of referrals, you can earn a significant amount.
Of course, you have to make sure the people you invite are really interested in earning from this site.
Otherwise, it would be useless because, in order for you to earn from them, they have to be active on the site. So, keep that in mind when deciding if you should invite others or not.
Recommended: Check Out the Top GPT Sites
How do you get paid?
Every email you read and survey you answer will earn you a certain amount. Once you've earned $15,  you can request payment via PayPal. Payments are processed within three business days upon request.
Now, as for the points you've earned, as you already know, you can convert that to GPE so you can receive more paid emails or you can also just convert it to cash. You also have the choice to redeem Amazon gift cards using the points you've earned.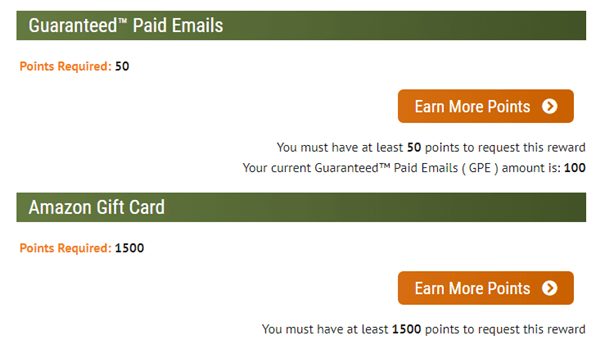 If you want to convert it to cash, 100 points are worth $1.00. If you want to convert the points to GPE, you will only need 50 points. For an Amazon gift card, you will need 1500 points to redeem and it will be equivalent to a $15 Amazon gift card.
It's good they provide a couple of options for payment but their payout threshold is a bit high, in my opinion when you consider the rewards per offer/survey they offer.
This means you will have to be extra patient to earn enough to redeem rewards. If you are looking for sites with a low payout threshold, I suggest you check out the fastest paying sites instead.
How much money can you make?
With GPT sites, the amount of money you can earn will mostly depend on how active you are on the site. The good thing about GPT sites is, you will almost always have some way to earn rewards because there are several earning opportunities offered.
So, you can earn rewards on a regular basis. But to determine if you are able to earn efficiently, we have to look at how well you are getting paid for doing the earning opportunities on this site.
For paid emails, you can actually set the rate of how much you will earn for each email you read. You can choose to set it to $0.01 up to $0.1. The problem with that is, if you set it too high, you will eat up your GPE a lot faster. So, you will have to replenish your GPE to earn more from paid emails.
As for paid surveys, you will mostly earn around $0.3 to $0.5 per survey. It's not a bad rate, in my opinion. But it's also not that good compared to many other survey sites. It's mostly in the middle.
But overall, I would say it has decent earning potential. You just have to figure out how to balance your GPE so you can constantly earn from paid emails.
Can you use it on mobile?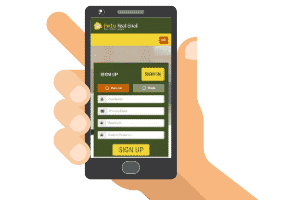 Paid to Read Email doesn't have a mobile app you can download, but you can still access their site from a mobile device using a web browser. The good thing is, their site is optimized for mobile use. So, you won't have any problems reading all the content or navigating through the site.
As for reading emails and answering surveys on your mobile device, you shouldn't have any problems with that since you can easily check your emails from your mobile device.
That's why I would say the site can easily be used on mobile, which is a good thing because it can help you become a more efficient earner since you will be able to earn anytime and anywhere.
Who can join Paid to Read Email?
This site is open to anyone with an internet connection. You can become a member regardless of where you live. And becoming a member is really very easy.

All you have to do is fill out their sign-up form and confirm your membership. Once you've done that, you can now log in to the site and start earning. And as soon as you confirm your membership, you will also receive a $3 joining bonus, which is pretty nice, considering they have a slightly higher threshold.
This will make it easier to reach your first payout. Just remember though, Paid to Read Email may terminate your account if no activity has occurred in your account for three consecutive months. If this happens, you will lose all your earnings.
Can you get support?
Paid to Read Email has a decent FAQ page that discusses most of the important topics you need to know about the site.
So, if you have any questions about how the site works, you can first check their FAQ page because you might find the answers you are looking for.
If you don't find what you are looking for, then you can always get in touch with their support team using the contact form provided on their site. They have social media pages but they haven't been active for quite some time on those platforms.
So, if you really want to get in touch with them, you have to use the contact form. Overall, I would say they have a decent support system in place because they provide a way for you to communicate with them.
Final Verdict
Paid-to-Read-Email.com is a legit GPT site that will pay you for, well, reading emails and answering surveys mainly. It has a couple of good features to offer but it also has a few drawbacks you need to be aware of.
Let me finish this review with a summary of its pros and cons to help you decide if this site is indeed worth investing your time into or not.

Pros:
Available globally
Offers payment via PayPal
Has a decent number of surveys available

Cons:
Slightly high payout threshold
Relatively low rewards
Paid to Read Email, in my opinion, can be an ok site to join. It offers a convenient earning opportunity (reading emails) and a convenient payment method (PayPal).
However, it has a slightly high payout threshold of $15 and the rewards are a bit low. Also, the method of earning by reading emails is just confusing and not an effective way to earn, so you will need to be quite patient with this site.
Therefore, it is not really a platform I can recommend as there just are many better options. You can, for example, check out the top GPT sites instead. The sites on this list all have better earning potential. Plus, you will also find sites you can join regardless of where you live.
If you have any comments, questions, or have any experiences with Paid to Read Email yourself, I would love to hear from you in a comment below.