PineCone Research claims to be one of the highest paying survey sites.
But is PineCone Research legit and really a great way to make good money by sharing your opinion, or is it a scam to stay away from?
I have tested hundreds of paid survey sites, and let me reveal right away that PineCone is one of the legit options, and I have been paid by it myself.
It is, however, not a site everyone can join. It is an exclusive survey site where you can only join with an invitation.
Also, even with an invite, you need to know what to expect, as it might not be the best option for you, depending on your goals.
In this 2023 PineCone Research review, you will learn all the details about what the platform offers, so you will know exactly what to expect and if it is worth trying to get an invitation.
You can also find an invite for PineCone for select countries later in the review if you decide it is a panel you want to join.
What is PineCone Research and what does the site offer?
PineCone Research panel is a part of the famous market research company NielsenIQ. So it is backed by one of the biggest companies within market research and has been around for a long time, so PineCone is 100% legit.
And as long as you do it honestly, you can definitely expect to get paid – I have personally been paid by it many times.
It is, however, very different from other survey panels in several ways, but more about that later.
Let's first go over the ways you can earn on PineCone Research, so you know what to expect before then going over how to get paid and the earning potential.
Option 1 – PineCone Research surveys:
PineCone Research is, first of all, a survey site, which means this is the main way to earn here. It is a fairly simple site that is easy to use.
Because it mainly has surveys as a way to earn, it does not necessarily have daily opportunities, but it has regular surveys. Even though you might not be offered surveys as often as on some other sites, PineCone Research surveys can be worth taking, as they are some of the highest paying surveys.
You will get paid a minimum of $3 per survey, which is very good for a survey site.
In general, you can just choose which surveys you want to participate in and which ones you do not. But as it is an exclusive survey panel with a limited amount of members, you can risk you will be removed as a member if you more or less never participate in the surveys.
If you are at risk of being removed, you will be notified by mail, so you will not just suddenly be removed but get a chance to become more active.
Option 2 – Product testing:
On occasion, PineCone Research gives you the opportunity to participate in product testing. This means you get to try and test new products that are not yet on the market in exchange for giving feedback on them after you have tested them.
Usually, you will then get to keep the product after you have tested it, and at times this can be some really cool products and a great way to get the newest products.
This is not something that will often happen, but as a member of PineCone Research, you will be told when the opportunity is there. If you get this offer, I would definitely encourage you to participate, as it often gives very good rewards/value for the time spent.
You should just not plan for it, as you never know if or when it will happen.
Option 3 – Sweepstakes:
PineCone Research regularly has sweepstakes, where you, as a member, have a chance to win some really great prizes.
They, for example, run quarterly and bi-weekly sweepstakes. The winner of the quarterly sweepstake wins $4,500, and the total rewards they are giving out is $18,000.
In the bi-weekly sweepstake, the winner gets $500, and the total rewards are $13,000. So if you are lucky, it can really give you some nice extra money.
The rules and conditions can change from sweepstake to sweepstake, but when there is one available, you will be able to see the rules and conditions on PineCone Research's website.
PineCone Research is free to join, as are all other legit survey panels. However, you can only join through an invitation – you can skip ahead to such an invite if you want to join now.
How do you get paid?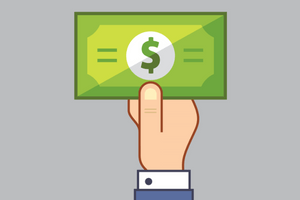 You get paid in points on PineCone Research. Luckily it is very easy to figure out how much points are worth. 1 point is worth 1 cent.
You can then exchange these points for a number of rewards. You can get paid via direct bank transfer, prepaid VISA card, products, or gift cards.
PineCone used to also offer PayPal, but they have now instead started using direct bank transfer if you want to get paid in cash. So it is still a very convenient way to get your earnings.
If you participate in product testing, the reward will often be that you get to keep the product.
Personally, I like panels that pay via PayPal, as it is such an easy way to get your money, but PineCone Research also offers other great options if you have different preferences, and being able to get paid directly into your bank account definitely also can be a good option.
You can get paid more or less as soon as you join – when you join and take your first initial survey, you will get 300 points ($3).
If you choose to get paid via bank transfer, the payout threshold is only $3, which means you can get paid every time you have taken a survey if you wish to. Or you can accumulate more money and get paid later.
In general, processing of rewards takes 3-5 business days on PineCone Research. If you are having products sent to you, it will, of course, also take a bit of time before the reward will be delivered to your house.
How much money can you make?
PineCone Research is, as already mentioned, one of the highest paying survey sites. You will get a minimum of $3 per survey, and the surveys are, on average, around 15 minutes but often even shorter, so it quickly adds up.
You will however not be offered surveys every day, so even though it pays well per survey, you should not expect to make a full-time income or become rich from taking PineCone Research surveys.
But they are definitely worth your time and a great way to make some extra money on the side by sharing your opinion.
Can you use it on mobile?
Taking surveys on mobile is a great way to make money on the go or whenever you have a little extra time.
That is why it is great when a survey site has a mobile-friendly website or, even better – an app that is easy to use.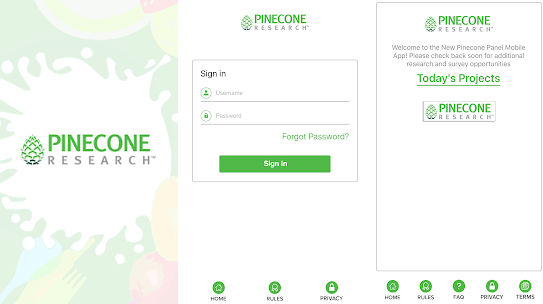 PineCone Research has an app and it is available for both iOS and Android. So if you join the panel, downloading this app can be an easy way to get access to the surveys.
This also makes it possible for you to get notified as soon as a new survey is available.
Sometimes surveys can fill up quickly, so if you want to participate as much as possible, it is good to have the app and get a notification when there is a new survey.
Can you get support?
Being able to get support if you have any issues is important as a member of any survey site.
This is where I have experienced some issues with PineCone, and it is an area where it is a bit of a letdown, in my opinion.
They do have the option for you to contact the PineCone Research support through email, and you will supposedly get an answer within 24-72 hours.
However, I have experienced several times that it takes quite a lot longer. And the answers I have gotten were very generic and almost as if they did not really read my messages but just sent a standard answer.
Waiting for long and then just getting a generic answer that is not very useful is a letdown and something PineCone could definitely improve, in my opinion.
However, you might never need their help, and then this is not an issue.
How to join PineCone Research?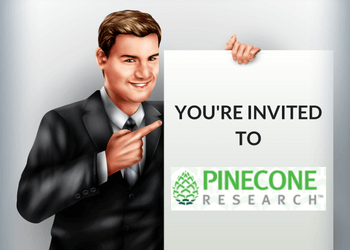 The joining process for PineCone Research is something very unusual for a survey site.
You cannot join just by visiting their website and signing up – in fact, you cannot even find this option on the website, which can be very confusing when you go there the first time.
PineCone Research has created an exclusive survey panel, which you can only join through an invitation. This means it is one of the hardest survey panels to join, but it is also one of the highest paying ones.
Sometimes I have such invitation links for select countries here at PaidFromSurveys.com, and you will be able to find them in the next section.
Before joining, be aware that only one person per household is allowed to join. If several people from the same household join, you will very likely be kicked out of the panel again.
PineCone Research invite
I sometimes am able to get an invite for PineCone Research for certain countries. Usually, it is for the US, UK, Canada, Germany, and France when I have invites. So if you live in one of these countries, you can click the link below, select your country and check if they are recruiting at the moment.
==>Click to Check for PineCone Research Invites<==
If you are not from one of these countries, you can unfortunately not join PineCone at the moment. And often, there might also not be invites for these countries as PineCone often does not give them out, and there is no real system to when they accept new members and when they do not.
You can then instead check out these great alternatives to PineCone Research, where you will definitely find panels you can join and find great opportunities no matter the country you live in and where they always accept new members.
Be aware that PineCone Research does not always accept new members and usually only accepts a certain amount of new members every month. This means that if you are reading this towards the end of the month, there might be some of the invitation links that are not working.
If that is the case, then just bookmark this page and come back at the beginning of the next month, where they might again accept new members.
Some months they accept new members throughout the month, and in other months the spots get taken very quickly. And sometimes they do not give out invites at all.
It all depends on the number of people that want to join that month. So just be aware that if one of the links is not working, just come back at the beginning of the next month, and then there should again be available spots.
Or check the alternatives through the link above.
PineCone Research scams to be aware of!
I just wanted to include one very important aspect in this review, as there are Pinecone Research scams you need to be aware of.
These scams have nothing to do with the platform itself, as that is 100% legit, as mentioned earlier. However, there are some scammers that sometimes misuse the logo and name of Pinecone Research.
One example of such a scam is a "mystery shopping" assignment. You would be given a fake check and advised to cash it and then use some of the proceeds to test a service. You would be told that you can keep the balance from the cashed check as payment, however, the check later bounces. This can get you into serious problems with your bank.
Other examples include recruiting for "business evaluation surveys" or "hiring" employees.
Be aware that Pinecone Research has no involvement in these fraudulent scams. Participating in Pinecone Research surveys is always free, and they will never ask you to cash a check for a large amount and then use the proceeds to "test" a service.
Final verdict
PineCone Research is definitely a legit survey site, but it also has its downsides.
So let's finish this review by summing up the pros and cons so you can get a better overview of what it offers before deciding if it is for you or not.

Pros:
High paying surveys
Great payout methods
Low payout threshold
Has user-friendly app

Cons:
You can only join through an invitation link
Often slow support
Overall, PineCone Research can be a good survey site to join if you get the chance. It might not have daily opportunities for taking surveys, but the surveys you get, pay very well, you have great payout options, and the site is easy to use.
However, their support can be slow, in my experience, but this is something you might not ever need, and it is still be a great survey panel.
In my opinion, it is not necessarily really worth the hassle to chase around for a PineCone invite if you cannot find one. There are so many great alternatives to PineCone where they always accept new members and where they even offer way more opportunities.
So if you cannot join PineCone, do not get too frustrated but just focus on other sites instead.
However, if you live in a country where they are accepting new members (click the button below to check for your country), then it definitely can be a great extra survey site to join.
If you have any comments, questions, or have any experiences with PineCone Research yourself, I would love to hear from you in a comment below.