If you are looking for a fun way to earn extra cash, there's an app called PlaySpot that claims you can earn by playing mobile games.
It definitely sounds like appealing, right? Before you download this app, I would, however, suggest you read this PlaySpot app review first so you'll know what to expect from it.
This review will verify if this app is really legit or a scam. This is the first thing you need to confirm before you join any website or mobile app. You want to make sure you join a site or app that will really pay you.
Aside from that, this review will also reveal all the details you need to know about the app so you can make an informed decision on whether this app is really worth using or not. So, let's go ahead and get started.
What is PlaySpot and what does it offer?
PlaySpot is a GPT (Get-Paid-To) app that will reward you for playing mobile games. It's pretty similar to Money Well, which is another app that will reward you for playing mobile games.
It is indeed a legit app since it will really pay you for playing their featured games.
Now, the question is, is it worth your time or not? To answer this question, we have to first examine the earning opportunities it offers. By doing so, you will understand how the app works and you'll get an idea of its earning potential.
I have, therefore, made a video that gives you an inside look and shows exactly how you can earn from PlaySpot. You can also read all the details below the video.
Option 1 – Playing featured games
The main way to earn rewards from PlaySpot is to play their featured mobile games. When you open the app, you will immediately see all the available mobile games you can play.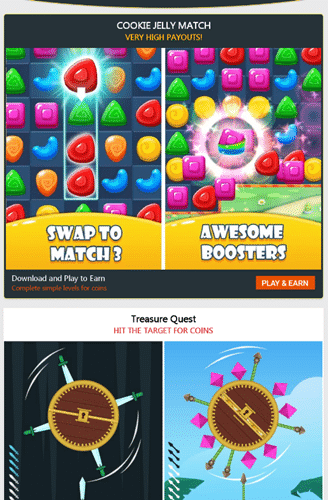 To start earning, you just have to click the "Play & Earn" button below the game. It will then ask you to install the game. Once the game is installed, go back to PlaySpot and press the "Play & Earn" button. This time around, it will open the game.
Then, all you have to do is play. After every round you finish, a push notification will pop up saying you've earned coins. Then, a video ad will play. You just have to wait for the ad to finish or until the close button appears. Once you've closed the ad, you can continue playing.
You can continue playing the game to earn more coins but the longer you keep playing it, the fewer coins you will get per minute. So, the best strategy is to keep playing it until the number of coins you will earn significantly drops.
When that happens, I would recommend you switch to a different game. At least, that's what I did to maximize my earnings when I was testing the app.
Option 2 – Paid offers
Another way to earn rewards from PlaySpot is to work on paid offers. If you are not familiar with what paid offers are, they are basically just short tasks you can do to earn rewards.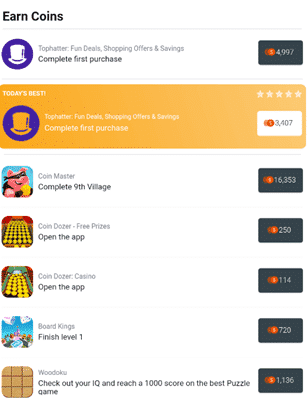 These tasks will usually ask you to answer a survey or quiz, play a mobile game, sign up for a free trial, or watch videos.
To complete an offer, just press it and it will show you the steps you need to follow to complete it. Make sure to take note of the steps because if you miss one, you will not be able to complete the offer.
Once the offer is completed, you will receive the number of coins promised.
This kind of earning opportunity is commonly found on GPT apps and sites. The one thing I can comment about their paid offers is, there aren't that many you can do. So, don't expect to earn a lot from this opportunity. The bulk of your earnings will still come from playing games.
Option 3 – Watching videos
You can also earn small rewards for watching video ads. This earning opportunity is relatively simple. You just have to watch a video ad to earn the reward.
After watching the ad, you will receive 10 coins. Then, a timer will appear (refer to photo above) telling you when the next video ad will be available.
You can keep doing this earning opportunity, but as you can see, you won't earn a lot from it. So, I would recommend you only work on this if there's nothing else you can do on the app.
Recommended: Check Out the Best Ways to Earn Money by Playing Games Online
How do you get paid?
For every earning opportunity you complete, you will receive a certain number of coins and it will be credited to your account balance. Then, you can use the coins you've earned to redeem certain rewards.

You have the choice to convert your coins to cash via PayPal. The minimum number of coins to do a PayPal withdrawal is 20,000. That will be worth €20.
You can also choose to convert your coins to an Amazon or Google Play gift card. For Amazon gift cards, you will also need 20,000 coins to redeem a €20 gift card. For Google Play, you will need at least 28,500 coins for a €25 gift card.
The exact threshold and payout methods can, however, vary from country to country.
But overall, the payout threshold is relatively high, so it will take some time before you can withdraw your earnings. If you prefer apps or sites that have a low payout threshold, I would suggest you check out the fastest paying sites instead.
How much money can you make?
The amount you can earn from this app will depend on how much time you are willing to invest on it. PlaySpot has a decent number of games available, so you won't run out of games to play.
But, you can't really earn a lot from playing these games. You will typically only earn around 40 coins per round/stage of the game. And as explained earlier, you will earn fewer and fewer coins the longer you keep playing a game.
So, it will really take some time before you are able to earn enough coins to reach their payout threshold. However, they have designed a system where you are able to earn more once you improve your account level on PlaySpot.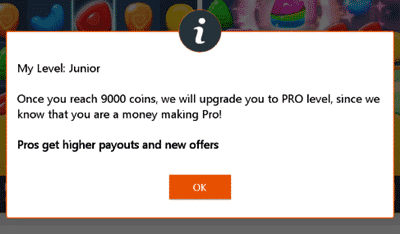 As shown in the photo above, when you've earned 9,000 coins, you will become a PRO member and you will receive more coins when playing games. There will also be more games and paid offers you can do.
The good thing about this system is, you can just reach it organically. You don't have to pay. You just need to be active and you will eventually unlock this bonus. Being a PRO member will increase your earnings from this app.
But overall though, it will still not significantly increase the earning potential of the app. It will still take a lot of time before you can earn a decent amount.
Can you use it on a desktop?
PlaySpot is a mobile-only platform. So, you can't use it on a desktop. You will really need a mobile device when you plan to become a member of PlaySpot.
As for the app, it is only compatible with Android devices. So, if you are using an iOS device, then this app is not for you. I would recommend you check out the best money making apps for iOS instead.
The app is user-friendly, so you won't have a hard time getting used to how it works. It's a bit spammy though. You'll have to close video ads frequently.
Who can join PlaySpot?
PlaySpot is available in many different countries. Their website doesn't say exactly which countries it is available in. So, the best way to find out if you can register as a member is to search the Android app store for it.
If is among the search results, then it is available in your country. If it isn't, then you are out of luck.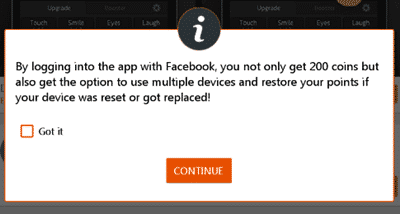 Once you install the app, you don't actually have to go through a sign-up process. You can immediately start earning. But, you can connect your Facebook account so that you can use it on multiple devices and still keep your earnings. You will also receive 200 coins for doing so.
Aside from that, you will also receive 5,000 coins as a sign-up bonus. So, you should be able to reach your first payout easily.
Can you get support?
PlaySpot doesn't have a FAQ page you can refer to if you have any questions about the app. But, you can get in touch with their support team by emailing them at support@playspot.io.
The app also has a specific help section for missing coins issues. You can access it by pressing the settings option on the upper right-hand corner of the dashboard and pressing Missing Coins.
Overall, I would say the app has a decent support system in place for their members. But I do wish they had a FAQ page that would explain all the ins and outs of the app in detail. That would make for a better overall user experience, in my opinion.
Final Verdict
PlaySpot is a legit GPT app that will reward you for playing their featured mobile games. It has its advantages but it also has some drawbacks you need to consider.
To wrap up this review, let me give you a summary of its pros and cons so you can get an overview of what the app has to offer. That way, you can decide if it is a good fit for you or not.

Pros:
Offers a fun and interesting way to earn
Offers payment via PayPal
The app is user-friendly

Cons:
Limited earning opportunities offered
Low rewards
Relatively high payout threshold
In my opinion, PlaySpot isn't a good app to use if your goal is to earn extra cash efficiently. But if you are just looking for an app to pass the time, this would be a decent option. It features fun and interesting games you can play.
It will take some time before you can withdraw your earnings because of the high payout threshold. But once you reach the payout threshold, you can then convert your rewards to cash via PayPal, which is good because it is a very convenient payment option.
Now, if you are looking for efficient ways to earn extra cash, I suggest you check out the top survey and GPT sites in your country instead. The sites and apps on this list all have good earning potential. It won't take a lot of time for you to earn a decent amount.
Plus, you will definitely find a site you can join regardless of where you live.
If you have any comments, questions, or have any experiences with PlaySpot yourself, I would love to hear from you in a comment below.