PollPass, as the name suggests, is a survey site that promises you financial rewards for completing the surveys/polls they provide.
But you need to make sure this site is the real deal though before you join. So, is PollPass legit or is it a scam? Let's answer this question right away so we can proceed to discuss other important aspects of the site.
Yes, PollPass is a legit survey site. It does pay you for participating in their polls/surveys.
However, this isn't the real indicator of whether it will be worth your time or not. To figure out if this site offers a good way for you to earn extra cash, we have to consider several factors.
This PollPass review will examine all the features the site has to offer so you can decide if it is really a site worth spending your time with or not. After you read this, you will be able to make an informed decision on whether it is a good idea or not to sign up for PollPass.
What is PollPass and what does it offer?
PollPass is a survey site that pays you for sharing your opinions. One thing unique about this survey site is, the polls you will be answering will be presented in chat form (I will explain this next).
Now, to be able to fully comprehend how well you can earn from this site, we have to take a closer look at how you will be able to earn from this site. So, here's the earning opportunity PollPass offers.
The earning opportunity – ChatBot
As mentioned above, PollPass is pretty unique because it runs its polls via a sort of chat window. When you log in to the site, you will immediately see a chat box with the first question.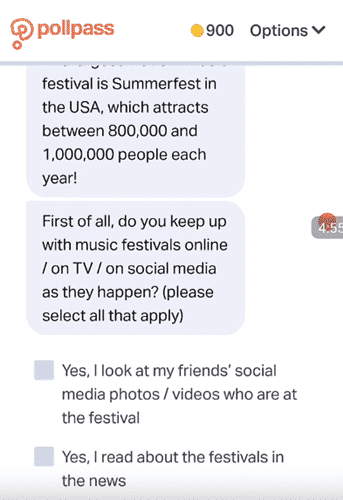 The process for this earning opportunity is pretty simple. All you have to do is answer the questions presented to you. You will be provided with answers you can choose from.
In essence, it's like you are chatting with someone because after answering the first question, you will receive a reply and if there are more questions available, you will be asked again. This conversation will usually last around 5 to 10 minutes. You can also just stop the conversation and continue later on.
Every question you answer will earn you a certain number of points. You can keep answering as long as there are questions available. The good thing about this process is, you don't need to undergo some sort of qualification process.
If you see a question you can answer, that means you are already qualified. This is an important factor because most survey sites will have a screening process to check if you are included in the demographic. This makes it harder to earn rewards because you have to qualify to answer the actual survey.
Since PollPass eliminates the need to qualify for surveys or polls, it's easier to earn rewards. One thing you need to remember though is, PollPass will not inform you via email if you have polls that need to be answered.
You will need to log in to the site to check if there are questions available. So, keep that in mind before signing up.
How do you get paid?
Every question you answer will earn you a certain number of points. You can then exchange the points you've accumulated for rewards once you've earned at least 3,000 points.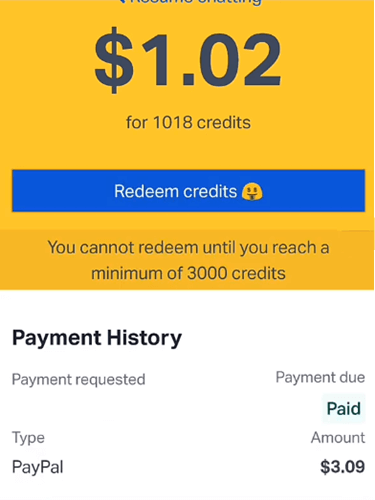 As shown in the photo above, you will need to reach the 3,000 point threshold in order to start redeeming rewards. You can either redeem Amazon gift cards or convert it to cash via PayPal. Every 1000 points are equivalent to $1.
So, essentially, their threshold is $3, which is pretty low, in my opinion. This makes it easier for you to start redeeming rewards.
If you are interested in more sites with a low payout threshold, I suggest you check out the fastest paying sites.
How much money can you make?
The best way to gauge if a site is worth joining is if you are able to earn a decent amount from it without spending too much time. With PollPass, you can't really expect to earn a lot from it since it only offers one earning opportunity.
So, if there aren't any polls available, you won't be earning anything. So, it's earning potential isn't really that good. However, the fact that you really don't need to spend a lot of time to earn rewards makes it a decent option.
You won't be earning a lot, but you won't have to spend a lot of time either. So, in my opinion, it kind of balances everything.
To put it into perspective, each question will reward you with 40 to 50 points. It's not a lot, but since it really doesn't take a lot of effort to earn, it's not that bad either.
Can you use it on mobile?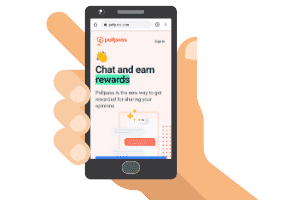 PollPass doesn't have its own mobile app but you will still be able to use it on a mobile device. You can still access their site from a mobile device using a web browser.
The good thing is, the site is optimized for mobile use. So, you won't have a hard time using it. Plus, they designed the user interface of the site to fit seamlessly with a mobile device.
You will think you were just using a messenger app when you log in to their site. That's how mobile-friendly it is. This is a good thing because it makes earning rewards from this site a lot easier.
Who can join PollPass?
PollPass has geographic restrictions on who can join the site. It is only available in the UK and the US. To sign up as a member, you have to be at least 18 years of age or above.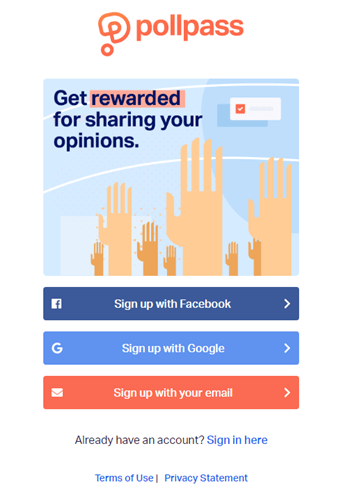 To register, you can either use your Facebook or Google account. You can also provide your own log in details. So, starting the registration process is fairly simple.
But once you are done with the first part of the registration process, it will then ask you to provide your mobile number (refer to the photo below).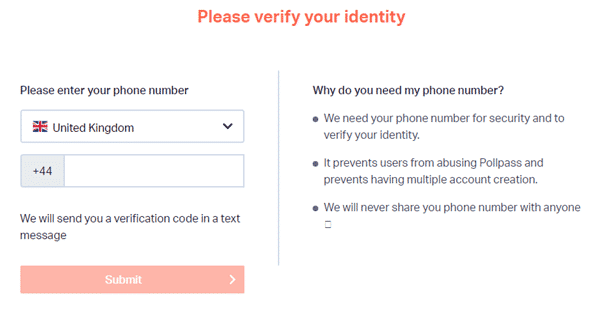 You will need to provide your mobile number because they will be sending a verification code to you via SMS and you will need to input it to continue with the registration. They do promise they will never share your phone number with anyone.
Once you've provided the verification code, you will then have to answer a few profile questions. They do this so they can choose the appropriate questions/polls to send your way.
Overall, their registration process is fairly easy. You just need to be comfortable with sharing your mobile number with them.
Can you get support?
PollPass has a fairly comprehensive compilation of frequently asked questions. You will be able to learn about the basics of how the site works by reading their FAQs.
But if you can't find the answer to your question on their FAQ page, you will have to send them an email at support@pollpass.com to contact their support team. Normally, survey sites provide a contact form on their website for people who want to send in their inquiries.
But since PollPass doesn't offer that kind of convenience, you will just have to settle on emailing them for inquiries. It's not really a bad way to provide support, in my opinion. It just gives off a vibe that they don't really want to entertain your questions, in my opinion.
Overall, I would say that they provide a decent way for you to get support.
Final Verdict
PollPass is a legit survey site that does pay you for participating in their polls. It has some interesting qualities and a couple of drawbacks as well.
Let me finish this review by summarizing its pros and cons to help you decide if this site is a good fit for you or not.

Pros:
Offers an easy way to earn rewards
Their site is very user-friendly
Low payout threshold

Cons:
Limited earning opportunities offered
Low rewards
Limited to US and UK residents
The best thing about PollPass, in my opinion, is that you will be able to easily earn rewards. This is their main selling point. You can just spend 10 minutes per day and earn rewards by conversing with a chatbot.
However, don't expect to earn a lot from this site because it has limited earning opportunities offered and the rewards aren't that high. So, even though they have a low payout threshold, it will still require a bit of patience to start redeeming rewards.
In my opinion, it can serve as a decent secondary site to earn from. Just don't expect a lot from it.
If you are looking for sites that you can earn more from, I recommend you check out the top survey sites in your country instead.
All the sites listed here have good earning potential. Plus, you will be able to find a site you can join regardless of where you live.
If you have any comments, questions, or have any experiences with PollPass yourself, I would love to hear from you in a comment below.