Presearch is a search engine that claims you will be able to earn cryptocurrency just by browsing online.
So, if you are looking for easy and free ways to earn crypto, this might sound appealing.
But is Presearch legit, or is it a scam?
I decided to see for myself, so I tested this site to find out what it has to offer. I will share everything I have learned about it in this Presearch review. That way, you will know exactly what to expect from it before you even join.
Then, you can decide if it is really worth it or not. So, without further ado, let's get this review started, shall we?
What is Presearch, and what does it offer?
As mentioned above, Presearch is a search engine. It's similar to Google in a way, but with a few key differences.
The video below will give you a glimpse of what Presearch is and what its main difference is compared to the search engine giant Google.
Now, the question is, how will you know if this search engine is worth using? And how can you earn cryptocurrency by using this search engine?
The only way to figure out both things is to examine the earning opportunities this site offers.
So, here's how to earn from Presearch.
Option 1 – Using Presearch to search the web
Earning from this site is really very simple. All you have to do is use Presearch to search for anything on the internet. So, instead of using Google, you use Presearch.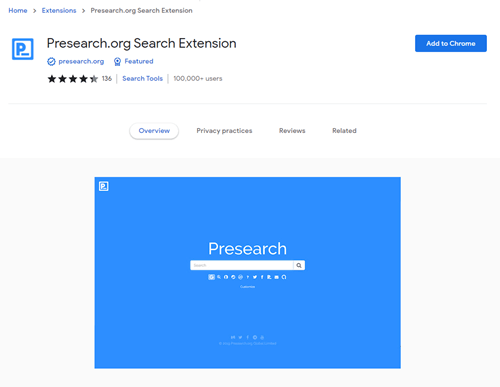 The first thing you need to do is sign up (I will talk about how you can sign up later). Then, you have to install the Presearch Chrome extension. This extension also has a Firefox version if that is the browser you are using.
After you've installed the extension, you can now set Presearch as the default search engine of your browser. This is an important step because this will ensure that all the web searches you will do in the future will be done through Presearch.

Once those two steps are done, then all you have to do is carry on with what you usually do on the internet. Then, every time you search the (using Presearch, of course), you will earn PRE tokens. The PRE tokens you will earn, as well as the max tokens you will receive per day, will vary from day to day (refer to photo above).
Option 2 – Keyword staking
Technically speaking, you won't earn anything from Presearch if you do the keyword staking. But since there are still benefits to doing this, I will include it as an opportunity to earn. The video below explains how keyword staking works.
As explained in the video, the whole point of keyword staking is to promote your website. All you have to do is choose a keyword and stake a certain amount of PRE tokens.
Then, what will happen is that if you staked the highest amount of PRE tokens for the keyword chosen, your ad would be displayed in the search result. This ad will be linked to your website.
It's a strategy to get more traffic to your website, and in case you don't know, more traffic will usually mean more revenue for your site (if it is quality traffic). That's the reason why I could consider this an opportunity to earn.
The reward will not be immediate, but if you staked the most tokens, there is potential to increase the traffic to your website. That being said, I would advise you to study this opportunity first because it will involve "freezing" all your PRE tokens, which means you can't withdraw them for a specific amount of time (usually at least 6 months to 1 year).
Option 3 – Referral program
Lastly, you can earn more PRE tokens by participating in their referral program. The idea behind this earning opportunity is to promote Presearch.
All you have to do is to share your referral link with the person you want to invite to join Presearch. When they click your link and register as a member of Presearch, they will become your referral.
Then, you and your referral will each receive 25 PRE tokens if your referral remains active for 30 days. What I mean by remaining active is your referral must use Presearch when searching the web for a minimum of 30 days.
They must also earn at least 50 PRE tokens while using the platform. It's a tough requirement to meet and takes a bit of time to complete, in my opinion. That's why I would say their referral program isn't really that profitable. You have to find people who are really dedicated to using Presearch as the main search engine.
And changing search engine habits is not easy to get people to do, so it can be hard to find people interested in this.
Recommended: Check Out the Top Passive Income Apps
How do you get paid?
As explained above, you will earn PRE tokens for using Presearch as your main search engine when searching the web. And if in case you don't already know, PRE has a monetary equivalent, so you can exchange it for cash on a few crypto trading platforms.
However, as with all cryptocurrencies, the monetary value of 1 PRE token will vary depending on the time you exchange it for cash. So, don't expect to earn a fixed amount for each PRE token you have.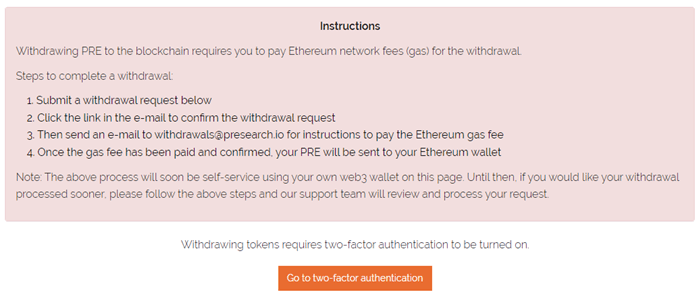 Now, in order to withdraw the PRE tokens you've earned, you must earn at least 1,000 PRE tokens. That's the threshold you need to reach, which, in my opinion, is really quite a high threshold. You also have to have an Ethereum wallet because that's where you will withdraw your PRE tokens.
Once you've reached the threshold, you will have to submit a withdrawal request to Presearch. Just log in to the platform and go to the withdrawal section and follow the instructions shown in the photo above.
There will be a gas fee involved, and it has to be paid in Ethereum. When the gas fee is paid, your PRE tokens will be sent to the Ethereum wallet address you've provided.
There's no set waiting period for the withdrawal to be completed, which is a huge drawback, in my opinion. It can take days or even weeks for them to process the withdrawal.
I have even heard from one of my followers (you can see the comments below this review) that he has now been waiting for more than a year, which is definitely unacceptable, in my opinion.
Also, I have seen several reports from people that have been blocked without explanation and have lost their earnings, and they have not been able to get an explanation from the support about this, which is definitely also not great.
From what I can see, the payment system of Presearch is still not as seamless as other sites that offer crypto rewards. So, if you are looking to earn crypto and you want to withdraw your earnings easily, I would recommend you check out the top apps to earn Bitcoin.
You can also check out the best ways to earn Ethereum for free.
How much money can you make?
As explained earlier, there's a cap to how many PRE tokens you can earn every day. The number of tokens you can earn will also vary.
When I was doing my testing, the reward per search was only set to 0.085 PRE tokens, and I was only able to get paid for a maximum of 30 searches per day.
While the values may change day to day, the difference will be quite minimal, so you will hardly feel it. That is why I would say the earning potential of Presearch is really low. It will take quite a long time before you are able to withdraw your earnings.
The only good thing about this platform, in my opinion, is you will essentially be earning passively because you don't need to be doing anything special to earn. You can just go about your normal routine when surfing the web since your default search engine will now be set Presearch.
Can you use it on mobile?
Presearch has a mobile app you can download so you can earn while searching the web on your mobile device.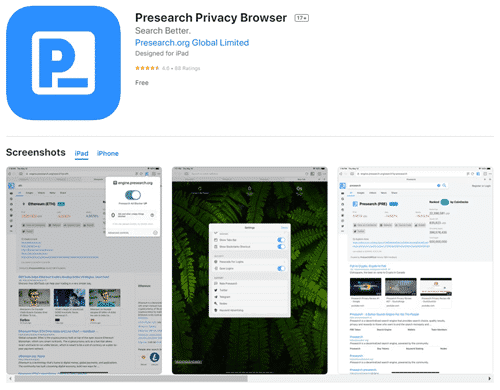 The app will be a browser app much like Google Chrome and Mozilla Firefox for mobile. It will work with both Android and iOS devices, so compatibility won't be a problem.
It functions just like a normal web browser, but the default search engine will be Presearch. It's also pretty easy to use, and you won't encounter any pop-up ads while using it.
Who can join Presearch?
Since Presearch is a search engine, it has a global reach. That means you will be able to register as a member regardless of where you live.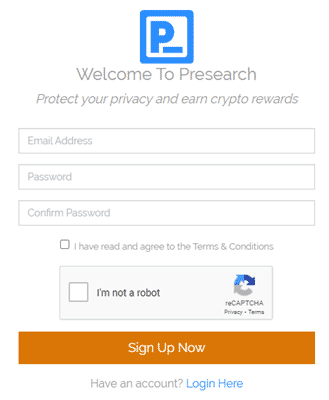 The registration process is also very straightforward. You can just sign up by providing your own login details (refer to the photo above). After you've completed the sign-up form, you will now be able to log in to the member dashboard of Presearch.
But as I've explained earlier, it is best to install the browser extension of Presearch first before you do anything else. After the extension is installed, just provide your login details, and you are good to go.
Can you get support?
If you have any questions about your account or the platform in general, you can log in to the member dashboard and access the Help & Support page. There you will find all the basic topics you need to know about Presearch.
If the Help & Support page is of no help, you can contact the support team by using the contact form provided on the same page. Just fill out the form and submit your inquiry.
However, I have seen several reports from people online that have tried to contact them but have not received any reply. That is definitely not great, so it seems you have to be patient if you need help from them at some point.
Final Verdict
Presearch is a legit search engine that will allow you to earn a specific cryptocurrency (PRE). It has a couple of good features, but it also has some limitations you need to consider.
Let me end this review with a summary of its pros and cons to give you an overview of what the platform has to offer. Then, you can decide if you should sign up or not.

Pros:
Offers a simple way to earn
Available globally

Cons:
Limited earning opportunities offered
Low rewards
There's a limit to how much you can earn per day
High payout threshold
Long wait time when withdrawing your earnings
In my opinion, it's really hard to justify making a switch from Google to Presearch as your main search engine. This is really what the platform is asking you to do.
While the intention of Presearch is certainly interesting, I would still lean on Google Chrome as my primary search engine because that's what is the widely accepted search engine today.
And for that reason, I really wouldn't recommend you join this platform. It also doesn't help that the site has more disadvantages than advantages. If you want to earn crypto effectively, I suggest you find another way.
Now, if you are just looking for a way to earn extra cash, I would recommend you check out the top survey and GPT sites in your country instead. All the sites on this list have good earning potential, and you will be able to withdraw your earnings quickly and easily.
If you have any comments, questions, or have any experiences with Presearch yourself, I would love to hear from you in a comment below.