If you are looking to earn extra cash easily, there's an app called Receipt Hog that claims you can earn cash by simply taking pictures of receipts.
It's become a common offer nowadays because there are lots of receipt-scanning apps you can find in your app stores.
So, what makes this app any different from the other apps that offer this kind of opportunity? And is it really a legit app or is it just another scam? And if it is legit, is it then worth using or not?
This Receipt Hog review will answer all these burning questions. It will show you all you need to know about the app so you can properly gauge if it is really for you or not.
So, let's go ahead and take a closer look at Receipt Hog, shall we?
What is Receipt Hog and what does it offer?
As mentioned above, Receipt Hog is a receipt-scanning app that will reward you for taking photos of your receipts and uploading them through the app.
It is indeed a legit app since it will really pay you for participating in the earning opportunities it offers.
Speaking of earning opportunities, the best way to truly understand how this app works is to examine how to earn from it. This will also give you an idea of how well you can earn from the app.
I have, therefore, made a video that gives you an inside look and shows exactly how you can earn from Receipt Hog. You can also read all the details below the video.
Recommended: Check Out the Top Survey Apps
Option 1 – Scanning receipts
One way to earn from Receipt Hog is by scanning your receipts. The idea is really simple. Whenever you get a physical receipt, just log in to the app and take a photo of it. You have to make sure the photos you submit are clear and readable.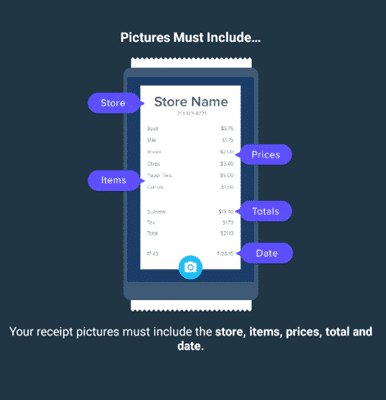 Once you are logged in to the app, just press the camera icon in the lower right-hand corner. You can then take a photo of the receipt.
And as shown in the photo above, you have to make sure the store name, items, price, date the receipt was issued, and total price is shown clearly in the photo.
If the receipt is long or double sided, you can just take multiple photos. Overlapping of photos is fine, you just have to make sure to include all the important details. Once you are finished taking photos, just press the "Done" option to submit it. Receipt Hog will then review your submission.
If everything is in order, your submission will be approved and you will earn a certain number of coins (the currency they are using). Here's a breakdown of how many coins you will earn per submission.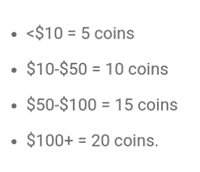 So, the number of coins you will receive will depend on the total amount indicated on the receipt. As shown in the photo above, the minimum number of coins you will receive will be 5 coins for receipts with a total of less than $10. The maximum will be 20 coins for a total amount of more than $100.
There are a few things you need to keep in mind when scanning receipts. A receipt has to be uploaded no more than 14 days after the transaction date. Any receipt older than that will not be accepted.
There are also certain receipts that won't be accepted. A few examples are credit card receipts, handwritten receipts, foreign receipts, and more. Their FAQ section lists down all the receipts that are not eligible for rewards. You can just check it out when you log in to the app.
Option 2 – Uploading online receipts
Aside from physical receipts, you can also submit digital receipts. The process is a bit different from submitting physical receipts though.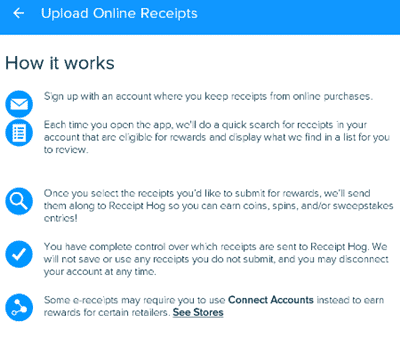 As shown in the photo above, the app will actually do all the work for you. If you wish to upload online receipts, the app will scan your email for any digital receipts and it will display any receipt it will find. You simply choose which receipts to submit.
Another way to submit online receipts is to connect your account from stores like Amazon, City Market, Food4Less, and more to your Receipt Hog account. You will see a list of stores you can connect your account to when you log in to the app.
When your account is connected, Receipt Hog will be able to detect any digital receipt issued by these stores and will just prompt you if you wish to submit it. Once your digital receipt is submitted, Receipt Hog will review your submission, and if everything goes well, you will receive the reward.
It usually takes around 24 hours for Receipt Hog to process both your physical and digital receipt submission. So, expect to receive your rewards by then. As for the rewards you will earn from uploading online receipts, it will be the same as the physical receipt rewards.
There's one key difference though. Online receipts that are 15 to 180 days old will still be accepted but you will only earn one entry to their sweepstakes instead of coins.
Option 3 – Hog slot
Hog Slot is their slot machine game where you can win various prizes ranging from coins to a jackpot prize of $100. The game is really very simple. You just use one entry to play their slot machine.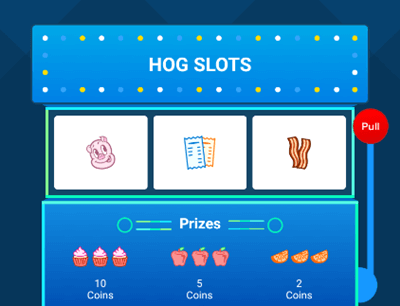 Once you press the "Pull" lever (refer to photo above), the slot machine will reveal what you've won. You will earn one entry to their Hog slot for every receipt you submit that falls into the "Spin-Receipt" category.
A few examples are apparel, office supply, and electronics receipts. For a full list of Spin-Receipts, you can check out their list on their FAQ page.
You can also win entries from their monthly challenges or by leveling up your account. To level up your account, you just have to keep submitting receipts.
When I did my testing, I managed to only win coins. So, the jackpot prize of $100 is, of course, fairly hard to win. Consider yourself very lucky if you ever win this prize.
Option 4 – Paid surveys
From time to time, you will also be invited to answer surveys to earn more coins. Their paid surveys work just like the surveys you encounter on survey sites.

You will first have to go through a series of qualifying questions. If you qualify, you get to answer the survey. If you don't, you simply move on to the next survey available if there are any.
They don't have that many surveys though. When I did my testing, aside from the demographic survey they have, I never received any other survey. So, don't expect to earn a lot from this opportunity.
Option 5 – Monthly sweepstakes
Receipt Hog holds a monthly sweepstake where you can win a maximum of 5,000 coins (1st place prize). To earn an entry for their monthly sweepstakes, you just have to submit receipts.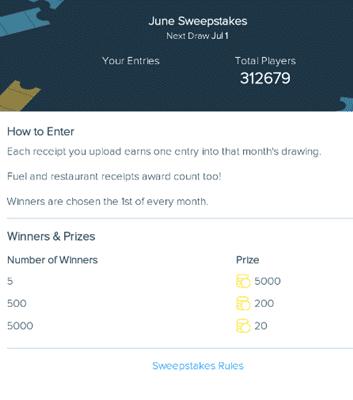 Any receipt you successfully submit is already equivalent to one entry. The winner of the sweepstakes will be announced the first day of the next month. The exact number of winners and the prizes can vary from time to time.
It sort of acts as a bonus for all the receipts you submitted for the month. It's a nice addition to have because it can definitely help boost your earnings, provided you win, of course.
Option 6 – Referral program
Lastly, you can also earn rewards by inviting people to join the app. Simply share your referral code with the person you want to invite and make sure to remind them to input the code during registration so that they will become your referral.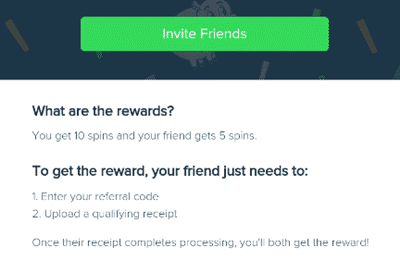 However, to get the reward of 10 Hog Slot spins, your referral must upload a valid receipt first. So, I would say the reward for their referral isn't really very enticing, in my opinion.
You will only earn 10 spins for their Hog Slot for every referral you get. But the good thing is, that your referral will also get 5 spins for using your code. That's the bright side to their referral program, in my opinion.
Recommended: Check Out the Top Survey Apps
How do you get paid?
As you already know, you will earn coins for submitting receipts. You can exchange these coins to redeem different rewards.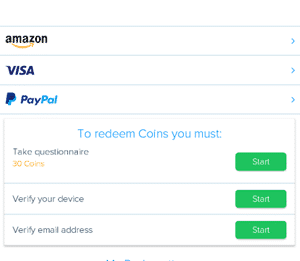 You can redeem an Amazon gift card or convert your coins to cash via PayPal or prepaid Visa card. The minimum amount you can redeem is $5 and that will be worth 1,000 coins. Before you can redeem rewards though, you have to answer their questionnaire (found in the surveys section) and verify your email and mobile device.
Once you've done all three, you can start redeeming rewards when you've earned enough coins. As mentioned above, 1,000 coins is worth $5, but the conversion will be a bit different for other amounts. For $15 withdrawals, you will only need 2,900 coins and for $25 and $40 withdrawals, you will need 4,300 and 6,500 coins respectively.
Their payment system is relatively simple and I like the fact that they have a low payout threshold because you can withdraw your earnings quickly. But, it would be a good idea to wait until you have earned 6,500 coins to maximize the value of your coins.
Now, if you are looking for more sites that have a low payout threshold, I recommend you check out the fastest paying sites as well.
How much money can you earn?
If you were hoping to reach the payout threshold quickly with this app, you will likely be disappointed. You will literally have to spend hundreds of dollars to accumulate enough receipts to earn enough 1,000 coins.
That's because they don't really reward you that well. As explained earlier, the most you can earn from a receipt will be 20 coins and you'll have to spend at least $100 for that. So, it's not really a realistic goal because you'll only get to submit receipts that have a total of $100 or more a few times.
The more realistic amount would be somewhere around $10 to $20 per receipt. So, you will mostly earn 10 coins per receipt you submit. That's why I would say the earning potential of this app is quite low. You will need to be very patient to reach their payout threshold.
But I do like the fact that you can earn coins in several ways. Plus, they also give free coins once you level up your account level. So, that can certainly help you reach the threshold quicker.
Can you use it on a desktop?
Receipt Hog is a mobile-only platform. So, you'll really need to use a mobile device to forward receipts. Plus, it really isn't practical to use computers to take photos of receipts, in my opinion. It's best done on a mobile device since it already has a built-in camera which makes taking photos of receipts easier.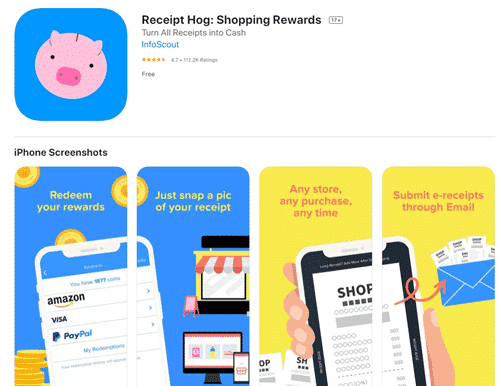 The app is compatible with iOS and Android devices, so you won't have any issues with compatibility.
As for their app, it is fairly easy to use. You won't have a hard time getting used to how it works. And I must say their camera function for uploading receipts is quite useful because it will guide you on how to take photos of your receipts.
Who can join Receipt Hog?
Receipt Hog is only available for US and Canada residents. So, if you live somewhere else, this app is not for you. You also have to be at least 18 years old to join.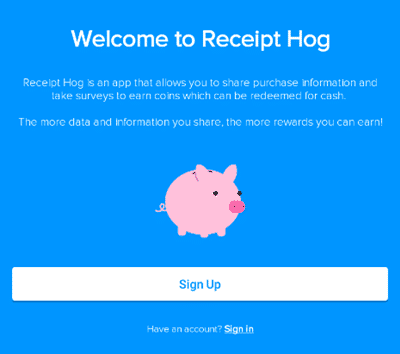 To register as a member, you have to download and install the app first. Then, you'll have to go through the sign-up process. Once you've filled up the sign up form, you need to confirm your registration by clicking on the confirmation link that will be sent to you via email.
Make sure to do this right away because it is one of the requirements to withdraw your earnings.
Can you get support?
If you have any questions about the app, you can first refer to their FAQ page. You can access it when you log in to the app and press the gear icon on the upper right-hand corner. Then, you need to press "Questions & Feedback".
This is also how you access their support ticket system in case you can't find the answers you are looking for on their FAQ page.
Overall, I would say they have a decent support system in place for their members. Their FAQ page is fairly comprehensive and they do provide a way for you to get in touch with their support team.
Final Verdict
Receipt Hog is a legit receipt-scanning app that will reward you for submitting photos of your receipts and more. It has its advantages but it also has some disadvantages you need to be aware of.
Let me summarize its pros and cons to conclude this review so you can get an overview of what the app has to offer. That way, you can decide if it is really worth using or not.

Pros:
The app is user-friendly
Offers a very easy way to earn rewards
Offers payment via PayPal

Cons:
Low rewards
There are additional requirements you need to meet to start withdrawing your earnings
Overall, I would say Receipt Hog isn't a bad receipt-scanning app. But it also isn't that good either. In my opinion, the one main flaw of this app is its low rewards. You will literally have to submit hundreds of receipts before you can reach their low payout threshold.
So, it kind of makes their low payout threshold irrelevant since it will still take some time before you can reach their threshold. That's why I would only recommend you use this app if you really need another receipt-scanning app to join.
Otherwise, if you are just looking to earn extra cash online, I would suggest you check out the top survey and GPT sites in your country instead. The sites on this list all have good earning potential. You will be able to earn a decent amount without having to invest a lot of time.
Plus, you will definitely find a site you can join regardless of where you live.
If you have any comments, questions, or have any experiences with Receipt Hog yourself, I would love to hear from you in a comment below.