RewardMe is a mobile app that claims you can shop and earn rewards at the same time. So, if you frequently shop online or even in physical stores, you might want to consider using this app.
But is RewardMe legit and really worth it?
This is exactly what this RewardMe app review will help you find out so you know exactly what to expect before joining.
I have downloaded and tested it myself and compared it to the hundreds of other free online earning methods I have tested, so all the information I will share in this review is based on real experiences.
That way, you can properly gauge if it is an app worth using or not.
What is RewardMe and what does it offer?
RewardMe is essentially a cashback app that will reward you for using your credit card and shopping from your favorite stores.
That also means in order to earn from this app, you will have to spend money. Here's a short video explaining what the app does.
And yes, it is indeed a legit cashback app where you can earn rewards as long as you fulfill the requirements the app is asking you to do.
Now, to fully understand how the app works, we have to closely examine the earning opportunities it offers. It should help you figure out if this is a good fit for you or not. So, here's how to earn from RewardMe.
Option 1 – Shopping from their partner merchants
The primary way of earning rewards from this app is to shop from any of their partner stores.
For your perspective, here are some of their partner merchants. It's not a lot though, which is a bad thing, because it severely impacts the earning potential, in my opinion (more about this later).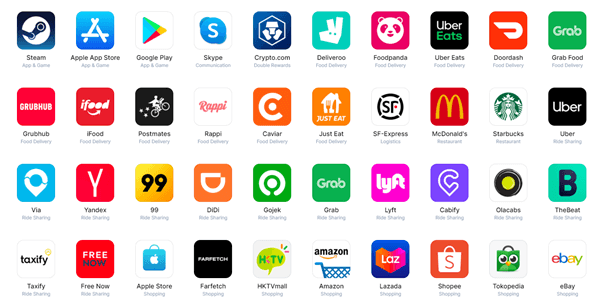 The first thing you need to do after you become a member of RewardMe is to log in to the app and bind your email address and/or credit card to the app (I would recommend you do both). Then, you'll have to choose two of their partner merchants.
Every time you spend money on any of the chosen partner merchants, you will earn rewards. They are able to track your spending through your email or the credit card you linked. So, if you use your credit card to pay for a purchase from one of the chosen partner merchants, you will earn a reward that can be up to 4% (which is actually quite low) of the amount you paid for.
That's the maximum cashback rate you will receive. If the partner merchant requires your email address to log in and shop, you will still be able to earn the cashback reward without using the credit card that was bound on the app as long as the email address was the one that was bound on your RewardMe account. That's why I recommend you bind both to fully maximize your earnings from the app.
But what happens if you want to change the selected partner merchants? Well, you can only do so once every 30 days. So, you have to be careful when selecting the partner merchants you want to shop from. Make sure you chose those that you frequently use for maximum profit.
This is kind of a big limitation compared to a cashback site like, for example, MyPoints where you can shop from thousands of partners and do not just have to stick to a couple.
As for the reward you will receive, you will earn ME tokens (MDT). This is a kind of cryptocurrency that has monetary value. Later on, I will discuss how you can get paid. Keep in mind though that the reward will not immediately be credited to your account.
Your purchase has to clear the refund period before the merchant will consider your purchase a valid one. So, don't expect the reward to show up in your account balance immediately – especially if the partner merchant you chose has a long refund period.
Option 2 – Staking
When you've earned ME tokens from shopping from their partner merchants, you can use the tokens and place them for staking.
In case you don't know what staking is, it is a process of committing your cryptocurrency assets (in this case it's MDT) to support a blockchain network and help confirm the transactions made on that blockchain.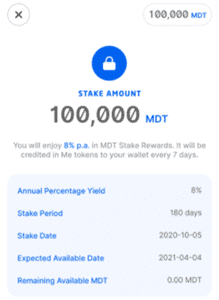 The app will allow you to choose the time period for your staking. During this period, you will not be able to withdraw your MDT. But, you will earn a certain number of MDT every week and it will be deposited to your RewardMe app.
The photo above shows you will earn 8% of the amount of MDT you placed on staking per year (annual percentage yield). But their staking period usually doesn't last that long. In the photo shown above, the staking period is 3 months.
So, that would mean that you will only actually earn 2% of the amount of MDT you placed on staking during that period. After the staking period is over, you will have to take out your MDT and it's up to you if you want to place it on staking again or just withdraw it.
But that's basically how the process works. It closely resembles the time-deposit option in bank accounts.
Option 3 – Tasks and Surveys
From time to time, you will be asked to complete tasks or surveys so that you can earn additional rewards. This opportunity is relatively simple and if you've been a member of Get-Paid-To sites or apps before, then this will be very familiar.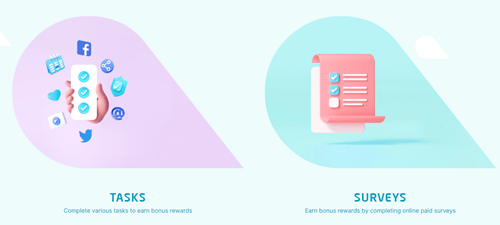 All you have to do is follow the instructions if you are working on tasks. If you are answering a survey, don't be alarmed if it will ask you to answer qualifying questions. That's just how the process works since they need to determine if you belong to the group the survey is targeted to.
After successfully completing the task or survey, you will receive a certain number of MDT as a reward. This earning opportunity isn't as common as you would hope. So, if ever it becomes available, I would suggest you take advantage of it right away to fully maximize your earnings.
Option 4 – Referral program
Technically speaking, this isn't an earning opportunity since you won't really earn anything if you participate in their referral program. But you can still gain benefits if you invite people to use their app.
Let me explain how their referral program works. First, you have to share your invite link or code with the person you want to invite. If they sign up using your link or code, they will become your referral.
But in order for you to get something out of your referral, they must bind their email and/or credit card to their RewardMe account. When that happens, your RewardMe account level will be upgraded from the basic to the Extra level. Later on, I will explain what you can get from these membership levels.
If you've referred a minimum of 20 people, your membership level will then be upgraded from Extra to Elite. That's the maximum benefit you can get from inviting people through their referral program.
In my opinion, if you are really serious about earning from this app, your ultimate goal is to really get 20 referrals so that you can upgrade your membership to the penultimate level.
However, it is a very limited referral program compared to what many other cashback apps offer.
Recommended: Check Out the Top Cashback Apps
How do you get paid?
As mentioned earlier, you will earn ME tokens (MDT) from the earning opportunities the app offers. But what can you do with these tokens?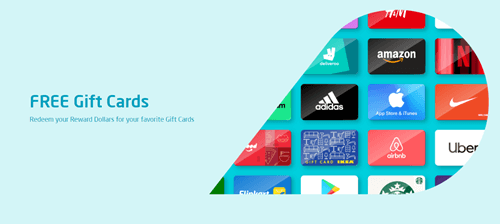 Well, your first option is to convert your rewards to gift cards. The minimum amount you need to redeem a gift card will depend on the gift card you want to redeem. The smallest amount I found was $5 during my testing.
Your second reward option is a cryptocurrency, specifically MDT. ME tokens actually have a monetary value now. As of the writing of this review, 1 MDT is equivalent to $0.06. And as with all cryptocurrencies, the value will fluctuate but you can check the current value of MDT here.
That would also mean you will need to have a crypto wallet that supports MDT in order to withdraw your earnings. They aren't clear exactly how much in terms of US dollars you need to earn to withdraw your MDT to your crypto wallet. From what I can see, you need to have at least $5 worth of MDT before you can transfer them to your crypto wallet.
In my opinion, if you don't really like to handle cryptocurrency and you prefer the old-fashioned fiat currency, then I would recommend you stay away from this app because MDT is really the closest thing you can get to earning real money. The app doesn't offer cash rewards.
If you prefer to earn cash, I would recommend you check out the top sites that pay via direct bank transfer instead.
How much money can you make?
The amount you can earn from RewardMe will depend on your shopping habits. If you shop from their partner merchants regularly, you can benefit a lot from this app. But if you don't, then you don't really have any business using this app.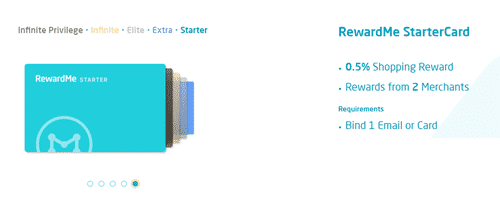 As mentioned earlier, the app has specific membership levels and each level has its own set of benefits. For example, a Starter membership level will only give out a 0.5% cashback rate. That's quite low.
But if you manage to upgrade to the Extra level, the rate will be doubled (1%). You can also add an additional partner merchant to earn from. Now, if you are able to upgrade to the Elite level, the cashback rate will be 2% and you can now choose 4 partner merchants.
For the Infinite level, the cashback rate will be 4% and you can choose 6 partner merchants. The staking rewards for this level will also be increased to 15% annual yield instead of the regular 8%.
However, the requirements to upgrade to these levels are no joke. To get to the Infinite level, you have to stake at least 250,000 MDT. That's a lot of money to tie up on this app, which is something that only makes sense if you really believe in the long-term potential of the MDT token and really want to use the RewardMe app's cashback offers.
That is why I would say the earning potential of this app is really quite low. In my opinion, the doable level you can reach will be the Elite level since you can upgrade to this if you get 20 referrals. But that will only result in a 2% cashback rate, which is really quite low for a cashback app.
Most cashback apps offer 5% to 10% cashback rates and the good ones offer even more. So, there's really little incentive to use their app to earn cashback rewards, in my opinion.
Can you use it on a desktop?
RewardMe is a mobile-only platform. That means you will really need a mobile device to use it since they don't have a web version of their platform.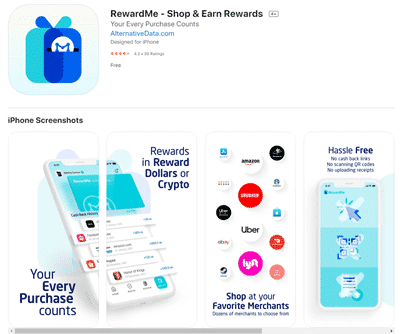 As for their app, it will work with both iOS and Android devices. So, compatibility won't really be a problem. Their app is also very easy to use. The user interface is intuitive, so you will easily get used to how to navigate it.
Who can join RewardMe?
RewardMe is not available in the European Economic Area countries namely:
Austria
Belgium
Bulgaria
Croatia
Republic of Cyprus
Czech Republic
Denmark
Estonia
Finland
France
Germany
Greece
Hungary
Ireland
Italy
Latvia
Lithuania
Luxembourg
Malta
Netherlands
Poland
Portugal
Romania
Slovakia
Slovenia
Spain
Sweden
Plus, Measurable Data Token (MDT) is currently not accepted in the following countries/regions/territories:
China (Mainland)
United States
Cuba
Iran
Korea (North)
Crimea
Sudan
Syria
Bangladesh
Bolivia
Ecuador
Kyrgyzstan
So, if your country is mentioned above, then this app is not for you. But if it isn't, then you are eligible to join the platform. To register, you just have to download the app and install it on your mobile device. Then, you have to go through their registration process, which is relatively simple.
Once you are done with the registration process, you have to log in to the app and bind your email address and as I've recommended earlier, your credit card. When all that is done, you can now start earning rewards from this app.
Can you get support?
Their site and their mobile app have a FAQ page you can check out if you have any questions about the app or your account.
If you can't find the answers you are looking for, you can use the message icon on the lower right-hand corner of their website and submit your inquiry to their support team. You can also use the contact form provided on their app.
Overall, I would say they have a decent support system in place for their members because they offer a convenient way for you to communicate with their support team.
Final Verdict
RewardMe is a legit cashback app that offers a couple of good features, but it has a lot of limitations you need to consider.
Let me finish this review by summarizing its pros and cons to give you an overview of what the app has to offer. Then, you can decide if you should use this app or not.

Pros:
Offers an easy way to earn rewards
Their app is user-friendly

Cons:
Low cashback rates
Limited earning opportunities
Doesn't offer cash rewards
In my opinion, RewardMe is not really an app worth using because it doesn't have a lot of partner merchants. If there are only a few options, then chances are you won't always find a cashback offer you can avail of. And worst of all, you are limited to a maximum of only 6 merchants you can earn from at any given time. Plus, the fact that you can't earn cash also doesn't help.
That doesn't bode well for a cashback app. You see, cashback apps work best when you have a lot of options to shop from, in my opinion. That way, you have a higher chance of finding deals and offers that you really want or need thus resulting in more cashback rewards.
That's why I don't really recommend you use this app. There are simply far better cashback apps out there that offer better choices.
Now, if you are just looking to earn extra cash, I would suggest you check out the top survey and GPT sites in your country instead. The sites on this list all have good earning potential and most of them offer cash rewards as well.
Plus, you will definitely find a site you can join regardless of where you live.
If you have any comments, questions, or have any experiences with RewardMe yourself, I would love to hear from you in a comment below.