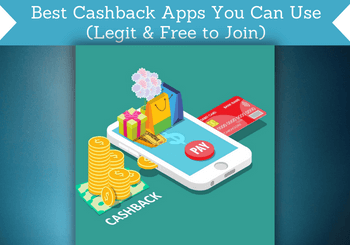 If you are often shopping online, then you're one of the people who stand to benefit the most by using cashback platforms as you can then get money back every time you shop.
I've already talked about the best cashback sites you can join, so I thought I'd make a guide on the best cashback apps you can use to help people who prefer to shop using their mobile device.
This guide will show you cashback platforms that have mobile apps you can use so you don't have to sit in front of a computer to avail of cashback offers. All the apps I will be listing down in this guide are legit and free to join.
I will include a brief summary of what each app has to offer so you can easily determine which ones you should go for. So, let's get this guide started, shall we?
How are the opportunities for cashback apps?
If you've been a member of a cashback site before, then there's basically no difference in terms of the earning opportunities available. In fact, based on my experience, some apps offer more opportunities inside their mobile app compared to their web-based platform.
In case you are not familiar with what cashback offers are, they are basically offers you can avail from sites or apps where you can earn back a portion of what you spent to buy the product stated in the offer.
I sometimes encounter mobile-only promos on cashback apps. To answer the question above, the opportunities found on cashback apps are pretty good. But, in my opinion, the real measure of how to determine if a cashback app is good or not is the number of partner stores they have.
That's because you will most likely find a cashback offer you will like from apps that offer more stores to shop from. And, as you may already know, cashback offers are only useful if the products you will be buying are products that you actually need or want.
Otherwise, availing of cashback offers just for the cashback reward is quite pointless. That's why if a cashback app offers more choices, then you'll more likely find an offer you can take advantage of, hence it's considered a good cashback app.
How to earn the most?
Each cashback app offers different cashback offers and cashback rates. So, it's actually quite hard to put an exact figure of how much you can earn from every app.
That's why the best thing you can do in order to maximize your earnings from these cashback apps is to use around 5 to 7 apps. That way, you gain access to a lot of cashback offers.
And as explained above, if you have access to many cashback offers, you will likely find products that you want or need. So, since you will likely find many cashback offers you can avail of, then you can easily pile up your cashback rewards.
That's why I would consider this the best strategy to maximize your earnings from cashback apps. It's also a very realistic strategy because these apps are free to join. So, you won't have to spend money to become a member.
7 best cashback apps
Now that you know what to expect from these cashback apps, it's time we talk about the actual cashback apps you can use. Take note that these aren't the only cashback apps that are available.
Instead, these are the apps that I have personally tested and think are really worth using. I will keep updating this list if I find new cashback apps that are worth adding. So, make sure to bookmark this page and check on it from time to time for new opportunities.