Are you interested in getting free products? If so, there's a site called Ripple Street that claims you can discover and try out new products at home for free.
If you think this sounds interesting, I highly recommend you read this Ripple Street review. It will show you all you need to know about Ripple Street so you will know exactly what to expect from it. That way, you'll know if it is really a legit site or a scam, and you will also be able to determine if it is a site worth joining or not.
So let's go ahead and take a closer look at Ripple Street, shall we?
What is Ripple Street, and what does it offer?
Ripple Street is essentially a product testing site where you can get free stuff in exchange for completing certain tasks.
It is indeed a legit site since you can really get free products if you join the website. However, this doesn't automatically mean the site is worth your time.
To figure out if you should join, you must first understand how it works. And the best way to do that is to examine the earning opportunity it offers so you can get a clear picture of what you need to do to get the free products and how much time you have to spend working on the opportunity.
So here's how to earn from Ripple Street.
The earning opportunity – Events
Events are what Ripple Street calls its product testing opportunities. So if you want to get a free product, you'll have to join one of their events.
Just log in to the member dashboard using the web-based platform or the mobile app.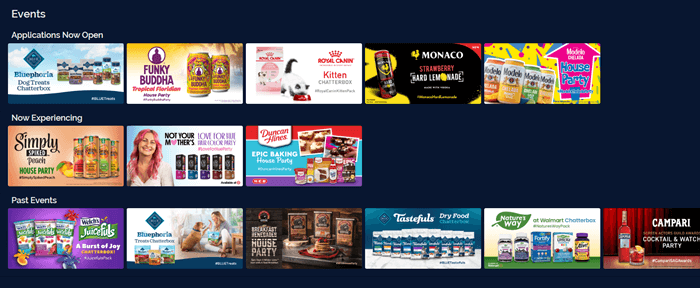 You will immediately see all the events available. Simply pick which event you want to join and click it. You'll then see the full details of the event, including what you need to do once you receive the free product.
You can see the instructions under the FAQ section of the event details page. If you are interested in the event, just click the apply button, and fill out all the necessary fields.
Once your application is submitted, Ripple Street will review it, and if you get accepted, you'll receive a notification via email.
You'll also see the status of your application under the "Activities" section of the dashboard. It usually only takes a couple of days before you will hear back from Ripple Street. Just make sure to check your email regularly or log in to the dashboard to see the status of your application.
You can apply for as many events as you like. You just need to make sure you are able to complete the activities of all the events you were accepted to. Otherwise, they will stop accepting your applications, and you won't be able to get free products in the future.
Once your application is accepted, all you have to do is wait for the product to arrive at your doorstep. When you receive the product, you can try it out and make sure to complete all the activities required of you before the deadline of the event.
Most of the time, you'll just have to review the product, answer a few questions, and share some photos on the event details page.
Take note that you won't get paid to test the products, so you won't get additional rewards for completing the activities. The products you receive will serve as a reward.
The process to get free stuff is relatively simple, so you shouldn't have a hard time joining any of the events. Just keep in mind that it is up to Ripple Street who they will choose to receive the free products. So don't expect to get accepted for all the events you applied for.
There's a decent number of events available at any given time, and most of them are giving out perishable products like food, pet food, beverages, and more.
Recommended: Check Out the Best Ways to Get Free Samples Online
How do you get paid?
As explained above, you will not be paid to try out free products. The products are the reward. So if you are looking to earn cash, then this is not the opportunity for you.
And as mentioned, most of the products you will receive are a variety of perishable goods like beverages, food, and pet food. But from time to time, there are events that will hand out electronic gadgets. However, these events are very rare.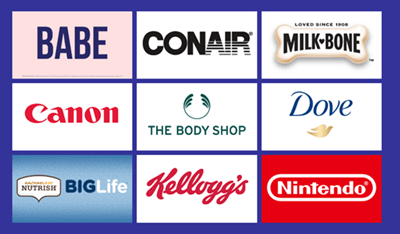 There are a few popular brands associated with Ripple Street, so you will likely find an event you will be interested in. But if you are looking to earn cash, I recommend you check out the top sites that pay via PayPal instead.
How many products can you get?
The number of products you can get from Ripple Street will depend on how many activities you can actually complete. It has designed a system where you will be able to gain access to more events the more activities you manage to complete.

You see, completing events will unlock badges. These badges will show up on your profile, and they also serve as a basis for Ripple Street when they evaluate your application for an event.
If the platform sees that you are an active member, then they will be more confident to send free products your way because they know that you really finish the activities required.
After all, the goal of Ripple Street is to gather feedback from people who are able to try out the products. So they will most likely accept your application if they know that you are really doing what is asked of you.
Can you use it on mobile?
As mentioned earlier, Ripple Street has a mobile app you can use so you can complete the activities of the events conveniently using your mobile device. The app is available for download from both Android and iOS app stores.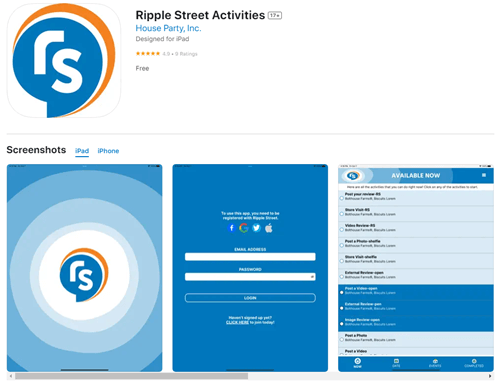 The app is relatively easy to use, and it is designed so that you can do all the activities of every event you join conveniently. Keep in mind that this app is only for the activities you need to do. To apply for the events, you still need to log in to the web-based platform.
Who can join Ripple Street?
Ripple Street is only available to residents of the US and Canada. So if you live somewhere else, then this opportunity is not for you. To join, you also have to be at least 18 years of age.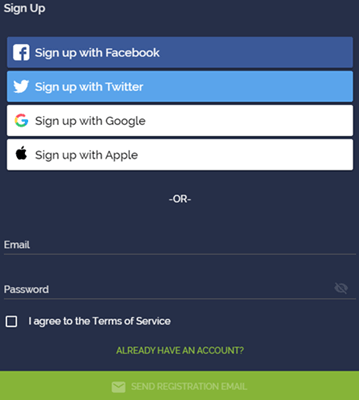 To sign up as a member, you can use your Google, Facebook, Twitter, or Apple account. You can also sign up using your own login details. After you've finished the registration process, you will be logged in to the member dashboard.
You'll be asked to provide your address. The address you provide will be the address Ripple Street will use to ship the products. So make sure to use the one where you want the products to be shipped. After you've provided your address, you can start applying for events.
Can you get support?
If you have any questions about the site or your account, you can check out Ripple Street's Help Center first. It discusses most of the basic topics you need to know.
But if you can't find the answers you are looking for, you can go to the Help Center page again and click the "Contact Support" link at the top. This will take you to the contact form page. Just fill out all the necessary fields and click the submit button.
Overall, I would say the site provides decent support to its members since it offers a convenient way for you to request assistance.
Final Verdict?
Ripple Street is a legit product testing site where you can potentially get free stuff. It has a couple of advantages, but it also has some limitations you need to be aware of.
Let me finish this review by summarizing its pros and cons so you can get a clear overview of what Ripple Street has to offer. Then you can decide if this opportunity is for you or not.

Pros:
Has a mobile app you can use
There are a decent number of opportunities to get free products available

Cons:
Doesn't offer any cash rewards
If your goal is to just get free products, then Ripple Street is a decent site to join (provided you are eligible to join). There are a decent number of opportunities to get free products. Plus, you can also use your mobile device to complete the activities required conveniently.
But if you are looking to earn rewards or cash from testing products, then this is not for you. Ripple Street doesn't offer any rewards for testing products. The products you receive are the rewards. So you should go somewhere else if you want to earn cash or other rewards.
For that, I recommend you check out the top survey and GPT sites in your country instead. The sites on this list all have good earning potential, so you will be able to earn a decent amount in no time.
Plus, you will definitely find a site you can join regardless of where you live.
If you have any comments, questions, or have any experience with Ripple Street yourself, I would love to hear from you in a comment below.